The Punter's In-Play Blog: Can rookie Munoz get it done at the Greenbrier?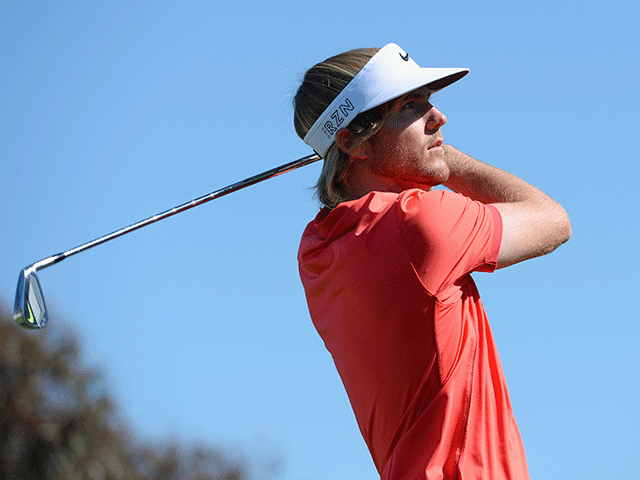 Russell Henley – the value with a round to go?
There's just one round to go at the Greenbrier Classic and Sebastian Munoz is still in front but can he hang on? Read what Steve thinks with his final in-play update of the week here...
"Two strokes is a handy advantage and none of the chasers are prolific. Robert Streb won the RSM Classic back in 2014 but that's his only win and the two men tied for third, Xander Schauffele and Jamie Lovemark, are both looking to win on the PGA Tour for the first time. "
15:05 - July 8, 2017

As detailed in the In-Play Tactics section of the preview, no third round leader has ever won the Greenbrier Classic and that has to be a negative for 24-year-old Columbian, Sebastian Munoz, who's attempting to win the tournament wire-to-wire.

I've looked at his record in-contention and it's not too bad. He finished runner-up at the El Bosque Mexico Championship on the Web.com Tour back in April, having sat second with a round to go, and his sole victory on that tour came in his homeland on the only previous occasion he's led with a round to. Rounds of 69, 66 and 66 again saw him go into the final round one clear and he was able to maintain that advantage despite shooting 71 in round four.

Two strokes is a handy advantage and none of the chasers are prolific. Robert Streb won the RSM Classic back in 2014 but that's his only win and the two men tied for third, Xander Schauffele and Jamie Lovemark, are both looking to win on the PGA Tour for the first time.

Russell Henley has won three PGA Tour titles and the third of the three was as recently as April when he won the Shell Houston Open comfortably by three strokes. Back-to-back bogies late in his round yesterday put the skids on his challenge but given the inexperience ahead of him, he could represent value for those looking for an outright wager.

I've tweaked my book a bit and I've taken on the leader but I'm wary of going too deep again. It's hard to look passed the leaders. This renewal has panned out quite differently and it's not as open as I'd have hoped for with a round to go. The last time this event was staged, two years ago, there were 39 players within five of the lead after 54 holes. This year there are just seven. Stuart Appleby was tied for eighth and seven back when he won the inaugural tournament in 2010 but he needed to shoot 59 to do so.

I'll continue to trade in-running but tentatively and I'll be back tomorrow with the De-brief.

Below is the leaderboard with prices to back at 15:00 UK and Ireland time, along with the current state of my book. Those players that I haven't layed at all stand to win me £2k but none of them look to have any sort of chance.

Sebastian Munoz -14 3.7511/4 -£152
Robert Streb -12 6.25/1 -£81
Xander Schauffele -11 7.06/1 +£83
Jamie Lovemark -11 7.26/1 +£81
Russell Henley -10 8.615/2 +£399
Kelly Kraft -10 21.020/1 +£218
Davis Love III -10 36.035/1 +£1,047
-8 and 27.026/1 bar

11:50 - July 8, 2017

Jon Rahm and Daniel Im are tied at the top of the leaderboard at the Irish Open and the Spaniard is now odds-on with almost every firm.

Justin Rose is four off the pace but the majority of Rahm's closest challengers, including co-leader, Daniel Im, and my halfway pick, Hideto Tanihara, (now just two back) were big-priced outsiders before the off and this looks like a fabulous chance for Rahm to register his first success on the European Tour.

The case for the rapidly improving 22-year-old Spaniard is obvious. He's a top-class player who already has the game to win majors but he's been steadily easing out on the exchange this morning and I can see why. His sole title to date, the Farmers Insurance Open on the PGA Tour, was won from slightly off the pace back in January and there's every chance he could feel the pressure today.

He'll be in no doubt whatsoever that he's the man to beat today and that can only heap on the pressure. On paper, the majority of his challengers look readily opposable but someone within three of four strokes will go low and if Rahm does have an off day, odds of around even money could soon look very short.

I'm obviously happy with my position on Tanihara and my initial instinct was to just leave the event alone and enjoy the spectacle but after much deliberation I've also now layed Rahm. He's a proper player with a huge future but he's still young, still learning and he's still yet to win from the front and I thought he was worth taking on modestly.

I'll be back shortly with my take on the Greenbrier Classic, once I've given it more thought. Thankfully, I did get involved last night and the third round leader, Sebastian Munoz, is now my biggest loser in the book, but he only takes out only £12.40. Kelly Kraft is the only other loser and he takes out £11.09 so it's a nice position to be in and I'm going to ponder further on my next move.

09:00 - July 8, 2017

Rank outsiders Benjamin Hebert and Daniel Im, who were both matched at a 1000.0 before the off, are tied at the top at the Irish Open leaderboard but with rising Spanish star, Jon Rahm, just a stroke behind and world number two, Hideki Matsuyama, within four shots of their lead, it's hard to imagine either will remain in front for long. Here's the halfway leaderboard with prices to back at 8:40 UK and Ireland time.

Benjamin Hebert -13 15.5
Daniel Im -13 18.5
Jon Rahm -12 3.3512/5
Ryan Fox -11 19.018/1
Oliver Fisher -11 24.023/1
Matthew Southgate -11 30.029/1
Paul Peterson -10 70.069/1
Hideki Matsuyama -9 7.413/2
Hideto Tanihara -9 42.041/1
David Drysdale -9 80.079/1
Anthony Wall -9 85.084/1
-8 and 27.026/1 bar

We have no historically course stats to look back on at the Irish Open as this is the first time that Portstewart has hosted the event, or any European Tour event for that matter, so we're limited to a degree.

In the In-Play Tactics section of the preview I wrote about how hard it is to make up ground in tournaments staged on links courses so we probably don't want to be scanning too far down the leaderboard. Rahm is the obvious candidate and if he powered away from the rest in what are forecasted to be relatively calm conditions, I don't think anyone would be surprised. There'll be plenty of people happy to pile in at just a shade over 2/1 given the quality of Rahm and the calibre of the players in and around the lead but he's not for me at the price.

At times the Spaniard looks mature beyond his years but there are occasions when he shows immaturity and a lack of patience and they're negatives I can't overlook when he's trading at such a short price.

With the possible exception of Ryan Fox, who looks to have plenty of scope, Rahm's nearest challengers are something of a ragtag bunch and finding an alternative to the powerful Spaniard is tough. I've already had a tiny bet on Matsuyama at only a shade bigger than he is now but he isn't a terrific price this morning and if he starts slowly again, as he did in both rounds one and two, he'll soon drift from his current price.

Paul Krishnamurty's gone and done it again. Two of his three Find Me a 100 Winner picks, Anthony Wall and David Horsey, are both inside the top-12 and Wall has already put the column in profit again by hitting the first lay back target but the one I like at this stage sits alongside Wall and yesterday's in-play pick, Matsuyama - and that's fellow Japanese star, Hideto Tanihara.

The 38-year-old has been popping up all over the place this year. He could just be due a win and given he finished fifth at the low scoring 2006 edition of the Open Championship behind Tiger Woods at Hoylake, I thought he was fairly priced at 44.043/1 last night.

Over at the Greenbrier Classic, first round leader, Sebastian Munoz, threatened to run away with the tournament after a very fast start to round two. He was matched at just 5.24/1 as he raced to a five-stroke lead but he steadied up a bit on the front nine (his second nine) and we're left with a wide open affair with two rounds to go. Here are the latest standings, the prices to back as at 8:45 UK and Ireland time and also the plus or minus figures on my book.

Sebastian Munoz -12 8.27/1 -£358
Ben Martin -9 10.519/2 -£324
Hudson Swafford -9 11.521/2 -£323
Russell Henley -8 8.27/1 -£318
Danny Lee -8 9.08/1 -£336
Davis Love III -8 70.069/1 +£308
Xander Schauffele -7 22.021/1 +£163
Jamie Lovemark -7 24.023/1 +£406
Robert Streb -7 38.037/1 -£36
Nick Taylor -7 42.041/1 +£1073
Kelly Kraft -7 55.054/1 +£1259
-6 and 32.031/1 bar

As you can see, I was quite busy yesterday and I'm not disappointed with my current position. I could have levelled things off last night and all but eliminated any risk and I can cash out my book now for a small profit but I've decided to lay the main protagonists again and see where that takes me.

I'm off out to a friend's birthday party this evening so I may just leave things alone until Sunday but I'll keep an eye on the scores and the market on my phone and I may well have a tinker.

Just for the record, if I had to pick a winner at this stage it would be Russell Henley but as you can see above, I'm not keeping him onside and I'll be more than happy to be proved wrong and to see him drop away today.

I'll be back tomorrow with a look at both tournaments with a round to go.

09:50 - July 7, 2017

A lack of wind rendered Portstewart defenceless on day one of the Irish Open and both Daniel Im and Benjamin Hebert skipped round the attractive links in eight-under-par. And judging by the benign weather forecast, there'll be plenty of low scores again today and over the weekend. There's no wind to speak of expected over the next three days and we could end up with a bit of a birdie-fest.

I'll be back at the halfway stage with a detailed look at the state of play but I've got involved already - having a tiny bet on Hideki Matsuyama prior to the second round. With pre-tournament favourite, Rory McIlroy, miles back on level par, I thought the world number two might be the value at 8.27/1 after an opening five-under-par 67 but he's started slowly this morning.

John Rahm, who shot seven-under-par yesterday, opened up with a birdie in round two and he's already been matched at just 3.65 but he's followed that birdie at the 10th with a bogey at the 12th and he hasn't (yet) kicked on as the market expected him to.

Over at the Greenbrier Classic, thanks to a putting tip from Gonzalo Fernandez-Castano, Columbia's Sebastian Munoz leads after a nine-under-par 61. I've tweaked with my lay book a tiny bit but I've not layed any of the players that I didn't lay before the off yet and it now looks like this.

Worst Case Scenario (Patrick Reed) -£441.50
Anyone not yet layed +£556.81

Again, I'll take a more detailed look at halfway.

11:30 - July 6, 2017
I was going to wait until tomorrow to kick off this week's In-Play Blog but when I published my Greenbrier Classic preview (here) on Tuesday afternoon I hadn't sorted out my lay book there, so now that I have I thought it might make sense to publish my starting positions before the tournament kicks off.

I've layed everyone priced at under 100.099/1 so my starting position looks like this...

Worst Case Scenario (Phil Mickelson) -£427.50
Anyone not yet layed +£527.67

I'm effectively beginning the tournament backing all the triple-figure odds players at a combined price of 5/4 and that looks a reasonable price given all six previous winners of the Greenbrier Classic were matched at a triple-figure price before the off but I won't just leave it as it is.
I probably won't get too involved tonight and going out on Saturday evening is going to hamper me a bit but I'll keep the blog updated in between rounds.
The Irish Open (previewed here) is now live on Sky Sports and I've already taken to Portstewart. It's a unique looking varied links and very easy on the eye. Justin Rose has found some form and he's displaced Rory McIlroy at the head of the market after playing his first 11 holes in five-under-par.
Rory tees off this afternoon so it's very early days and I'll look at the tournament in more depth tomorrow.

Irish Open Pre-Event Selections:
Thorbjørn Olesen @ 40.039/1
Michael Hoey @ 270.0269/1

In-Play Picks:
Hideki Matsuyama @ 8.27/1
Hideto Tanihara @ 44.043/1
Jon Rahm layed @ 2.166/5

Greenbrier Classic Pre-Event Selections:
Morgan Hoffman @ 140.0139/1
Luke Donald @ 180.0179/1

Updated Greenbrier Classic Lay Book After Rnd 1:
Worst Case Scenario (Patrick Reed) -£441.50
Anyone not yet layed +£556.81

Updated Greenbrier Classic Lay Book After Rnd 2:
Worst Case Scenario (Sebastian Munoz) -£358.20
Anyone not yet layed +£1259.04


*You can follow me on Twitter @SteveThePunter
Discover the latest articles