The Punter's In-Play Blog: Kuchar kicks clear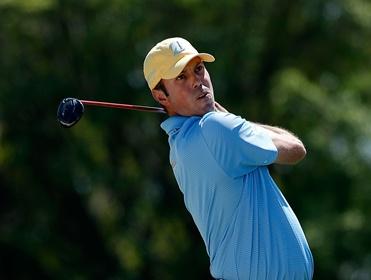 Matt Kuchar - four clear in Texas
Matt Kuchar is four shots clear at the Shell Houston Open and given that 15 of the last 18 players to hold such an advantage on the PGA Tour won, he should be a great bet at 1.42/5 but our man's not so sure he is. Read Steve's final in-play thoughts of the week here...
"My nerves can't stand ploughing in to heavy odds-on shots and especially odds-on shots that as recently as last week proved they're not the most reliable in-contention. "
11:00 - April 6, 2014
There was much change on the NH Collection Open leaderboard yesterday and there's already plenty going on in round four. England's Mathew Nixon led after round three but after a bogey at the 3rd, he's already been headed. Scotland's Richie Ramsay looks the man to beat now (he's opened up with four straight birdies) but I'm not getting involved at all. There's no TV coverage and it's wide open but if you want to get involved, here's the market.
With a round to go at the Shell Houston Open, Matt Kuchar has sprinted four shots clear, here's the current leaderboard with prices to back as at 10:30.
Matt Kuchar -15 1.42/5
Sergio Garcia -11 7.06/1
Cameron Tringale -11 12.011/1
Matt Jones -9 42.041/1
Rickie Fowler -8 55.054/1
Ben Curtis -8 95.094/1
Shawn Stefani -7 500.0499/1
Phil Mickelson -6 120.0119/1
-6 and 400.0399/1 Bar
It's almost ten years to the day since Ted Purdy failed to convert a four-shot lead with a round to go in the Heritage and this will be the 19th occasion since that someone has entered the final round with such a lead on the PGA Tour. Given that only three men have failed to convert such a lead in the last ten years (Dean Wilson, Roland Thatcher and Rory McIlroy, in the 2011 US Masters) the stats suggest Kuchar's current price of 1.42/5 is a generous one but it's not for me.
My nerves can't stand ploughing in to heavy odds-on shots and especially odds-on shots that as recently as last week proved they're not the most reliable in-contention. I highlighted Kuchar's poor record when sitting second or third with a round to go in last week's De-Brief but now he's in front, let's look at his record when leading.
He led twice on the Web.com Tour in 2006 and failed to convert on both occasions - giving up a one stroke lead at the Wichita Open and a three shot lead at the Tour Championship. On the PGA Tour he's led or co-led four times and won twice. He won a playoff at the now defunct Turning Stone Resort Championship in 2009 having tied for the lead after three rounds and then last year he led three times in the space of four months.
He lost a one-stroke lead at the Crowne Plaza Invitational, maintained a two-shot margin at the Memorial Tournament and then completely messed up at the Barclays, where he dropped from a tie for the lead to 19th place with a disastrous final round 78. 
He really should win from here but there's certainly enough doubt in my mind to look for alternatives. Sergio Garcia couldn't back-up Friday's sensational 65 but now he's out of the lead and the pressures is off to a degree he could easily improve. Backing halfway leaders that have lost the lead in round three often pays dividends and I'm happy to have a very small bet on the Spaniard at 7.06/1. And just in case there's a group collapse, I've taken some crazy prices about those outside of the front four.
Tringale and Jones are both looking for their first wins on the PGA Tour and both have been poor in-the-mix so far so it's not totally inconceivable that those further back might be in with a chance if the first two in the betting both have disasters. It's highly unlikely that all four fail but i was happy to hoover up some monster-priced crumbs. I've backed Rickie Fowler at 75.074/1, Ben Curtis at 130.0129/1, Shawn Stefani at 500.0499/1 and I've even topped-up on Phil Mickelson at 160.0159/1. 
Please note that this event, as it did yesterday, starts much earlier than we're used to, with the leaders teeing off at 15:30 UK and Ireland time.
I'll be back tomorrow with the De-brief and with my US Masters preview.
12:15 - April 5, 2014
On a day when we're happy enough to put money on horses picked out by kids, pets or via nonsensical whims, I'm wondering whether I wouldn't have been better off to have employed similar tactics with my golfers this week. It's not been great so far.
Alejandro Canizares, a well-backed favourite and strong fancy of mine at the NH Collection Open was awful yesterday and he hasn't even made the cut and all four of my pre-event picks are out of the event completely. 
Marc Warren, David Horsey and Welsh veteran, Bradley Dredge, are tied for the lead at halfway on five-under-par but with 19 players all within four strokes of the lead, its wide open still. It looks tricky and I really should just leave the event alone but I quite like young American, John Hahn, who impressed me recently at the Africa Open. He's just three shots back and I thought 28.027/1 was a fare price and so I've had the tiniest of wagers to maintain some interest. 
At the Shell Houston Open, my only pre-event selection with any sort of realistic chance now is Phil Mickelson and he should be a lot nearer than the six shots he trails by. He missed three short putts yesterday but his game's looking good ahead of next week's US Masters, which he'll be attempting to win for a fourth time.
The least said about yesterday's in-play bet the better - after birding the 1st and shortening up to 7.06/1 Keegan Bradley lost the plot completely and he's got no chance now after a disastrous five-over par 77.
Sergio Garcia leads on -12, with Matt Kuchar just one back, and given their nearest rivals are on -8 and that this is a frontrunners course, those two really ought to fight out the finish but I'm not backing either of them. Garcia's led or co-led eight times at halfway since 2009 and won just twice, at the Castello Masters, on his home course, in 2011 and at the Thailand Golf Championship just before Christmas. 
Matt Kuchar may well draw inspiration from the fact that he beat Garcia on the way to winning last year's WGC World Match Play title but as I highlighted yesterday, his in-contention record of late is far from great. 
The stats say one of them will win but at the prices, I'm happy to let them go and hope that Lefty can pull off a similar weekend performance to the one he produced in 2011 when he shot 63-65 to win by three, having trailed by five at halfway. It's a big ask though - in the eight years the event's been staged here, Mickelson and 2012 winner, Hunter Mahan, (trailed by four at this stage) are the only two winners to be more than two strokes behind at halfway. 
10:45 - April 4, 2014
With my head in the form book for both Aintree and Augusta, I haven't really got stuck into the golf this week yet but I've still found a wager.
The NH Collection Open in Spain is running behind after a weather delay yesterday morning and they still haven't finished the first round, so I'm going to wait for that one to reach the halfway stage at least before I get involved any further, if indeed I do. Two of my pre-event picks, Alejandro Canizares and Eduardo De La Riva, have started well and are both within three of the early lead but there's an awfully long way to go yet.
Over in Texas, at the Shell Houston Open, Bill Haas and Charley Hoffman lead after round one after a pair of seven-under-par 65s. Of my original picks, Michael Thompson is two off the lead and Phil Mickelson, who was a doubtful starter after last week's withdrawal, warmed-up nicely for next week's US Masters with a bogey-free four-under-par 68.
As detailed in the preview, winners of the Shell are usually right up with the pace from early on and although he's only four back and tied for 18th, the stats suggest Lefty could have a lot on his plate already - though it has to be pointed out, that he's the one to have bucked the trends here previously. When he won the title in 2011 he opened up with a pair of 70s, so he'll feel as though he's bang there this time around.
It usually pays to side with the early leaders though and the one I like is Keegan Bradley, who trails by just one. Given Keegan is one of the afternoon starters today I would ordinarily wait and try and back him later on in-running but having looked at the weather forecast, I've decided to get him onside now.
At most tournaments, the advantage on day one is with the early starters who get to play the course at its pristine best before the afternoon winds get up but yesterday's afternoon starters shot slightly better on average than those who teed off early and it looks as though that could happen again today with the forecast suggesting it will be windier in the morning.
There isn't much to choose between Matt Kuchar, Haas and Bradley at the top of the market but I much prefer the last named.  I'm not a big fan of Haas in-the-mix and as highlighted in last week's De-Brief, Kuchar's in-contention record is starting to look a little bit shoddy.
Keegan enjoys playing with his mate Mickelson and I can see him kicking on nicely later so at 10.519/2 I felt he was well worth getting on side.
Shell Houston Open Pre-Event Selections:
Henrik Stenson @ 21.020/1 (Sportsbook)
Phil Mickelson @ 27.026/1
Jonas Blixt @ 170.0169/1
Geoff Ogilvy @ 130.0129/1
Ben Crane @ 250.0249/1
Michael Thompson @ 280.0279/1
In-Play Bets
Keegan Bradley @ 10.519/2
Sergio Garcia @ 7.06/1
Rickie Fowler @ 75.074/1
Ben Curtis @ 130.0129/1
Phil Mickelson @ 160.0159/1
Shawn Stefani @ 500.0499/1

NH Collection Open Pre-Event Selections:
Alejandro Canizares @ 19.018/1
Eduardo De La Riva @ 75.074/1
Espen Kofstad @ 151.0150/1 (Sportsbook)
Jose Manual Lara @ 151.0150/1 (Sportsbook)
In-Play Bet
John Hahn @ 28.027/1

*You can follow me on Twitter @SteveThePunter
Discover the latest articles