The Punter's In-Play Blog: Non-winner List looks vulnerable to the chasers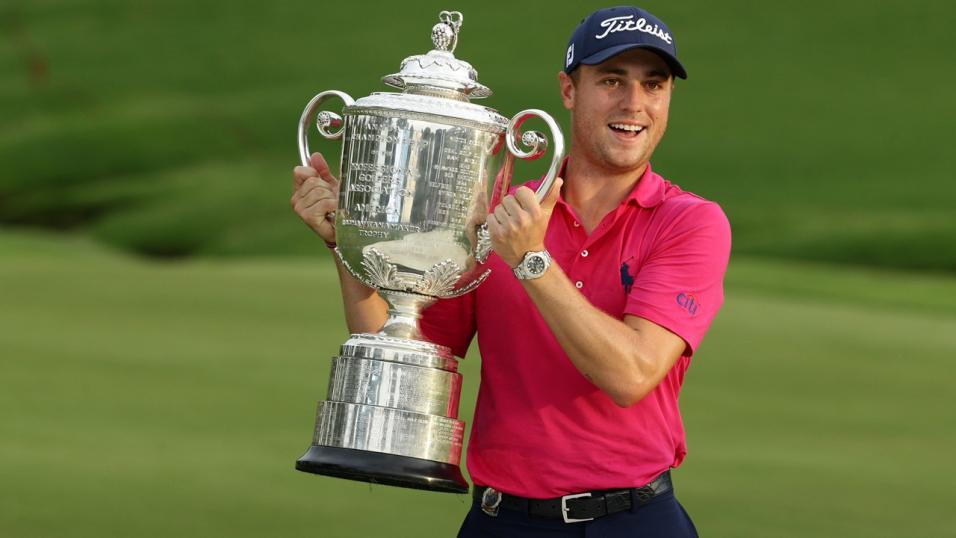 Justin Thomas will take plenty of beating
The Honda Classic leaderboard is perfectly poised with 18 holes to go. Paul Krishnamurty looks at tonight's final round and recommends a couple of interesting side bets
12:30 - February 25, 2018
A second straight 66 enabled Luke List to fend off an illustrious chasing pack to maintain the lead through 54 holes at PGA National. Mightily impressive given that the 33 year-old is chasing his first PGA Tour victory, but can he hold on in the pressure cooker of a final round?
Luke List -7 5.79/2
Justin Thomas -6 3.052/1
Webb Simpson -6 6.86/1
Tommy Fleetwood -5 6.86/1
Jamie Lovemark -5 14.013/1
Alex Noren -4 11.521/2
Kelly Kraft -3 95.094/1
Louis Oosthuizen -2 55.054/1
-1 and 110.0109/1 bar
**As Steve mentioned earlier in the week, he's off to the League Cup final today so this is Paul Krishnamurty covering.
Luke List can certainly take encouragement from this morning's European Tour action, where a long-rated prospect finally landed his maiden title. Before trying to draw any parallels with Eddie Pepperell, though, note that his task is much, much harder. His four closest rivals in the betting are world-class, multiple winners.
With the greatest respect to List, I think he'll get left behind tonight. Justin Thomas and Tommy Fleetwood look particularly ominous from just a shot back, while Alex Noren continues to make rapid progress towards the game's summit. All of that trio are very serious major contenders for 2018 and I'm hoping we'll get a sneak preview tonight.
As Steve explained pre-tournament, players have contended and reached play-offs from a long way back on the final day. If you're prepared to look beyond the leading bunch, then several candidates around the level or -1 mark make a little appeal at massive odds, as back-to-lays. Daniel Berger at 130.0129/1, or Dylan Frittelli at 600.0599/1
Indeed the biggest story last night was Tiger Woods, and a first sub-70 round since his return. In the old days, we would be expecting a typical final day charge to scare the leaders and nobody would be writing him off from seven back. It's an incredibly tough order in this company, though, and merely something I want to cheer on as a Tiger fan, rather than risking any money.
In truth, I think the outright market seems basically spot on. Whilst I don't fancy List, his chance is reflected in what would be generous odds about most final round leaders. At short odds, Thomas isn't my sort of bet but again, I can't argue with the odds.
Therefore I'm looking beyond the main outright market and having a couple of side market bets. First Thomas looks a rock-solid bet at 1.654/6 to beat List in the final group. However likeable List's performance this week has been, he's a non-winner who only managed to get his head over the line once on the Web.com Tour, six years ago.
Second, I'm very keen on Dylan Frittelli. This is an emerging world-class player, still under the market radar to some extent. Every leading South African in recent decades has made an impact at the highest level. When he finished yesterday's round on even par, I felt he might still have outright claims but that's probably a bit too much of an ask. A top-ten finish - he's currently 11th - is very much within range though, and 3.45 represents decent value.

Recommended bets
Back Justin Thomas to beat Luke List 6u @ 1.654/6 (Starts 18.45)
Back Dylan Frittelli for a Top 10 Finish 5u @ 3.45
19:20 - February 24, 2018
Low scoring was the order of the day in Qatar again and after six-under-par 66 and seven-under-par 65, English duo, Eddie Pepperell and Oliver Fisher, lead with a round to go. Here are the latest standings with prices to back at 19:10.
Eddie Pepperell -16 3.1511/5
Oliver Fisher -16 4.1
Sean Crocker -14 6.411/2
David Horsey -12 23.022/1
Marcus Kinhult -12 32.031/1
Andrea Pavan -12 38.037/1
Gregory Havret -12 46.045/1
Lorenzo Gagli -12 80.079/1
-11 and 32.031/1 bar
Fisher birdied the last four holes to take the lead and Pepperell birdied three of the last six after he'd made the most bizarre bogey at the 12th. He made the mistake of attacking the flag at front of the green but came up short when a gust of wind knocked the ball down. He made a complete mess of things after that before chipping in for a bogey five. See the tweet linked below.
The best bogey of Eddie Pepperell's career #QatarMasters pic.twitter.com/OfsmdCCZbA

? The European Tour (@EuropeanTour) February 24, 2018
Having backed Pepperell before the off, I was very relieved to have layed him back on the previous hole as I watched the debacle and I'm a bit concerned that it could be a sign of what's to come tomorrow. On one hand I think he's served his dues and he's more than ready to get the European Tour win his talent deserves but on the other, that episode reminded me of the time he hit the from in the Kings Cup on the European Tour two years ago. He finished bogey-double-bogey-bogey-bogey! I'm happy to have been on at a handsome price and I'm happy to have taken some profit but I wouldn't want to back him now at around 2/1.
With just one European Tour victory, seven years ago, Fisher can't be described as prolific but I wouldn't be in a huge rush to dismiss his chances. This is the first time he's led after three rounds since that victory and in addition to his win, he's been beaten in two playoffs from off the pace so he can't really be described as unreliable. If I was forced to name my idea of the winner right now, he'd be the one.
Alone in third is Zimbabwe-born American, Sean Crocker, and the forecasted overnight rain will be in the big hitter's favour. Crocker, who's being mentored by Sergio Garcia, looks like an immense talent and a future winner. His goal is to get a European Tour card and when interviewed after today's round, he spoke about wanting to finish inside the top-ten to get in to the next event. He's relying on invites and high finishes to keep playing so a win would make life very much easier but we have no idea how the pressure will affect his game tomorrow.
This event has been going since 1998 and previous results suggest it's going to be hard for anyone outside the first three places to win tomorrow. Ernie Els won from five adrift back in 2005 and Adam Scott (2008) and Sergio Garcia (2014) were both three back through three rounds when they took the title but every other winner has been within two.
As tweeted in-running, I backed Fisher as he played the 15th hole (once he was safely on the green) and I've since added Crocker, David Horsey and Gregory Havret. I very nearly backed Horsey in-running but he just didn't quite trade high enough for my liking and I've had to back Havret at 50.049/1 given I've been championing the Gleneagles - Doha link and he won at the Scottish venue ten years ago.
Ordinarily, I probably wouldn't cover so many players before round four but I'm off to Wembley nice and early in the morning for the Carabao Cup Final, so trading won't be easy.
*Please note, that with bad weather forecasted, they're playing in three-balls and the leaders tee-off earlier than originally planned at 5:30 UK time.

12:30 - February 24, 2018
We've reached the halfway stage of the Honda Classic and what we need to work out now is who's most likely to grind the best today. Only 13 players broke par yesterday and although there's a bit of rain in the forecast, there's also plenty of wind again and it's going to be another tough day. Here are the current standings with prices to back at 12:20.
Luke List -3 16.015/1
Jamie Lovemark -3 16.5
Tommy Fleetwood -2 7.613/2
Russell Henley -2 11.521/2
Webb Simpson -2 13.5
Rory Sabbatini -2 38.037/1
Justin Thomas -1 6.411/2
Daniel Berger -1 17.5
Louis Oosthuizen -1 20.019/1
Thomas Pieters -1 22.021/1
Level par and 32.031/1 bar
Since the event moved to PGA National in 2007, Ernie Els, who trailed by five in sixth place, is the only winner to be more than three strokes off the lead at halfway but how much we can rely on the stat and just concentrate on the leaders is debatable. We've seen five players get to a playoff and get beat from four back and more. Daniel Berger lost to Padraig Harrington in extra time having trailed by six at this stage and he was nine back after round three!
It's highly likely that this is going to be the highest scoring renewal at this venue given the forecast. Wilson won with a -5 275 total on the first occasion the event was played here but it's hard to imagine anyone getting that low given the conditions and the forecast. It looks like a case of grinding and holding on. If someone around the level par mark can find a three or four under round today they're going to be bang there tomorrow but picking someone likely to achieve the feat is very difficult.
I backed Russell Henley after his round yesterday when the leaders had the tougher back-nine to play and that's worth considering as a tactic again later. If someone gets in the house early with a decent score against the field, the chances are, they'll only shortened-up as the leaders struggle.
I've had a small bet on Louis Oosthuizen at 20.019/1 as he has the required temperament to hang around and he was on the shortlist before the off but I'm going to leave it alone other than that. It still looks a really tough tournament to call.
The third round of the Qatar Masters is coming to a close and I'll be back shortly with a look at the state of play with a round to go.
20:50 - February 23, 2018
We've reached the halfway stage of the Qatar Masters and although it's not quite as tight as last year, when nine players were tied for the lead at this stage, it's still tough to call with 25 separated by just four strokes. Here's the 36-hole leaderboard with prices to back at 20:40.
Adrian Otaegui -11 8.27/1
Eddie Pepperell -10 12.011/1
Erik Van Rooyen -10 13.5
Stephen Gallacher -10 14.5
Gregory Havret -10 28.027/1
George Coetzee -9 12.011/1
Pablo Larrazabal -9 17.5
Sean Crocker -9 20.019/1
Oliver Fisher -9 34.033/1
Sebastian Heisele -9 50.049/1
-8 and 22.021/1 bar
Sometimes I look at a leaderboard at the halfway stage and I immediately know who I want to be with and against and sometimes I can spend hours going around in circles, only to finish up still scratching my head. This is one of the latter examples.
Stats-wise, it is possible to win from off the pace here. Three men have won from seven strokes adrift but all three were pretty handy. There isn't anyone close to the class of Ernie Els, Sergio Garcia or Adam Scott in the field this week but if the stats are to be believed and if we assume someone can win from seven back, then everyone that's made the weekend still has a chance.
Every other winner has been inside the top-11 places and within five of the lead but the field is usually far more spread out. Tony Johnstone and Darren Fichardt were the two winners to be five back at this stage but they were both inside the top-eight places. We've got ten players separated by two strokes this year, thanks to the benign conditions over the first two days.
The wind is forecasted to rise fractionally as the day wares on tomorrow (and on Sunday) so it's not inconceivable that we see a few players move up from the cut line and in to contention. The flags are usually set up for low scoring on a Saturday and we may well see some movement. Watching the play and backing a few early closers might be a decent exercise if the wind does start to get up. The 15th is a tough hole but anyone on a decent run that gets through that hole could be a value play with the drivable par four 16th and par five 18th left to play.
I'll be keeping an eye on the action tomorrow but I have had one small further wager before the play resumes. Pablo Larrazabal hasn't won for three years and he might just be due to claim his fifth European Tour title. He's been known to lose the plot at the drop of a hat and he could very easily drop tamely away but he sounds confident, he looked to be in great form today, and I thought he was a reasonable price at 17.5.
If you ask me in what position i want to be going to the weekend? Exactly in the position i am now... -9 and 2 behind the lead... @qatarmasters @EuropeanTour

? Pablo Larrazabal (@plarrazabal) February 23, 2018

The second round of the Honda Classic is hotting-up nicely, with Tiger Woods making a run, but he, like all the others still on the course and in-the-mix, still has the tough back-nine to negotiate and the value right now is with those in the clubhouse. I've just had a small bet on Russel Henley at 14.5 and I'll be amazed if his price lengthens between now and tomorrow morning.
10:20 - February 23, 2018
The second round of the Qatar Masters is well under way and with no wind to speak of at Doha, the scoring has been very good. I'll be back later today with a more detailed look at the state of play at halfway but I have had one in-play bet already. I backed Alvaro Quiros at a huge price last week before the off because I thought the course might suit him so not backing him this week at the same price, at a venue I knew he liked, was a bit daft really! I've rectified the oversight now but that's all I've done so far and I'm slow off the mark in the States too.
It was a different story to Qatar over at the Honda Classic, where the wind was a constant presence on day one and the best anyone could muster was a four-under-par 66. Webb Simpson and Sweden's Alex Noren show the way but with 35 players on level par or better it's a tight leaderboard.
The wind is due to continue to blow all week and as the course firms up further it's going to be a real test but according to the forecast, the worst of the weather is going to greet today's early starters. It's far from awful but the constant 15 knots wind is due to drop fractionally in the afternoon.
There was almost nothing to split the morning and afternoon starters yesterday (0.06 of a stroke) and I suspect it will be much the same today. The wind may well drop for the latter starters but the greens won't be as smooth as they will be in the morning and all things considered I can't see much of an advantage either way.
Looking back at the previous 11 renewals at PGA National, eight winners have been within three of the lead after round one. Mark Wilson won on the first occasion the event was staged here, having trailed by seven after round one, Adam Scott was five adrift two years ago and Rory Sabbatini was four back in 2011 so it's possible to overcome a slow start but being up with the pace early on is clearly advantageous.
Justin Thomas, Daniel Berger and Louis Oosthuizen were all considered before the off and they're all of interest now given they're within just one off the lead but I'm going to hold fire for now and wait for the tournament to thin out a bit today.
I added two players after the preview was published - Russell Knox and Paul Krishnamurty's William McGirt - and they've been a bit disappointing so I'm happy to wait and have another look later. It's a congested leaderboard right now so given every winner here has been inside the top-six places at halfway, I'm happy to wait a bit longer and see what today brings.

Qatar Masters Pre-Event Selections:
Eddie Pepperell @ 80.079/1
Marc Warren @ 130.0129/1
Lucas Bjerregaard @ 140.0139/1
Tapio Pulkkanen @ 150.0149/1

In-Play Trades:
Alvaro Quiros @ 44.043/1
Pablo Larrazabal @ 17.5
Eddie Pepperell layed @ 3.211/5 average
Oliver Fisher @ 8.415/2 average
Sean Cocker @ 7.06/1
David horsey @ 27.026/1
Gregory Havret @ 50.049/1


Honda Classic Pre-Event Selections:
Russell Knox @ 65.064/1 (added after the preview)
Patton Kizzire @ 80.079/1
Jimmy Walker @ 150.0149/1
William McGirt @ 250.0249/1 (added after the preview)

In-Play Picks:
Russell Henley @ 14.5
Louis Oosthuizen @ 20.019/1

*You can follow me on Twitter @SteveThePunter
Discover the latest articles