The Punter's In-Play Blog: Second-placed Steele a solid selection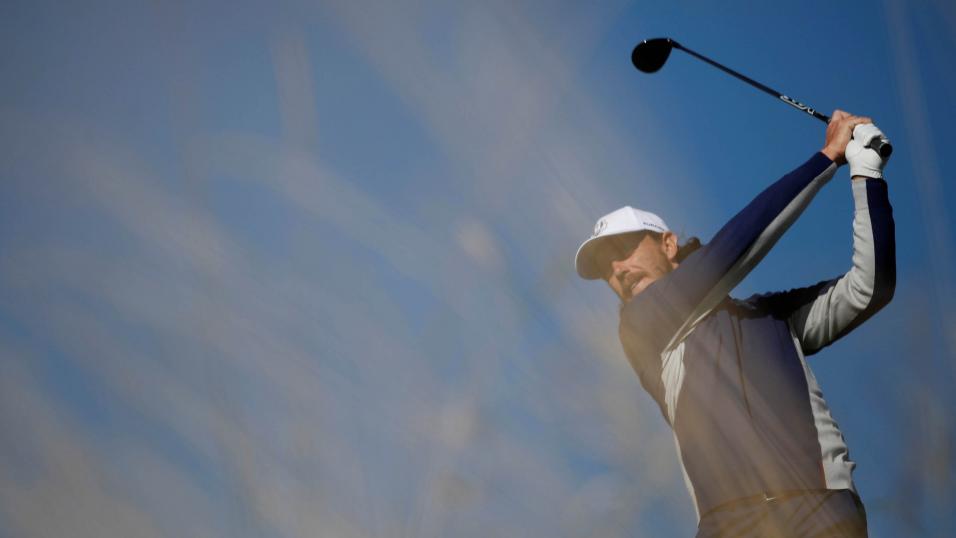 Tommy Fleetwood - leading the Honda with a round to go
There's just one round to go at the Honda Classic and there's a heavy English presence on the leaderboard so read Steve's final in-running thoughts for the week here...
"I can see Westy pushing Tommy but the value play is surely the man in second and just one back – Brendan Steele."
08:25 - March 1, 2020
Tommy Fleetwood has struck the front at PGA National and three of the first four are English. Here's the 54-hole leaderboard with prices to back at 08:15.
Tommy Fleetwood -5 2.56/4
Brendan Steele -4 8.88/1
Lee Westwood -3 11.010/1
Luke Donald -3 19.018/1
Sungjae Im -2 15.014/1
Daniel Berger -2 17.016/1
Charl Schwartzel -2 21.020/1
-1 and 46.045/1 bar
Tom Lewis and Harris English began the week with four-under-par 66s, and four men matched that feat on Friday but PGA National played even tougher yesterday with only Canada's Mackenzie Hughes managing to go as low as -4. Tommy Fleetwood, who now leads after a three-under-par 67, was the only man to better two-under-par all day yesterday so nobody has gone any lower than four-under-par all week long. That goes someway to explaining why it's just so hard to win from off the pace here. As this magnificent layout dries out, it just gets harder.
Ryan Palmer shot a remarkable seven-under-par 63 to eventually finish tied for fourth last year, having trailed by seven in a tie for 39th with a round to go, and he missed a short putt to post 62. And Daniel Berger was beaten in a playoff five years ago when he fired 64 in round four having sat 12th and fully nine off the lead so there are instances of players closing in on the leaders but the furthest any winner has been trailing here after 54 holes is three strokes.
Ernie Els won here 12 years ago having sat eighth and three back but every other Honda winner at PGA National, dating back to 2007, has been sitting first or second with a round to go. And eight of the 13 winners were in front.
Given the sort of scoring experienced so far this week, it's very hard to imagine someone going low today so we really should be concentrating hard on the leaders.
Tommy Fleetwood is the man to beat but he just looks too short to me. He's led or co-led three times previously after 54 holes and he went on to win twice, once on the Challenge Tour and once on the European Tour, but this is the first time he's led after three rounds since he was beaten at the Volvo Golf Champions in South Africa back in 2014 and he's yet to win on the PGA Tour. I'm not for a second suggesting he can't win but he's better from off the pace and he's too short for me.
Of the two Englishmen tied for third, I much prefer Lee Westwood. Having recently won the Abu Dhabi Championship impressively from the front, he shouldn't be fazed by another day in the spotlight. Luke Donald, on the other hand, hasn't been in-contention for ages and hasn't won in eight years. I can see Westy pushing Tommy but the value play is surely the man in second and just one back - Brendan Steele.
The 36-year-old Californian was beaten in a playoff at the Sony Open in January having led by three with a round to go but he did little wrong that day and that recent experience could stand him in good stead today. He's won three times previously on the PGA Tour and at 9.08/1, I thought he was the best option.
If the front four are going to mess about and we do get an off the pace winner, the 2014 winner, Russell Henley, could be the man. He trails by four so he has plenty on his plate but he's a streaky player capable of a hot run. In addition to a small bet on Steele, I've had a tiny wager on Henley at 46.045/1.
14:45 - February 29, 2020
PGA National has been at its brilliant, brutal best so far this week and the Honda Classic already feels like a long draining war of attrition. And yet we've only reached the halfway stage. Here's the 36-hole leaderboard with prices to back at 14:30.
Brendan Steele -5 13.012/1
Lee Westwood -4 11.5
JT Poston -4 12.5
Luke Donald -4 28.027/1
Gary Woodland -3 7.87/1
Cameron Davis -3 36.035/1
Nick Watney -3 36.035/1
Sepp Straka -3 40.039/1
Tommy Fleetwood -2 8.615/2
Sungjae Im -2 17.016/1
Shane Lowry -2 18.5
-2 and 34.033/1 bar
Given four of the last 11 winners were in front at halfway and that two men, Luke List and Rory McIlroy, have been beaten in a playoff having led at this stage recently, a strong case can be made for the leader, Brendan Steele. He lost a playoff to Cameron Smith at the Sony Open in January having led by three but he didn't do an awful lot wrong and he has won a couple of times on the PGA Tour.
I was tempted to play Steele but having had my fingers incinerated yesterday backing the first- round leader, Tom Lewis, who now sits tied for 34th after a five-over-par 75! This is such a brutal test, physically and mentally, that players can tumble out of contention in no time at all and it can get quite demoralising as a punter.
Gary Woodland heads the market and rightly so. The US Open champ is certainly close enough at two strokes back but he missed a few putts yesterday that he really should have made and that's always the issue with him. After two rounds, Woodland has a Putting Average ranking of 99, and whilst it's never the most important stat here, he does need to improve.
Tommy Fleetwood always looks a bit short to me and that's certainly the case here. His PA ranking is only 84th so far this week and more worrying for Fleetwood fans, he only ranks 56th for Scrambling and that's far and away the most important stat here.
With as many as 14 players within three of the lead, this is very tough one to call still and I came close to leaving the event alone for now but I thought 36.035/1 about Cameron Davis was fractionally big. Recently ninth at the Sony, along with Steele, Woodland and Luke Donald, he's yet another player in-contention highlighting the strong correlation between here and Waialae - the host course of the Sony. He's yet to win on the PGA Tour but he won his national title - the Australian Open - in 2017 and he won on the Korn Ferry Tour in 2018.
Ranking 12th for Driving Distance, eighth for Greens In Regulation and second for Scrambling, his stats are bang in line with what we'd expect to see from a Honda Classic winner and if he can get few more putts to drop he could be the one.
Over on the European Tour, there's just a round to go at the Oman Open and here's the 54-hole leaderboard with prices to back at 14:40.
Joost Luiten -11 5.69/2
Brandon Stone -11 7.06/1
Mikko Korhonen -11 8.07/1
Rasmus Højgaard -11 10.09/1
Callum Shinkwin -11 11.5
Sami Valimaki -11 12.011/1
Guido Migliozzi -10 11.5
Jordon Smith -9 20.019/1
Clement Sordet -9 25.024/1
Adrien Saddier -9 40.039/1
Kalle Samooja -8 50.049/1
-7 and 55.054/1 bar
I've got plenty of thinking to do here. With three big-priced pre-event picks tied for the lead, along with Joost Luiten, who I backed on Thursday, and another triple-figure priced pre-tournament fancy, Guido Migliozzi, just a stroke off the lead, I'm in a great position.
It's tempting to just level it all off before the final round, take a juicy profit, and forget about the event, but it's equally tempting to leave it alone entirely and just go for it. I haven't layed out too much and there isn't anyone I haven't backed trading at a single-figure price.
Sami Valimaki, who moved into a tie for the lead with a quite brilliant eight-under-par 64, won four times on the Pro golf Tour last year so he shouldn't be underestimated but he now has to back up that low round and that's never easy. And I'm not overly worried about Callum Shinkwin. Famous last words maybe but he's never impressed me in-contention and I fancy the dangers could come from further back. Both Clement Sordet and Jordan Smith were on my shortlist so I may add them to the portfolio before the off.
If you haven't already got involved and you're looking for a wager before round four, the 2018 winner, Joost Luiten, is the correct favourite and still fairly priced but with six players tied for the lead, it's a really tough one to call.
19:25 - February 28, 2020
Having both reached nine-under-par through 36 holes, my 230.0229/1 pre-event pick, Rasmus Højgaard, and Dave Tinadall's 125/1 each-way selection, Stephen Gallacher, are tied for the lead at the Oman Open. Here's the halfway leaderboard with prices to back at 19:20.
Rasmus Højgaard -9 8.27/1
Stephen Gallacher -9 8.415/2
Nicolas Colsaerts -8 9.417/2
Kalle Samooja -8 9.617/2
Joost Luiten -6 10.09/1
Brandon Stone -6 18.017/1
Guido Migliozzi -6 19.5
Robert Rock -6 34.033/1
Richard McEvoy -6 70.069/1
-5 and 38.037/1 bar
Those drawn PM-AM enjoyed the better conditions on both the opening two days - averaging 1.8 strokes less than those drawn AM-PM- so it's no surprise to see three of the top four at halfway kicked off the event yesterday afternoon. Nicolas Colsaerts is the odd one out, he made a terrific move this afternoon, shooting a five-under-par 67, despite beginning the round with a bogey, and he looks a fair price at anything over 9.08/1 now.
He's not always been the most reliable conveyance in-the-mix but he's a very experienced pro now and he'll be buoyed by the way he went on to win the Open de France in the summer. This is a very tricky one to call though.
As highlighted in the In-Play Tactics section of the preview, when Luiten won here two years ago he trailed by five strokes at this stage and we saw all sorts of drama last year, with the winner, Kurt Kitayama, getting matched at 600.0599/1 during round three. As many as five players traded at 2.285/4 and below on Sunday 12 months ago and it's very hard to make any solid predictions this time around.
I'm very happy to have three pre-tournament picks inside the top-five and ties and adding a small bet on Colsaerts makes sense and I couldn't resist a very small play on Jeunghun Wang either. He was as big as 100.099/1 at the close of play and his current odds of 50.049/1 aren't awful given he's putted brilliantly over the first two days. He birdied three of his last four holes today to sit tied for 10th and he's only four off the lead.
I'll be back tomorrow with a look at the Honda Classic at halfway and with another look at the Oman Open after round three.
11:05 - February 28, 2020
The second round of the Oman Open is well under way and currently live on Sky. I'll be back later with a look at that one, at the completion of round two, but for now, attention is drawn to the Honda Classic where round two is set to start shortly.
Pre-event pick, Harris English, who tees off today at 11:45 UK time, is tied at the top with England's Tom Lewis on -4. Unusually, the wind dropped in the afternoon yesterday and the forecast suggests we may see something similar today. Yesterday's latter starters enjoyed an advantage of 0.45 strokes so it will be interesting to see if that levels out today. I suspect it may not.
As highlighted in the In-Play Tactics section of the preview, since Mark Wilson won the inaugural edition here in 2007, five strokes and tied 23rd is the furthest any winner has trailed after round one so Harris getting off to a good start is a plus. And it could have been so much better with my picks, but for one hole...
Huge outsider, Ted Potter Jr, would have been sitting alongside the two leaders had he parred the par three 15th - the first of the three hole stretch making up the notorious Bear Trap - but instead of a regulation three, he found the water three times and made nine!
No first-round leader has gone on to win at PGA National but that's a statistical quirk rather than a steadfast fact not to ignore. Rory McIlroy was beaten in a playoff after leading after every round in 2014 and it's not stopping me from backing co-leader, Lewis.
Again, as highlighted in the preview, length off the tee is a plus here and seven of the last eight winners have ranked inside the top-12 for DD, but the key stat is most definitely Scrambling. In eight of the last nine years, the top scrambler for the week has been placed. The odd man out was Graeme McDowell in 2013 who finished tied for ninth. Lewis ranks 12th for DD and tied first for Scrambling after round one so I'm happy to overlook the no first round leader winner hoodoo and take the 18.017/1.
In addition to Lewis, I've also had a small bet on Kyoung-Hoon Lee who was on the radar before the off. Lee is playing with English so he kicks his second round off soon. He ranks tied first for Scrambling after round one, alongside Lewis, and we know he loves the course as he was seventh on debut last year. He's in a group of 12 players tied for 11th and just three off the lead.
Among the group in a tie for 11th, I also really like Shane Lowry and Daniel Berger but I'm reticent to get too involved this early. At 22.021/1 and 28.027/1, those two look to be priced about right whereas Lee looks fractionally big to me at 80.079/1.
18:15 - February 27, 2020
I don't normally kick the blog off this early but given I've already had a couple of in-play bets and that I'm quite happy to sing my own praises after a great start in Oman, here I am.
After the opening day's play at the Oman Open, three of my six pre-event picks are sitting in the top-four! Guido Migliozzi, backed at 120.0119/1, leads after an opening six-under-par 66 and Brandon Stone and huge outsider, Rasmus Højgaard, backed at 230.0229/1, are tied for second and just one off the lead.
That's a super start but it's a packed leaderboard with some quality players tied for fifth and just two adrift, including Paul Krishnamurty's each-way fancy, Andy Sullivan, and Dave Tindall's 125/1 pick, Stephen Gallacher, and I like the look of both the 2018 winner, Joost Luiten, and Frenchman, Alex Levy, who sit tied for 13th and just three off the lead. I've added both at 19.018/1 and 50.049/1 respectively.
The first round of the Honda Classic, which I've previewed here, is more than halfway through but nobody has yet posted any better than -3. I'll be back with a more detailed look at that one in the morning.
Oman Open Pre-Event Selections:
Mikko Korhonen @ 95.094/1
Brandon Stone @ 120.0119/1
Guido Migliozzi @ 120.0119/1
Sebastian Heisele @ 180.0179/1
Chris Paisley @ 180.0179/1
Rasmus Højgaard @ 230.0229/1
In-Play Bets:
Joost Luiten @ 19.018/1
Alex Levy @ 50.049/1
Nicolas Colsaerts @ 9.89/1
Jeunghun Wang @ 100.099/1

Honda Classic Pre-Event Selections:
Harris English @ 80.079/1
Kurt Kitayama @ 130.0129/1
Ted Potter Jr @ 460.0459/1
In-Play Bets:
Tom Lewis @ 18.017/1
Kyoung-Hoon Lee @ 80.079/1
Cameron Davis @ 36.035/1
Brendan Steele @ 9.08/1
Russell Henley @ 46.045/1
*You can follow me on Twitter @SteveThePunter