The Punter's In-Play Blog: Holmes looks home and hosed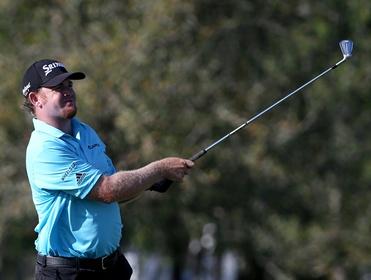 J.B Holmes – five clear and hard to beat at Doral
J.B Holmes still leads at Doral and Steve doesn't fancy him to mess it up from here. Read his final in-running thoughts for the week here...
"Given I backed Bubba Watson before the off and Dustin Johnson after round one, I'd love to say I fancy Holmes to flop but I can't. He looks home and hosed to me."
09:45 - March 8, 2015
Having looked at the state of play at the Puerto Rico Open for half an hour or more I've decided to move on and let it be. Spending any more time on it could be an exercise in futility. For the record, the man I fancy most to win is the 2013 winner, Scott Brown, who's currently tied for the lead with Chris Smith but with 19 players within three of the lead it looks devilishly hard to call.
Looking at past stats, no winner has been outside the top-five with a round to go but two winners, Michael Bradley, when he won the title a second time, in 2011, and Derek Lamely, 12 months earlier, both won from four strokes back. I just hope Johnson Wagner doesn't come through to win because I tried to back him before the off but was a little ambitious with regards to the price requested.
Over at the WGC-Cadillac Championship, with J.B Holmes leading by fully five strokes things look much clearer. Here's the leaderboard with prices to back at 9:35.
J.B Holmes -11 1.728/11
Bubba Watson -6 7.413/2
Dustin Johnson -6 8.415/2
Ryan Moore -5 30.029/1
Henrik Stenson -4 30.029/1
Bill Haas -4 60.059/1
Louis Oosthuizen -4 60.059/1
-3 and 55.054/1 Bar
J.B Holmes looked ill at ease for much of round three yesterday. He three-putted from just five feet at the opening hole and despite a hole-in-one at the 5th (also achieved by Dustin Johnson) he was still over-par for the day after 13 holes but birdies at 14, 15, 16 and 17 look to have sealed the deal. He did bogey the notoriously difficult 18th but I'm not sure that makes a scrap of difference. Five strokes is a huge lead and he's certainly not a skinny price at anything above 1.75/7.
I was really impressed by the way Holmes dug in and bounced back yesterday and he's going to be very hard to beat now. He's held an outright lead on the PGA Tour with a round to go four times before and he's fared well - winning on three occasions and since 1996, 24 men have led by five strokes on the PGA Tour and only five have failed to convert. Given I backed Bubba Watson before the off and Dustin Johnson after round one, I'd love to say I fancy Holmes to flop but I can't. He looks home and hosed to me.
I took a good look at the Africa Open (live on Sky Sports at 10:00) last night so see below for my take on that one. I'll be back tomorrow morning with my De-Brief and tomorrow afternoon/evening with my Valspar Championship preview.

17:00 - March 7, 2015
With just a round to go at the Africa Open, I thought I'd have a little look at the state of play so here's the leaderboard with prices to back at 16:50.
Trevor Fisher Jr -16 2.021/1
Matt Ford -14 7.06/1
Jaco Van Zyl -12 5.85/1
-10 and 27.026/1 Bar
I can see why the often flaky Trevor Fisher Jr is drifting slightly - he was odds-on as the third round finished up. He's not the most reliable in-contention and third round leaders have struggled both this year on the European Tour and at this venue in the past...
We've had eight European Tour events so far in 2015 and only two third round leaders have gone on to win and as highlighted in the In-Play Tactics section of the preview, 12 men have led or co-led here after 54 holes and only three have won.
I toyed with laying Fisher Jr but I'm not convinced that either Matt Ford or Jaco Van Zyl will put up much of a challenge. Ford is 37 and has never been in a position like this before. In fact, the closest he's ever been to the lead after three rounds is four strokes back and on the three occasions that happened on the Challenge Tour he went backwards in round four. And as classy as Van Zyl is, he definitely feels the heat in European Tour events. He didn't kick on today after a terrific start and although he's suited to being slightly off the pace and outside of the final two-ball, should Fisher Jr and Ford falter early on, Van Zyl himself may get a chance to choke.
If there's value amongst those front three it must be with Van Zyl. He performs brilliantly here, has won 13 times on the Sunshine Tour and is surely overdue a European Tour win but I've decided to take a bit of a chance and play a handful of outsiders that are all sitting eight off the lead on eight-under-par.
We've already had three winners on the European Tour that have been seven (twice) and eight shots back after round three this year and this looks ripe for another shock so I've backed David Howell, Max Kieffer, Gregory Havret, Justin Walters and Julien Quesne at prices ranging from 80.079/1 to 180.0179/1.

10:00 - March 7, 2015
After J.B Holmes' incredible opening round of 62 at the WGC-Cadillac Championship on Thursday, the Blue Monster bit back yesterday and nobody managed to better Adam Scott's four-under-par 68. Some of the run-off areas appeared almost too severe and when asked about his opening hole of the day, when what looked a superb second shot ran through the green and into the water, Holmes sounded far from happy.
"That's not hard," he said. "That's stupid."
Henrik Stenson claimed some holes were set-up too severely and that it led to defensive play and Rory McIlroy's frustration all came out on the par 5 8th when it wasn't just his ball that found a watery grave. In what could hardly be described as a fit of rage, Rory can be watched here, nonchalantly throwing his 3-iron into the lake after his poorly executed second shot.
As for my bets, Bubba Watson made up ground, courtesy of a pair of eagles, but both Brooks Koepka and my in-play fancy, Dustin Johnson, were disappointing. Koepka continued to miss too many chances with the putter and DJ lost his way after a terrific start. He birdied the first two holes and found the right portion of the 3rd fairway on the par 5 3rd off the tee but from that point onwards things started to go wrong and he now trails by six. Here's the current leaderboard with prices to back at 9:50.
J.B Holmes -9 4.94/1
Ryan Moore -7 8.88/1
Adam Scott -6 5.49/2
Bubba Watson -4 8.27/1
Henrik Stenson -4 12.011/1
Dustin Johnson -3 16.015/1
Alexander levy -3 55.054/1
Ryan Palmer -3 34.033/1
Sergio Garcia -2 36.035/1
Jamie Donaldson -2 55.054/1
Rory McIlroy -1 18.5
-1 and 70.069/1 Bar

The first three on the leaderboard have all putted superbly so far and that's what's separated them from the field. The one I fancy to get the job done from here is Adam Scott but I'm worried that he won't be able to continue to putt so well so I'm not going to back him. With the long putter ban looming large, he's gone with a short stick this week and its working wonders so far but I'm just wary enough of how it will hold up under pressure to leave him alone. Putting well on Thursday and Friday is one thing but can he sustain it when the title's on the line late on Sunday?
At the Puerto Rico Open, veteran Czech-born German, Alex Cejka, is a shot in front of Brandon Hagy. Playing on a sponsors invite, Hagy's so fresh out of college that the PGA Tour website is yet to give him a profile. He's a new one on me so I have no idea whether he can handle the weekend pressure. In solo third, two off the lead and two clear of the remainder, is Emiliano Grillo and he has to be considered the most likely winner but I'm happy to let him go un-backed at around 5.59/2.
The third round of the Africa Open has already started and it's live on Sky Sports at 10:30 but I'm being as cautious there as I am elsewhere. I was tempted by Maximilian Kieffer at over 20.019/1 and the man I really fancy to win is course specialist, Jaco Van Zyl. The South African has been victorious plenty of times on the Sunshine Tour but he's yet to win on the European Tour and that just puts me off.

11:20 - March 6, 2015
J.B Holmes has scooted around the remodelled Trump National Doral in a sensational bogey-free 10-under-par 62 to lead the WGC - Cadillac Championship by four shots and I'm not sure anyone would have seen that coming. Only three players finished under-par for the week last year so although the wind had been less severe and the greens have had another 12 months to mature, nobody expected anything like that! And he wasn't the only one to go low - Ryan Moore reached eight-under-par after just 12 holes before paring the next five and double-bogeying the last. Here's the first round leaderboard with prices to back at 11:00.
J.B Holmes -10 4.03/1
Ryan Moore -6 16.015/1
Dustin Johnson -4 10.09/1
Rickie Fowler -4 15.014/1
Alexander Levy -4 46.045/1
Henrik Stenson -3 17.016/1
Brooks Koepka -3 23.022/1
-2 Bar
Notable others
Rory McIlroy +1 21.020/1
Bubba Watson -1 21.020/1
Adam Scott -1 23.022/1
38.037/1 Bar
At first glance, with such a commanding led on a course that suits frontrunners (the last two winners have won wire-to-wire), Holmes looks a decent price at 4.03/1 but a look at historical stats on both the PGA and European Tours suggests otherwise. Nobody has lead by four after round one in a WGC event but there's plenty of evidence to suggest he's far from a good thing at just 3/1...
On the PGA Tour since 1997, six players have led by four strokes after round one and only one of them, Phil Mickelson, at the 2013 Phoenix Open, has gone on to win. It's perhaps not surprising that Sonny Skinner failed to convert in the 1997 Buick Open but if Jesper Parnevik, Anthony Kim, Hunter Mahan and Justin Rose all failed to convert a four-shot lead after day one, you have to fear for J.B.
And it's even worse on the European Tour with all eight getting beat. Again, some big names have enjoyed a four-stroke margin lead after day one and lost. Lee Westwood, Jamie Donaldson, Angel Cabrera, Nicolas Colsaerts and Michael Campbell have all failed.
I was tempted to lay Holmes at 4.03/1 but after much deliberation, I've decided not to bother. I have backed Dustin Johnson though, at what looks a generous enough price of 10.09/1...
Johnson was never at the races at the Honda last week but that was pretty typical of most of his efforts in Florida. He has a really poor record in the Sunshine State but with a second and a fourth in six starts, he does like it here. He's returned from his six month break in fine fettle, playing really well at both Pebble Beach and Riviera, and he looks the one to get with at this stage.
Of my two pre-event selections, Bubba Watson looked out of sorts after a bright start but Brooks Koepka has done OK. He didn't putt brilliantly yesterday but the rest of his game looks good.
I added three outsiders (listed below) after my Puerto Rico Open preview was published but with the possible exception of Dicky Pride, all my picks have been disappointing. I wanted to get further involved at this stage and I did toy with backing Jonathan Byrd, who's two behind first round leader, Mark Hubbard, but with 15 players within two strokes, waiting until halfway looks the prudent thing to do.
They're still playing round two at the Africa Open, where course specialist, Jao Van Zyl, has this morning moved menacingly in to contention. The wind looks to be getting up for the afternoon's starters and the coverage is live on Sky Sports at 12:30. Both my pre-event picks have been poor and I'm going to wait until halfway before considering whether to get any further involved. If I do decide to get involved, I'll update the blog again this evening.
Africa Open Pre-Event Selections:
David Horsey @ 50.049/1
Michael Hoey @ 75.074/1
Puerto Rico Open Pre-Event Selections:
Derek Fathauer @ 66/1 (Sportsbook)
Added after the preview published
Matt Bettencourt @ 300.0299/1
Dicky Pride @ 400.0399/1
Ryan Armour @ 500.0499/1
WGC - Cadillac Championship Pre-Event Selections:
Bubba Watson @ 18.017/1
Brooks Koepka @ 48.047/1
WGC - Cadillac Championship In-Play Bet
Dustin Johnson @ 10.09/1
*You can follow me on Twitter @SteveThePunter
Discover the latest articles