The Punter's In-Play Blog: Molly can charge from off the pace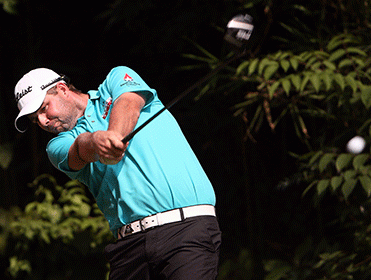 Can Marc Leishman get the job done for The Punter today
Steve's still got two live chances as we go into the final round either side of the pond, with Richie Ramsey in Spain, and Marc Leishman in America, still bang in contention for victory...
"Having taken the day off yesterday I didn't play in-running, or get a feel for either tournament but looking at the state of play this morning I've felt compelled to add Francesco Molinari here at 42.041/1."

10:30 - May 18, 2014
Thomas Pieters, backed before the off at high of 1000.0, will take a two stroke lead into today's final round of the Open de España but the man to beat is 50-year-old home favourite, Miguel Angel Jimenez.

I haven't backed the Spanish legend but I'll be cheering him on - Jimenez finally winning his national title would be a great story and it would give the European Tour a big boost ahead of next week's flagship event, the BMW Championship at Wentworth.

Mike Norman and I aren't without chances today. I backed Richie Ramsay before the off at 100.099/1 and Mike made Chris Wood his each-way selection at 51.050/1, as well as one of his Double Delight picks.
Having taken the day off yesterday I didn't play in-running, or get a feel for either tournament but looking at the state of play this morning I've felt compelled to add Francesco Molinari here at 42.041/1.

The Italian performed poorly in-contention yesterday but he's more than capable of putting in a really low round today. If nerves get to the front two the event could open up considerably and although he's fully six strokes off the lead at present, things could soon change.

I looked to be in a great position at the halfway stage of the HP Byron Nelson Championship but poor rounds from Paul Casey and my in-play pick, Martin Kaymer, have left me with only Marc Leishman - another of Mike's picks - to cheer on. This looks devilishly hard to call and I can see me not getting involved before the off but I'll take a more detailed look this afternoon and if I do place a wager before the off I'll update again.

22:40 - May 16, 2014
After two rounds at the Open de España, Belgium's Thomas Pieters, matched at 1000.0 before the off, leads by a stroke over Eddie Pepperell and Joost Luiten.  Francesco Molinari is on -4, two strokes off the lead, with my man, Richie Ramsay, one of three men tied for 5th on -3. 
I backed Paul Lawrie in-running at 34.033/1 today, after he'd eagled the 7th hole, but he played the remainder of his round in one-over par and is a bigger price now so that didn't work out brilliantly. I've got a feeling we might see much change tomorrow and I'm leaving the event alone for now. 
It played very firm this afternoon and the commentators felt it likely that the course would be watered before round three and if that's the case, those playing early, before it has a chance to firm up again, could make significant headway. They call Saturday 'Moving Day' and I can see some movement.
Of those towards the top of the leaderboard, I quite like Luiten and Alvaro Quiros. This tight tree-lined course looks ideal for Luiten and if he can cut out the silly errors he could take all the beating but I can't dive in at just 5.39/2. Quiros' game looks in excellent shape and he was the only man not to make a bogey today but can he back that up tomorrow? I'm very tempted at 13.5 but I just wonder if there's a disaster lurking somewhere and I'm happy to stay out of the game for now.
Over at the HP Byron Nelson Championship, which is currently live on Sky Sports 4, my big fancy for the week, Paul Casey, who played in the morning, equalled the PGA Tour's nine-hole scoring record when he scorched home in just 27 strokes. At the time of writing, he's tied for 2nd alongside in-play pick, Martin Kaymer, and five others on -6 and if he's able to consolidate that brilliance tomorrow, he has a chance. 
With Kaymer and Casey firmly in-contention, and nobody else grabbing my attention, I'm going leave this one alone for now too. If I change my mind and make another play before the third round I'll update again but if I don't, I won't post again now until Sunday. I'm taking a rare day off tomorrow to go racing.

11:40 - May 16, 2014
I've had a closer look at the HP Byron Nelson Championship this morning and, for a number of reasons, I've decided to play last week's winner, Martin Kaymer, who trails first round, Peter Hanson, by just two strokes.
The stats suggest we simply can't go too far down the leaderboard here. Since 1996 (as far as my stats go back) every winner bar Adam Scott in 2008, who shot 68, has shot 67 or less. If that trend is to continue, only 12 men can win and most of the 12 play their second rounds in the afternoon.
The weather forecast suggests the morning starters will enjoy much the better conditions today, so that will favour the German and I'm not overly concerned that he's trying to win back-to-back. He won the Scottish Open a week after winning the prestigious Open de France in 2009 and he held his form really well the following year too - winning twice in consecutive months, after he'd won the USPGA Championship. He's hit form and he can hold it. 
I'm still a bit cross with myself for not backing Peter Hanson. I really fancied Paul Casey at odds of 75.074/1 and Hanson has a very similar profile to the Englishman. I was tempted to back him today but given Jason Day is the only first round leader to go on to win since 1996, and that I do just have my doubts he quite has the nerve to win Stateside, I thought better of it. 
At the Open de España, my each-way selection, Fabrizio Zanotti, has slipped down the leaderboard but Mike Norman's fancy, Chris Wood, has picked up the baton nicely. He's currently up into a tie for second and that's great news for his Double Delight column too. With Adrian Otaegui far from out of it and Sergio Garcia the strong current favourite, the ducks are in a row in Spain and with Marc Leishman, Dustin Johnson and Graham DeLaet all in the early shake-up in Texas, Mike and his followers have started well.
I'm still holding fire here for now but I'll be back this evening with a look at the state of play at halfway.

00:10 - May 16, 2014
It's not always easy to find an opportune time to kick the In-Play Blog off. The European Tour action starts before I get up and the US event will still be in progress after I've gone to bed so I thought I'd get the ball rolling tonight.
In the States, Peter Hanson leads the HP Byron Nelson Championship on -5 and he looks unlikely to be headed before the end of the first day's play. Given I concentrated my efforts on players making their debut in the event he was someone I did consider and with the benefit of hindsight, I'm kicking myself for not including him at 140.0139/1 but it's no good crying over spilt milk. One of my pre-event selections, Marc Leishman, sits in second so it's not all bad news and I'm going to take a good look at the leaderboard in the morning. 
Over at the Open de España, England's Eddie Pepperell leads the way after an opening four-under-par 68 but it's very tight, with eight players tied for second, including three well-fancied Spaniards - pre-event favourite, Sergio Garcia, Miguel Angel Jimenez and Rafa Cabrera-Bello. 
One of my pre-event picks, Richie Ramsay, sits alongside that Spanish trio and my each-way selection, Fabrizio Zanotti, is amongst another group of eight players tied for 10th on two-under-par. It looks like a particularly well-planted minefield and until the event starts to take shape I'm more than happy to sit on my hands there too.

Open de España Pre-Event Selections:
Thomas Bjorn @ 30.029/1
Andy Sullivan @ 90.089/1
Richie Ramsay @ 100.099/1
Fabrizio Zanotti @ 100.099/1
Carlos Del Moral @ 150.0149/1
In-Play Bet
Paul Lawrie @ 34.033/1
Francesco Molinari @ 42.041/1
HP Byron Nelson Championship Pre-Event Selections:
Marc Leishman @ 55.054/1
Paul Casey @ 75.074/1
Brooks Koepka @ 90.089/1
Bud Cauley @ 170.0169/1
D.A Points @ 250.0249/1
Luke Guthrie @ 310.0309/1
Derek Ernst @ 310.0309/1
Brice Garnett @ 440.0439/1
In-Play Bet
Martin Kaymer @ 11.010/1

*You can follow me on Twitter @SteveThePunter
Discover the latest articles