The Punter's In-Play Blog: Leaders look vulnerable in Paris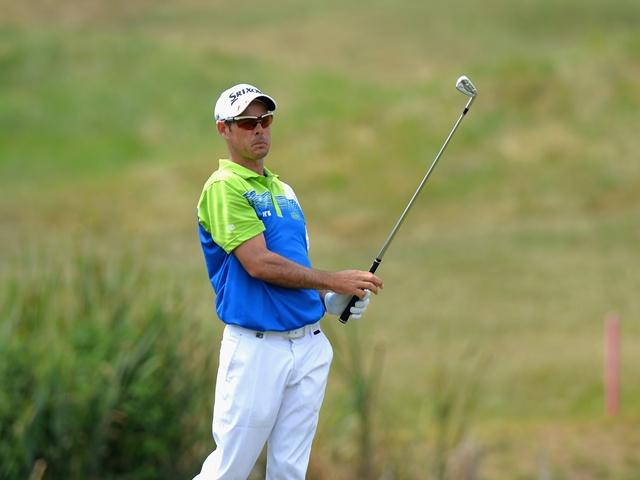 Jaco Van Zyl – two clear in Paris but will nerves get the better of him?
There's just a round to go at both this week's events so how does Steve see payday panning out? Read our man's final in-running thoughts for the week here...

"With a number of top quality players sitting just off the lead, laying the front three looks worth chancing. Martin Kaymer and Victor Dubuisson look great allies and Brendan Steele won't mind how windy it gets."
10:05 - July 5, 2015
A combination of a rain-softened course and easier pin placements, saw scoring improve markedly at the Open de France yesterday and South Africa's Jaco Van Zyl fired a spectacular bogey-free seven-under-par 64 to lead with just one round to go. Here's the leaderboard with prices to back at 09:50.

Jaco Van Zyl -10 3.953/1
Maximilian Kieffer -8 6.05/1
Bernd Wiesberger -7 6.86/1
Martin Kaymer -6 9.28/1
Victor Dubuisson -6 12.011/1
James Morrison -6 15.5
Brendan Steele -5 21.020/1
Tyrell Hatton -5 38.037/1
Francesco Molinari -4 34.033/1
Thongchai Jaidee -4 50.049/1
-4 and 70.069/1

With the wind forecast to pick up as the day wares on, I can't help but think the leaders look vulnerable here. Both Jaco Van Zyl and Max Kieffer are looking to win on the European Tour for the first time and both have been very poor in-the -mix previously.
Van Zyl has won 13 times on the Sunshine Tour but winning in Europe has proven to be a barrier he has been unable to breakthrough and although this represents far and away his best opportunity, he still looks vulnerable. Le Golf National is a hard place to make the running and Graeme McDowell, in 2013, is the only third round leader or co-leader to convert since 2008.
Max Kieffer has been in-contention twice recently, at the Irish Open and the Nordea Masters, and on both occasions nerves appeared to get the better of him and he shot rounds of 77 and 75. He'll learn from the experience and could well improve today but I'm more than happy to take him on. And given Bernd Wiesberger's Sunday woes in Paris, I'm happy to lay him too.
The Austrian was sitting fifth 12 months ago and third in 2013 but he plummeted out of contention on both occasions with rounds of 77 and 75 and in four attempts at Le Golf National, 75 is the best he's mustered on a Sunday here. I think he'll improve on those efforts but having wanted to lay Van Zyl and Kieffer, it made sense to go against Wiesberger also.
With a number of top quality players sitting just off the lead, laying the front three looks worth chancing. Martin Kaymer and Victor Dubuisson look great allies and Brendan Steele won't mind how windy it gets. In addition to taking on the front three, I've now also backed Francesco Molinari and Rafa Cabrera-Bello. Both will be better suited to chasing and with James Morrison and Thongchai Jaidee onside from the start, it looks like I'm heading for feast or famine.
It was all change at the Greenbrier Classic yesterday with Jason Bohn climbing 61 places to share the lead with a blistering nine-under-par 61. I had a busy night trading and I've tweaked things again this morning. It looks a lot better than my book was at this stage last week but with a leaderboard like the one we have, I'd have done well not to have gotten myself into a profitable position!
With 31 players within four of the lead, it still looks impossible to call. Here's the third round leaderboard at 09:55, with prices to back and how I stand with each.

Sean O'Hair -11 8.88/1 +64
Jason Bohn -11 9.617/2 +93
Bryce Molder -11 11.521/2 +87
S.J Park -11 15.014/1 +90
Justin Thomas -10 9.417/2 +110
Danny Lee -10 17.5 +110
David Hearn -10 19.018/1 +111
Chad Collins -10 25.024/1 +399
Brendon Todd -9 20.019/1 +120
David Lingmerth -9 29.028/1 +1483
Jonathan Byrd -9 36.035/1 +1483
-8 and 36.035/1 Bar

If I had to stick my neck out and pick one to win it would probably be Paul Krishnamurty's Find Me a 100 Winner pick, Sean O'Hair, but it's still ridiculously had to call and I'm just happy to keep on laying. If one of the leaders starts fast and runs away with it, no doubt I'll lay them again and I may even finish the week losing but it's hard to see that happening.
No third round leader has ever won this tournament and as Bohn demonstrated brilliantly yesterday, this is definitely somewhere that ground can be made up. I'm hoping for a few low rounds from off the pace, preferably by players I haven't yet layed, but whatever happens, I'll be back tomorrow with the de-brief.

10:00 - July 4, 2015
This week's two events are like chalk and cheese. On the European Tour, provided any overnight rain hasn't eased conditions too much, the Open de France is developing into an absolute classic with a number of quality players poised to grind it out over the weekend on what is fast becoming one of my favourite golf courses. While in the States, we can expect a weekend of target golf on a rain-soften track producing super-low scores, so there's something for everyone and I know which I prefer.
I can't praise Le Golf National highly enough, the par 5s in particular are all great holes and the finish is really tough, with water in play on holes 15, 16 and 18. Only 18 birdies have been recorded at the par 4 finishing hole so far this week and it's averaging 4.63! At the halfway stage, class acts, Martin Kaymer, Victor Dubuisson and Rafa Cabrera-Bello are tied at the top on four-under-par, with pre-event favourite, Francesco Molinari, one of five men tied for fourth.
One of my pre-event picks, James Morrison, is one of the five just a stroke off the lead and after recovering well from a horror start yesterday, Gregory Bourdy is just three back, so I'm not dead in the water just yet. I was very tempted to leave it at that and just enjoy what is sure to be a spectacle over the next two days but I've looked long and hard at the state of play and I've decided to play Kaymer as well now, albeit very modestly indeed.
If the rain that was expected overnight hasn't softened the track too much, I expect this to be a really tough test and last year's US Open champ (who currently ranks first for scrambling) is perfectly equipped to grind out a second tournament win, having taken the title in 2009.
Although Molinari is second favourite, I think Dubuisson should be. The Italian gets in his own way far too often to be backed at short odds and Dubuisson is putting superbly. It's a lot to expect the young Frenchman to win his national title though and that's why I'm just siding with Kaymer. Cabrera-Bello is the only other player trading at a single-figure price but he's been absolutely hopeless in-the-mix of late and makes no appeal.
Over at the Greenbrier Classic, if I'd have spent the day sat at my PC yesterday my book would no doubt look better than it does. I see that Robert Garrigus was matched at just 11.010/1 and that a few others that aren't yet layed were also matched at much lower than they are now but I've no regrets. I may monitor it more closely tonight or I may just take another look tomorrow - I haven't decided yet - but whatever I choose to do later, I'm perfectly happy with my lot right now.
After 36 holes, 25 players are within three of the lead and I still haven't layed 15 of them. Since yesterday, I've only layed Jhonattan Vegas (now tied for the lead with Scott Langley) and David Hearn (tied third) and I've decided to leave it at that for now.
I could lay a large part of my Scot Piercy bet back and lay all those in-the-mix at between 30.029/1 and 40.039/1 to put the book into profit whoever won but I'm going to hang on for now. If the as yet un-layed players like Greg Owen, Jonathan Byrd, Sean O'Hair, Chad Collins, Bryce Molder and of course, Piercy, all drop away today then I might regret my decision not to go after them yet but should a couple of them progress and shortened up markedly, I'd have done the right thing. No doubt a bookmaker would get them in the book, get themselves in front and take it from there and I know I'm taking a gamble by not laying them. Let's see if it pays off.
Kevin Chappell, one of those I layed before the off and now tied for third, is the current favourite but the fact that he trades at 16.015/1 tells you all you need to know - this event is as open as you'll see with just two rounds to go.

10:15 - July 3, 2015
The Open de France is already developing into the stern test we all expected and I'm going to leave the event alone until halfway. I've had a really topsy-turvy time of it already with my picks and waiting to evaluate the situation at halfway seems prudent.
My each-way selection, Richard Green, put in a dismal performance yesterday and with Thongchai Jaidee and James Morrison both starting poorly things didn't look good. That pair improved considerably as the day wore on though and Gregory Bourdy raced to the early lead. Things improved considerably and with just one hole to play of round one, Bourdy was leading on four-under-par and Morrison and Jaidee were both within two strokes and tied for sixth. After a poor start, it looked like I was going to end the day in good shape but I didn't...
Bourdy and Morrison both double-bogeyed the tricky 18th and Jaidee bogeyed it and all three have started tardily this morning. In fact, Bourdy has been so bad that he even looks in danger of making the weekend! Green may have been poor, but the each-way column has still gotten off to a great start with Danny Willett, Victor Dubuisson and Bernd Wiesberger all starting well.
Over at the Greenbrier Classic, Scott Langley leads after round one following an opening eight-under-par 62 with Danny Lee and Jonathan Byrd a shot back in a tie for second. I didn't lay any of them before the off so it's been a better start than last week when pre-event favourite, Bubba Watson, shot out of the blocks with a 62 to severely hamper my trading.
Last week I was stuck and just had to sit and suffer but I've been quite busy early on here. I've layed Langley and Lee, as well as the previously un-layed Tiger Woods (laying all three to lose around £270) and I've also again layed a few that I took on before the off.
I've layed Bubba, Paul Casey, Bill Haas, Kevin Na and Brendon Todd again and they all stand to lose me between £325 and £393 with Bubba my biggest loser. Everyone else layed before the off now stands to lose somewhere between £102 and £268 and anyone I haven't layed stands to win £726.
At this early stage, there are 26 players within four of the lead and I've only layed nine of them and that includes Langley, Lee and Tiger, who I hadn't opposed before the off. My book is a sea of red at the moment but it's very early days and I'm happy enough with the start and my only regret is not hearing about Webb Simpson's possible injury before the off as if I was aware, I'd have gone after him a bit more rigorously.
Simpson was very well backed before the off but, after his lacklustre one-over-par 71, it was revealed that he'd injured his back on Wednesday, lifting his son out of the hotel pool. Apparently he'd said he felt fine on Thursday morning but it's a poor start and with the benefit of hindsight, I'd have liked to have known about the incident as I'd have definitely made him my biggest loser.

12:20 - July 1, 2015
I haven't trawled through Twitter to see who else is having travel issues ahead of tomorrow's Open de France but pre-event favourite, Francesco Molinari, has only just arrived. As detailed in the preview, strikes in France had caused all sorts of problems and I can't imagine spending two days attempting to cross the channel is ideal preparation. The event tees off 06:30 UK time on Thursday and it's live on Sky from 09:30.
When I published my Greenbrier Classic preview on Monday, I hadn't finished my lay book but it's all sorted now and set out below.
I've layed everyone under 100.099/1, apart from Tiger Woods. I don't really fancy him to suddenly find a rapid improvement in his game but if he does start well his price will collapse so it made sense to leave him out before the off.
I've set out my rationale for laying this week in the preview, but put simply, all five previous event winners went off at a triple-figure price and it's been a great tournament to trade in-running. No first, second or even third round leader has ever gone on to win so it looks like a great event to be laying rather than backing. My biggest loser before the off is J.B Holmes and my smallest loser is Roberts Streb but things will change a lot as the week progresses.

Open de France Pre-Event Selections:
Thongchai Jaidee @ 34.033/1
Chris Wood @ 46.045/1
Gregory Bourdy @ 55.054/1
James Morrison @ 75.074/1
Richard Green @ 150.0149/1

In-Play Bets
Martin Kaymer @ 6.611/2
Francesco Molinari @ 36.035/1
Rafa Cabrera-Bello @ 110.0109/1
Jaco Van Zyl layed @ 4.1
Max Kieffer layed @ 6.25/1
Bernd Wiesberger layed @ 6.611/2

Greenbrier Classic Pre-Event Selections:
Scott Piercy @ 130.0129/1
Charlie Beljan @ 140.0139/1
Johnson Wagner @ 380.0379/1

Greenbrier Classic Pre-Event Lay Book
Worst Case Scenario -473
Best Case Scenario +508

Greenbrier Classic Lay Book after Round One
Worst Case Scenario -393 (Bubba Watson)
Best Case Scenario +726

Greenbrier Classic Lay Book after Round Two
Worst Case Scenario -284 (Bubba Watson)
Best Case Scenario +830

Greenbrier Classic Lay Book after Round Three
Worst Case Scenario +64 (Sean O'Hair)
Best Case Scenario +1483

*You can follow me on Twitter @SteveThePunter
Discover the latest articles