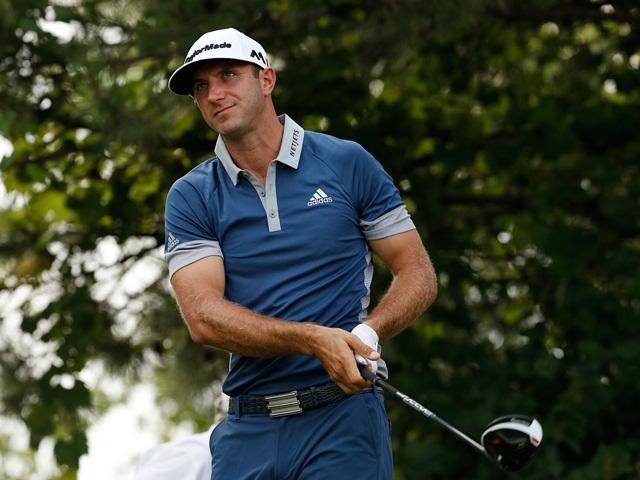 Dustin Johnson – the halfway leader at Riviera
There's still two rounds to play at the Genesis Open but after a full day of action yesterday, a 72-hole tournament looks assured so read what our man thinks about the current state of play here...
"We've seen all sorts of late market moves here and getting DJ in the book and taking it from there looks like a reasonable plan of action."
10:00 - February 19, 2017
Hometown hero, Brett Rumford, has won the inaugural World Super 6 and I'll have lots more on that event in tomorrow's De-Brief but for now my focus is on the Genesis Open on the PGA Tour where Dustin Johnson leads with still two rounds to play.
After two days of high winds and rain, the weather finally relented yesterday and after a full day's play, it looks highly likely that we'll get the full 72 holes in. That does mean that the leaders will be playing 36 holes today. Here are the latest standings with prices to back at 09:50.
Pat Perez -9 [12.0]
Cameron Tringale -9 [23.0]
Patrick Rodgers -7 [29.0]
Jhonattan Vegas -7 [34.0]
J.T Poston -7 [120.0]
-6 and [11.0] bar

This is a great chance for Johnson to win a title he's threatened to take on numerous occasions and it's impossible to crab his record when leading at halfway - he's led or co-led a 72 hole event nine times previously and he's successfully converted four times - but this isn't an easy place to win from the front and DJ has another reason to feel the heat today. Provided Jason Day (who's currently tied for 40th) doesn't finish in a tie for third or better, DJ will be the number one ranked player in the world for the very first time if he takes the title.
"Obviously I would like to be the best in the world," said Johnson, currently No. 3 behind Jason Day and Rory McIlroy.
"But how you get there is winning golf tournaments. If I win this week and I happen to get to No. 1, great. I'll definitely be excited, be proud.
"But I've got to take care of this week first."
It doesn't sound as if that huge milestone is at the forefront of DJ's thinking but it won't be far away and as the chance of victory becomes more apparent the reality will sink in properly. I'm not suggesting it's a huge factor and something that will prevent a major winner attempting to win on the PGA Tour for a tenth successive year but it is a factor. And so is the poor record of halfway leaders at Riviera. Phil Mickelson, in 2008, is the only halfway leader or co-leader to go on to victory in the last ten years.
Dustin has led this event at this stage before. He was the halfway leader in 2010 but after a third round 74 he could only manage third with a rallying 66 in round four. I know his immediate challengers, at this stage, aren't the strongest but all things considered he's worth taking on. As detailed in the preview, we've seen all sorts of late market moves here and getting DJ in the book and taking it from there looks like a reasonable plan of action.

13:00 - February 18, 2017
High winds and heavy rain again put pay to the action at the Genesis Open at Riviera yesterday with the majority of the field yet to even start round two. A lot more rain was forecasted to fall over night and there's a 50% chance of more rain throughout the day so the possibility of a 54-hole tournament has to be considered. This is what, Mark Russell, the PGA TOUR VP of Rules and Competition, said about the current situation yesterday.
"We could have played a little bit more, but why? It's going to get nothing but worse as you can see. So my thought and the staff's thought was let's get the spectators and the players out of here and somewhere safe and we'll see what we do tomorrow."
"We're hoping for the best. Matt Morton and his staff do a great job here at Riviera. They're going to be in here very early. They're expecting high winds tonight and they'll probably have some clean-up to do but if we don't get that five inches of rain that they predicted, hopefully we can play golf in the morning at 7:00."
It's tempting to think that at less than 3/1, Dustin Johnson is worth taking on. He currently sits on -5 and two off the lead, having not even begun round two, but he has a brilliant record at the venue and a knack of winning reduced events. He's already won the AT&T Pebble Beach, The Barclays and the Tournament of Champions when the three events were reduced to 54-holes so he has a history getting to the line first when the tape's moved forward.
I'm going to continue to leave the event alone and see how much gets done today.
Over at the World Super 6 in Perth, the last 24 players will contest the match play element tomorrow and I'm more than happy going into day four given only eight of the 30 players layed before the off are still alive.
Hometown hero, Brett Rumford, and last year's course winner, Louis Oosthuizen, are both through to round two of the match play competition as they both finished inside the top-eight and so it's no surprise to see them vying for favouritism but I'm not convinced it's a huge advantage to go straight in to round two. Playing someone that's already warmed up tomorrow with a win in round one could actually put the top-eight at a disadvantage.
Anyway, the draw has just been made, live on Facebook, but the European Tour website isn't yet showing it. It's now in bracket format, so Rumford, who finished five clear of everyone else in the stroke play element, was seeded number one and if the seedings work out, he'll play fellow local, Jason Scrivener, who tied second, in the final. Scrivener was awarded the number two seed on the count back system after his six-under-par third round.
I've tweaked my book only ever so slightly and I'm now only taking on five. I'd already backed my each-way fancy, Sam Brazel, before the off, and I backed back in-running both Thomas Detry and Phachara Khongwatmai this morning.
If you fancy a bet now, please note that they appear to be using hole 10 first in the six-hole ties and not hole one and the tweet below by @15thClub, who is well worth a follow, shows how the 24 contestants have fared on the six holes so far this week.
Super 6 Holes Form Guide @ISPSGolf @EuropeanTour pic.twitter.com/q9c0tThyeg

— 15th Club (@15thClub) February 18, 2017
12:00 - February 17, 2017
This week all feels a bit messy with both events barely started, even though we've reached the midway point of the World Super 6 Perth on the European Tour.
I'll start Down Under, where the first 36 holes of the 54 hole stroke play element of this new event, with a brand new format, have been played.
Most of the fancied runners have made it through to the weekend, with the only shock omission being Alex Noren. Perth's very own Brett Rumford shows the way and he's the tournament favourite now but I certainly wouldn't advocate backing him at a single figure price.
The format is covered extensively in the preview here, but just to recap, after tomorrow's third and final stroke play round, the top-24 move on to Sunday to participate in a six-hole match play knockout tournament, or should that be six-hole match play lottery!
The top-eight tomorrow will move straight into the second round on Sunday and they'll meet the eight first round winners in round two. Rumford looks almost assured to be in the top-eight after round three now but don't take it as red - a lot can change around here. Mark Foster sat alongside Rumford at the top of the leaderboard after round one but he's now struggling to get inside the top-24 after a poor second round so those that sit inside the top-24 now are by no means assured a place in the match play on Sunday.
Having layed the 30 players that were trading at less than [100.0] before the off, I'd be more than happy if the current leaderboard didn't change between rounds two and three as at the moment Rumford is the only player I've layed inside the top-8 and only eight of the 30 are inside the top-25. I'll be more than happy to go into Sunday with two thirds of the field running for me.
I'm not going to do anything else right now as the second round hasn't long finished and the market hasn't sorted itself out yet. I'll take another look this evening and if I decide to tweak my book further I'll update again.
I've detailed how it stands below and I'm already wishing I'd been far more aggressive but as it was a new event and because I wasn't going to be getting up during the night, I kept things sensible.
Over in the States, my sole selection at the Genesis Open, Charl Schwartzel, ended his chances after just two holes yesterday! Playing in the afternoon and starting on the par four 10th, he opened up the tournament with a pair of sixes and he's still three-over par after 16 holes.
After fog delayed the start and then caused a suspension to play, the opening round has far from finished and with wind and rain forecast for the entire day today, I'm going to sit on my hands for now here too.

World Super 6 Book:
Worst case scenario (Oosthuizen) -£204.28
Any I haven't layed +£334.90
Going into day four
Worst case scenario (Oosthuizen) -£190.60
Any I haven't layed but not including Brazel, Detry and Khongwatmai +£347.9


Genesis Open Pre-Event Selection:
Charl Schwartzel @ [90.0]

In-Play Trade
Dustin Johnson layed @ [2.22]

*You can follow me on Twitter @SteveThePunter