The Punter's In-Play Blog: McIlroy the man to beat at the Tour Championship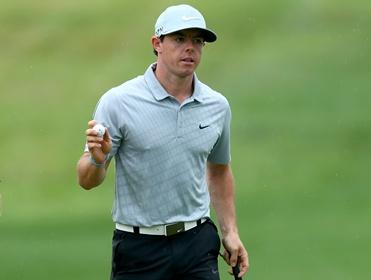 Rory McIlroy is tied for the lead at the Tour Championship
Steve updates the state of play with a round to go in this week's two golf tournaments, and although he now can't lose on the week our man isn't overly confident about his main pick Billy Horschel winning in America...
"I came within a lipped-out putt of trading back a substantial proportion of my potential Billy Horschel winnings last night but in the end settled for getting the week's stakes back at 2.56/4."

09:30 - September 14 2014
Romain Wattel has shot three clear at the top of the KLM Open leaderboard with a round to go and given his nearest pursuer is Richie Ramsay, who was, not for the first time, awful in-contention last week, he has a great chance to bag his first European Tour title.

The young Frenchman, who did win once on the Challenge Tour in 2010, has never won on the European Tour and this is the first time he's led through 54 holes so what we can expect from him today is anyone's guess. My feeling is that he may struggle.
He's never impressed me in-the-mix and the last time he held a chance to win, at the Irish Open in June, he slipped from second at halfway and just two off the lead right down to 21st and six adrift with a poor weekend performance. He's not one to go to steaming in on at just a shade over even money and the value may well lie with the seasoned campaigners looking to chase him down.
If Paul Casey continues where he left off yesterday then he'll win but as Pablo Larrazabal showed yesterday, in no uncertain terms, backing up a low round is far from easy. As Casey did yesterday, the Spaniard shot 62 on Friday to take the lead. He followed it up with a five-over-par 75!

I'm leaving the event alone now and concentrating my efforts on the Tour Championship but I did toy with dutching Peter Uihlein, defending champ, Joost Luiten and three time KLM Open winner, Simon Dyson. All three are trading in the 20s and all three are within striking distance should nerves get to Wattel.
I came within a lipped-out putt of trading back a substantial proportion of my potential Billy Horschel winnings last night but in the end settled for getting the week's stakes back at 2.56/4.
After Rory McIlroy has three-putted the 10th hole to match Billy's bogey, the pair went to the par 3 11th with three strokes separating the two. McIlroy hit a poor tee shot and Horschel set up a great chance to make birdie. My selection hit a low of 2.0421/20 before his attempt to go four clear narrowly missed and when seconds later McIlroy rolled in his par save from eight feet, my target of odd-on slipped away.
With a slight twist of fate, Horschel could easily have gone five clear and I would have been able to trade to a substantial profit but instead, from that moment on, momentum swung the way of the Irishman and I settled for laying the week's stakes back at 2.56/4.

Horschel's driving deteriorated quite badly and in truth, he did well to only drop one shot coming in (bogeying the 13th). Rory wasn't at his absolute best but an eagle three at the 15th closed the gap completely and the two go into the final round tied at the top. They're two clear of Jim Furyk and three ahead of Rickie Fowler, Justin Rose and Jason Day.

I'm going to hope for the best with Horschel now. He may be able to regroup and push on today but I'm glad I've traded my stakes back and I wouldn't want to back him today at just 4.03/1. I have to be realistic and the chances are the Horschel's hot spell is on the wane and that the world number one could well outscore him.

Rory's record with a lead or co-lead through 54 holes is very strong of late and he's going to take all the beating. On the last seven occasions he's either led or been tied for the lead after three rounds he's won six times and finished second once.

It is possible that the front two both fail to shine though. It's the first time since the FedEx Cup playoffs began that two players inside the top-five in the standings have played in the final two-ball in round four and with both knowing that they will win the FedEx Cup if they win the Tour Championship, one could argue that they have far more pressure on them than those that don't hold their fate in their own hands.

Rory and Billy are big characters though and I don't think it will faze them. If they do fail to perform at their best today it will more likely be down to fatigue than pressure and if they do put in tired efforts, the one I fancy to come through and steel the title is Justin Rose.

The Englishman played poorly on Thursday, shooting a two-over par 72, but he's not looked back since and absolutely loves East Lake. He could even improve on the pair of 66s that followed Thursday's lacklustre effort and I've had a small additional bet on him at 20.019/1.

00:30 - September 13 2014
After opening his second round with six straight birdies, Pablo Larrazabal went on to shoot a course record 62 at the KLM Open and he now leads by two strokes over Edoardo Molinari and Romain Wattel. The market quite rightly makes him the man to beat now but I'm happy to look elsewhere.

My only pre-event pick in with a shout is Marc Warren but he trails by six and yesterday's in-play bet didn't work out as well as I'd hoped either. When I backed Mikko Ilonen he was about to play the 6th and 7th holes, which have both been offering up a chance to score, but he parred them both. I haven't given up on the Finn though and I've now added one more - Max Kieffer at 75.074/1. The young German is alongside Ilonen on -5, five behind Larrazabal, and I don't think anyone on that score is out of this yet - not by a long chalk.

Darren Clarke was tied for the lead when he won here in 2008 but four of the last five course winners have all been slightly off the pace. Simon Dyson was tied for eighth and just two adrift when he won here in 2009 and the other three were all trailing by three at halfway. If Larrazabal stutters today, and it's never easy to back up a low round, this event is wide open and I can see those five, six, or maybe even further back, still in the hunt for the title.

Over at the Tour Championship, my two pre-event picks are still bang in-contention and I'm going to sit tight and see what round three brings. Billy Horschel leads by two over three players, pre-event favourite, Rory McIlroy, Jason Day and my other pick, Chris Kirk, and I'm happy to let both wagers roll for now.

McIlroy is clearly the man to beat but he's been in with a great shout at halfway in each of the last two weeks and failed. He holed three long putts to end round two brilliantly and if he carries that momentum forward today everyone else could be in trouble but that's by no means a given. He definitely looks tired and I'm quite happy to be taking him on with Horschel in particular.

Horschel putted better in round two than he had on day one and he's still pounding the greens. He ranks tied second for Greens in Regulation (tied with Kirk -Kevin Na ranks number one), first for scrambling and sand saves and is inside the top-five for all three putting indexes. He's still red-hot, he won't be frightened of playing with Rory, and I see no reason to bail out just yet.

I'll be back tomorrow morning with a look at the state of play with a round to go at both events.

12:00 - September 12, 2014
There was a lengthy delay in play yesterday at the KLM Open when Fabrizio Zanotti required hospital treatment after being hit on the head by a stray tee-ball by Alex Kaleka. There are now the very obvious calls for the players to start shouting fore but I don't expect the campaign will last much longer than a week or so.
Ewan Murray said on Sky Sports last night that he would like to see penalties dished out for players that don't shout it and I'm in agreement but I doubt anything of the sort will happen.
Anyway, back to the event itself, which is currently live on Sky behind the red button, and the men making a move this morning are Pablo Larrazabal, Peter Uihlein and Romain Wattel. I couldn't have fancied Larrazabal before the off but I looked at the other two closely.
Uihlein came close to winning the Dunhill Links at around this time last year and so had shown a liking for links golf and was a handsome price. And I'm a little miffed I ignored Wattel - he currently ranks second for par 4 scoring on the European Tour and that's been a key stat at this venue but on the downside, he's far from reliable in-the-mix.
I'm going to leave the event alone for now and I plan take a good look at halfway but that might change if the wind gets up later. The conditions are relatively calm this morning - hence the low scores - but if the wind gets up this afternoon, those safely in the house may have a considerable advantage. 
Given he has the easier nine still to play this morning, I was tempted to play Uihlein in-running and I also like Mikko Ilonen but I'm going to be cautious and wait. Well that was the original plan until I saw the 18/1 on offer about the latter on the Sportsbook, a price I thought was worth risking.
And after much deliberation, I've decided to leave the Tour Championship alone for now too.
I'm obviously pleased to see my two pre-event picks tied for the lead after round one but the dangers are plentiful at this stage and I'm not going to get excited just yet. I had two picks sitting first and second at halfway at last week's European Masters but that soon went pear-shaped and the same could very easily happen here.
Despite shooting a scruffy one-under-par 69 to trail my pair by three, Rory McIlroy is still the favourite to win. He's the man to beat if he can start finding more fairways but I'm certainly not about to get him onside at just 6.25/1 on the evidence of yesterday's play. He looked tired and if he stutters at all today he could find himself a long way back at halfway.
The consistent Jim Furyk is just one off the lead and just 9.08/1 to win but his inability to close the deal on a Sunday tempers my enthusiasm for him.
As highlighted in the preview, I felt being inside the top-five of the FedEx Cup standings was a plus, so Bubba Watson was closely considered before the off and I'm still tempted now. Ironically, what ultimately put me off is how poorly he's been putting of late and yet yesterday he ranked first for putting average. 
I do also wonder whether there are one or two more disasters waiting for him too though so I'm going to leave him out for now. He made a complete mess of the 13th hole after a poor drive, recording a double-bogey six and with the rough so penal, I can see it happening again at some stage. His driving distance is his huge asset and this isn't a venue where distance off the tee has been the key to success.
I almost immediately dismiss Jason Day on account of his terrible win ratio on a weekly basis. He's still only won one strokeplay event on the PGA Tour and he's nearly always too short a price. He threw yet another winning chance away at the Deutsche Bank Championship two weeks ago and last week he withdrew with a back injury but a strange twist of fate may help him out this week and he might just play better in-the-mix.
After Day's back injury last week, it was his caddy and coach, Colin Swatton's turn to suffer yesterday and after eight holes, he had to retire in pain. He was replaced by Day's mental coach, Jason Goldsmith and the pair worked well together.
Day played very well thereafter, recording seven pars and three birdies and it will be interesting to see if they stick with the same team today. Swatton may well recover overnight and return to his bag carrying duties but if he doesn't, it's going to be fascinating to see if having a mental guru present on the course will help Day. I suspect it might.
There's a threat of poor weather in Atlanta today so play has been brought forward. The leaders tee-off at 16:00 and it's live on Sky Sports behind the red button. 

KLM Open Pre-Event Selections:
Marc Warren @ 36.035/1
Gonzalo Fernandez-Castano @ 65.064/1
Gregory Havret @ 110.0109/1
Michael Hoey @ 130.0129/1
Raphael Jacquelin @ 190.0189/1
In-Play Bets
Mikko Ilonen @ 19.018/1 (Sportsbook)
Max Kieffer @ 75.074/1

Tour Championship Pre-Event Selections:
Billy Horschel @ 26.025/1
Chris Kirk @ 70.069/1
In-Play Bets
Billy Horschel layed @ 2.56/4
Justin Rose @ 20.019/1

*You can follow me on Twitter @SteveThePunter
Discover the latest articles