The Punter's In-Play Blog: Wilson leads but Rory still the man to beat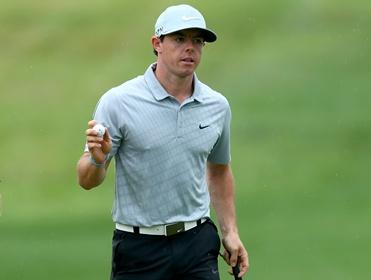 Rory McIlroy – still the man to beat
Despite being three shots behind the leader Rory McIlroy is still the man to beat in today's final round says Steve Rawlings, but that doesn't mean our man wants the world number one to prevail...
"Given Wilson has finished runner up eight times previously and that he hasn't been in contention in years, Rory is still the man to beat, despite a very slight stumble late on yesterday."

08.00 - October 5, 2014
In benign conditions and with placing in operation after heavy overnight rain, there were plenty of low scores during round three yesterday and the leaderboard is much changed.
The biggest move came from Tommy Fleetwood at St. Andrews who shot a 10 under par 62 to move right up into a tie for second. He's now three strokes behind third round leader, Oliver Wilson, and alongside French duo Alexander Levy and Raphael Jacquelin and pre event favourite, Rory Mcilroy.
Given Wilson has finished runner up eight times previously and that he hasn't been in contention in years, Rory is still the man to beat, despite a very slight stumble late on yesterday.
He drew alongside Wilson and was matched at just 1.855/6 at one stage yesterday but he made a mess of the 16th and did well to make a bogey after finding sand off the tee and the event is still wide open.
I've now laid Wilson and I'll look to trade during the final round to reduce potential losses even further. I'm a bit miffed that Fleetwood and Rory are bang there with a round to go but with three players backed before the off at huge prices still in with a chance, I can't complain...
In addition to Jacquelin in tied second, I also have Chris Wood a further stroke behind in a tie for sixth and I haven't completely given up on Michael Hoey either. He trails Wilson by six strokes but with the wind due to blow again today we could yet witness an exciting finale.
I'll be back tomorrow with my debrief.

08.20 - October 4, 2014
At around lunchtime yesterday things couldn't have been going any better. Pre-event pick, Raphael Jacquelin, backed at 230.0229/1, had just birdied three in four holes to hit the front, Shane Lowry, who I'd layed after round one, was over par for the day and going the wrong way, none of the players I'd layed before the off were inside the top-20 on the leaderboard and Rory McIlroy was two-over-par for the tournament.
Jacquelin was trading in single figures but I thought I'd wait to see if he could birdie the par 5 9th before I layed any of my wager back. He didn't birdie it though, he three-putted from 20 odd feet to make bogey and then he bogeyed the 11th as well! And while all that was happening, Rory came to life...
An eagle at the par 5 16th at Kingsbarns, his seventh hole of the round, turned things around completely and he followed that with three birdies in the next five holes. Having looked a candidate for a missed cut and having been matched at a high of 30.029/1, the Irishman now sits at the head of the market and is the man to beat yet again.
My man, Jacquelin, birdied his last two holes to hold the halfway lead but with Lowry hot on his heels in second, a host of players I'd layed before the off within four and Rory within five of the Frenchman, things aren't looking nearly as rosy as they did yesterday dinner time.
Looking at the stats from previous renewals, being up with the pace has been the way to go, with nine of the previous 13 winners being within three of the lead at halfway. Inaugural winner, Paul Lawrie, shot a third round 63 to go from eight back to tied at the top with a round to go, Martin Kaymer won from five back in 2008, and Stephen Gallacher, ten years ago, and last year's winner, David Howell, both went on to win in a playoff having trailed by six at this stage.
 
I do want to get Jacquelin layed but hopefully at around 6.05/1 or 7.06/1. An awful lot of what I do with my lay book, which I haven't touched since Thursday evening, will depend on what Rory does. He looks short enough now given he's playing at St Andrews today and so far, as you'll see from the cumulative hole averages listed below, that's been playing the toughest of the three courses.

St Andrews 72.35
Carnoustie 72.31
Kingsbarns 71.61

We do need to factor in that all the best players haven't been to St Andrews yet but it's still surprising to see it ranked the hardest. With the forecast not looking too bad today, scoring should be OK all round but those playing Kingsbarns could catch up nicely. That's potentially good news for another of my pre-event picks, Chris Wood, and also for Germany's Marcel Siem, who I've now had a small bet on at 75.074/1.

17.50 - October 2, 2014
As suspected yesterday, I haven't tinkered much as day one draws to a close.  I'm very happy with the start to the tournament with pre-event pick, Raphael Jacquelin, sitting in second and none of the players I layed before the off inside the top-17 or within four strokes of the lead, set by England's Oliver Wilson.
I feel as though I've definitely dodged a bullet though. The first three on the leaderboard all played the hardest course, Carnoustie, and as highlighted yesterday, I layed all the fancied players that started the event there.
Rory McIlroy, who went off at a very prohibitive 5.39/2, looked very tired and shot a poor one-over-par 73 and he's fully nine off the lead. And second favourite, Martin Kaymer, fared even worse, he shot two-over par, so I couldn't really have asked for much more really.
In-form Irishman, Shane Lowry, was one of those towards the head of the market that I didn't take on before the off as he was kicking off at Kingsbarns today but now he's in the mix and trading at around 7.06/1 it makes sense to get him in the book too.

Updated Lay Book (doesn't include pre-event picks)
Lose -363 (worst case scenario)
Win +612

20:15 - October 1, 2014
This time last year I decided to lay all the fancied players that were starting the week at Carnoustie and although the eventual play-off protagonists were two players that played the toughest of the three courses on day one, I still managed to scrape a profit. The rationale behind the plan was that this is an event in which making up lost ground is hard and past results had suggested that the fancied players might well be up against it.
Given the eventual first and second had played Carnoustie first last year, and that I'm not going to be around all the time this week, when I wrote my preview I was of the view that I wouldn't repeat the exercise, but in light of the consistent weather forecast and the draw, I've had a change of heart.
Carnoustie, or Carnasty as it's often referred to, is by some margin the toughest of the three courses faced this week - last year it averaged three strokes tougher than Kingsbarns and two and half strokes harder than St Andrews over the first three days and so, as already mentioned, it's traditionally been hard to catch up if you start at Carnoustie and find yourself 6, 7, 8 or even more strokes behind after day one. 
There will be a school of thought that will think playing Carnoustie on Friday when the weather is forecasted to be at its worst will be the worst draw but it's an opinion I don't subscribe to.  A really low score at Carnoustie is damn near impossible whatever the weather whereas a round in the low 60s at the other two venues is perfectly possible in relatively benign conditions - especially at Kingsbarns. 
The vast majority of the fancied players this week, with the exception of Shane Lowry, Marc Warren and Simon Dyson, will play Carnoustie tomorrow and then Kingsbarns when the wind blows hardest on Friday. They might not fare too badly at Carnoustie tomorrow but the chances are they won't be able to make up the almost inevitably lost ground so well on Friday, or even Saturday.
It's a plan that could backfire but I'm willing to give it a go so I've modestly layed all the fancied players bar the aforementioned three and I've even layed back most of my stakes on Stephen Gallacher, who's also at Carnoustie tomorrow.

Lay Book (doesn't include pre-event picks)
Lose -213
Win +762
Pre-Event Selections:
Stephen Gallacher @ 50.049/1
(majority of stakes layed back now)
Ross Fisher @ 140.0139/1
Chris Wood @ 150.0149/1
Michael Hoey @ 190.0189/1
Raphael Jacquelin @ 230.0229/1
Tom Lewis @ 300.0299/1
Paul Lawrie @ 360.0359/1
In-Play Bet
Marcel Siem @ 75.074/1

I'll take a look at the state of play again tomorrow night but I have a feeling it will be a case of waiting until Friday night before I tinker with things. 

*You can follow me on Twitter @SteveThePunter
Discover the latest articles