The Punter's In-Play Blog: And then there were three...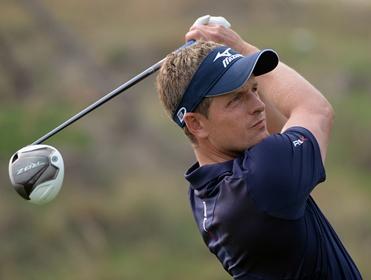 Luke Donald, still in front at the Nedbank
Luke Donald, Danny Willett and Ross Fisher are clear of the field in South Africa but is odds-on Luke opposable? Read Steve's final thoughts on the Nedbank Golf Challenge here...
"Many a punter will be looking to oppose Donald at odds-on with a lead of just one but I think he should be shorter."
16.40 - December 7, 2014
Following a spectacular nine-under-par 63 in round three, Jordan Spieth has shot seven clear of the field at the Hero Golf Challenge. He trades at 1.101/10 and that's not too short. I'm going to accept defeat and move on to next week but for those that want to get involved, there is a winner W/O Spieth market here. I'll be back tomorrow with my De-Brief. 

16.10 - December 6, 2014
After three rounds of the Nedbank Golf Challenge three Englishman have separated themselves from the remainder. Here's the third round leaderboard with prices to back as at 16:00 UK time.

Luke Donald -13 1.75/7
Danny Willett -12 3.55/2
Ross Fisher -10 9.08/1
-5 and 110.0109/1 Bar

After a 66 from Ross Fisher on day one and a 63 from Luke Donald yesterday, it was Danny Willett's turn to put in a low one today as he scooted round in just 65 strokes and had Donald not birdied the last, after a poor drive, he'd have been sharing the lead with a round to go.
Donald looked in complete control two thirds of the way through his round and he traded as short as 1.331/3 when he led by four but a late run from Willett and a slightly shaky finish by Luke has resulted in a much tighter leaderboard with a round to go.
My man Fisher closed the gap to just one when he birdied the 2nd hole today but that was as good as it got. He putted particularly poorly and it was a surprise when he finally made one on 18 for birdie. I wrote in the preview that he "isn't one of my favourite players in-the-mix and he often finds a way to get beat" and I felt his performance toady was fairly typical. He left a number of putts short and decided against going for the par 5 14th green with his second shot, despite finding the fairway. It was all a bit jittery and lacked conviction and I'm not hopeful about tomorrow now.
Many a punter will be looking to oppose Donald at odds-on with a lead of just one but I think he should be shorter. I've banged on all week about the poor record of debutants so that goes against Willett and young Danny will find it far harder to shoot a low one again tomorrow now that he's bang in-contention. He's particularly poor in-the-mix as a rule and he makes no appeal at 3.55/2.
I do have a slight regret about now laying any of my Fisher bet back today, when he traded for plenty at around the 3.55/2 mark, but I was desperately trying to get the kids One Direction tickets at the time so wasn't in a position to trade even if I wanted to! I'm going to leave the event alone for now and see what tomorrow brings but I'm not confident. 
I'll be back tomorrow with one last look at the Hero Golf Challenge.

11.40 - December 6, 2014
Play was suspended yesterday after a torrential downpour hit Isleworth Golf and Country Club, just as the first pairing of Tiger Woods and Patrick Reed approached the 18th tee and what happened when they all returned to the fray was farcical...
Steve Stricker will return to the course to putt-out on 18 and Jordan Spieth wisely decided to give up the ghost with a tricky up-and-down to negotiate at the final hole but everyone else ran around like idiots to get finished in the dark. It really was ridiculous to play on given how dark it was and in all probability its put pay to the chances of my in-play pick Zach Johnson. 
After a slow start to his second round, Zach birdied four holes in five around the turn to get right back in to contention but then ruined the day with a tiny missed putt for par on 17 and a stray drive in the dark on 18. Why they didn't all just call it day at least half an hour before they did is a mystery as it turned into a farce.  Anyway, here's the current leaderboard, with prices to back at 11:30.

Jordon Spieth -11 3.412/5
Henrik Stenson -9 4.77/2
Justin Rose -8 7.06/1
Patrick Reed -8 17.016/1
Bubba Watson -7 11.521/2
Rickie Fowler -7 15.014/1
Jimmy Walker -7 32.031/1
-6 and 34.033/1 bar

Spieth was treading water on the front-nine yesterday but he found his rhythm on the back nine with five birdies in seven holes whereas Henrik Stenson went the other way. The Swede birdied four of the first six holes and when rain stopped play he looked in command and already been matched at just 2.1011/10 but he finished poorly after the break, bogeying two of the last four holes. 
Justin Rose and one of my two pre-event picks, Patrick Reed, have put themselves right back in the argument with rounds of 64 and 63 and I'm going to leave the event alone for now and see what today brings.
I'm still wary of Spieth, Stenson's late wobble yesterday wasn't encouraging and Rose and Reed will do well to back up yesterday's exploits. Bubba Watson keeps threatening to get involved and Rickie Fowler could bounce back after yesterday's slightly disappointing 70 but all things considered, without any stats to guide us on what is a new venue, discretion is the better part of valour.
Round three of the Nedbank Challenge is well underway and live on Sky Sports now. I'll be back later with a look at the state of play after round three.

20:00 - December 5, 2014
We've reached the halfway stage of the Nedbank Golf Challenge and after a scintillating nine-under-par 63, Luke Donald has taken up the running. Here's the leaderboard with prices to back as at 19:50.

Luke Donald -10 2.26/5
Ross Fisher -8 5.59/2
Alexander Levy -6 10.09/1
Danny Willett -5 17.5
Marcel Siem -4 30.029/1
-3 and 34.033/1 

Donald put in a near flawless round today and it's no surprise to see him trading at a short-price, especially given how hard it is to come from off the pace to win here.
Since 1996, every winner bar Sergio Garcia in 2001 has been inside the first four at halfway and within four strokes of the lead so we perhaps should be discounting everyone outside the front-four. And given both Alexander Levy and Danny Willett, who sit third and fourth, are debutants, we could feasibly whittle it down to two - Mark McNulty in 1986 is the only first timer to win the Nedbank.
If Donald plays as well as he did today, and especially with the putter, he won't be headed but for a number of reasons, the value lies with Ross Fisher at this stage. It's never easy to back up a low round so that's against Donald tomorrow and the fact that he hasn't been in-the-mix in a while won't help either.
He could well feel the nerves a bit and his record when leading through two rounds isn't great anyway. He's led or co-led 16 times in the last ten years but he's only converted on five occasions. And finally, he's far shorter off the tee than Fisher and on such a long course that could eventually take its toll.
Fisher didn't do an awful lot wrong today - he missed the fairway off the tee at three of the four par 5s which severely hampered his scoring and he had a terrible bounce off the tee on the 12th which led to a double-bogey. And he didn't putt as well as he had done on day one either. It's unusual for me to go in again on someone I've backed before the off but I couldn't turn down the 6.05/1 available at the close of play and even at the 5.59/2 available now, he's my idea of the value at this stage.
Henrik Stenson is threatening to take command of the Hero World Challenge, which is live on Sky right now, but I'll be back again tomorrow morning with a look at that one.

10:00 - December 5, 2014
Nobody really knew what to expect from Tiger Woods at the Hero World Challenge yesterday as he returned to the fray after injury. Having switched coaches from Sean Foley to Chris Como and having changed irons, anything was possible, but what we did get was very surprising.
I fancied he'd hit the ground running on a course he knew intimately but it wasn't to be. His very first tee shot went out of bounds, his putting looked very rusty and his chipping around the greens was the worst I've seen by anyone, let alone Tiger Woods! 
This video clip here shows both his flops on the par 5 13th and there were also equally poor chips on 8 and 17. He also failed to extricate himself from the greenside bunker on the 7th hole and to summarise briefly, it looked as though the swing mechanics were fine but he was just very, very rusty. He had this to say about the round afterwards.
"Today ... it was weird. I didn't feel like I hit it that bad. My short game was awful, and I didn't make anything." 
With Woods firmly planted in last place, my wager has most certainly gone west but it was still great to see him back playing and the really good news is that he did it all pain-free.
My only other selection, Patrick Reed, didn't fare an awful lot better. Playing alongside last week's Australian Open winner, Jordan Spieth, who leads after round one following a six-under-par 66, Reed made far too many mistakes and he ended the day on one-over par. That's four shots better than Tiger but he's tied for 16th with Billy Horschel and seemingly already out of it. 
Spieth is one clear of a group of four, Henrik Stenson, Rickie Fowler, Zach Johnson and Steve Stricker, and he and Stenson are now vying for favouritism but I fancy the value lies elsewhere. 
I know Spieth's only 21 but I still think there's a danger that the after-effects of last week's exploits Down Under could emerge today and given both of his professional wins have come from slightly off the pace, I'm happy to swerve him at around the 5.04/1 mark.
Stenson looked shattered in Dubai a fortnight ago but he only lives down the road at Lake Nona and looked much more refreshed yesterday and of the two jollies, I'd much rather side with him but I've taken a tiny chance on defending champions, Zach Johnson, who looks a bit over-priced to me at 15.014/1.
So deadly was he at defending titles that Johnson was once nicknamed Back-to-Back Zach and had the event remained at Sherwood Country Club I'd have backed him before the off. The switch to Florida didn't look ideal and when he played his first four holes in three-over par I thought I'd done the right thing to swerve him but he soon bucked his ideas up, coming home in 30!
Round two of the Nedbank Golf Challenge is well underway and live on Sky Sports now. I'll be back later with a look at the state of play there at halfway.

16.00 - December 4, 2014
Round one of the Nedbank Golf Challenge has just finished and my two picks have had very different days. Defending champion, Thomas Bjorn, birdied the 1st and looked set to go two-under-par through two when he had a three-footer for birdie at the par 5 2nd, but he missed that and lost the plot thereafter.
He's ended the day on +8 and he sits at the bottom of the heap but thankfully Ross Fisher (who was also Paul Krishnamurty's each-way fancy) fared considerably better.
Playing in what was clearly the hottest group of the day, the Englishman's long game was superb and his putter was really hot. He leads the way after a six-under-par 66 and the two men he played with, George Coetzee and Marcel Siem, sit tied for second alongside Alexander Levy, two strokes behind.
If three key stats can be believed, Paul and I have to be happy with our lot, and at around 6.05/1, Fisher is a very fair price still.
Firstly, Fisher has only ever held a clear lead after round one once before - when he won the European Open wire-to-wire in 2008. Secondly, you have to be bang up with the pace from very early on here, and thirdly, you need to have had previous experience of Sun City. 
The stats I've used only go back to 1996 but in all that time, every winner bar Sergio Garcia in 2003, who trailed by three after round one, Nick Price in 1997, who trailed by four, and Tiger Woods, who trailed by five in 1998, has been within two of the lead after the first round. If we take those stats literally, given that the bunch of six tied for fifth are on -2 and four off the lead, then anyone outside of the aforementioned front four of Fisher, Coetzee, Levy and Siem is going to have to break the mould.
And the really good news for Fisher fans is that the three players tied for second are all making their tournament debuts. 
Coetzee did play in three Dimension Datas here, without much success I may add, but both Levy and Siem are playing here for the first time and that should see them handicapped. As detailed in the preview, Mark McNulty, way back in 1986, was the last debutant to win the Nedbank Golf Challenge, so all things considered, I'm more than happy to stick with Ross at this stage.
Despite the stats, it would be ridiculous to discount everyone bar the front four and of those tied for fifth, Tim Clark makes most appeal, but not at less than 20.019/1. I tried to back him at the close of play at bigger than 20.019/1 but failed and I'm happy to leave him out now but I have had one in-play bet, on Miguel Angel Jimenez.
I thought the veteran Spaniard was a fair price at 44.043/1 when he split the 18th fairway but he went on to make bogey there and is now one of those sitting in a tie for fifth on two-under par.
The Hero World Challenge starts shortly and is live on Sky from 19:00. I'll be back tomorrow to see how day one there went but in the meantime, if you haven't already seen it, here's my preview.

Nedbank Golf Challenge Pre-Event Selections:
Thomas Bjorn @ 28.027/1
Ross Fisher @ 36.035/1
In-Play Bets
Miguel Angel Jimenez @ 44.043/1
Ross Fisher @ 6.05/1

Hero World Challenge Pre-Event Selections:
Tiger Woods @ 17.5
Patrick Reed @ 33/1 (Sportsbook)
In-Play Pick
Zach Johnson @ 15.014/1

*You can follow me on Twitter @SteveThePunter
Discover the latest articles