The Punter's In-Play Blog: Wilson still looks the value
The Punter

/ Steven Rawlings / 26 February 2012 / 3 Comments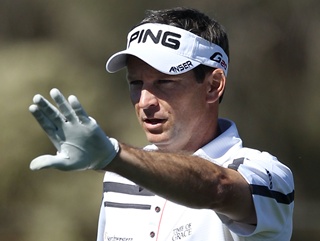 Mark Wilson – Can he pull of a shock win?
"At around [2.4], Wilson looks the value in his semi final. I can't see much between him and Mahan and if it comes down to nerves I'd want to be on Wilson."
After a dull day in the desert yesterday, Steve's hoping for a lot more excitement today. Could Mark Wilson go all the way and who will win the big grudge match?
10.20 - February 26, 2012
Anyone looking forward to four closely fought and exhilarating quarter finals yesterday would have been disappointed. None of the four matches could be described as remotely exciting.
Matt Kuchar was quite frankly pathetic against Hunter Mahan, Peter Hanson was woeful on the back nine against Mark Wilson and neither Martin Laird nor Sang-Moon Bae did themselves justice against Lee Westwood and Rory McIlroy. It was damp squib after damp squib and all a bit dull.
My sole survivor in the last four is Mark Wilson, backed before the off at [170.0], and I have options. I could lay him back now and take a small loss on the tournament and move on to next week. I could wait and hope he beats Hunter Mahan and then look to lay him back before the final, guaranteeing a profit, or I could just go for it! After much deliberation I'm going to aim for a combination of the last two.

At around [2.4], Wilson looks the value in his semi final and I'm going to wait for now at least. If he gets in front in the tie there may be scope to lay a bit back then but only if he goes short enough. The problem that I have is that even if he beats Mahan impressively he's still going to be a decent price in the final. The market loves both Rory and Westwood and I can't see me ever thinking Wilson looks a bit short. The best case scenario is that I have to decide to lay him back at a price that I think is too big. Off course, he could go down early against Mahan and that will be that but I'm not laying yet, he's just too big. I can't see much between him and Mahan and if it comes down to nerves I'd want to be on Wilson.
The other semi looks an intriguing affair. With the prospect of possibly heading the world rankings and with all the water that's passed under the bridge between the pair, this match has plenty of spice. It's a really tough one to call though and I think the prices are spot on - Westwood is and should just be favourite. Nobody has tested Rory all week and he hasn't had to play at his imperious best or anywhere close to it, whereas Westwood has looked very good in spells. That said, this could go either way and it's not a heat to bet on. I shall just watch and hope for a real cracker.
There's a possibility that Rory could get himself worked up for this match, comfortably beat Westwood and then put in a lacklustre performance in the final. Westwood, on the other hand, has much more experience and a professional calm defeat of Rory could set him up nicely. It's fascinatingly poised and I'm looking forward to the duel. I hope they have a right ole ding-dong, that the match goes to extra holes, and that Wilson's waiting calmly in the wings.

12.20 - February 25, 2012
There really can't be too many people shouting on a Mark Wilson - Sang-Moon Bae WGC World Match Play final but now we've reached the quarter-final stage, that's exactly where I'm at.
Having gone out for the evening, I didn't see any of the last 16 matches last night and with a niggling hangover I haven't bothered to watch the recording this morning but I'm grateful that a couple of results went my way...
Both Rory McIlroy and Lee Westwood comfortably put away Miguel Angel Jimenez and Nick Watney but Mark Wilson and Sang-Moon Bae did me proud. Putting a positive slant on things, I'm entering the weekend with a quarter of the field onside. Putting a realistic slant on things, in all probability I'm heading for a bad week!

Wilson (backed at [170.0] before the off) takes on Peter Hanson in the first of the quarter final matches (kicks off at 17.05 UK time) in what looks a really tight affair. Hopefully Wilson can sneak past the Swede so I'll still have an interest entering the final day and Paul will have reached his first lay back target on his headline Find Me A 100 Winner selection. Not for the first time this week, fingers are firmly crossed.
The winner of that match will face either Matt Kuchar or Hunter Mahan in the semi finals and their quarter final tie looks just as tight. I wouldn't like to hazard a guess at who will prevail but given they both have a tendency to get a bit nervy there may well be mileage in opposing whoever goes up early. It could be a twitchy affair and a good heat to trade in-running.
I can't be confident that Bae will overcome McIlroy in his match and I fancy the betting is about right there, with the Korean currently trading at [3.15], but you never know, he's surprised everyone up to now so why not again today?
In the last of the four quarter finals, Lee Westwood takes on Martin Laird and I think the Scot is just about the value. I've been compelled to get him onside, albeit modestly, in the outright market but I see Paul has backed him in today's match. I really hope Westwood doesn't win because I'll be very frustrated if he does, I'm cross with myself for not getting him onside before the off, especially as I wrote this in my preview - "I've got a sneaky feeling about Lee Westwood this week. I haven't backed him yet but if he keeps on drifting (currently out to 23.0 from an opening price of 18.5) I may have to get him onside." Needless to say, I didn't.

14:20 - February 24, 2012
After a reasonable first day, when five of my original eight made it through to day two, yesterday was a very different story. Having added both Y.E Yang and Nick Watney, I started the day with seven onside; I ended it with just two! Not a great day by any means.
Y.E Yang and Francesco Molinari were comprehensively outplayed by Hunter Mahan and Dustin Johnson respectfully; Louis Oosthuizen led for most of his match but lost to a Steve Stricker birdie at the last, whilst Kyle Stanley and Jason Day both played far too badly to expect progression. All very disappointing and I was going to call it a day and just see how Mark Wilson and Watney fare tonight, but I really want to be against Rory McIlroy, so I've added two more!
Rory hasn't impressed in his first two rounds and I don't think the fact that he can become world number one should he win the event helps his cause. Today's opponent, Miguel Angel Jimenez, has already dumped out two bang in-form players in Sergio Garcia and Keegan Bradley and he'll not fear Rory. I see Paul advocates backing Miguel to beat him but I've backed him in the outright market instead. It takes a huge leap of faith to imagine Jimenez going all the way but my hope is that he gets through tonight to face another surprise package in the shape of Sang-Moon Bae...
It's rare that I don't see eye-to-eye with Paul but I fancy the Korean's better value at [40.0] than his third round opponent, John Senden. I can't see more than the thinnest of fag papers between them so I thought I may as well back the outsider.
I'm off out this evening and I can't say I'm too bothered about missing the golf. I know an awful lot of golf fans rave about matchplay but I don't enjoy it anywhere near as much as strokeplay. The luck element is just far too big for my liking.
I'll be back again in the morning when hopefully I won't be pondering whether to just give the event up as a bad job!

11:20 - February 23, 2012
A pretty typical WGC Match Play day one really, all wrapped up in unfathomable TV coverage.
There were countless shots of play by one player only, with no reference to their opponents whatsoever. For example, in the Adam Scott - Robert Rock match we saw Scott tee off on the 15th, we saw him chip out of the desert, chip onto the green and even attempt his par putt but what Rock was up to remained a mystery. It made for frustrating viewing.
I know it must be really tough to keep tabs on 32 different ties but some of their match choices were very odd. Obviously, we saw much of the Tiger Woods - Gonzalo Fernandez-Castano match but for some bizarre reason we kept being shown coverage of the Freddy Jacobsen -Robert Karlsson tie, which was as good as all-over before they reached the turn anyway. My guess is that Sky was receiving the Swedish TV feed in error!
And I was on tenterhooks over the K.J Choi-Kyle Stanley match as it approached its conclusion but I didn't get to see the finish. The result just came up on screen. Mercifully, it went my way with Stanley winning 2 & 1, but why we didn't see any of the play on 17 instead of watching Karlsson go five up with six to play is anyone's guess?
Anyway, that's more than enough moaning about the TV coverage; I'm starting to irritate myself now!
It was, as it invariable is each year, a day which contained a few first round shocks, with Ernie Els' thrashing of Luke Donald (5 & 4) arguably the biggest. Ian Poulter crashing out to Sang-Moon Bae was certainly unexpected too but the day will be remembered more for the amount of turnarounds.
Jim Furyk let Dustin Johnson off the hook, messing up the last in regulation when one up, before making a right pig's ear of the 2nd in extra time after Dustin had driven into the desert! And Bill Haas lost his match against Ryo Ishikawa after being thee up with five to play but the biggest turnaround came in the Jason Day - Rafael Cabrera-Bello match...
I confess, having already seen Zach Johnson and Justin Rose get beat, and with Ben Crane about to join them I was a bit fed up to say the least at one stage last night. Kyle Stanley was on the ropes, having gone from two up to one down in his match and Jason Day wasn't on the ropes, he was on the canvas and the count was fast approaching ten! It looked highly likely that my two main fancies were going out and that of my eight picks I was going to be left with just three but then Stanley turned his match round and Cabrera-Bello choked big style.
Three down with three to play was a desperate situation for Day to be in and he was matched at the maximum of [1000.0], albeit only for a couple of quid. There was more available and I looked and looked at it without taking any but I'm not moaning. I am grateful though - Cabrera-Bello saw the winning line and dodged it, bogeying the last three to relinquish his lead and there was an air of inevitability about Day's birdie on the first extra hole to snatch victory from the jaws of defeat.
I've had two in-running plays so far and I'm waiting for a third to be matched. I've now got Nick Watney onside at [32.0]; as I fancy he could well get past Woods and Stanley's section has opened up nicely with Donald and Scott both going out so I've had a modest top-up on him. I'm also trying to back Y.E Yang. I'm partially matched at [65.0] and hopeful that I'll get the rest matched before kick-off.
Rory McIlroy [11.5], who himself very nearly mucked up his first round match against George Coetzee, now heads the market, narrowly over Lee Westwood at [12.5]. Martin Kaymer is [14.5] and so is Tiger Woods. After an unconvincing performance against Gonzo, Woods is merely a point shorter than he was before the off.
The two eye-catching ties of round two are Tiger Woods against Nick Watney and Kyle Stanley against Brad Snedeker. The Watney -Woods match up looks really tight but I quite fancy Watney to prevail, especially if Tiger performs as poorly as he did yesterday. The Stanley - Snedeker match is interesting as it's a chance for Stanley to avenge his playoff defeat to Snedeker at the recent Farmers Insurance Open. Fingers crossed.
Getting five of eight pre-event picks through to day two is more than acceptable, with the Day turnaround being the big obvious plus. I'll be hoping for a similar sort of day today and I'll back tomorrow with a look at where to go next.

WGC Match Play pre-event picks:
Jason Day @ [38.0]
Kyle Stanley @ [60.0]
Justin Rose @ [80.0]
Ben Crane @ [85.0]
Louis Oosthuizen @ [95.0]
Zach Johnson @ [120.0]
Francesco Molinari [130.0]
Mark Wilson @ [170.0]

In-running plays:
Kyle Stanley @ [30.0]
Nick Watney @ [32.0]
Y.E Yang @ [60.0]
Miguel Angel Jimenez @ [32.0]
Sang-Moon Bae @ [40.0]
Martin Laird @ [14.5]