The Punter's In-Play Blog: Odds-on favourites can both deliver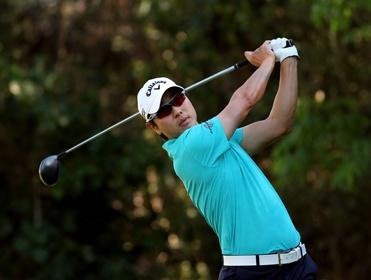 Sang-Moon Bae – odds-on but still value according to The Punter
With odds-on favourites to ponder in both events, Steve takes his last look at this week's golf. Are Alexander Levy and Sang-Moon Bae value to convert today?
"I'm really not a fan of backing anyone at odds-on but Bae looks a very good price this morning."
10:50 - October 12, 2014
I did wonder whether the organisers had been a tad premature to declare the Portugal Masters a 54-hole event as early as Friday evening but after yet another rain delay yesterday, the decision has been vindicated. And it was during that break that I missed my chance to level things off nicely...
Chile's Felipe Aguilar had raced to eight-under par for his second round and to within four of Alexander Levy's lead with still five holes to play when rain stopped play and given he was trading at just 7.06/1 and that I hadn't layed him at all, I could have gotten him in the book and reduced my potential losses completely but I didn't.
Instead I chose to let him finish his round and see where he'd stand at the end of the day but that transpired to be a mistake as when play resumed all he managed to achieve was to drop a shot and he now trades at ten points bigger. I'm going to leave it as it is now and just see what happens. I doubt I'll get a result and I quite fancy Levy to get the job done but we'll see.
Over at the Frys.com Open, with a finishing burst which saw him pick up four shots in the last four holes, Sang-Moon Bae has shot four clear of Web.com Tour graduate, Zachary Blair and five clear of a group of four that includes my each-way selection, Scott Langley.
I'm sorry to say I didn't manage to stay up to trade the event because I imagine there would have been an opportunity to get Bae onside at a decent price and the best opportunity would probably have been when he'd driven the par 4 17th green. He gave himself just six feet for eagle and he duly converted.  
I'm really not a fan of backing anyone at odds-on but Bae looks a very good price this morning. Looking back on the PGA Tour records since 1996, someone has held a four-stroke lead with a round to go on 36 occasions and they've successfully converted 25 times. That's a conversion rate of very nearly 70% and when you consider his nearest challenger is a rookie looking to win for the very first time, one could argue he's as good as five clear. 
The Korean is shortening up slowly on the exchange and the Sportsbook were offering a very tempting 5/6. They have just cut him to 4/5 but if you don't mind backing odds-on shots, you'll do well to find a better value one today and if you're a bit more adventurous, doubling Bae up with Levy in Portugal could make for a nice bet. 
I'll be back tomorrow with my de-brief.

10:30 - October 11, 2014
With my interest in the reduced length Portugal Masters as good as over, I was rather hoping someone may captivate my attention at the Frys.com Open but after much deliberation I've decided to leave the event alone for now.
Martin Laird, on 10-under-par, holds the halfway lead by a stroke over Web.com Tour graduate, Zachary Blair and Korea's Sang-Moon Bae, with my each-way selection, Scott Langley, one of three men on -8 and tied for fourth. 
Behind Laird, who is trading at around 5.49/2, the market makes the man alone in seventh and three off the lead, Hideki Matsuyama, second favourite at 9.89/1 but I can't see any value there. In fact, I can't see any value anywhere and I'm going to see what today brings.
The North Course at Silverado has so far proved a very fair test. There was just 0.06 of a stroke differential between the two sides of the draw and the stats suggest the course is rewarding those with the sharpest short games.
Neither Length nor accuracy has been especially vital off the tee so far with the leader, Laird, typical of much of the leaders, ranking lowly for both driving distance and driving accuracy - 71st and 72nd. Laird and Matsuyama rank tied first for scrambling and another Web.com Tour graduate, Mark Hubbard, with a ranking of 24th, is the only player in the top-seven to be ranked outside the top-15 for greens hit. 
If I can stay awake, I may look to get involved as the third round draws to a close as the final third of the course could bring about much change to the leaderboard. The par 3 15th has so far ranked as the fourth hardest hole but other than that, the finish to the North Course at Silverado is where you make your score and five of the last six holes have averaged under par, with the par 5 18th ranking the easiest hole on the course.
Ben Crane had to withdraw with a hip injury but all my other pre-event picks are doing OK so far. In addition to Langley, who has to be considered a strong contender at halfway, Adam Hadwin, who finished round two poorly, missing for birdie from four feet on the 8th before three-putting for bogey on the 9th, and Scott Brown are both on -5 and Scott Stallings isn't totally out of it either on -4.
I doubt I'll do anything further with my lay book in Portugal now. I've resigned myself to the fact that either Alexander Levy or Nicolas Colsaerts will win and that I'll incur a small loss so unless something remarkable happens today I won't update the blog again until tomorrow when I'll take another good look at the state of play in the States. 

22:10 - October 10, 2014
After lengthy weather delays at the Portugal Masters, the event has now been reduced to 54-holes. The second round will be completed tomorrow and the third and final round will be staged on Sunday. And with Alex Levy and Nicolas Colsaerts some way clear of the rest of the field I've decided to tweak my book and level things off - laying Levy at odds-on and backing Colsaerts back. Here's the current position. 

Lay Book 
Worst Case Scenario (Levy or Colsaerts) -£110
Best Case Scenario +£700 

Levy is clearly the most likely winner. He's playing aggressive and brilliant golf, has completed round two with a ten-under par 61 to lead Colsaerts by three (who still has two holes left to play of round two) and he has the luxury of a day off tomorrow to rest. It looks highly probable that the front two will fight it out now - Colsaerts is five clear of Richard Bland and one of my pre-event picks, Michael Hoey. 
It makes sense to level it all off at this stage. Earlier today I made Levy a small winner and Colsaerts a fairly sizable loser and whilst that worked out well and I still don't fancy Colsaerts to win, it's sensible to take out the stress and hope for a chance to trade to profit on Sunday.
Those figures don't include my pre-event picks so if Hoey were to make a run at the front two it would be fairly easy to get myself in front but if either of the front two do go on to win I'll be incurring just a small and easy to swallow loss.
I'll be back in the morning to take a look at the Frys.com Open at halfway.

17:00 - October 10, 2014
Things have changed again! Instead of starting at 17:15, they're going to inspect at that time and look to start half an hour later but the rumours are starting to circulate that the event will be reduced to 54-holes. 

16:50 - October 10, 2014
It's been a stop start day at the Portugal Masters and mainly a stop day. Play didn't start until 11:00 this morning and thanks to yet another downpour, it stopped again a few hours later. It's been dry for a few hours now though and they're due to restart very soon (at 17:15) and Sky Sports appear to be staying with it.
They may not have played for long but I have tweaked my book. Having layed almost all of those trading at less than 100.099/1 before the off, I'd already layed the current leaders, Alexander Levy and Nicholas Colsaerts, before the off but I made things worse by laying Colsaerts again yesterday. He's still by some way my biggest loser but he doesn't convince me in-contention and when play resumes he looks sure to drop a shot on the 1st hole - his 10th of round two.
I couldn't really see why Levy was trading as high as he was this morning and having backed him back at an average of 7.06/1, now that he's only around 3.55/2 and likely to go two clear on the resumption of play, I've improved things slightly.
I'm tempted to lay him back again and make him a loser and therefore reduce potential losses on Colsaerts but I'm going to hang fire for now, provided they can still get 72 holes in, and at this stage the organisers are still hopeful they will, there's a very long way to go and there are a number of players on my side still. Here's the state of my book at present.

Lay Book 
Worst Case Scenario (Colsaerts) -£640
Best Case Scenario +£565
Levy - +£200

My colleague, Paul Krishnamurty, is having some week in the Algarve - in addition to advocating the chances of the Belgium Bomber before the off here, he also picked out Scott Jamieson for his Find Me a 100 Winner column and the first lay back target has already been met. I just hope he finds success with the latter and not the former!
I still haven't got involved at the Frys.com Open in-running. Given it's a new course, I'm being cautious but I'll take a good look at it tomorrow, once they've reached the halfway stage.

23:30 - October 9, 2014
With no rough to speak off, rain-softened greens, and placing in operation, Oceânico Victoria was there for the taking today at the Portugal Masters and Nicolas Colsaerts took full advantage. The Belgium Bomber had a putt on the 18th to shoot 59, that very nearly dropped, but he'll be happy enough with his opening 11-under-par 60, and he's certainly happier than I am!
The weather stopped play eventually and the best of my pre-event picks, Michael Hoey, who is five-under-par after 15 holes, is one of those that will need to finish off round one before embarking on round two in the morning.
It hasn't been a great start with my fancies and my lay book doesn't look great either. I made the daft decision to go after Colsaerts just before he made the first of his two eagles on the back nine so he's my biggest loser now and I just have to hope he slows up a bit in round two. Here's how my book looks after day one.
Lay Book 
Worst Case Scenario (Colsaerts) -£580
Best Case Scenario +£650
They're still playing at the Frys.com, currently live on Sky Sports, where all of my five picks are currently under par. That's a fair effort considering they're all outsiders but there's a very long way to go so I'm going to leave things alone for now. None of my five are any better than two-under-par and the current leader is Andres Gonzales on six-under.

Portugal Masters Pre-Event Selections:
Alvaro Quiros @ 95.094/1
Gregory Havret @ 140.0139/1
Michael Hoey @ 150.0149/1
Alejandro Canizares @ 180.0179/1
Ricardo Santos @ 200.0199/1
Lay Book Before the off
Worst Case Scenario -£300
Best Case Scenario +£570
Frys.com Open Pre-Event Selections:
Ben Crane @ 100.099/1
Scott Langley @ 100.099/1
Adam Hadwin @ 120.0119/1
Scott Stallings @ 200.0199/1
Scott Brown @ 220.0219/1

*You can follow me on Twitter @SteveThePunter
Discover the latest articles