The Punter's In-Play Blog: Kaymer still the value play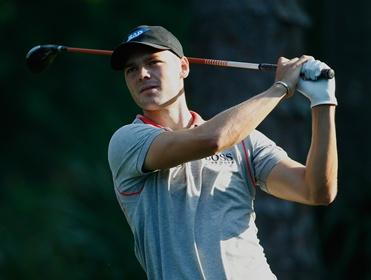 Martin Kaymer – still the value according to The Punter
With just a round to go at Sawgrass, Jordan Spieth and Martin Kaymer are tied at the top but can Sergio come from three back to win again? And there could be a nice angle-in in Madeira where the event has been reduced to just 36 holes. Read Steve's final in-play post of the week here...
"I'm more than happy to stick with Martin Kaymer, who I backed yesterday at 4.03/1. I thought Spieth rode his luck a bit towards the end of his third round and I still think the two are too far apart in the market."
10.55- May 11, 2014
I've just seen that rather than play in the original draw order, they've redrawn the Madeira Islands Open so that they play in reverse score order. Please disregard my earlier posts with regards to getting with the early starters, unfortunately, it's completely irrelevant now.

9:15 - May 11, 2014
It looked for a short while yesterday that Martin Kaymer might hold a commanding lead with a round to go of the Players Championship. He was matched at 2.6213/8 when he hit the par 5 11th green in two when already two clear of Jordan Spieth but a disappointing three-put (albeit from 79feet!) resulted in merely a par and a few seconds later Spieth converted his birdie opportunity from six feet to half the deficit.
The pair pared their way in thereafter until they reached the final hole when, after they'd both missed the fairway, we witnessed another turning point that saw them both end the day tied on -12. Spieth managed to get up-and-down from 56 yards out - holing a 13 foot par putt to extend his bogey-free run to an astonishing 69 straight holes but Kaymer missed his par save from nine feet. Here's the third round leaderboard with prices to back as at 9:00 UK and Ireland time.

Jordon Spieth -12 2.89/5
Martin Kaymer -12 3.45
Sergio Garcia -9 9.08/1
John Senden -9 19.018/1
Gary Woodland -8 28.027/1
Matt Jones -8 42.041/1
George McNeill -8 60.059/1
Lee Westwood -7 34.033/1
Francesco Molinari -7 70.069/1
David Hearn -7 120.0119/1
-6 and 85.084/1 Bar

Only four of the 14 winners this century have been more than two strokes adrift at this stage and I'd be surprised to see anyone outside the front two win now - although Sergio Garcia, who currently trails by three, was one of the four. He won in 2008 when the veteran pair ahead of him, Paul Goydos and Kenny Perry, both flopped in round four - shooting 74 and 81 respectfully. Garcia edged out Goydos in a playoff. 
The Spaniard will draw far more positive vibes from that success than he will from last year's collapse, when he tumbled down the leaderboard with a final round of 76 to fall from 1st to 8th. He'll have plenty of supporters today but I'm not one of them. I can't see the front two both flopping this year and I'm not a huge fan of Sergio in-contention.
I'm more than happy to stick with Martin Kaymer, who I backed yesterday at 4.03/1. I thought Spieth rode his luck a bit towards the end of his third round - he finished a yard short of the water with his third shot on the 16th before clearing it by a similar margin from the tee on 17 and I still think the two are too far apart in the market.
They've returned to the course on time today at the Madeira Islands Open where they've decided on an 18 hole cut which hasn't pleased many of the players. It's a sprint to the line today but please see last night's post for details on possible in-play tactics. I'm not going to be around to trade today but I fancy they'll be opportunities for anyone that is.
19:10 - May 10, 2014
I was a little hasty to dismiss the Madeira Islands Open out of hand this morning and now that we know the event has definitely been reduced to just 36-holes it's well worth revisiting. This is a scenario that doesn't occur often but the last time it did, at the Nelson Mandela Championship in December 2012, I made several observations in the de-brief. 
I won't repeat myself here but if you read the 'What have we learnt this week' section of that week's de-brief here, it's all set out there. In a nutshell, we need to be looking at those drawn late-early and playing first tomorrow. 
I'm off to watch Man City v West Ham tomorrow so I can't play in-running but if it's anything like the NMC there'll be opportunities aplenty. The market's not strong but the Sportsbook is up and running so you can bet there straight away or post wagers in the exchange and wait to see if they get matched.
A number of players still haven't finished their first rounds so much can change tomorrow and I may well add a bet or two before I leave for the match. If I do I'll post them in the morning when I look at the state of play at the Players Championship but I have placed a few very modest wagers already, detailed below.

12:15 - May 10, 2014
We've reached the halfway stage of the Players Championship and after a consolidating second round of 69, Martin Kaymer is still in front, albeit only just. Here's the leaderboard with prices to back as at 12:00 UK and Ireland time.
Martin Kaymer -12 4.03/1
Jordon Spieth -11 3.1511/5
Russell Henley -8 26.025/1
Sergio Garcia -6 19.5
Jim Furyk -6 21.020/1
Justin Rose -6 22.021/1
Lee Westwood -6 28.027/1
Gary Woodland -6 40.039/1
-5 and 60.059/1 Bar

I really can't wait for the third round to start tonight. We look set for a fascinating tussle between the new pretender (Jordan Spieth) and the resurgent major winner and former world number one (Martin Kaymer), with an extremely classy peloton lurking menacingly. 
It's impossible not to take to the current favourite and surely soon to be world number one, Jordan Spieth. Not only does the 20-year-old appear to have already mastered every aspect of the game brilliantly but he plays with a smile on his face and he's tactically wise too. He'll be very hard to beat this weekend but should he be the favourite?
Kaymer wasn't at his best yesterday - he drove poorly early on but scrambled brilliantly and then when his long game improved he missed a few short putts but as I pointed out yesterday, following up a really low round is never easy and in the circumstances, his 69 yesterday was a very fair effort. I can see him improving on yesterday's performance and given Spieth is still yet to record a bogey this week, it might just be the youngster's turn to have a small dip in form. There' isn't too much to choose between the two but at the prices, given he holds that slender one-stroke advantage, I'd favour the German.
The record of 36-hole leaders at Sawgrass isn't great, with only Matt Kuchar two years ago, who co-led, Phil Mickelson in 2007, and Hal Sutton in 2000, going on to win this century but I'm not too put off by those stats. The leaderboard is strung-out this year and it's asking a lot to have anyone outside the front three win. Tim Clark won from seven back at this stage in 2010 and Tiger Woods was six adrift in 2001 but every other winner has been within four since 1996 and six of the last eight winners were within a stroke of the lead. If they hold their nerve, the front two are going to be very hard to catch. 
I'm a little wary of Kaymer's record when leading. The stats say he's led at halfway on seven occasions and won four times but he was at least three clear every time he won and on the three occasions he was tied at the top he got beat. And on the last occasion, at the Qatar Masters last year, he dropped away tamely to get beat by seven strokes in a tie for 9th.
That's another possible negative for Kaymer but all things considered, I still think he's value at 4.03/1.
With John Hahn withdrawing before the off, Peter Lawrie shooting a one-over-par opening round and yet another fog delay this morning, I've just about given up on the Madeira Islands Open which could now be reduced from a 54-hole event to a 36-hole one. They're due to start again soon but we'll see.

10:55 - May 9, 2014
Having hinted at a return to form of late and following a decent performance at Quail Hollow last week, Martin Kaymer has burst into life at Sawgrass - shooting a course record equalling nine-under-par 63 to lead the Players Championship by two strokes over Russell Henley. The round was especially impressive given Kaymer played in the trickier afternoon conditions - the morning starters averaged 1.13 strokes less than Kaymer and co.
It's never easy to lead all the way and we have to go back to 2000 to find the last wire-to-wire winner (Hal Sutton) but first round leaders actually have a decent record here. Since the event switched to Sawgrass in 1982, 44 men have led or co-led the Players Championship after round one and nine of them have gone on to lift the trophy. The last two to do so were Phil Mickelson and Sergio Garcia in 2007 and 2008, so it would be daft to dismiss Kaymer - although it might be equally daft to expect him to press on today.
Padraig Harrington, way back in 2003, is the only player since Sutton in 2000 to shoot a round in the 60s after leading after round one. Even those that have won the event haven't backed up their fast starts. Adam Scott, in 2004, followed his opening 65 with a 72 and the aforementioned duo of Mickelson and Garcia shot 67-72 and 66-73 respectfully. Kaymer has given himself a fantastic start and he looks odd-on to be there or thereabouts come Sunday but what we have to ask ourselves is - is he value today at 6.611/2 and I'd be inclined to say no. 
As I've repeatedly stated, backing up a really low score is devilishly hard (as the second round scoring record of first round leaders here shows) and even with an early start, the chances are the former world number one will stutter somewhat today. And with a wealth of talent four, five and even six strokes back, although I'm tempted, I'm going to let the German be for now and see how he fares today.
It looked for much of yesterday that Henley's seven-under-par 65 would see the American lead and I wasn't best pleased. I had a fair bet on him last week at Quail Hollow but he missed the cut. With the benefit of hindsight, a small bet at 450.0449/1 here really wouldn't have gone amiss would it? That's the nature of the beast though and as frustrating as it is when it happens, this isn't the first time last week's strong fancy has performed well a week last and it certainly won't be the last. I have backed him now though, and I haven't exactly got a great price! I took 30.029/1 about Henley before Kaymer's exploits and I've also added a few others.
Multiple PGA Tour winner, Scott Stallings, who trails Kaymer by just four, looks a great price at 130.0129/1 and I've also backed regular play, Scott Brown and former winner, Justin Leonard, who are both on -4 and five off the lead.
With Kaymer in such a commanding early position, although I don't think he will back-up yesterday's round and streak clear, it is possible, so I don't want to get too involved at this stage and I'm more than happy to add to my disappointing pre-event picks tentatively. 
The week's other event, the Madeira Islands Open, (previewed here) is starting to look farcical. Fog put pay to play completely yesterday and after a delay today, the first group out managed just one hole before play was stopped, again because of fog. No announcements have been made at the time of writing but judging by one or two photos I've seen on Twitter, the event itself could soon be in doubt.

Players Championship Pre-Event Selections
Luke Donald @ 30.029/1
Zach Johnson @ 55.054/1
Ryan Palmer @ 130.0129/1
Ben Crane @ 360.0359/1

In-Play Bets
Russell Henley @ 30.029/1
Scott Stallings @ 130.0129/1
Justin Leonard @ 180.0179/1
Scott Brown @ 240.0239/1
Martin Kaymer @ 4.03/1

Madeira Islands Open Pre-Event Selections:
John Hahn @ 60.059/1 NR
Peter Lawrie @ 150/1 each-way (Sportsbook)
In-Play Bets
Antonio Hortal @ an average of 15.014/1
Julien Guerrier @ 25.024/1

*You can follow me on Twitter @SteveThePunter
Discover the latest articles