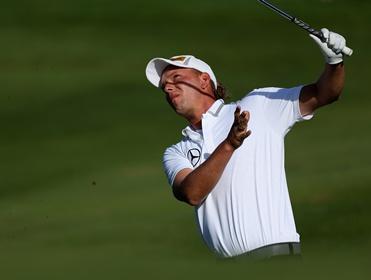 Marcel Siem – can he hold on in Morocco?
Marcel Siem had the Trophee Hassan II title in his grasp but it's a very much tighter affair in Texas, where one of the BB team is sweating on a bumper pay-out with Ben Crane. Read Steve's final in-running thoughts on the week here...
"He's an emotional chap is Marcel and his biggest job today will be keeping those emotions in check. If he does, he'll win, but he won't be carrying any of my cash at almost [1.5]."
12:00 - March 31, 2013
Marcel Siem takes a four-shot lead into the final round of the Trophee Hassan II and he really ought to convert but there have been signs all week that the likable German still has a fiery temper simmering just under the surface.
He made a right pig's ear of his penultimate hole yesterday, needing a 15 foot putt to make bogey and he looked close to exploding! Then on the final hole he let out an anguished cry after his approach shot and I couldn't really see why. It wasn't a great shot but it was safely on the green and it was certainly not bad enough to evoke his reaction.
He's an emotional chap is Marcel and his biggest job today will be keeping those emotions in check. If he does, he'll win, but he won't be carrying any of my cash at almost [1.5].
If he is to implode, we surely can't look any further down than Craig Lee in 6th, who trails Siem by seven, even though last year, Jamie Donaldson showed low scores are out there, with a final round 61, which saw him climb 40 places up into a tie for third.
My in-play wager, Bernd Wiesberger, was pretty disappointing yesterday but he finished with a run of birdies and on -9, six behind Siem, he's not quite completely out of it.
One man that might struggle today is Mikko Ilonen. He was all over the shop at times yesterday and the word on Twitter this morning is that he's been up and down all night with food poisoning! I'm not a massive fan of two-ball betting, or backing odds-on shots but I've had a small wager on Pablo Larrazabal to be beat the Finn at [1.96].
Over at the Shell Houston Open, we can't discount the power of prayer on Easter Sunday! With Stewart Cink, a devout Christian, tied at the top with Bill Haas, who studied religion as his major, on -11 and with Ben Crane, another religious man, in the group of four one back, the good lord might just get a mention when the trophy gets given out later.
This event doesn't get any easier does it! There are nine players, including Louis Oosthuizen, Keegan Bradley and Lee Westwood, just two behind Cink and Haas and it looks an impossible puzzle to solve. It's going to be fun to watch though and there might be a few opportunities in-running, especially given the tough finish here, but I'm leaving it alone for now.
If I were to pick out one for a fun bet, then it would have to be Crane at around [16.0]. Joe Dyer's each way tip from the start, at a very juicy [176.0], knows how to get the job done and if he were to hold his nerve whilst all around him failed to do so, I wouldn't be at all surprised. Good luck Joe!

11:10 - March 30, 2013
I can't for one second claim that halfway leader Marcel Siem was ever on my radar for the Trophee Hassan II, but I did consider carefully the chances of David Horsey and Mikko Ilonen, currently tied for second and three shots behind Siem, and Pablo Larrazabal, who sits in fourth and four off the lead. In fact, he was top of my list on Monday morning!
All three had solid claims but I felt, wrongly as its transpired, that all three were on the short side. I thought before the off that the event would suit certain players and that course form would hold-up well and that there were half a dozen or more at what I thought were short enough prices with really strong claims.
In hindsight, maybe I need to reassess how I view the prices in quirky low-grade affairs but I find it very hard to take fairly low prices about players that win so infrequently. What's really frustrating is not that I left out the three mentioned above, but that I didn't leave ALL of the short-priced fancies out. I knew I was taking too short a price about Gregory Bourdy but I still did it! And why did I back him and not Larrazabal? Oh well, I mustn't dwell on it all too long, surely insanity is the only outcome!
And just to drive me closer, a player that I'm a huge admirer of, and who I've backed plenty of times already this year, Bernd Wiesberger, has found form at last and I'm not on from the get-go!
As stated, he hadn't shown anything this year yet and I really didn't think this would be his ideal track, so I've no regrets at all about leaving him out this week but I'm with him now.
All aspects of Wiesberger's game are in great order this week, bar putting. After two rounds, he ranks 11th for Driving Distance, 9th for Driving Accuracy, 5th for Greens In Regulation and 4th for Scrambling and if a few more putts had found the cup, he'd be far closer to the lead than six adrift.
It's a risk to expect him to suddenly start finding form with the flat-stick but it's one I'm prepared to take. It's taken years for those above him on the leaderboard to win their two titles apiece, Bernd has claimed both of his in the last twelve months and if he can bridge the gap today, he's the one with more scope and I think, more balls when it comes down to the back-nine fight tomorrow.
Over at the Shell Houston Open, Rory McIlroy and my US Masters fancy, Phil Mickelson, have both made the cut, but only just.
The penny seems to have dropped at last with Rory and he's decided to add next week's Texas Open to his schedule. Whist it's the right thing to do to get more tournament play under his belt ahead of the year's first major, adding the Texas Open is a strange one. Surely he'd have been better playing Bay Hill last week instead? The wind can play havoc at the Texas Open and the course is nothing like Augusta. It looks like a bit of a panic move to me and unless he finds form and soon, he won't be pitching up at Augusta with any confidence.
As for Lefty, his game doesn't look to be that bad and if he'd managed to keep out of the water on the 5th hole over the first two days (he's made a double-bogey six there twice) he'd be in with every chance of winning this week.
Monday qualifier, Steve Wheatcroft, leads on -10, by one over big-hitting maiden Jason Kokrak, and one-time PGA Tour winner, D.A Points, with a gap of two back to Brian Davis and Stewart Cink on -7. The event looks incredibly open and given that the last two winners here have come from four and five strokes back at halfway, the leading group look vulnerable.
I haven't given up on pre-event pick Boo Weekley, on -5, and I've now added Scott Stallings, on the same score, at [60.0], but other than that, I'm going to wait and see what today brings. It looks tricky to say the least!

12:10 - March 29, 2013
It's one of those weeks when finding an opportune time to update the blog isn't easy, unless I do it in the middle of the night! From first thing in the morning to last thing at night, either or both events are in-play.
At the Trophee Hassan II, I had a poor first day and things haven't improved this morning. The majority of my pre-event picks got a break with the draw when the troublesome morning winds dropped considerably in the afternoon but none of them took advantage.
Those with an early tee time yesterday shot an average of 1.72 shots more than the afternoon starters, which makes David Horsey, Simon Wakefield and Paul Krishnamurty's Find Me A 100 Winner pick, Graeme Storm's, four under-par 68's look very impressive.
All three are trading considerably bigger now than they were yesterday afternoon, when it looked as though they'd set stern target, but when the wind dropped, Germany's Marcel Siem stepped up and shot 64, courtesy of two holed bunker shots!
We're getting to the end of the morning session now and Siem has already traded as short as [1.86]. He's currently on -12, leading by five and firmly in command.
I've had a tiny bet on Wakefield, but other than that, I'm playing a waiting game for now.
Over in the states, I had an extremely frustrating first day at the Shell Houston Open, and all thanks to Phil Mickelson and the PGA Tour website's shot-tracker. Prior to the off, I'd back Lefty to win this week and also to win the US Masters and the plan yesterday was to follow the play closely and to try maximise my position on him at the US Masters.
Everything was going to plan, he was playing well enough and was four under-par with just five to play. Having backed him before the off at [18.5] in this event and having traded him in-and-out in the US Masters to get him onside at a juicy price, when shot-tracker showed him in the left rough on the 5th hole (his 14th of the round), up I got to stretch my legs make a cup of tea.
I sat back down again, happy enough with the way it was all going, only to see, to my complete dismay, that shot-tracker had changed from him being in the rough, to being in the water. And what a difference it made! All of a sudden, he'd gone from a single-figure price to win this event to above [20.0] and my US Masters position wasn't looking so hot either.
He made double-bogey on the 5th and compounded the error by bogeying the 6th and 9th too, and he now trails overnight leader, D.A Points by eight stokes. Not ideal.
With all the pre-event market leaders struggling yesterday, including Rory McIlroy, who shot +1, the event is extremely open and I'm going to see what today brings. The morning starters yesterday had a big advantage, shooting over 1.5 shots better than the afternoon starters and Rory could be one to keep an eye on when he kicks off round two shortly at 12.50. I'm convinced he's not playing enough competitive golf and having knocked the rust off again yesterday he could make a big move, both in this event and in the US Masters market.
With regards to the US Masters, I still have Phil onside. He lost his way yesterday but he sounds confident enough and although his age is a big worry now, his record at Augusta is so strong that I simply have to have him onside there.
I did back Bill Hass last night too but I layed the bet back in the end. He has the right profile to win, he's the right age, he's had the right number of previous appearances and he's in form but I just can't imagine he has enough length or that he putts well enough to win there.
And I've also now backed Matt Kuchar at [42.0]. I suspect he'll be in the line-up at next week's Texas Open, which I don't think will be an ideal prep but he's in fair form this year and he contended twelve months ago.
And finally, I thought I'd had a bad day yesterday but it pales into insignificance when compared to poor Czech pro, Jakub Svoboda's day. He withdrew from the Trophee Hassan II after playing just six holes in 21 over-par! Ouch!
Trophee Hassan II Pre-Event Selections:
Gregory Bourdy @ [40.0]
Alvaro Quiros @ [60.0]
Michael Hoey @ [76.0] (Fixed Odds Market)
Emiliano Grillo @ [130.0]
Freddie Andersson-Hed @ [130.0]
Rhys Davies @ [160.0]
John Parry @ [240.0]
James Morrison @ [290.0]

In-Play Bets
Simon Wakefield @ [42.0]
Bernd Wiesberger @ [20.0]
Pablo Larrazabal to win his Sunday two-ball @ [1.96]

Shell Houston Pre-Event Open Selections:
Phil Mickelson @ [18.5]
Graham DeLaet @ [120.0]
Ryan Palmer @ [130.0]
Boo Weekley @ [160.0]
In-Play Bet
Scott Stallings @ [60.0]
*You can follow me on Twitter @SteveThePunter