The Punter's In-Play Blog: Holmes leads at Quail Hollow but can he overcome the stats?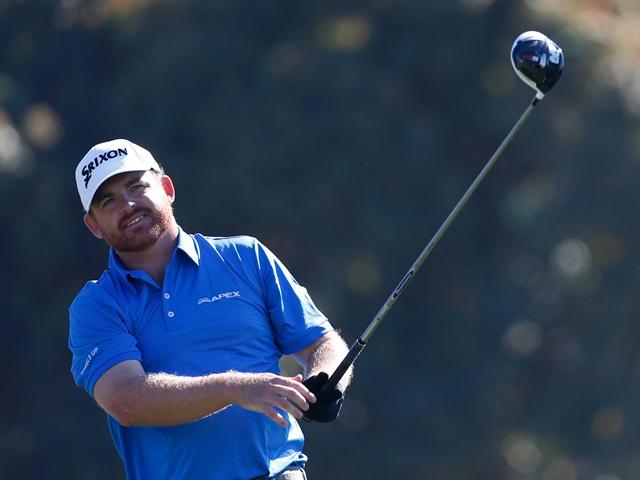 Third round leader, J.B Holmes
After a win in Singapore and a terrific rally by Phil Mickelson, our man has a chance to turn a poor week into a really good one but is he confident of Lefty converting? Read his final in-play post of the week here...
"After years of injury problems, including a broken ankle, tennis elbow and a Chiari malformation of the brain, all of which required surgery, nobody would begrudge J.B Holmes victory today."

11:10- May 4, 2014
With a round to go at the Wells Fargo Championship, I appear to have been given a chance following a sensational 63 by pre-event pick, Phil Mickelson, but can he back that up today? Here's the leaderboard with prices to back as at 11:00.

J.B Holmes -13 3.39/4
Martin Flores -12 6.611/2
Phil Mickelson -11 3.7511/4
Kevin Kisner -10 23.022/1
Justin Rose -9 10.09/1
Jason Bohn -9 40.039/1
Martin Kaymer -8 32.031/1
Jonathan Byrd -7 100.099/1
Geoff Ogilvy -7 120.0119/1
Michael Thomson -7 120.0119/1
-7 and 60.059/1 Bar

After years of injury problems, including a broken ankle, tennis elbow and a Chiari malformation of the brain, all of which required surgery, nobody would begrudge J.B Holmes victory today and it's a distinct possibility but it won't be easy.
He'll have to overcame the fact that he's not been in-the-mix in years, the very poor record of third round leaders here (the last five have all been beaten) and he'll certainly have to do an awful lot better than he did on the last occasion he led with a round to go - at the 2010 Texas Open he finished outside the top-12 after shooting 76 in round four. He sounds really happy with his lot, very relaxed and ready to give it a go.
"I'm looking forward to it and I'm happy to be out here and go out tomorrow and do the best I can and if I win that's great. If it ends up not being my day, then I'm just thankful to be out here and happy to have the opportunity that I have."
Given all he's been through it's no wonder he's happy to be where he is but with the stats against him, I don't want to play him at the price.
Lucas Glover is the only man to shoot four rounds in the 60s around Quail Hollow and I suspect Martin Flores will have to become the second to do so, if he's going to go on and win the title. He's never won on the PGA Tour but that's not necessarily a huge negative - Rory McIlroy, Rickie Fowler and last year's shock winner, Derek Ernst were all winning their first title when they won here. Given how consistently he's played so far this week, he's a fair price at over 6.05/1 but like his playing partner, Holmes, he'll be wary of the man lurking in third, Phil Mickelson.
Lefty looked all at sea on Friday but he soon put the disappointment of his second round 75 behind him and he has to be considered Holmes' biggest threat now. He plays Quail really well and might just be in the right place to win now - the last five winners have all been at least two strokes back with a round to go. He does have to back up yesterday's brilliance though, and that's never easy. I'm hopeful but far from confident.
Lefty's playing partner, Kevin Kisner, has won a couple of times on the Web.Com Tour but the 30-year-old has performed poorly in-contention on the PGA Tour so far and I'd be surprised to see him win.
After back-to-back five-under-par 67s, the experienced multiple winner, Jason Bohn, has to be respected and I thought he represented the best value this morning at odds of 40.039/1. And I've also had a stake saving wager on Justin Rose, who's lurked menacingly all week long.
It's great to see Martin Kaymer playing well again but I'm not sure there's much value in his price of 32.031/1 and I've all but given up on my two in-play picks on -7 - Michael Thompson and Geoff Ogilvy. They'll need a really low round and help from others, as will Paul Krishnamurty's Find Me a 100 Winner pick, Jonathan Byrd, who's alongside my pair. Byrd has already hit the first lay-back target though so profits have already been secured.
Given that in-play pick, Felipe Aguilar, has won The Championship, I'm going to make a profit this week whatever happens tonight so I may well take it easy later but I will be looking to lay some of my wager back, should Lefty hit the front and go odds-on - especially given how tough the finish is. As highlighted in the In-Play Tactics section of the preview, he led by a stroke and traded at odds-on with three to play last year before going on to miss out on the playoff by a stroke.
And finally fingers crossed for a low round from Kevin Na. He's currently on -6 and in a tie for 11th but should he finish in the top six it would be another great result for the betting.betfair golf team. Paul selected him in the successful each-way column this week but hats off to Mike Norman who recommended Na in an each-way double with 66/1 winner Aguilar.

10.15 - May 3, 2014
After what I'd considered to be a decent start to the Wells Fargo Championship we've now reached the halfway stage and it's all gone completely pear-shaped! I thought Phil Mickelson had been really disappointing, shooting a three-over-par 75 in the morning wave of starters, but pre-event favourite and strongly fancied selection, Rory McIlroy, then hit a four-over-par 76!
Mickelson has gone from one off the lead to seven back and McIlroy has gone from trading as favourite and three off the lead to 10 behind and a triple-figure price. He won from the cut line with rounds of 66 and 62 in 2010 but I can't see history repeating and I'm left ruing the fact that I didn't get Justin Rose on side yesterday.
I have a little unwritten rule that I don't pay too much attention to what players have to say and that usually works out well but I should have listened to Rose after round one on Thursday when he said he'd started to hit it better after his first nine holes. He moved serenely on yesterday and he now heads the market at 4.47/2. Here's the halfway leaderboard with prices to back, as at 10:15.

Angel Cabrera -9 8.07/1
Martin Flores -9 11.521/2
Justin Rose -8 4.47/2
J.B Holmes -7 13.5
Shawn Stefani -7 23.022/1
Martin Kaymer -6 17.016/1
Stewart Cink -6 25.024/1
Kevin Kisner -6 70.069/1
Jonathan Byrd -5 38.037/1
Geoff Ogilvy -5 50.049/1
Martin Laird -5 50.049/1
-4 and 46.045/1 Bar

I wouldn't put anyone off backing Rose but on past results he could be a bit too close to the pace at this stage. The stats are odd here, only Rory has won from more than five back after round one but it seems you need to be a little adrift at halfway. Here is the number of strokes each winner has been trailing by, reading back from last year - 3, 6, 3, 9, 5, 2, 0, 3, 2, 3, 2.
Tiger Woods is still the only halfway leader to win the title, which doesn't bode well for Cabrera and Flores and nobody has ever won from a stroke off the lead at halfway. Not great news for Rose backers. Quite how much credence we can give these stats is debatable but it certainly suggests that being hard on the pace isn't ideal.
After yesterday's dreadful turnaround I probably should give this week up for lost and move on but instead I've taken a chance on four outsiders who could just be lurking nicely. Geoff Ogilvy and Martin Laird, who both know how to win, look reasonably priced at 50.049/1 and four back. Zach Johnson is more than capable of making a move from six back and I've also added recent regular play, Michael Thompson, who trails by five.
Things didn't go much better at The Championship, where both pre-event pick, Alexander Levy and in-play pick, Tommy Fleetwood, were slightly disappointing in round three - shooting two and three-under-par respectfully.
Danish veteran, Anders Hansen, and Thailand's, Panuphol Pittayarat share the lead on -16 with Robert-Jan Derksen and David Lipsky tied for third on -14 and Gregory Bourdy and Chris Wood a further stroke behind in tied fifth. Fleetwood is amongst the four players tied for seventh and Levy is fully six off the lead. 
This looks like a minefield to me and I'm leaving it well alone. Hansen has led with a round to go four times in the last ten years and not only did he fail to convert on each occasion, he failed to break 70. He'll be a bit rusty tomorrow, having not been in-the-mix in ages, and anyone diving in on him at around 3.02/1 has my best wishes.
I know next to nothing about the Thai alongside him but I do know he's never won and that he's led with a round to go just once - at the 2011 Selangor Masters, where he shot 71 in round four to go from two clear to one behind. It takes a bit of imagination to see him winning. 
I can't advocate a wager on the usually poor in-contention, Derksen, who is apparently considering retirement, or on David Lipsky, who has at least won before. He came from off the pace to take the Handa Faldo Cambodian Classic two years ago.
I can easily see an off-the-pace winner here and I'm taking a tiny additional chance on Felipe Aguilar - one of Mike Norman's pre-event each-way selections - who could just bounce back after a disappointing third round. He dropped three shots in his last six holes today, having been matched to win at just 3.8514/5. 

12.10 - May 2, 2014
They haven't quite finished round two of The Championship just yet and I was going to leave the event alone for now but I have just added one more.
In addition to Alexander Levy, I backed Prayad Marksaeng after the preview was published but he missed the cut and for a long time it looked as though Levy was a forlorn hope too. Last week's winner in China triple-bogeyed the 13th hole (his 4th hole) in round one but he's battled back well ever since and after a six-under-par 66 today, he trails halfway leader, Panuphol Pittayarat, by just five strokes. 
None of the leaders have grabbed my attention and I was going to wait until tomorrow before getting further involved but the Sportsbook have gone an industry best of 14/1 about Tommy Fleetwood, who sits four off the lead on -9, and I felt that was worth a very small wager.
Over in the states, I'm delighted with the start my picks have made at the Wells Fargo Championship. Lucas Glover is out of it completely but the rest are all under-par.
In a tie for 23rd, Ben Martin and Scott Brown, who like Marksaeng, was added after the preview was published, are going to have their work cut out to figure. On -1, they trail first round leader, Angel Cabrera, by five strokes and other than Rory McIlroy in 2010, who won from seven back after day one and nine back after day two, five strokes is the furthest any winners has come from at this early stage in the 11 years the event has been in existence. 
Rory McIlroy, playing the course the wrong way round and having played the brutal Green Mile in one-under-par, will be disappointed to be only three-under-par - the same score he was after nine holes. The last three holes, dubbed the Green Mile, ranked as the hardest three on the course and averaged 1.2 shots over-par, so Rory effectively pinched two strokes over the field there. He also played in the easier morning conditions (early starters averaged 1.32 strokes better than the latter ones) so if he's going to keep tabs with the leaders, he won't be able to dilly dally - especially if the morning starters get that same advantage today...
One of my other picks, Phil Mickelson, thanks to a couple of lengthy par saves, is one of those morning starters that might just put some daylight between himself and Rory. He tees off at 13:00 UK and Ireland time and he only trails Cabrera by a stroke. 
Phil and Rory understandably head the market but I'm certainly wary of at least two of today's early starters. Justin Rose is definitely going the right way after injury and Quail Hollow member, Webb Simpson, ought to be a threat over the weekend but I'm going to hang fire for now. 
Rose's iron play was off a bit yesterday and he needed to scramble and putt brilliantly to shoot -3. And I just wonder if Simpson had a one or two shot advantage yesterday, given he's played the course since the changes, that may be negated somewhat as the week wares on. He hasn't been playing well of late either and that certainly puts me of.   
The Championship Pre-Event Selections:
Alexander Levy @ 50.049/1
Prayed Marksaeng @ 130.0129/1 (Added after the preview)
In-Play Bets
Tommy Fleetwood @ 14/1 (Sportsbook)
Felipe Aguilar @ 36.035/1

Wells Fargo Championship Pre-Event Selections:
Rory McIlroy @ 9.08/1
Phil Mickelson @ 18.5
Ben Martin @ 100.099/1
Russell Henley @ 120.0119/1
Lucas Glover @ 180.0179/1
Scott Brown @ 340.0339/1 (added after the preview)
In-Play Bets
Geoff Ogilvy @ 50.049/1
Martin Laird @ 50.049/1
Zach Johnson @ 55.054/1
Michael Thompson @ 90.089/1
Jason Bohn @ 40.039/1
Justin Rose @ 10.09/1 (stakes saver only)

I'll be back in the morning with a look at the state of play then.

*You can follow me on Twitter @SteveThePunter
Discover the latest articles