The Punter's In-Play Blog: Brilliant birdie barrage puts Bjorn firmly in the BMW driving seat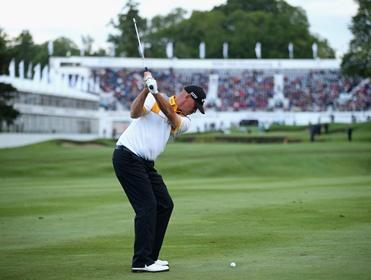 Thomas Bjorn playing 18 yesterday
Thomas Bjorn has shot clear at Wentworth but it's still 10.09/1 the field in Texas where 17 players are within two strokes of the lead. Can Bjorn book his place in the Ryder Cup with victory at Wentworth? And who does Steve fancy to win the photo finish in Texas?
"Since 1996, 20 men have led by five with a round to go on the European Tour and 16 have won. If you don't mind backing a short one, those stats suggest that there's most certainly value in Bjorn's price this morning."

09:50 - May 25, 2014
Thomas Bjorn has been brilliant all week long and he fully deserves to be crowned the 2014 BMW PGA Champion later on today.
On day one he set the new course record of 62, on Friday he recovered well after an understandably indifferent start following Thursday's brilliance, and then yesterday, after playing some pretty shabby golf over the first few holes, he came within the width of one of his fag papers from tying the European Tour's record of eight straight birdies, when for the second time this week, he shot 30 on the back-nine.
After paring the 10th, the determined Dane made six birdies in-a-row before his attempt on 17 agonisingly curled behind the hole instead of dropping but I'm sure equaling the record was far from his mind - he must have been delighted with his finish, and so he should be. It was a master class and a joy to watch and he really has put himself in command. Here's the leaderboard with prices to back as at 09:40 this morning.

Thomas Bjorn -15 1.4740/85
Luke Donald -10 6.25/1
Shane Lowry -9 30.029/1
Rory McIlroy -8 15.014/1
Joost Luiten -8 38.037/1
-7 and 120.0119/1 Bar

Matt Kuchar failed to convert a four-stroke third round lead at the Shell Houston Open last month and Rory McIlroy caught Adam Scott at the Australian Open in December, after Scotty had led by four with a round to go, but someone losing a big lead with a round to go is a rare occurrence and big-hitters will be licking their lips at Bjorn's current price. 
Since 1996, 20 men have led by five with a round to go on the European Tour and 16 have won. The most famous failure would be Jean Van De Velde's at the Open Championship in 1999 and the most recent was Scott Jamieson's at the Volvo Golf Champions event last year. If you don't mind backing a short one, those stats suggest that there's most certainly value in Bjorn's price this morning but that's not my bag. I've backed the highly unlikely but still at value prices...
If, and I do concede it's highly unlikely, Bjorn should have a nightmare today, this event will be blown wide open and those currently seven, eight, nine and even ten back, still have a chance. Remember 1999, when Van De Velde collapsed? Paul Lawrie had been trailing by ten with a round to go before going on to win.
I've thrown a few pounds at Pablo Larrazabal, eight behind Bjorn, and both Henrik Stenson and Francesco Molinari, who trail by nine, have been backed at prices far bigger than those available on the High Street and I've still got my position on Luke Donald from Friday but if the truth be told, I've resigned myself to losing on the event and spending the day trying to enjoy what in all likelihood will be Bjorn's victory parade. 
In stark contrast to the European Tour's cakewalk, we have an out-an-out crapshoot in the States, where a solitary stroke separates the top-ten. I'm not going to even begin to pretend I can sort the wheat from the chaff here but having backed one of the four current co-leaders yesterday in Chad Campbell, I have added one more this morning - Tim Clark.
It's obviously tough to call but Clark has always played Colonial Country Club well and the fact that he's teeing off 40 minutes before the final pairing and slightly out of the limelight could be a plus. He's one of the six men tied for fifth and trailing by just one and he looks a fair price to me at 25.024/1 but I have to admit, it still looks like a minefield.
I'll be back tomorrow with my De-Brief.

10:15 - May 24, 2014
We've reached the halfway stage of both events and one of my bets from last week is leading at both! Thomas Bjorn, backed at 30.029/1 to win the Open de España, is tied with Shane Lowry in the BMW PGA Championship and Brice Garnett, backed at 440.0439/1 to win the HP Byron Nelson last week, and matched at a high of 900.0899/1 this week, leads Chris Stroud and Robert Streb by a stroke in the Crowne Plaza Invitational. I'll start with events at Wentworth, here's the leaderboard with prices to back as at 10:00.

Thomas Bjorn -10 4.84/1
Shane Lowry -10 6.411/2
Luke Donald -6 5.95/1
Rafa Cabrera-Bello -6 26.025/1
Rory McIlroy -5 9.08/1
Henrik Stenson -5 11.010/1
Jonas Blixt -5 19.018/1
Fabrizio Zanotti -5 80.079/1
-4 and 44.043/1 Bar

I've looked back at the stats from 1996 onwards and only two players have ever led by as many as four strokes at halfway at Wentworth before - Paul McGinley in 2008 and James Morrison in 2012, so it's peculiar to see two men that far in front this time around. Bjorn and Lowry will be hoping to fare a great deal better - McGinley shot rounds of 79 and 72 and Morrison carded 81 and 71. Both men slipped to a tie for 10th. 
I can't see a disaster of that magnitude happening to either of this year's leaders but after heavy overnight rain and a delay of nearly three hours this morning, by the time they tee-off alongside Rafa Cabrera-Bello (format changed to three-balls); the greens might not be at their best.
Although very different to his stunning first round of 62, there was much to admire about Bjorn's determined level par 72 yesterday. He obviously didn't play anywhere near as well as he had on Thursday but the way he finished, playing the last five holes in two-under-par when he could very easily have been two-over, was excellent. He made a tremendous up-and-down for par after an awful tee-shot on 14 and he made the most of a lucky break off the tee, when holing out brilliantly for birdie from the greenside bunker at 15, before playing the last three holes serenely. Which way his play goes today is anyone's guess (including Bjorn's) and I'm not going to back him but at the same price as he was yesterday morning, he rates far better value now.
Shane Lowry's exceptional opening round of 64 was almost completely overshadowed by Bjorn's brilliance but if the Dane's finish to his second round was good, Lowry's was exceptional. He looked as though he might tumble back into the pack after he'd played the front-nine in two-over par but back-to back birdies on 10 and 11 followed his double-bogey at 9 and birdies at the last two holes completed a determined fight-back and the Irishman will be at least as hard to dislodge as Bjorn. He's only ever led once before at halfway, when still an amateur at the 2009 Irish Open, where he went on to win. 
Bjorn's record when leading or co-leading at halfway (from 1996 to present day) is five wins from 16 so he won't be frightened to go ahead and win either.
The current second favourite is course specialist Luke Donald, who looks to be lurking ominously should the front two stutter. He putts these greens superbly and it would be no surprise to me to see him close the gap further today, if not bridge it and it wouldn't be a shock either to see him win his third BMW in four years. I respect the front two, and I don't think they'll be hard to shrug aside but given his obvious love of the track, Luke has to be the fancy from here, despite the fact the he trails by four. 
Rory McIlroy has finished really well in both of his first two rounds but I'm wary of how much of a distraction tomorrow's papers will be following his much-publicised break-up and he hasn't putted brilliantly either. Henrik Stenson should have been in a much better position but finished poorly yesterday and I'm still not convinced this venue suits him perfectly. Jonas Blixt has shown unbelievable short game brilliance to stay in-touch and should he start hitting it straight off the tee they could all be in trouble and don't discount my each-way selection, Anders Hansen. The Dane has already won this event twice and from what I saw yesterday his game is in great order. I haven't given up on him just yet.
In summary, I've had a small saver on Luke Donald in-running and he's the man to beat but it's very tricky still. I'm looking forward to seeing what today brings and I'm hoping we get a more congested third round leaderboard so that I can back a few from off the pace at the close of play today. 
The Crown Plaza Invitational looks a minefield with three rookies at the head of affairs and the favourites, Jimmy Walker and Dustin Johnson, tied at the top of the market at 10.519/2. Ten players are within two strokes of each other and my instinct is to leave it well alone but I can't help but have a small wager on Chad Campbell, who has bounced back to life in his home state. 
Chad looked a future world-beater as a young man and he very nearly won a couple of majors - the 2003 US PGA Championship and the 2009 US Masters. He's been in the doldrums for years but he's won four PGA Tour events in the past, including the Tour Championship in 2003, and crucially this week, he's putting well. He always hits plenty of fairways and greens but the flatstick often lets him down but if he can keep making a few, one week away from his 40th birthday, he might just cause a shock.

10:50 - May 23, 2014
We all know what this gambling lark's like. You have some truly great days, some not so special, plenty of disappointing ones, and then every now and then, a damn right awful one. That was yesterday for me...
I don't think there's anything worse than watching somebody you backed the week before play brilliantly seven days too late but that was exactly what I had to endure yesterday. I'd quite fancied Thomas Bjorn to play well in the Open de España, at PGA Catalunya, a venue he'd won at and finished 3rd at previously, but he was quite frankly diabolical - shooting rounds of 75 and 78 to miss the cut by a country mile. What did he do yesterday? Set the new course record at Wentworth with a simply stunning error-free 62. 
That was quite a turnaround but we perhaps shouldn't be surprised at all, it's only a little over a month ago that he was recording a top-ten finish at the US Masters and as the old and almost worn out saying goes, form is temporary, class is permanent. And Paul McGinley made a very pertinent point on air yesterday, Bjorn is the chairman of the European Tour's tournament committee and after the tragic death of Iain McGregor at the Madeira Islands Open, which many players felt should have been postponed, you can bet your bottom that Bjorn had a busy and difficult week in the lead-up to the Open de España. 
I'm kicking myself because Bjorn was matched at a high of 95.094/1 before the off and had he not played so poorly last week I'd have gladly taken much less. Like his good friend, Ernie Els, Bjorn used to live at Wentworth so he knows the course intimately and he'd have been well and truly on my radar - as he is most of the time. With the benefit of hindsight, the fact that he would have had a much more settled lead-up to the event and that he'd have been inspired by fellow veteran, Miguel Angel Jimenez's stunning success in Spain, were both big positives but it's all too late now, I need to concentrate on what's going to happen now.
As delighted as I'd have been to be on Bjorn at a fancy price from the off, I'm far from keen to get with him now. As I pointed out in the preview, much can change at Wentworth and its a long way home from here. Bjorn's 62 is a magnificent start but as another worn out saying goes, there's a long way to go yet, and Luke Donald, in 2011, is the only first round leader to go on to win here since Nick Faldo did it way back in 1989. Do you fancy taking less than 5.04/1 about Bjorn achieving the feat? I know I don't.
The BMW PGA Championship is currently live on Sky Sports 4 so I'm going to just sit and watch for now and see how things pan out. And I'm going to do exactly the same at the Crowne Plaza Invitational where following a bogey-free, five-under par 65, Dustin Johnson, who ranked 1st for Greens In Regulation, shows the way.
I can't pretend I wasn't tempted by the industry-wide best of 6/1 on offer at the Sportsbook about D.J this morning but after much deliberation, I'm going to sit tight for now. As detailed in the preview, a fast start is essential here but tucked in behind Johnson, and within no more than two strokes, are class acts, Hunter Mahan, Harris English (both just one behind), Jordan Spieth, Jason Dufner and Jimmy Walker. 
In theory, D.J, who looks to have had much the better of the draw, could make hay today, playing nice and early. Unusually for any event, and especially one in Texas, the afternoon starters on day one enjoyed an advantage of more than a stroke and with the forecast suggesting a slightly windier afternoon today, those that played early yesterday and late today, look to be up against it.

BMW PGA Championship Selections:
Miguel Angel Jimenez @ 40.039/1
Anders Hansen @ 70.069/1
Ernie Els @ 80.079/1
Simon Khan @ 170.0169/1
Richard Green @ 200.0199/1
In-Play Bets
Luke Donald @ 12.011/1
Henrik Stenson @ 120.0119/1
Francesco Molinari @ 140.0139/1
Pablo Larrazabal @ 150.0149/1

Crowne Plaza Invitational Selections:
Zach Johnson @ 15.5
Boo Weekley @ 65.064/1
In-Play Bets
Chad Campbell @ 55.054/1
Tim Clark @ 25.024/1

Each-way Double (Sportsbook)
Zach Johnson and Luke Donald - both at 14/1

*You can follow me on Twitter @SteveThePunter
Discover the latest articles