The Punter's In-Play Blog: Walker set to break the third round leader hoodoo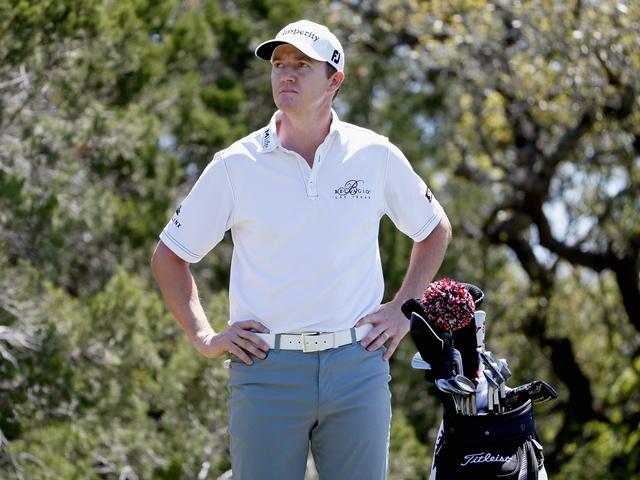 Jimmy Walker – the man in pole position in Texas
Steve takes a detailed look at the condensed leaderboard in Europe and the clear leader in the States. Will it be a case of pass the dagger at the Trophee Hassan II? And can anyone catch San Antonio resident, Jimmy Walker?
"Jimmy Walker has taken complete control of the tournament after a quite brilliant three-under-par 69 in what were once again extremely trying conditions and he looks a decent price to me now at 1.574/7."
11.00 - March 29, 2015
Just one stroke separates ten players at the Trophee Hassan II and it looks every bit as hard to work out now as it did before the off. Here's the 54-hole leaderboard with prices to back at 10:50.

Romain Wattel -7 8.415/2
Richie Ramsay -7 9.417/2
Andrew McArthur -7 21.020/1
George Coetzee -6 8.88/1
Emiliano Grillo -6 10.519/2
David Horsey -6 11.010/1
Jaco Van Zyl -6 14.5
Kevin Phelan -6 16.015/1
Richard Bland -6 20.019/1
Soren Kjeldsen -6 21.020/1
Wade Ormsby -5 30.029/1
Mikael Lundberg -5 40.039/1
Rafa Cabrera-Bello -4 38.037/1
Pablo Larrazabal -4 40.039/1
-4 and 70.069/1 Bar

Anyone that watches the European Tour with regularity knows what we're likely to witness this afternoon and that's a struggle. With the very best the tour has to offer already Stateside readying themselves for the US Masters the field isn't the strongest and we're almost certain to see an awful lot of mistakes by players as they hit the front. Nerves will come into play for sure and trying to work out who will end the day holding the first prize of a quite spectacular bejewelled ceremonial dagger is nigh on impossible.
Of the main contenders, Richie Ramsay appears to be playing the best golf, George Coetzee is arguably the best player, but needs to win to get to Augusta. David Horsey and Jaco Van Zyl love the course and Emiliano Grillo is definitely the best player not to have won on the European Tour. They all have strong credentials and yet so open is the event that they could all very easily finish outside the top-five. In short, this is a minefield but there are several ways to play it...
As already stated, nerves will come in to it today and those that like playing the two-ball markets and taking on the favourites could have a great day. Should Andrew McArthur be as big as 2/1 to play a better round than the often nervous Romain Wattel in the final two-ball? With a Masters place up for grabs, how will Coetzee fare today? Steady Richard Bland is 2/1 to beat him and he might not have to do much to do so. And given how poorly Van Zyl plays in-the-mix, a case can most certainly be made for rising star Kevin Phelan in their match-up. Three level stakes wagers on those three outsiders would make sense - I'd be very surprised if all three favourites oblige.
If you want to play in-running, anyone that makes ground on the leaders on the front nine might be worth chancing. I know it's a condensed leaderboard and that someone inside the top-ten really should shoot a good enough round to win but if one of the earlier starters can get to the lead through nine holes, or even one off it, I really do think they'll be worth chancing. The back-nine has three par fives and plays an average of around two strokes easier than the front nine and if someone can poach a bit of a lead and sit in the clubhouse and wait - they may just hold on.
Over at the Valero Texas Open, things look infinitely easier to assess. Here's the third round leaderboard with prices to back at 10:55.

Jimmy Walker -9 1.574/7
Jordan Spieth -5 4.47/2
Billy Horschel -3 29.028/1
Zach Johnson -2 42.041/1
Brendan Steele -2 50.049/1
Jason Kokrak -2 60.059/1
Chesson Hadley -2 100.099/1
Scott Pinckney -2 150.0149/1
-1 and 140.0139/1 Bar

Jimmy Walker has taken complete control of the tournament after a quite brilliant three-under-par 69 in what were once again extremely trying conditions in round three and he looks a decent price to me now at 1.574/7.
Odds-on layers will point to the fact that the last 11 men to lead or co-lead on the PGA Tour have been beaten. In fact, only one man has converted a clear lead on the PGA Tour this year but that wouldn't put me off for two reasons.
Firstly, each scenario has to be judged on its merits and other than J.B Holmes at the WGC - Cadillac Championship, who I thought looked a good thing, everyone of those leaders had looked fragile to varying degrees and secondly, the only third round leader to convert was a certain Mr Walker.
Jimmy led the Sony Open by two strokes after 54-holes in January and he simply powered away from the field on day four - winning by nine! Today is a different day of course and with Jordan Spieth his closest challenger it's not going to be easy but with the forecast suggesting yet more bad weather, if Walker can nurse it round in one or two over par he'll more than likely convert. I can always turn my nose up at an odds-on shot personally but I've seen far worse ones than Walker today.
I'll be back tomorrow with my De-Brief and also my preview for the Shell Houston Open.

09:45 - March 28, 2015
With the weather panning out just as forecast, everyone drawn to play on Thursday morning and Friday afternoon at the Valero Texas Open was beat before they even teed it up. The difference between the two sides of the draw was an incredible 4.29 strokes so everyone listed below played yesterday morning. Here's the halfway leaderboard with prices to back at 09:30.

Jimmy Walker -6 3.814/5
Charley Hoffman -5 11.010/1
Aaron Baddeley -5 15.5
Jordan Spieth -4 4.67/2
Kevin Na -4 12.5
Zach Johnson -2 21.020/1
Phil Mickelson -2 24.023/1
Brendan Steele -2 24.023/1
Billy Horschel -2 32.031/1
Chris Kirk -2 36.035/1
-1 and 55.054/1 Bar

Some events cut up nicely and look easy to assess - this one hasn't and doesn't.
The Valero Texas Open has been won by a triple-figure priced outsider in each of the last four years but that run looks highly likely to end this year. The first thing that strikes me about the halfway leaderboard is how many quality players are inside the top-ten - only Aaron Baddeley and Chris Kirk went off at any bigger than 100.099/1.
San Antonio resident, Jimmy Walker, who has so far ranked first for greens hit and strokes gained putting, is out in front and I wouldn't be in the least bit surprised if he's still there come Sunday night but whether he's quite value to do so is another matter.
As detailed in the preview, of the five renewals staged at this venue, the first edition in 2010 and the 2013 event were staged in very different conditions to the other three. The course was brand new and rain-softened in 2010 and two years ago, when the event was staged the week before the US Masters, the course was set up to encourage attacking play in what transpired to be windless conditions, so when I've looked for trends, I've focussed mainly on the other three results.
In 2011, 2012 and again last year, the winner won with an eight-under-par total and on each occasion they were already in front at halfway. The forecast suggests we're in for another two days of tough playing conditions and it's going to be a grind to the line. Making up ground is going to be nigh on impossible and the shots Walker has in hand on his rivals are very precious.
If forced to get further involved I'd plump for Walker but I'm going to leave the event alone for now and see what today brings. I've got the two players tied for second onside and the forecast does offer up some encouragement - the tougher it plays the better it is for Charley Hoffman and Aaron Baddeley and if they can get round in level par they won't be far away at the close of play today.
Jordan Spieth is the obvious danger to Walker but what tempers my enthusiasm slightly for the pre-event favourite is not just the fact that he trails by a couple of strokes but also that this is his home state. Spieth was born, raised and educated in Texas and he still lives there. Winning this event will be a big deal. Walker on the other hand, lives in San Antonio, having gone to college in Texas, but was born in Oklahoma. He'll have friends and family aplenty cheering him on over the weekend but I suspect the pressure he'll feel will differ slightly to that felt by Spieth.
Trying to differentiate between such quality players in-the-mix is almost impossible at times but wanting something more is not always a plus when it comes to winning a golf tournament and I suspect Walker may just be more relaxed if in with a shout on the back nine on Sunday.

20.30 - March 27, 2015
It's been a somewhat bizarre day and an utterly disappointing one. A number of my Trophee Hassan II picks looked nicely poised after day one but were all poor - especially Marcel Siem. I really fancied the German to kick on today and be right in-the-mix with two rounds to go but after a seven-over-par 79, he hasn't even made the cut! Julien Quesne wasn't much better and both my in-running picks were dire too.
Over in the States, Charley Hoffman, backed at 70.069/1 before the off, looked like kicking clear at the Valero Texas Open, when he made the turn on eight-under-par and was matched at a low of 3.814/5, but he played his second nine - the front nine - in three-over par and he doesn't even lead now. He trails San Antonio resident, Jimmy Walker, by a stroke. I'll return to that event in the morning but with all today's afternoon starters so far behind after getting buffeted by the wind yesterday morning, I don't expect anyone to get anywhere near to Walker and co.
Back to the Trophee Hassan II, and with 25 players separated by just four strokes, it's fair to say it's tricky to call. Rafa Cabrera-Bello, who's tied for the lead with Richie Ramsay, Oliver Farr and Paul Krishnamurty's each-way pick, Richard Green, is the current favourite but I fancy the value at this stage lies with fellow Spaniard, Pablo Larrazabal, at 12.011/1.
Pablo has played nicely for two days given that this is his first start since he finished 20th at the Malaysian Open at the beginning of February. He looks fit, healthy and happy and he says he loves the course. It's quite possible his game could sharpen further over the weekend and he looks worth chancing. I could very easily have waited until the end of round three before considering getting further involved but there's enough juice in his current price to have tempted me in for a tiny wager.

10:35 - March 27, 2015
My scattergun approach before the off at the Valero Texas Open doesn't look like paying off. I picked out 13 outsiders before yesterday and not one of them managed to shoot level-par or better. The best of my pre-event picks was Jerry Kelly who shot his one-over-par 73 in the much trickier morning conditions.
There was a really strong breeze in the morning but that worked out in my favour. I'd been keeping a very close eye on the weather forecasts and when it looked likely that the afternoon starters were going to get the better of it, I backed course-specialist, Charley Hoffman, at 70.069/1, and he now leads after an opening bogey-free, five-under-par 67.
The bias was quite significant with the later starters shooting an average score of 74.86 compared with the 78.61 that those that played in the morning had averaged - a difference of fully 3.75 strokes! There's just a dozen players under-par after round one and every one of them played yesterday afternoon.
So what now? The stats suggest you can't come from too far back here - the first five winners at the venue have all been within five of the lead after round one, suggesting that all those that failed to break par yesterday can forget it. And with so many quality players on the heels of the leaders, I don't see any reason to think that will change this time around.
Phil Mickelson, Ryan Palmer, Jordan Spieth, Zach Johnson, Jimmy Walker and Chris Kirk are amongst that select band to break par yesterday and there a number of classy players on level par so this is still wide open but I don't expect anyone to win from too far back.
I'm happy to see where my Hoffman wager goes from here and I've also added two more for small stakes. Both Aaron Baddeley and Chesson Hadley were on my far from short shortlist so I've decided to get them onside at reasonable prices too.
Baddeley sits second, just a stroke behind Hoffman, and that's mainly thanks to holing his third shot on the par 4 17th. That doesn't sound too unusual but it certainly was. The 17th is drivable but Baddeley tried to hit a cut with his driver and he hit his first drive deep into the trees. Having decided to take an unplayable penalty, he marched back to the tee to try again. This is what he had to say afterwards about his second attempt.
"I just said to myself, it was just the wrong shot. Hit a straight one. It was straight downwind, get it going straight, it will go straight. So I hit -- and I hit the second one, man. Why didn't I do that the first time? And it rolls up and goes in!"
As detailed in the preview, this course has an Aussie feel about it and those from Down Under have a decent record in Texas and at this course in-particular so at 20.019/1, I thought Baddeley was worth chancing from here.
Also highlighted in the preview was the fine record of Puerto Rico Open winners at this event so last year's winner, Hadley, was always in my thoughts. I've backed him a few times this year so I'm a bit miffed I left him out before the off but he's onside now and at a very nice price. I thought 130.0129/1 was perfectly fair given he's only four behind Hoffman and no bigger than an industry-wide best of 90/1 on the Sportsbook.
The second round of the Trophee Hassan II is underway and live on Sky shortly at 11:00 so rather than try and comment on that as it plays out I'll return this evening with my take on the state of play at halfway but I have added a couple there as well.
Current leader, Adrien Saddier, was added early on yesterday morning when he started really well on the tougher front nine and I also modestly backed Mikael Lundberg at what looked a tasty 100.099/1 when he had two to play in round one. That price doesn't look quite so good now as he bogeyed the easy par 5 17th straight after I'd backed him and they subsequently corrected his score, changing his par at the 10th to a bogey!
I appreciate that reading about bets a day after they've been placed is irritating (especially ones like that on Hoffman) but if you're on Twitter please do follow me on there. I make every effort to tweet all my bets as I place them to provide as much clarity as possible.

Trophee Hassan II Pre-Event Selections:
Marcel Siem @ 28.027/1
Julien Quesne @ 65.064/1
Scott Jamieson @ 200.0199/1
Matteo Manassero @ 280.0279/1

In-Play Bets
Adrien Saddier @ 66/1 Sportsbook
Mikael Lundberg @ 100.099/1
Pablo Larrazabal @ 12.011/1

Valero Texas Open Pre-Event Selections:
Brian Harmon @ an average of 155.0
Branden Grace @ 200.0199/1
Sangmoon Bae @ 200.0199/1
Geoff Ogilvy @ 210.0209/1
Boo Weekley @ 250.0249/1
George McNeil @ 300.0299/1
Jerry Kelly @ 400.0399/1
Scott Brown @ 400.0399/1
Ben Curtis @ 500.0499/1
Andres Gonzales @ 500.0499/1
Johnson Wagner @ 500.0499/1
Justin Leonard @ 550.0549/1
Brandon Hagy @ 700.0699/1

In-Play Bets
Charley Hoffman @ 70.069/1
Aaron Baddeley @ 20.019/1
Chesson Hadley @ 130.0129/1

*You can follow me on Twitter @SteveThePunter
Discover the latest articles