The Punter's In-Play Blog: Wide open at Wentworth with a round to go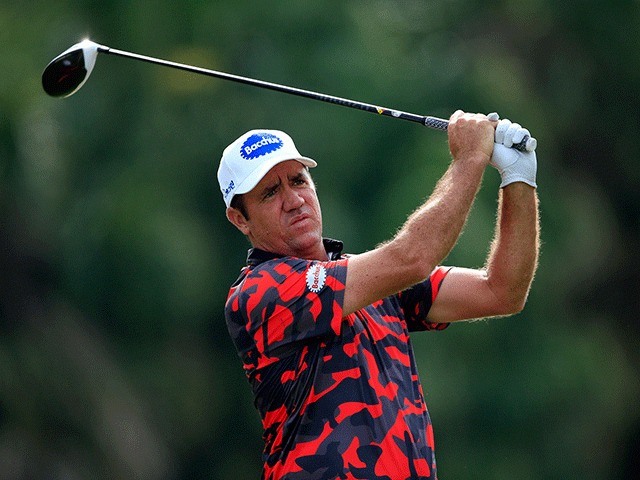 Scott Hend - the leader at Wentworth
There's just one round to go at both this week's events so Steve takes a detailed look at the state of play in Surrey and Texas here...
"Byeong Un An was tied for the lead with a round to go 12 months ago before he powered home to win by six but we've seen plenty of Wentworth winners from way off the pace and this week's event looks primed for us to get another."

09.40 - May 29, 2016
For the second day running, Scott Hend eagled the 18th hole to regain the lead at the BMW PGA Championship. Here's the third round leaderboard with prices to back at 9.20.

Scott Hend -9 6.611/2
Tyrrell Hatton -8 7.87/1
Lee Westwood -7 6.25/1
YE Yang -7 18.5
Danny Willett -6 8.07/1
Martin Kaymer -6 9.617/2
Chris Wood -6 16.5
Jaco Van Zyl -6 22.021/1
Thomas Aiken -6 25.024/1
Juilen Quesne -6 30.029/1
Peter Hanson -5 48.047/1
Robert Dinwiddie -5 120.0119/1
-4 and 40.039/1 bar

Danny Willett started the third round steadily and for the second time this week he dipped to around the even money mark but as he did on Friday, he came home poorly to lose the lead and what we're left with is a wide open leaderboard to ponder.
Byeong Un An was tied for the lead with a round to go 12 months ago before he powered home to win by six but we've seen plenty of Wentworth winners from way off the pace and this week's event looks primed for us to get another.
The first four on the leaderboard all look vulnerable. Scott Hend didn't play particularly well yesterday and got a few breaks, Tyrrell Hatton is looking to win on the European Tour for the first time, Lee Westwood is very hard to win with outside of Asia nowadays and YE Yang hasn't won anywhere since he won the China Open six years ago. Nerves will play their part today and I'm keen to look further down the leaderboard.
Only two years ago, Rory McIlroy took the title having trailed by fully seven strokes, and he's far from the first to come from some way back to win. Simon khan was beaten in a playoff in 2013, having trailed by five with a round to go and in 2010 he won the title from seven back after three rounds. Jimenez came from four back in 2008 and in 2007, Anders Hansen won a three-man play-off, having trailed by five with a round to go. And in that play-off, he beat Justin Rose and Oliver Wilson, who themselves had been three and four back respectfully.
Of those trailing Hend by just three strokes, I quite like Chris Wood but he's not quite big enough at 16.5 for me to take the plunge. I'd have wanted 18.017/1 to play him so I've taken my free bet on Willett in to round four and I've added all the players trailing by four and five strokes respectively at juicy prices for modest stakes. I can't see any of the frontrunners running away with this and I wouldn't be at all surprised if one or two from off the pace got involved.
Over in the States, at the Dean & Deluca Invitational, pre-event favourite, Jordan Spieth, will take a one stroke lead into today's fourth and final round. Here's the third round leaderboard with prices to back at 9.30.

Jordan Spieth -12 2.0811/10
Ryan Palmer -11 6.611/2
Webb Simpson -11 9.28/1
Harris English -10 15.014/1
Kyle Reifers -10 18.017/1
Martin Pillar -10 27.026/1
Jason Dufner -9 20.019/1
Chris Stroud -8 90.089/1
-7 and 55.054/1 bar

They've done well to get this tournament back on schedule after a couple of lengthy weather breaks but the interruptions have meant that I haven't watched as much of the event as I ordinarily would. In fact, I haven't seen much of the action at all but I'm quite surprised to see Spieth at the head of affairs. His game looked to be in total disarray at the AT&T Byron Nelson last Sunday so he's done brilliantly to put himself in this position in front of his home state fans.
Already matched at just 1.645/8, a bogey at the last yesterday has given the chasers some hope and the stats suggest he could yet be vulnerable. Nobody has converted a lead or co-lead through 54 holes here since Phil Mickelson won in 2008 but this looks a great chance for him to win in Texas for the first time.
Spieth is odds-on across the board with the books but odds-against on the exchange but I can see why some want to oppose him. The pressure of winning in his home state is a factor and his game must be fragile after last week. I think he'll confound the recent stats and win but I'm more than happy to leave him alone. I can always live with missing backing an even money winner.
I'm not convinced the two men closest to Spieth - Ryan Palmer and Webb Simpson - are much a of threat. Colonial course member, Palmer, hasn't won since 2010 and is often flaky in-the-mix and Simpson hasn't won for three years. He's had to adopt a new putting stroke this year after the anchoring ban and I have my doubts as to whether that will stand up under the heat of the back-nine.
If I had to pick one out to take on Spieth, I'd plump for Harris English or maybe course specialist, Jason Dufner, but I'm happy to leave the event alone for now.

21.50 - May 27, 2016
Pre-event favourite, Danny Willett, Australia's Scott Hend and the 2009 USPGA Champion, Y E Yang, are tied at the top at the halfway stage at Wentworth. Here's the 36 hole leaderboard with prices to back at 21.40.

Danny Willett -10 2.77/4
Scott Hend -10 9.08/1
Y E Yang -10 13.012/1
Jaco Van Zyl -9 10.519/2
Jorge Campillo -6 55.054/1
-5 and 20.019/1 bar

Danny Willett shot an extremely impressive six-under-par 29 on the front nine this morning and he's already been matched at just 1.855/6. He held the lead by five strokes at one stage but his back nine was almost as bad his front nine was good and he needed a birdie at 18 to tidy up what was something of a mess.
He lost the plot in Ireland when in with a chance last week and after today's strange impatient and sometimes almost petulant performance it feels like he's at a bit of a crossroads. I'm not about to question the US Masters champion's ability but his temperament when right in-the-mix for a sustained period of time has to be debated.
He won the Masters from slightly off the pace and in part because of a Jordan Spieth's collapse. He was only really aware of the gravity of the situation with three holes to play at Augusta and he finished the job of superbly, but here we are just a couple of months later and we have to pick the bones out of two very odd displays. We saw him fall to pieces when up with the pace all the way in Ireland last week and today we've seen him lose his way quite badly when he perhaps should have kicked on and put the tournament to bed. So what now?
I layed him today as he played the 12th hole at an average of 2.01/1 and I spent a long time after his round debating what to do with my position. I toyed with carrying on opposing him but after much deliberation I decided to back him back for the same stakes for a juicy free bet. Whether I'd back him at 2.77/4 now is a different matter though...
Of his closest rivals, the one I fancy to perform the best over the weekend is Hend. He's won recently in Thailand and he's impressed with his play so far. He's reined his power game right in and he's finding plenty of greens and putting well. He looks a sterner rival than the rusty Yang or Jaco Van Zyl, who still hasn't won on the European Tour, but in truth, none of the three can live with Willett if he plays to his potential.
There's a wealth of talent lurking on -5 and -4 and I wouldn't be in the least bit surprised if someone made up lots of ground to put themselves in the picture before Sunday's final round but guessing who that might be is nigh on impossible and I'm going to wait and see what tomorrow brings.
I'm fascinated to see how Willett responds over the weekend and I'm happy that it's not going to cost me anything to find out what happens.
Over in the States, the second round of the Dean & Deluca Invitational is in progress but after a lengthy delay to the start of play for the second day running the afternoon starters aren't going to start until the evening. None of my pre-event picks look to have any chance and with the BMW PGA Championship consuming my attention, I'm happy to leave this one alone until tomorrow.

22:05 - May 26, 2016
With the exception of Russell Knox, who opened up with a three-over-par 75, and course-specialist, Francesco Molinari, who shot a level par 72, the majority of fancied players have begun the BMW PGA Championship quite nicely.
Pre-event favourite, Danny Willett, left his ragged weekend play in Ireland behind in fine style, with a sensational bogey-free six-under-par 66, and he's quite rightly shortened up to 5.14/1 but it's Joost Luiten, Scot Hend and YE Yang that share the early lead after the trio shot seven-under-par 65s.
Having got stuck into Willett last week after his fast start in Ireland, only to see him perform poorly on Saturday and dreadfully on Sunday, I'm not going to back him this week, especially given how far back some of the winners have come from here...
Both the last two winners trailed by six strokes after round one and in the last ten years we've also seen Miguel Angel Jimenez win from five back after round one, Simon Khan from seven adrift and Andres Hansen from eight back after the first round. And Lee Westwood was beaten by Luke Donald in a playoff in 2011, having ended round one eight off the lead. This is definitely a venue at which you can come from way off the pace so it's perhaps not wise to go backing the leaders at short prices.
I went back as far as 1990 when researching the event and Luke Donald (in 2011) is the only first round leader since then to go on to win. Although it is perhaps worth mentioning that the last two first round leaders - Francesco Molinari and Thomas Bjorn - both went on to trade at odds-on before finishing fifth and third respectively.
Given those stats, I'm more than happy to bide my time and not get too involved just yet but I have had one in-play bet on course-specialist, Simon Khan, who began the week with a three-under-par 69.
Over in the states, the first round of the Dean & Deluca Invitational is a long way from over but everyone at Betting.Betfair.com has their fingers crossed that the afternoon starters don't get to the early leader because Dan Geraghty's 66/1 fancy, Bryce Molder, currently holds sway after an opening six-under-par 64. The wind's getting up a bit this afternoon so there's certainly a chance he won't get caught but Geoff Ogilvy's putting in a charge.
Two of my three picks at Wentworth, Luke Donald and Soren Kjeldsen, have started OK but I've had an almost laughably bad start in Texas. Three of my five outsiders shot over-par rounds in the morning and Boo Weekley began in the afternoon with an eight on the par five first! I'll take a look at the state of play tomorrow but the omens aren't looking good.

BMW PGA Championship Pre-Event Selections:
Luke Donald @ 30.029/1
Soren Kjeldsen @ 44.043/1
James Morrison @ 80.079/1

In-Play trades
Simon Khan @ 150.0149/1
Danny Willet layed at 2.01/1
Danny Willett backed at 2.89/5
Rafa Cabrera-Bello @ 40.039/1
Peter Hanson @ 48.047/1
Joost Luiten @ 60.059/1
Nicolas Colsaerts @ 90.089/1
Robert Dinwiddie @ 130.0129/1
Romain Wattel @ 150.0149/1
Daniel Brooks @ 260.0259/1


Dean & Deluca Invitational Pre-Event Selections:
Boo Weekley @ 120.0119/1
John Senden @ an average of 145.0
Fabian Gomez @ 190.0189/1
Steve Marino @ 200.0199/1
Ben Crane @ 220.0219/1

*You can follow me on Twitter @SteveThePunter
Discover the latest articles