The Punter's In-Play Blog: Sawgrass finale simply too close to call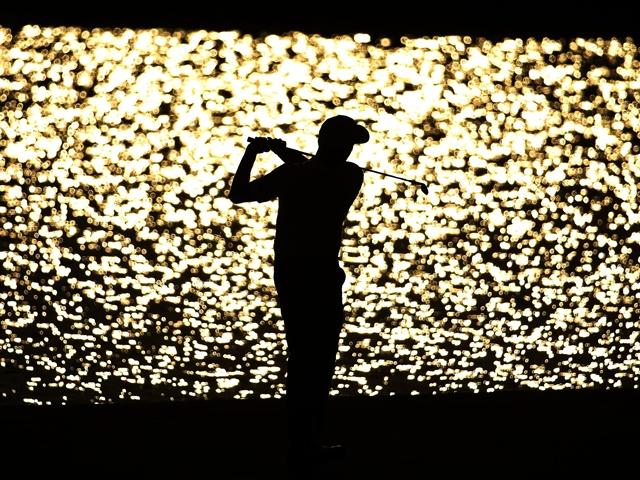 Third round leader, Chris Kirk, playing his second into 18 yesterday at Sawgrass
Steve takes a brief look at the state of play in Florida, where with a round to go at the Players Championship, any number of players are in with a chance of victory...
"It's a really tough finish at Sawgrass so I'll be looking to get anyone posting a score onside. This looks ripe for someone to finish well from off the pace so fingers crossed for my sole pre-event pick, Zach Johnson, who I haven't given up on totally just yet."
12:25 - May 10, 2015
Over on Sky Sports 4, George Coetzee looks to be edging his way to the Mauritius Open title. He currently leads by a stroke over my in-play fancy, Thorbjorn Olesen, with still much of the back-nine to go, so it's still all to play for and those that dived in at 1.251/4 when he led by four early on must be getting through their finger nails at a rate of knots now. I'm going to just let it play out and hope for the best and I'm being just as inactive in the States...
With 25 players separated by just four strokes at the Players Championship, the only thing that's certain is we're going to witness plenty of drama later. It's not often you see 7/1 the field and just three players trading in single-figures at this stage of a PGA Tour event but that's exactly what we've got here with a round to go.
Third round leader, Chris Kirk, is favourite, closely followed by Bill Haas, who is one of three players tied for second on -9, just a stroke behind Kirk, and Sergio Garcia, one of six men tied for fifth on eight-under-par, is third best and 10.09/1.
It's not often I'm completely stumped but I am here. If I hadn't already backed Kevin Na, I may be tempted by him at 20.019/1. He recovered well after a slow start yesterday but finished very poorly. He was tied for the lead on the 17th tee and when he hit it to six feet I thought he may get to 11-under-par but he missed the birdie putt and then double-bogeyed the last! After three rounds, he ranks fourth for greens hit and sixth for putting and he might just relax a bit now he's out of the lead.
It's a really tough finish at Sawgrass so I'll be looking to get anyone posting a score onside. This looks ripe for someone to finish well from off the pace so fingers crossed for my sole pre-event pick, Zach Johnson, who I haven't given up on totally just yet. Zach is one of those tied for 17th on six-under-par so he needs to get his skates on but you never know. I'll be back tomorrow with the De-Brief.

17:15 - May 9, 2015
I wasn't going to get involved until tomorrow at the Mauritius Open but I've changed my mind - Denmark's Thorbjorn Olesen looks a fair price to me. Here's the third round leaderboard with prices to back at 17:00.

George Coetzee -11 2.89/5
Thomas Aiken -10 4.3100/30
Thorbjorn Olesen -10 4.77/2
Mardan Mamat -8 48.047/1
-7 and 32.031/1 Bar

George Coetzee came into the event in form and with rounds of 70, 67 and 65; he's improved every day to hit the front. The market makes him the man to beat and it's not wrong but he has a habit of struggling a bit in-contention and I think he's worth taking on, given his lead is so slender.
Thomas Aiken has his wife caddying for him again and he won the Africa Open last February the last time she was on bag carrying duties. That was his third win on the European Tour and he's a far better player in-the-mix than he once was and has to be given the utmost respect but at the prices, I just prefer Olesen.
Having led for two days, Olesen has slipped back slightly after a one-under-par 70 today but he could very easily bounce-back. He hasn't been particularly accurate this week but nobody's putting better and if he can start a bit better tomorrow (he's bogeyed two holes early on in each of the last two days) he could just post a score that the other two can't beat.
It's not beyond the realms of possibilities that someone could pass the three in front but I'd be very surprised if someone did. The chasing pack isn't close to the class of the leading trio and it's hard to believe all three will struggle tomorrow.

09:15 - May 9, 2015
As I thought I would, I did decide to leave the Mauritius Open (currently live on sky) alone. Thorbjorn Olesen is leading on -9 and will start his third round very soon. I'll take a look at the close of play and post an update later but I may even wait until tomorrow before getting any further involved.
Over in the States we've reached the halfway stage of the Players Championship and we've had a funny couple of days. The weather hasn't been bad and conditions have looked fairly easy but lots of the top quality players haven't really sparked. The likes of Jordan Spieth, Jason Day and Justin Rose are amongst a host of star names to miss the cut and the leaderboard isn't what you'd describe as star-studded. Here's the current leaderboard with prices to back at 09:00.

Kevin Na -8 9.08/1
Jerry Kelly -8 20.019/1
Rickie Fowler -6 10.519/2
Chris Kirk -6 28.027/1
Branden Grace -6 30.029/1
David Hearn -6 36.035/1
Chris Stroud -5 95.094/1
Bill Haas -5 34.033/1
Zach Johnson -5 22.021/1
Troy Merritt -5 80.079/1
Ben Martin -5 60.059/1
Scott Brown -5 110.0109/1
Rory McIlroy -4 7.413/2
Jim Furyk -4 22.021/1
-4 and 30.029/1 Bar

With 36 players within five of the lead, on paper the event looks wide open but only two winners this century have been outside the top-ten at this stage and the last three winners sat first or second at halfway. That first stat is somewhat misleading because the field is usually more strung out than this but it's definitely hard to come from too far back here and the likes of Henrik Stenson and Sergio Garcia, who trail by five on -3, and trade at just 30.029/1 and 42.041/1 respectively, look to have an awful lot to do to justify those odds. Especially Sergio, who performed so poorly on the greens yesterday that he broke his putter and threw it away!
K.J Choi beat halfway leader, David Toms, in a playoff here in 2011, having trailed by four at this stage, and Henrik Stenson also trailed by four through 36 holes when he won in 2009. Tim Clark came from fully seven back at halfway in 2010 and Tiger Woods was six adrift in 2001 but Fred Funk, who was just three back at halfway, is the only other winner in the last 15 years to be any further than two off the lead at this stage.
The reason so few winners come from off the pace is that the course usually dries out as the week wares on. Low scoring gets harder and harder and it becomes a real test. Kaymer shot weekend rounds of 72 -71 last year on his way to victory, Tiger Woods shot 71-70 the year before and in 2012 Matt Kuchar hit rounds of 69 and 70 to win.
Rory McIlroy heads the market and I can see why. He looked to be hitting top gear before finding water on the 16th yesterday and given he moved up from 64th to 6th over the weekend last year, with rounds of 69 and 66; we know he can perform around Sawgrass when it's at its toughest.
Playing alongside my only in-play pick to date, Billy Horschel, who failed to capitalise on a terrific start yesterday, Rory will begin his third round almost two hours before the leaders and his price will collapse if he makes a fast start but he's fractionally too short for me. He has an awful lot of traffic to pass and at the current prices I prefer Kevin Na.
Na was tied for the lead at this stage in 2012 and he was the clear leader through 54 holes but a disappointing 76 on Sunday saw him slip to 7th. He was having terrible problems with his swing at the time though and his record in-the-mix isn't awful. Prior to leading here, which was the last time he held a 36 hole lead, he had led or been tied for the lead six times on various tours and he'd won twice and finished second twice. I think he's the most likely winner and the price is fair so I've had a very small bet on him too now.
At 48, Jerry Kelly very much fits the veteran angle-in I wrote of in the preview and he'll be bidding to make it third time lucky from here at Sawgrass. Incredibly, Kelly has only ever been leading or tied for the lead five times previously in what has been a very long and distinguished career, and two of the five were here. He led by one at halfway and by two after three rounds in 2001 but finished 4th and in 2004 he finished 6th after being tied at the top at this stage. He's been readily dismissed by the market but maybe wrongly so. The last time he led at halfway was at the Zurich Classic of New Orleans and on that occasion he held his nerve superbly to win. I much prefer Na, but at 20.019/1, I've had a tiny wager. He's a very likable character and a great one to cheer on over the weekend if nothing else.
My only pre-event pick, Zach Johnson, is right in the thick of it and if can break par today I'll start to get excited but there's a very long way to go still and I'll be back tomorrow with a detailed look at the state of play with a round left.
And I'll take a good look at the Mauritius Open at the close of play today and update the blog this evening, if I get involved, but I may not. I can see me waiting until tomorrow and trading it in-running.

12:45 - May 8, 2015
As much as I've enjoyed the scenery at the AfrAsia Bank Mauritius Open, I haven't enjoyed the golf much as my two picks haven't been great, to say the very least. Ross McGowan needs to get his skates on if he's to make the cut and Hennie Otto's chance had gone before I woke up yesterday! The South African was six-over-par after just five holes when I first glanced sleepily at the leaderboard and he ended up shooting 80. Ouch.
They're still playing the second round and Sweden's Pelle Edberg, is the clubhouse leader on -8, after opening rounds of 68 and 66. Denmark's Thorbjorn Olesen, who's already been matched at just 2.915/8, did pass him at one stage but he's just dropped a shot on the 13th and parred the par 5 14th so Edberg may not get passed now.
I'm going to leave this one alone for now and take another look at halfway but I may just wait until Sunday and lay anyone that goes odds-on. So many have traded short and failed on the European Tour this year and, at this stage, that looks a better tactic that trying to find the winner.
Over at the Players Championship, the par 3 17th hole was yet again the star of the show with player after player finding water to tumble down the leaderboard.
My solitary pick, Zach Johnson, managed to make a par there and he finished his round well given he was just one of seven to birdie the even harder par 4 18th hole, which ranked the hardest and averaged 4.65. He ended the day on one-under-par so he has much work to do today if he's going to figure as that's four off the lead, held jointly by Hideki Matsuyama, Charley Hoffman and two of Dave Tindall's three picks, Kevin Na and David Hearn.
So packed is the leaderboard that Zach is tied for 40th and he's one of 59 players within four of the lead. I was tempted to leave this one alone for now too but I couldn't resist a small wager on Ponte Vedra Beach resident, Billy Horschel, at 27.026/1.
Horschel was one of my picks at the WGC - World Match Play last week and he was really unlucky not to progress out of the group. He won his first two matches and was two up with two to play on eventual winner, Rory McIlroy, before going out at the second extra hole.
He sits just one off the lead after round one, after a very tidy four-under-par 68 (just one bogey). He knows the course intimately and he has his long game in great order so if he can just get a few more putts to drop he'll be bank then come Sunday night.
If I do get involved in Mauritius I'll update the Blog again tonight, otherwise I'll be back tomorrow.

AfrAsia Bank Mauritius Open Pre-Event Selections:
Hennie Otto @ 36.035/1
Ross McGowan @ 80/1 (Sportsbook)
In-Play Bet:
Thorbjorn Olesen @ 4.77/2

The Players Championship Pre-Event Selection:
Zach Johnson @ 70.069/1

In-Play Bets:
Billy Horschel @ 27.026/1
Kevin Na @ 9.08/1
Jerry Kelly @ 20.019/1

*You can follow me on Twitter @SteveThePunter
Discover the latest articles