The Punter's In-Play Blog: Lefty looks poised to claim fifth Pebble victory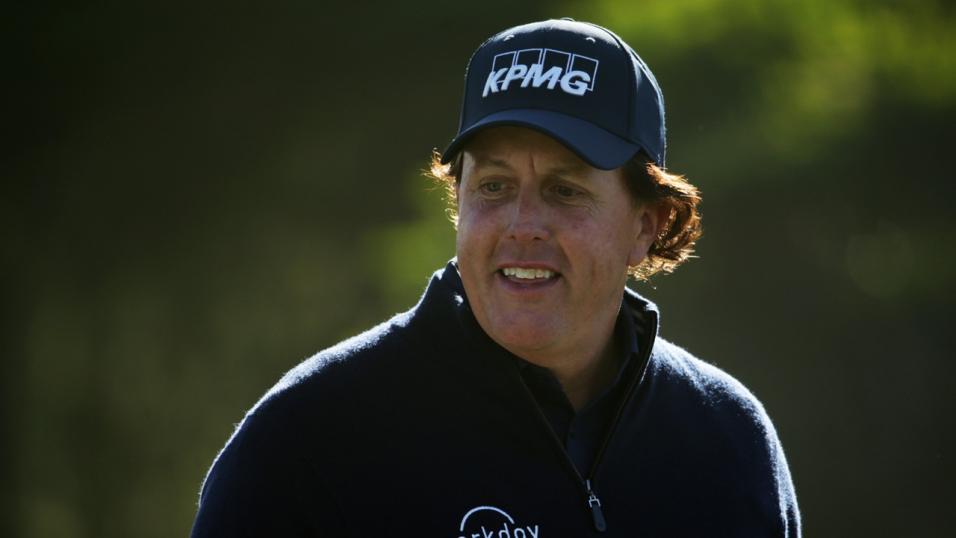 Phil Mickelson - three clear with two to play
Phil Mickelson leads the AT&T Pebble Beach Pro Am with just two holes to play after hail stopped play at Pebble Beach...
"Casey responded poorly to the pressure with back-to-back bogeys at 11 and 12 and by the time play was finally stopped, with Casey declaring it was just too dark for him to continue, Lefty had turned a three-stroke deficit in to a three-stroke lead and it's very hard to see him messing it up from here."
09:00 - February 11, 2019
Hail stopped play at Pebble Beach yesterday, just as the leaders were preparing to tee-off, but once play resumed it soon became apparent that four-time winner, Phil Mickelson, meant business. The veteran lefthander relentlessly reeled in the 54-hole leader, Paul Casey, really turning the screw around the turn when he birdied eight and nine to draw level.
Brace yourselves. pic.twitter.com/aO5aPpzPFG

? PGA TOUR (@PGATOUR) February 10, 2019

Casey responded poorly to the pressure with back-to-back bogeys at 11 and 12 and by the time play was finally stopped, with Casey declaring it was just too dark for him to continue, Lefty had turned a three-stroke deficit in to a three-stroke lead and it's very hard to see him messing it up from here. Casey needs to putt out for par on 16 and he needs a lot of help from Lefty over the last two holes. Having backed Mickelson before the off, I've layed him back at [1.05] to save any stress. Here's the latest standings with prices to back at 08:55.
Phil Mickelson -18 [1.05] through 16 holes
Paul Casey -15 [20.0] through 15 holes
Scott Stallings -15 [120.0] through 18 holes
Play resumes at 16:00 UK time and the finish will be live on Sky Sports.

11:20 - February 10, 2019
Having been matched before the off at [1000.0], 27-year-old Scot, David Law, eagled the final hole to win the Vic Open by a stroke. I'll have more on that result in the De-Brief tomorrow but for now I'm going to concentrate on the AT&T Pebble Beach Pro Am where Paul Casey has moved three clear of the field. Here are the latest standings with prices to back at 11:15.

Paul Casey -15 [1.8]
Phil Mickelson -12 [6.6]
Scott Piercy -11 [15.0]
Lucas Glover -11 [16.0]
Brian Gay -10 [50.0]
Matt Every -10 [65.0]
Jason Day -9 [26.0]
Rafa Cabrera-Bello -9 [48.0]
Russell Knox -9 [70.0]
Si Woo Kim -9 [75.0]
Scott Stallings -9 [120.0]
Scott Langley -9 [170.0]
Jonathan Byrd -9 [200.0]
-8 and [100.0] bar
Since the beginning of the 2013 PGA Tour season, 42% of players that held a three-stroke advantage through 54 holes went on to win, suggesting Paul Casey's price of [1.82] isn't generous but with the forecast suggesting yet more blustery weather, that, in theory, should play in to the Englishman's hands.
Casey is a superb poor weather golfer and there are numerous examples of him mastering very tricky conditions. His victory in the Irish Open in 2013 at Carlton House stands out in my memory but I can also recall too many episodes of poor play in-contention to even begin to contemplate backing him.
Casey gave up a four-shot lead at the Travelers Championship last season, he went from two clear to three back and fifth at the Tour Championship in 2017, and a year earlier he lost the Deutsche Bank Championship by two strokes, having led by three with a round to go. The 41-year-old has won twice on the PGA Tour but he had help from others in varying degrees on both occasions and one could even point to his runner-up finish on the Asian Tour last time out and suggest it was just another example where he could have fared better. Casey got to within a stroke of the eventual winner, Jazz Janewattananond, with five holes to play at the Singapore Open but the gap was doubled when he bogeyed the par four 15th. That was a disappointing performance given the opposition and grade and he looks opposable here.
Another factor against Casey is the number of off the pace winners we've seen in this event. Vaughn Taylor won the 2016 edition from six back through three rounds, as did Casey's nearest challenger, Phil Mickelson, in 2012. Tiger Woods has won this from five back, Davis Love trailed by seven in 2001 and many will remember Dustin Johnson's collapse in the US Open in 2010 at Pebble Beach, when he shot 82 in round four to finish tied for eighth, having led by four with a round to go. All sorts can happen here and Casey is not the type to go to war with.
I'm happy to be on Lefty from the get-go at [36.0] and he's far and away the most obvious alternative to Casey given he's looking to claim the title for a record-equalling fifth time (Mark O'Meara is the only man to date with five titles) but knowing what Mickelson will bring to the table has always been a mystery. He could power away and put pressure on Casey from the start but it's only three weeks since he failed to convert a two-stroke lead at the Desert Classic and I wouldn't want to put anyone off making a couple of more speculative plays from much further back, or just laying the leader.
In addition to Phil, I also have Jason Day on the fringes of contention so if Casey does flop again, I've got two chances to collect already but given there are as many as 13 players within six of his lead, I'm happy to also lay Casey modestly at [1.81].

11:40 - February 09, 2019
After a day of much change in blustery conditions Down Under, newlywed Aussie, Wade Ormsby, leads the Vic Open by two with a round to go. Here's the current state of play with prices to back at 11:30.
Wade Ormsby -15 [3.05]
Callum Shinkwin -13 [8.4]
Matthew Stieger -13 [16.5]
Justin Harding -12 [9.2]
David Law -12 [28.0]
Brad Kennedy -12 [15.0]
Paul Dunne -11 [22.0]
Nicolas Colsaerts -11 [24.0]
David Bransdon -11 [55.0]
-10 and [60.0] bar
This is the seventh renewal of the Vic Open at the Beach Golf Links and four of the previous six events here went to extra time so a dramatic finale could be in-store. None of the previous six course winners came from any further back than fifth place or three strokes adrift with a round to go but last year's winner, Simon Hawkes, who beat Harrison Endycott in a playoff, is the only 54-hole leader to go on and convert.
That's not a great stat for Wade Ormsby backers at around the 2/1 mark and his stats when leading aren't great either. Ormsby, who's now 38, has been around a long while, but he's only led or co-led through 54 holes four times previously and he's failed to convert on the last three occasions.
He won the Panasonic Open on the Asian Tour in 2013, despite weekend rounds of 74 and 71, having led by two at halfway, and by one with a round to go, but on the next three occasions he's been in front through three rounds he's shot 71, 71 and 73 to finish fourth, second and fifth. His latest attempt, at the low-key Fiji International in 2017, where he went from one clear to five back, was particularly disappointing but to his credit, he brushed that off nicely when he won the Hong Kong Open (from one off the lead) three months later.
Ormsby hung tough in round three and he's the only player that was placed inside the top-four at halfway, that's still inside the top-seven and ties with a round to go, but the aforementioned victories at the Panasonic and the Hong Kong Open are still his only two wins to date and I'm in absolutely no rush to side with him at around the 2/1 mark.
Matt Cooper's pre-event [60.0] pick, Callum Shinkwin, has given himself a great chance after a six-under-par 66 in round three but he hasn't impressed me in-contention and the 2014 Vic Open runner-up, Matthew Stieger (another that lost in a playoff), looks a better proposition at twice Shinkwin's price.
The stats suggest we can't go too far down the leaderboard to find the winner so I've thrown a few speculative pounds at Stieger and I've also backed Justin Harding at [9.4]. The South African has been fairly prolific of late and if Ormsby is to stumble, Harding looks best poised to capitalize.
Somewhat irritatingly, the second round of the AT&T Pebble Beach Pro Am is yet to conclude after play was suspended yesterday due to rain. As a result, we don't have in-running stats to ponder and the leaderboard at the halfway stage could look quite differently to the current state of play.
As it stands now, five players - Jordan Spieth, Paul Casey, Phil Mickelson, Lucas Glover and Scott Langley - are all tied at the top on -10 but Spieth has two holes yet to play in round two and Jason Day, who sits alone in sixth on -9, has three to play. As does Scott Piercy, who sits alone in seventh on -8.
A group of seven, who have all completed their second rounds, are sat on -7 and just three off the lead and two of the seven, Rafa Cabrera-Bello and Scott Stallings, could be nicely poised to make a charge today. Like co-leader, Lucas Glover, they're playing the easiest of the three venues, Monterey Peninsula, this afternoon but I'm happy to sit on my hands for now and see what today brings. The forecast suggests the wind will pick up as the day wears on (before a blustery final day tomorrow) and I'm happy to leave the event alone. It's just possible that the wind increases early enough and significantly enough to favour the likes of Casey, Piercy and Branden Grace, who play the more sheltered Spyglass today, but it's largely guesswork so I'm remaining cautious.
I'll be back tomorrow with a look at the state of play with a round to go.

11:50 - February 08, 2019
Knowing I was going away, and given I was under the impression the ISPS Handa Vic Open was a mixed event, I didn't look at the tournament at all before the off and Matt Cooper kindly stepped in to produce the preview (here).
I haven't followed any of the action live but I have caught up with the highlights and I love the venue. Although the scoring's been low, at both the Beach Course and the Creek Course (used for the first two rounds), we can probably expect a very different day tomorrow, with the forecast suggesting a very windy day, when all those that made the cut will contend for the title over the Beach Couse.
The leaderboard is jam-packed with Aussies that either know the course, are comfortable with the conditions, or both, but my only bet at this staged has been placed on one of Paul Krishnamurty's outside picks, Michael Hoey.
The Irishman sits four off the lead in a tie for ninth and I thought he looked a fair price at 80/1 with the Sportsbook this morning. Hoey won the Alfred Dunhill Hill Links Championship in 2011 (one of five European Tour titles) in foul conditions so I suspect he'll handle whatever Mother Nature throws at them tomorrow and it's noteworthy that he turns 40 on Wednesday. Winning the title would be some present.
Paul Krishnamurty kindly stepped in to finish off my AT&T Pebble Beach Pro Am preview (here) and I added a couple of very modest picks before the off when I got back yesterday, in the shape of Jason day and Phil Mickelson. I did tweet them before the start but reading back on the preview, I had said I'd add them there but didn't, so apologies for not doing so.
Having begun the event at the easiest of the three courses - Monterey Peninsula - both have started well. They currently sit tied for third and just a stroke behind the joint leaders, Brian Gay and Scott Langley, and they have the advantage today of playing Spyglass today. As highlighted in the preview "Spyglass differs from the other two venues in that it's largely tree-lined and although it's often the toughest of the three, if you get drawn to play there on a windy day you've had a result."
The forecast is poor today and they've even moved the tee times forward an hour so if you're thinking of betting in-running, make sure you bear that in mind. As highlighted in the In-Play Tactics section of the preview, Pebble Beach is not the place to be when the wind blows and concentrating on those playing at Spyglass today makes sense.
Pre-event favourite, Dustin Johnson, sits one behind Day and Mickelson and he too plays Spyglass today. He still heads the market but I'm happy to sit and see what today brings now. I expect Day to contend throughout now and Lefty's started off very nicely. He hit every fairway yesterday for the first time on the PGA Tour since 1998!
Fairways hit: 13/13
GIR: 17/18
Putts: 32

It's the first time since 1998 that @PhilMickelson has hit every fairway in a round. #LiveUnderPar pic.twitter.com/goOogN1wgF

? PGA TOUR (@PGATOUR) February 7, 2019

According to Justin Ray's tweet below, the omens are very good for the 48 year old Californian and had I not thrown a few pounds at him before the off, I'd be backing him this morning at [14.5].
This is the 4th time @PhilMickelson has opened with @attproam with 65 or lower. His results the previous 3 times?

Win (1998)
Win (2005)
Win (2007)

? Justin Ray (@JustinRayGolf) February 7, 2019

I'll be back tomorrow with a look at the state of play at halfway.
ISPS Handa Vic Open In-Play Picks:
Michael Hoey (each-way) @ 80/1 (Sportsbook)
Justin Harding @ [9.4]
Matthew Stieger @ [16.5]

AT& T Pebble Beach Pro Am Pre-Event Selections:
Jason Day @ [12.5]
Phil Mickelson @ [34.0]
In-Play Trades
Paul Casey layed @ [1.81]
Phil Mickelson layed @ [1.05]

*You can follow me on Twitter @SteveThePunter