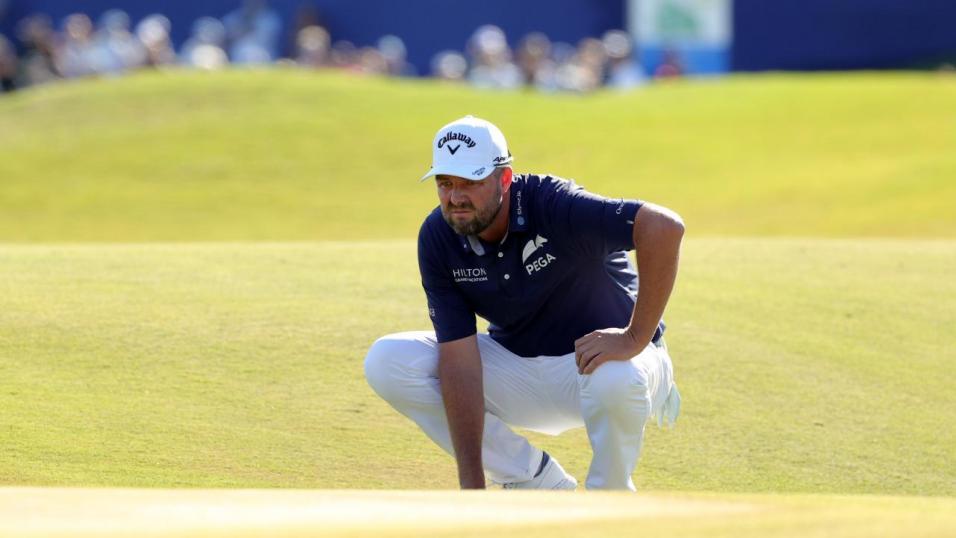 Marc Leishman – tied for the lead in Texas
There are just four left in Belgium and two men look set to fight out the finish to the AT&T Byron Nelson. Read Steve's final in-play update for the week here...
"Leishman deserves to head the market given he's a three-time winner on the PGA Tour but I see no reason to desert Wise. Although he's yet to win, he's a tremendous talent with very recent in-contention experience."
11:20 - May 20, 2018
We're down to four at the Belgian Knockout and Paul Krishnamurty's each-way fancy, Benjamin Hebert is still standing. He meets James Heath in the first semi-final and Adrian Otaegui, who has just beaten Mike Norman's fancy, Jorge Campillo, will play David Drysdale in the other semi-final.
I've not gotten involved in the tournament in-running and I'm not going to now but if forced to pick one I'd go for Otaegui. Drysdale has won his quarter-final against Victor Perez in a playoff after they both played nine holes in three-over-par. Otaegui looks a good thing to get to the final.
Over in Texas, Marc Leishman is now tied at the top at the AT&T Byron Nelson with yesterday's in-play pick, Aaron Wise and it's hard to see anyone else winning. Here are the latest standings with prices to back at 11:00.
Marc Leishman -17 [2.02]
Aaron Wise -17 [2.8]
Kevin Na -13 [26.0]
Matt Jones -13 [34.0]
Jimmy Walker -12 [28.0]
Brian Gay -12 [90.0]
-11 and [170.0] bar
With the wind dropping, we should witness some better scoring today so I'd expect the front two to comfortably break par and it's very hard to see them getting caught.
Leishman deserves to head the market given he's a three-time winner on the PGA Tour but I see no reason to desert Wise. Although he's yet to win, he's a tremendous talent with very recent in-contention experience (finished second in the Wells Fargo last time out), and he sounded confident enough after yesterday's third round.
"I've been there, it's nice to know that I've been in this situation and I played so well around that tough golf course."
And when asked if he was excited about today's final round he replied.
"It's a great opportunity. I had one, my first one, a couple of weeks ago and to get another one this quick is awesome. I'm looking forward to it. It's a golf course I'm starting to love and I'm learning to play better so I'm really excited to have the opportunity."
I'll be back tomorrow with the De-brief.
09:40 - May 19, 2018
The knockout stage of the Belgian Knockout is off and running but the live coverage doesn't start until midday. My man, Max Kieffer, made it through to the weekend but he's been drawn against the tournament host, Thomas Pieters, so I'm not especially confident and I'm happy to let the event trundle on without me for now.
We've reached the halfway stage of the AT&T Byron Nelson and the first round leader, Marc Leishman, still shows the way, but only just. Here are the current standings with prices to back at 9:30.
Marc Leishman -15 [2.62]
Aaron Wise -14 [5.9]
Brian Gay -13 [15.0]
Jimmy Walker -11 [10.5]
Kevin Na -11 [21.0]
Eric Axley -11 [75.0]
Adam Scott -10 [17.0]
-10 and [29.0] bar
Having written in yesterday's post "the front-nine is the easier of the two nines so that's something to bear in mind. Leishman may take his time to get going today, playing the back-nine first, and he might just drift to a price worth taking." I can't decide if I've dropped a clanger or just missed a trading opportunity. Leishman did indeed drift, touching [4.0] as he made the turn, and after he'd birdied four of the first five holes on the front-nine he was matched at [1.94] but after parring his way in, his price settled at around [2.5].
I'm not a big Leishman fan, betting-wise, and I don't have an awful lot of confidence in him to win with authority, so I've been reluctant to get involved and he makes no appeal now given he leads by just a stroke.
As suspected, those drawn AM-PM were disadvantaged by the draw, to the tune of 1.51 strokes so Aaron Wise's bogey-free eight-under-par 63 in the afternoon winds yesterday was deeply impressive and he looks the value play at halfway.
I was very impressed with the 21-year-old South African-born American at the Wells Fargo Championship last time out and he looks ready to win already. He played in the final pairing at Quail Hollow in round three and he didn't disappoint - eventually finishing tied for second, beaten by just two strokes. And the only difference between him and the winner, Jason Day, was how they played the notorious finishing stretch dubbed the Green Mile. Day played the three holes in three-under-par for the week, Wise played them in one-over.
More wind is predicted to pester the field again today so that may play into Wise's hands. Leishman and Brian Gay (currently in third) were both drawn PM-AM so they haven't yet experienced the course with any wind in-play.
There's most certainly a chance someone can make a move from off the pace today but Wise looks the logically choice this morning.

10:30 - May 18, 2018
The inaugural Belgian Knockout is bumbling along or should that be bungling along. Here's what the official event website still states about the event format...
Survived the cut? Job well done. The real deal starts on Saturday morning when the remaining players will be divided into two groups of 32. They will compete in 'one on one' stroke play matches over 9 holes (with each match alternating between the front and back nine holes of the course).
The losing player in each match will be immediately eliminated from the tournament. The winner will continue to the next round.
Three rounds of 9 holes will be played on Saturday. This reduces 64 players to a total of 8 who will be ready to battle out the final on Sunday.
Each 9 hole match will be played in Stroke Play format. The player with the lowest score after 9 holes wins. If there is a draw? A playoff will decide who places for the next round. Game on!
And here is what the European Tour have posted - this morning!
After 36 holes have been completed on Friday of the Belgian Knockout, a weekend of medal match play awaits for the top 64 players. Ahead of the drama, europeantour.com lays out all the information you need to know about what and how things can unfold over the next three days.
Format notes
- The top 64 players, including amateurs, will make the weekend.
- Any ties for 64th place will be decided by a hole-by-hole play-off at the end of the second round.- Ahead of the knockout matches on Saturday, players will be seeded based on their finishing position after 36 holes.
- Ties in the seeding process will be decided on the following:
(i) best last 18 holes
(ii) if still tied, seeding will be determined by current Race to Dubai Ranking positions.
- If any one tie involves players without a Race to Dubai Ranking, this particular tie will be resolved by their position on the Official World Golf Ranking. If one amateur is involved in such tie, he will be seeded last among those tied. If more than one amateur is involved in such tie, they will be ranked at the bottom of those tied, with their World Amateur Golf Ranking determining their seeding.
(iii) if still tied, players will be separated based on their OWGR position.
- Ties in the knockout stages: To give some advantage to the leading players after 36 holes, if any of the first knockout round matches involving the top 16 seeds are tied, these seeds will go through to the second round. In all other tied matches, in all knockout rounds, a tie will be resolved by a hole-by-hole play-off on a designated play-off hole.
So, it seems, that suddenly, finishing inside the top-16 today, is advantageous as those that manage a top-16 finish will in effect be a stroke up before they start their first knockout tie. It isn't a massive advantage but it's an advantage all the same. And it's something that could have been made public weeks ago rather than halfway through the event!
I find this sort of thing really irritating when I've spent so long trying to determine the format in advance of producing the preview but c'est la vie, there are far more important things to worry about aren't there.
Anyway, in the event itself, my sole selection, Max Kieffer, is bobbing around the cut mark and my each-way fancy, Lorenzo Gagli, looks odds-on to progress. I have a strong suspicion that I won't be getting involved before the knockout phase but if I do I'll update the blog again this evening.
Over at the AT&T Byron Nelson, one of Dave Tindall's first round leader picks, Marc Leishman, has fired his lowest ever round on the PGA Tour (a 10-under-par 61) and he now leads by three.
It's a great result for Dave and his followers but Leishman's mighty effort has left me frustratedly scratching my head this morning. The weather forecast has been subtly changing all week long, but it still suggests that we'll see more wind this afternoon than we will this morning. My plan was to strike in-running as the morning starters finished their rounds, assuming I'd find one or two or maybe more that I'd want to side with that had already completed two rounds. If the wind does then play havoc I'd hopefully have a few nice positions going into the weekend but Leishman had thrown a sizable spanner in the works.
The Aussie is clearly on song and given he plays his second round this morning, it's conceivable that he could be clear at halfway, much like he was at the BMW Championship in September. On that occasion he followed an opening 62 with a brilliant 64 and he went on to win by five.
The industry-wide best of 9/4 with the Sportsbook is perfectly fair and I've toyed with getting him on onside on the exchange at [3.25] this morning and monitoring him closely in-play but after much deliberation, I've decided not to get involved just yet.
What happens with the weather over the next two days is going to shape the tournament and hopefully we'll see enough wind for it to test the pros properly. This is what Trinity Forest member, Jordan Spieth had to say after his two-under-par 69 yesterday.
"It was about as easy tee to green as I've ever seen this place. You know, ball was running a lot, you didn't have to hit a whole lot of club off the tees and without the wind, you know, that's normally the defense of the golf course. So, not surprised to see a low round. 10 under is an incredible round anyway for Marc. Not surprised to see low scores. Wish I got more out of it, honestly."
Of my three pre-event picks, Scott Piercy was the most disappointing. He trails Leishman by nine after missing a few short putts but Branden Grace (-5) and Brandt Snedeker (-4) did OK. Unfortunately, those two look to be drawn on the wrong side of the draw and they may already need some help from Leishman and co.
If you're betting in-running, despite Leishman's remarkable run after the turn, the front-nine is the easier of the two nines so that's something to bear in mind. Leishman may take his time to get going today, playing the back-nine first, and he might just drift to a price worth taking.
If I get involved, I'll tweet any bets and I'll update this blog again today, but I'll be back again tomorrow with a more in-depth look at the halfway stage regardless.
Pre-Event Selections:
Max Kieffer @ [75.0]
Pre-Event Selections:
Branden Grace @ [27.0]
Brandt Snedeker @ [65.0]
Scott Piercy @ [80.0]
In-Play Pick:
Aaron Wise @ [6.0]
*You can follow me on Twitter @SteveThePunter