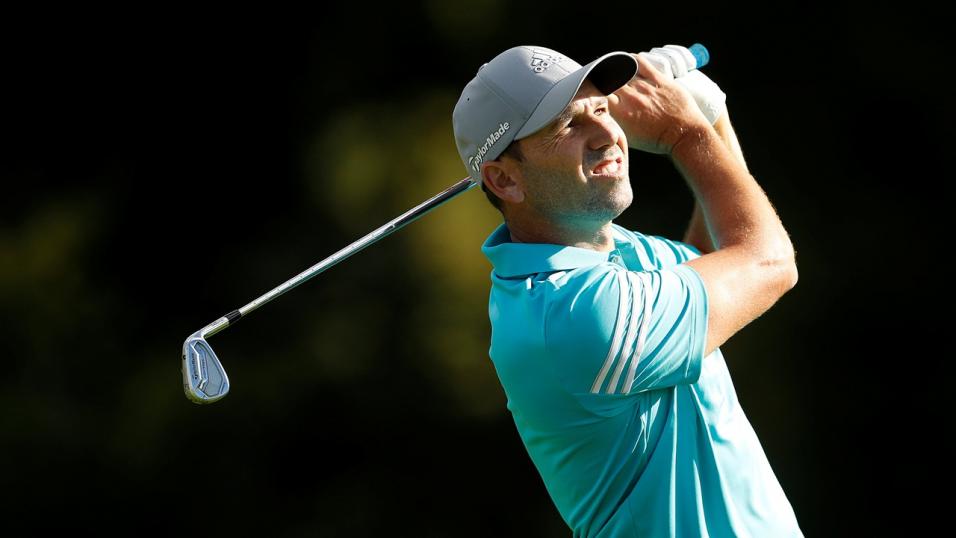 Sergio Garcia - the odds-on jolly in Spain
Sergio Garcia has hit the front and hit odds-on but can he get the job done tomorrow? Read what Steve thinks with his final in-running update of the week here...
"It's very difficult to look past Sergio. He's led or co-led through three rounds in Spain six times previously and he's successfully converted on five occasions."
21:40 - October 21, 2017
Masters Champ, Sergio Garcia, has returned to the top of the leaderboard at Valderrama and he's the odds-on jolly to win again at his favourite course. Here are the latest standings with prices to back at 21:30.
Daniel Brooks -7 [8.6]
Joost Luiten -6 [6.6]
Jamie Donaldson -5 [15.0]
Scott Jamieson -5 [26.0]
-3 and [70.0] bar

It's very difficult to look past Sergio. He's not the most straightforward in-contention and I've often (successfully) opposed him when he's in-the-mix. He once lost a six-stroke 54 hole lead in the States but he's a very different beast in his homeland. He's led or co-led through three rounds in Spain six times previously and he's successfully converted on five occasions. He shot 73 around Valderrama to finish second to Paul McGinley at the 2005 Volvo Masters, having been tied for the lead through 54 holes, but on every other occasion he's gone on to win.
Daniel Brooks made up plenty of ground today with a spectacular seven-under-par 64 but it's notoriously hard to back up a low round and winning this would be a huge step up on anything he's done before. Brooks won the Madeira Islands Open back in 2014 but that was a weather delayed 36 hole tournament verging on farce so he'd love to get his hands on a trophy earnt over 72 holes. He must be playing some ludicrously good golf because he birdied seven holes on Thursday and Friday and half the holes he played today but how he'll react to playing with Sergio tomorrow is anyone's guess. I'd wager he's going to struggle.

Joost Luiten is the obvious alternative to Garcia. He won the KLM Open on home soil last year from three adrift but his other three European Tour titles were all won from the front. Whether it's entirely relevant or not, given he's a proven winner, is highly debatable but he's actually trailed by two strokes with a round to go six times on the European Tour but he's failed every time.
Jamie Donaldson and Scott Jamieson are the only other players within touching distance of Sergio but neither make any appeal. Andrew Johnston won the Open de Espana here last year having trailed by a stroke through 54 holes but the four previous course winners were all leading with a round to go. Bernard Langer, who sat fifth and four adrift through 54 holes of the 2002 Volvo Masters is the only course winner to come from outside the front three places since 1996 and he and McGinley are the only winners in that time to trail by as many as four strokes. Making ground up at Valderrama is notoriously hard and Sergio isn't too short at around [1.7].

12:20 - October 21, 2017
Despite playing far from his best golf, Justin Thomas is tied for the lead with Scott Brown with a round to go at the CJ Cup. Here are the latest standings with prices to back at 12:10.

Justin Thomas -9 [2.34]
Scott Brown -9 [7.2]
Marc Leishman -7[8.4]
Anirban Lahiri -7 [11.0]
Cameron Smith -6 [22.0]
Lucas Glover -6 [28.0]
Whee Kim -6 [40.0]
-5 and [40.0]

Thomas is running on fumes and if he went on to shoot a high number tomorrow and drop away I wouldn't be surprised but alternatives to the FedEx Cup winner are thin on the ground and he's still very much the man to beat.
Co-leader, Scott Brown, is a PGA Tour winner. He won the Puerto Rico Open in 2013 but he needed help from others to get across the line that day and he's co-led twice since through 54 holes and he finished 10th and 49th!
The market quite rightly ranks Marc Leishman as Thomas' biggest danger tomorrow but from what little I've seen of the tournament he doesn't appear to be putting brilliantly.

Anirban Lahiri has put himself in to contention with a three-under-par 69 in the tough conditions today but winning a PGA Tour event would be a big deal for the Indian. He led the CIMB Classic by four with a round to go last year before messing up and I'm not in a rush to side with him either.
With the wind forecasted to blow hard again, it's not beyond the realms of possibility that someone can post a number and win from off the pace. The Korean pair of Whee Kim and Byeong Hun An (on five-under-par) look ever so slightly over-priced at [40.0] and I've thrown a few pounds at them but I fancy Thomas to close this one out.
When interviewed after his round today, Thomas spoke about how drained he was after playing nine of the last 11 weeks but he also said he played better today than he did on Thursday. It's not been pretty to watch and it's been a real grind but I fancy he can put in one last push and get the job done. I really don't rate Brown and I fancy him to fall away so it's just a case of whether Thomas can stay in front of the rest.
I'm obviously glad I had a small wager on Thomas before the off and even though I think he's still the man to beat, I've now layed him back at [2.32] to guarantee a profit. He isn't any sort of value at that price given he's running on fumes and the weather forecast is grim.

17:45 - October 20, 2017
We've almost reached the halfway stage at Valderrama and after a one-under-par 70, Joost Luiten shows the way by a stroke. Scott Jamieson hasn't quite finished but here are the latest standings with prices to back at 17:40.
Sergio Garcia -5 [3.2]
Robert Rock -5 [13.0]
Scott Jamieson -5 [25.0] (played 17 holes of round two)
Ben Evans -4 [30.0]
Ricardo Gouveia -3 [30.0]
Oliver Wilson -3 [90.0]
-2 and [30.0] bar

Despite a ragged finish and a couple of late bogeys, Joost Luiten will begin the third round of the Andalucía Valderrama Masters leading by one and he owes that lead entirely to this remarkable shot at the par five 11th.
Albatross!@JoostLuiten, take a bow! pic.twitter.com/E1EnTGOlzt

? The European Tour (@EuropeanTour) October 20, 2017

That one stroke apart, Luiten wasn't entirely convincing today and given he hasn't been in great shape in a while, I'm not convinced he's going to be in front come Sunday afternoon, although the stats suggest he's right where he needs to be...
As highlighted in the In-Play Tactics section of the preview, it's important to be up with the pace at Valderrama. The last two course winners, Andrew Johnston and Sergio Garcia, sat second and third at this stage, trailing by two and three strokes respectively but the three winners before Sergio were all in front through 36 holes, so we need to be concentrating on the leaders.
I'm not a huge Sergio fan and he never seems to make winning easy but odds in excess of 2/1 look more than fair given he was a 5/1 shot before the off. His record in Spain is exceptional and the leaderboard isn't especially strong. I've been trading Sergio all afternoon so I've managed to get him onside at slightly bigger than he trades at now but if I hadn't already got him onside I'd be backing him at 2/1 and bigger.
He has strapping on his wrist and he's going to be icing it tonight so that's an obvious risk but you know what they say about injured golfers. I'm not unduly worried about the injury and he's definitely the one to beat.

14:00 - October 20, 2017
We've reached the halfway stage of the CJ Cup in Korea and Luke List has hit the front. Here are the current standings with prices to back at 13:50.
Lucas Glover -8 [10.5]
Scott Brown -8 [15.5]
Justin Thomas -7 [4.5]
Cameron Smith -7 [14.0]
Marc Leishman -6 [11.5]
Patrick Reed -6 [12.5]
Chez Reavie -6 [25.0]
Whee Kim -6 [60.0]
-5 and [28.0] bar
It was a strange second round this morning with scores varying dramatically in the tricky windy conditions. Seung-Yul Noh, who had looked completely out of it after a seven-over-par 79 on Thursday, skipped around Nine Bridges in just 65 strokes to restore parity but six players failed to break 80 and the pre-event favourite, Justin Thomas, put in a strange performance too.
Thomas led by three after round one, thanks to a nine-under-par 63, but he took 11 more strokes to get round today and having already been matched at [2.0] to win, he now trails by two. I watched a lot of his round on Thursday and that score definitely flattered him a bit. There were chip-ins and long putts made and although I didn't expect anything as bad as he served up today, I wasn't in the least bit surprised to see he'd lost his lead when I got up this morning.
There's going to be no let up with the wind over the weekend so I was keen to look more closely at those that scored well today in the breezy conditions. At the top of the leaderboard, List and Lucas Glover both shot impressive five-under-par 67s but I'm happy to swerve them. List is yet to win on the PGA Tour and on the last two occasions that he led at halfway he finished 40th and 14th and I just can't trust Glover's putting.
I placed a small bet on Thomas before the off but had it been substantial I'd have been considering laying him off. Today was a worrying performance and I'd wager Thursday might have been a one-off. He looks tired after a long season and I've my doubts as to whether he wants a war of attrition in the wind for two days.
Scott Brown trails by just a shot but he just doesn't win enough. His only PGA Tour title is the 2013 Puerto Rico Open but he needed Fabian Gomez to double-bogey the last to win that and he's far from great in-contention.
Australians always need to be respected when the wind picks up and I can see Marc Leishman and Cameron Smith hanging around but the one I like at this stage is South Africa's Branden Grace.
Grace is an exceptional wind player with an unusually low ball flight and I thought [30.0] was a fair price. He shot five-under-par today to move up in to a tie for tenth and although he has four strokes to make up on List, I fancy there'll be plenty of change tomorrow and Grace is better equipped than most for the gusty conditions forecast.
The second round of the Andalucía Valderrama Masters is well underway and pre-tournament favourite, Jon Rahm, is going to miss the cut. Fellow Spaniard, Sergio Garcia, has only just started out in round two but he's bang in-contention and I'll be back this evening or early in the morning with a look at the event at the halfway stage.

Andalucía Valderrama Masters Pre-Event Selection:
Alejandro Canizares @ [60.0]

In-Play Pick:
Sergio Garcia @ [3.7] average

CJ Cup Pre-Event Selection:
Justin Thomas @ [9.2]
Sung Kang @ [60.0]
Jeunghun Wang @ [160.0]

In-Play Trades:
Branden Grace @ [30.0]
Whee Kim @ [40.0]
Byeong Hun An @ [40.0]
Justin Thomas layed at [2.32]

Pre-Event Each-Way Double
Sergio Garcia and Justin Thomas

*You can follow me on Twitter @SteveThePunter