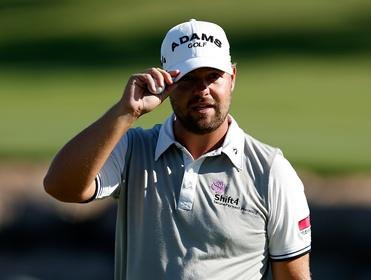 Ryan Moore, can he win his second PGA Tour title?
With Branden Grace safely over the line, Steve takes a quick look at what's in store tonight at the JT Shriners Open
"If I had to pick a winner, I'd tentatively go for Moore but I wouldn't want to back any of the front three. And if I was looking at the event for the first time, I might have employed the tactic of laying whoever goes odds-on first, with a view to laying one or more of the others later on."
20:05 - October 7, 2012
I've layed Ryan Moore @ [1.66]. He's now two clear but there's a long way to go.

18:40 - October 7, 2012
Branden Grace has just won the Dunhill (more on that in tomorrows De-Brief) and I'm now (only just) turning my attention to the final round of the JT Shriners Open.
Ryan Moore, Jonas Blixt and Brendon de Jonge are tied for the lead on -19, five clear of Jimmy Walker and Tim Herron, who are tied for 4th and two clear of the remainder.
Surely one of the front three will go on to win now and if I had to pick a winner, I'd tentatively go for Moore but I wouldn't want to back any of them. And if I was looking at the event for the first time, I might have employed the tactic of laying whoever goes odds-on first, with a view to laying one or more of the others later on, but as I've had a decent result with Grace, and that I've already thrown too much at this event already, I'll probably just leave it alone. I have backed Heron and Walker for very small stakes though, just in case the front three all get the wobbles!

16:10 - October 6, 2012
I've suffered the ordeal of following the Alfred Dunhill Championship all day today and I really wish I hadn't bothered. From a leaderboard that fails to update with any sort of regularity, to live coverage consisting almost entirely of amateurs I care nothing for and pros that are completely out of contention, it's been a painful and dull day. And to make matters worse, I've added two players to the portfolio that both trade considerably bigger now.
On the plus side, Branden Grace, who shot -3 around Carnoustie, despite a bogey and a double-bogey, now leads by four. Thorbjorn Olesen closed to within just a couple at one point and traded at as short as [2.84], but he then made a complete pig's ear of his penultimate hole - recording a double-bogey from the centre of the fairway, before redeeming himself somewhat with a birdie at the last.
There are a few players yet to finish wjo could make inroads on Grace, most notably Freddie Andersson-Hed, but having jumped in too early on both Alex Noren and Anton Haig earlier, I'm going to leave it alone until the close of play now.
After very little deliberation, I've decided to leave the JT Shriners Open alone for now too. The last four halfway leaders have gone on to win but I don't fancy either of the two at the head of affairs through 36 holes this year. Both Jonas Blixt and Brendon de Jonge, tied at the top on -14, are looking for their first wins and neither has a good in-contention record. And the same can be said of first round leader and tournament favourite, Ryan Moore, who's a further shot back on -13. It looks a hard puzzle to solve and I've already layed out plenty on the event so I'm going to see what tonight brings and look again tomorrow.

22:50 - October 5, 2012
Things went pretty much as expected and hoped for at the Alfred Dunhill Championship today, with first round leader and in-running play, Branden Grace, skipping around St Andrews in five under-par.
Having already reached -17 after just two rounds, he's now five shots clear of Joel Sjoholm and Thorbjorn Olesen, six clear of Anton Haig and seven clear of the next three - Graeme Storm, Magnus A Carlsson and Fabrizio Zanotti but that could all change tomorrow when six of the front seven all play Carnoustie, the hardest of the three courses. Olesen is the only one of the seven playing Kingsbarns and he should, in theory, make headway into Grace's lead.
As detailed this morning, somewhat irritatingly, I changed my mind about backing Olesen before the off but I've got him onside now. I backed him modestly at [6.2] at the close of play.
If Grace can emulate Olesen's achievement today and shoot three under-par around Carnoustie tomorrow, then he'll surely take the world of beating, so for now, other than the cover bet on Olesen, I'm leaving well alone.
I've given up on any fanciful notions I had of staying up to follow the JT Shriners Open, and the way my picks are going, I've nothing to stay up for anyway! I'll be back in the morning with a halfway look at that one...

10:20 - October 5, 2012
We've only had round one at each of this week's two events but we've already seen plenty of action, with 59's threatened on either side of the Atlantic. Branden Grace shot a course record 60 at Kingsbarns at the Alfred Dunhill Links Championship and then a few hours later Ryan Moore hit 61 at the JT Shriners Open. Both men now trade fairly short and punters need to decide whether either man is worth backing. I'll start with the Dunhill, where I think Grace is still a very fair price at [4.5]...
Mercifully, I had my eye on Grace and I'm already onboard, having backed him early on yesterday at an average of [14.5]. Well aware that Grace was a fine links exponent, I'd made him a pre-event pick throughout the summer - at the Irish Open, the Scottish Open, the Open Championship and even at the USPGA, played at the linksy Kiawah Island, but frustratingly, I left him out from the get-go here, even though he'd won last week in South Africa!
As well as being frustrated at not backing Grace from the start, I'm a bit fed-up that I'm not on Thorbjorn Olesen at all! I backed two players on Monday that I changed my mind on and layed back. One was Gonzalo Fernandez-Castano at odds of [65.0] and the other was Olesen at the same price. I haven't backed him in-running because at no time have I viewed him as a fair price. After I'd layed him back on Monday he shortened up considerably and he's been a short price ever since, though I may still look to get with him at some stage but not yet, not when he's playing Carnoustie today.
Here's yesterday's hole averages at the three courses -
Carnoustie 71.2
Kingsbarns 68.18
St Andrews 66.71
As you'll see, by some distance, Carnoustie is the toughest of the three venues, with St Andrews the easiest. After his stunning 12 under-par at Kingsbarns yesterday, Grace, who leads Victor Dubuisson by two and Olesen by three, gets to attack St Andrews today and given that 13 of the top 18 will be slogging it out at Carnoustie and that nobody within five strokes of him is playing St Andrews today, the South African has an outstanding chance of opening up a considerably gap on the field and [4.5] about him looks a considerably better price than the [3.8] available about Ryan Moore.
Moore lives very close to TPC Summerlin and after he'd constructed his 10 under-par 61 he revealed to the media that he practices there often, so he's clearly comfortable there. He now leads Brendon de Jonge by one and Tim Herron and John Huh by two. He may well go on to win but I couldn't dream of taking such a short price about him at this early stage.
Moore is notoriously dodgy in-contention and given I think his price is creating value elsewhere, I've already played a number of other players.
John Huh has impressed me a few times this year and I got him onside at [20.0] in-running yesterday, as well as Justin Leonard at [70.0] and I added two more this morning.
I looked at Rory Sabbatini before the off at a huge price but he'd missed a string of cuts of late so I left him out. He finished 2nd here in 2001 and 5th a year later, so he does have course form and he's also got the advantageous early start today. There wasn't a massive differential between the morning and afternoon starters yesterday, just under a 1 ½ shots but it certainly isn't going to inconvenience Rory being out nice early and I thought [42.0] about the gutsy South African was a great price, but the one I really like at the prices is Patrick Reed, who just like Sabbatini, is four off the lead.
I wrote about young Patrick fairly extensively here before the Reno-Tahoe Open, where I backed him at a single-figure price. He's the archetypical long-shot first time winner that this event creates year on year and I'm amazed I've been able to back him at over [200.0] this morning.
Alfred Dunhill Links Championship Pre-Event Selections:
Graham DeLaet @ an average of [180.0]
James Morrison @ [230.0]
George Murray @ an average [540.0]
Berndt Wiesberger @ [130.0] - backed after the preview was published

In-Running Plays
Branden Grace @ an average of [14.5]
Thorbjorn Olesen @ [6.2]
Anton Haig @ [44.0]
Alex Noren @ [7.4]

JT Shriners Open Pre-Event Selections:
Chad Campbell @ [65.0]
Charley Hoffman @ [80.0]
George McNeil @ [90.0]
Garth Mulroy @ [130.0]
Roberto Castro @ [190.0]
Alexandre Rocha @ an average of [450.0]
Scott Brown @ [510.0]
Matt Bettencourt @ [660.0]
In-Running plays
John Huh @ [20.0]
Rory Sabbatini @ [42.0]
Justin Leonard @ [70.0]
Patrick Reed @ an average of [230.0]
Jimmy Walker @ [65.0]
Tim Herron @ [65.0]