The Punter's In-Play Blog: Grace opens the door at Leopard Creek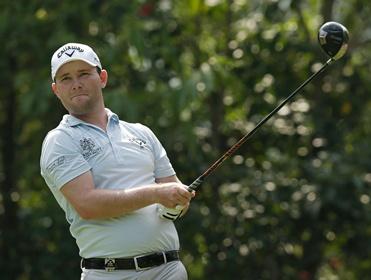 Brandon Grace – still in front but can he convert?
There's just a round to go in Thailand and South Africa and our man has cast his eye over the contenders. Will halfway pick, Anirban Lahiri, pull of a nice win at 33/1 or will Lee Westwood buck the trends? And can Grace put today's level par 72 behind him and kick-on to victory?
"I don't know what to expect from Grace tomorrow. He was immensely impressive in-the-mix in 2012 when he won four times on the European Tour but today will have shaken his confidence and given he hasn't been in-contention in a long while, nerves could creep into his game. I can easily see him kicking on again but I don't want to back him at just 2.56/4."
17.30 - December 13, 2014
As I did yesterday, I'll start with the Thailand Golf Championship, where we have a very open looking event still. Here's the third round leaderboard with Sportsbook prices at 17:15.

Marcus Fraser -5 3/1
Anirban Lahiri -4 4/1
Lee Westwood -3 10/3
Martin Kaymer -3 7/2
Tommy Fleetwood -3 6/1
-2 and 25/1 Bar

Apart from finding water off the tee on the par 3 8th and three-putting the 18th, Marcus Fraser, in the field thanks to a sponsor's invite, did very little wrong during round three and he's the man to beat according to the market but he wouldn't be for me. 
Fraser led by one with a round to go at the Hong Kong Open in October but shot 72 on day four and dropped to fifth and he was just as disappointing at the Italian Open last year when he lead by a stroke after three rounds. On that occasion he shot 74 and finished eighth. He's not great when in-contention and his edgy missed par putt at the final hole may well be a sign of what's to come tomorrow.
I haven't given up on a place at least for halfway play, Scott Hend, who sits tied for 7th and I'd feel aggrieved if my other in-play pick, Anirban Lahiri, doesn't at the very least place. The Indian dropped two strokes over the final three holes but I was still happy with his four-under-par 68 and he's now in a great position to win. 
I'm delighted to have him onside at 33/1 but he's not for me at his current price. If he does win, he'll get himself into the US Masters, the Open Championship and firmly into the driving seat on the Asian Tour money list with just one event remaining. That's a lot at stake and there's a danger the pressure could take its toll. What's also a little disconcerting is the fact that he sat second with a round to go last year but shot 73 to drop to fourth. 
Lee Westwood didn't drive as well as he usually does today but he's still bang there and he'll have plenty of supporters but he's still not for me. I detailed how poor his record is when he's been within one of the lead at halfway yesterday (one win from nine) and it's even worse when he's within two of the lead with a round to go. Incredibly, the Worksop Wonder has now been either one or two strokes behind with a round to go 21 times without winning. One could argue that that's a run that has to be broken but I'm not going to take less than 3/1 than it happens tomorrow.
My idea of the most likely winner tomorrow is Martin Kaymer. His chipping around the green was awful today but he saved plenty of strokes with an unexpectedly hot putter (he hadn't been putting well before the event) so if he is going to take the title he either has to continue to putt brilliantly (took just 25 today) or he's going to have to find more than the nine fairways that he found today. He has the class and the nerve to come through tomorrow and if I had to name the winner I'd plump for him but that doesn't make him a value wager.
Tommy Fleetwood played poorly at times today and did well to stay within two of the lead. I looked at his record in-the-mix yesterday and it isn't great. He's as big as 8.415/2 on the exchange and that's a fair price but it isn't enough to tempt me.
This looks really tough to call and given a top-four finish for Lahiri or for Hend would see me in profit, I'm happy to stick with what I have. 
Over at the Alfred Dunhill Championship, a lacklustre level par 72 by clear halfway leader, Brendon Grace, has seen the field condense again. Here's the third round leaderboard with prices to back at 17:20.

Branden Grace -16 2.588/5
Lucas Bjerregaard -15 4.77/2
Danny Willett -14 4.1
Francesco Molinari -13 10.09/1
Andrew Johnson -12 36.035/1
Louis Oosthuizen -10 42.041/1
-8 and 350.0349/1 Bar

I expected Grace to maintain momentum today and to put this to bed but he didn't play anywhere near as well as he did over the first two days and he was perhaps lucky to end the day in front. After missing the fairway from the tee on the par 5 18th, Grace layed up with his second. He looked to have a straightforward pitch into the green and I fancied he'd end the day with a birdie but instead he hit his approach so long that it very nearly went into the water behind the green. To his credit, he retained his composure and got up-and-down for par but he's opened the door wide open now. Can anyone go through it? Or will he kick on again tomorrow?
I don't know what to expect from Grace tomorrow. He was immensely impressive in-the-mix in 2012 when he won four times on the European Tour but today will have shaken his confidence and given he hasn't been in-contention in a long while, nerves could creep into his game. I can easily see him kicking on again but I don't want to back him at just 2.56/4.
Promising young Dane, Lucas Bjerregaard, is still looking for his inevitable first win and that puts me off at the prices. Tomorrow will be the first time he's been in the final pairing and it's highly likely he'll get a bit nervous.
I'm not sure whether last week's winner, Danny Willett is value at just 4.1 but as I'm on him from the off I don't even need to think about it. I'm happy to see him so unexpectedly close to the lead and if Grace continues to struggle he looks perfectly placed to go back-to-back.
Francesco Molinari is the only other with a strong chance of winning but as I've repeatedly stated, he's not great in-contention and I'd be more interested in him if he were further back. I may however keep my eye on him and get with him if he starts slowly. A couple of early bogeys will see his price drift dramatically and his expectation lower and that might well be the time to get him onside.
I'll be back on Monday with my De-Brief. 

18.40 - December 12, 2014
The wind continued to blow in earnest at the Thailand Golf Championship and in what is transpiring to be a difficult scoring tournament, only eight players are under-par at halfway. Here's the leaderboard with Sportsbook prices at 18:30. 

Tommy Fleetwood -4 3/1
Lee Westwood -3 5/2
Marcus Fraser -3 10/1
Jonathan Moore -2 50/1
Tirawat Kaewsiribandit -2 66/1
Martin Kaymer -1 6/1
Thongchai Jaidee -1 12/1
Paul Peterson -1 40/1
Anirban Lahiri level 33/1
Scott Hend Level 40/1
Sergio Garcia +2 14/1
Bubba Watson +2 25/1
Level Par and 40/1 Bar

Almost every High Street firm, and the exchange, makes Lee Westward favourite to win over halfway leader Tommy Fleetwood but I'd have it the other way round. 
Only this week, the Worksop Wonder was boasting about how much bottle he had, claiming you couldn't win 40 odd tournaments if you had no bottle and he was admirably backed up by on-course commentator, Andrew Coltart, who just happens to be his brother-in-law, but his most recent statistics say something very different. 
Westwood was indeed a ruthless closer of tournaments in his youth, racking up win after win and in-between June 1998 and September 2000 he won once on the PGA Tour and a staggering 12 times on the European Tour but now in his 40s, the wins are far more sporadic and if he doesn't dominate and go clear early, his in-contention record is simply appalling. 
Westwood has trailed by a single stroke at halfway on nine occasions this century, and he's won just once, at the British Masters in 2007. He's been beaten five times since that win when just a stroke behind at this stage and I wouldn't go near him at just 5/2. 
Tommy Fleetwood's record when leading isn't fantastic, far from it. He's been tied for the lead three times in total (twice on the European Tour and once on the Challenge Tour) and he's been two clear once and three clear once on the Challenge Tour but he's never converted. It is worth stating that four of those five leads were all in 2011 and he's a far more mature player now but there's still lots of evidence to suggest he's not one to get with either.
When Fleetwood won his only title, the Johnnie Walker Championship, he came from three back at halfway and he's led, co-led, or been within two strokes of the lead at this stage 14 times without ever converting. He's young and going in the right direction and I definitely prefer him to Westwood but he makes no appeal either. 
Although he's far from reliable either, the 10/1 about Marcus Fraser may have some mileage for each-way punters. Especially given the inexperienced duo tied for fourth are highly unlikely to hang around and that the Sportsbook are still paying on four places. Martin Kaymer is an obvious danger but he hasn't been in tip-top form for a while now and given he's three back in an event won by halfway leaders in each of the last three years, he's no value at all. He finished his second round poorly, missing the last four fairways and playing the last five holes in two-over par. That suggests he could be tired and he has every right to be - it's been a long hard year.
Thongchai Jaidee doesn't have a great record here or in his homeland in general and he makes little appeal from three back and I couldn't back either Sergio Garcia or Bubba Watson from so far back. It's a really tough event to call and it was very nearly a no-bet heat but I do think India's Anirban Lahiri is chalked up a bit too big at 33/1 and the same can be said of Scott Hend at 40/1 so I've had a couple of small wagers on them each way.
Dave Tindall was keen on Lahiri's chances before the off and I didn't disagree with him. I didn't feel as though he was terrific value at just 25/1 but I'm more than happy to have a small wager at eight points bigger now he's in-the-mix. And I felt the same way about Hend.
The big-hitting Aussie, who won the Hong Kong Open last month, has been in decent form since but he looked a bit short to risk before the off. He looked to be losing contact with the leaders after a poor front-nine today but he came home in three-under-par and is just close enough to strike. 
As for the Alfred Dunhill Championship, well that looks a done deal to me. First round leader, Brandon Grace has kicked five clear at halfway and it's very hard to see him getting beat. Going back to 1996, six men have lead by five strokes on the European Tour and five of them have won. The last one to do so was a certain Mr Grace at the Alfred Dunhill Links Championship, where he finished up wining by two.
Grace's closest challenger is Francesco Molinari but he's desperately unreliable in-contention and those that like to go in at odds-on can do so with confidence here. Grace is around 1.68/13 to back on the exchange and a best price of 4/7 on the Sportsbook and that's too big.

17.00 - December 11, 2014
It's a case of the least said the better about my three picks at the Thailand Golf Championship, where Prayad Marksaeng, who shot level par to trail by three, is the only one of the three still in with a chance and that's disappointing as I quite fancied Bernd Wiesberger. The Austrian shot a four-over-par 76 to trail by seven and Chesson Hadley was even worse. He shot 80! 
It was a strange day at Amata Spring with fast greens and a troublesome wind pushing up scores far higher than we've seen here before. It's been an out-and-out birdie-fest so far with winning scores of -22 twice and -25 but we're not going to get close to those levels this time around. 
A group of 18 players, that include previous winners Lee Westwood (-2) and Sergio Garcia (-1), broke par today and it looks too tight to call at this stage. I want to see how the course plays tomorrow before I get take any positions in-running and I'm a little spooked that the course is playing so differently. Frontrunners dominated here in the first three renewals but I don't think we can assume it will happen again given how much tougher the scoring has been and I'm more than happy to err on the side of caution for now. And I'm not getting involved at the Alfred Dunhill Championship either...
Following a faultless ten-under-par 62, Branden Grace leads fellow South African Jake Roos by three with one of my fancies, Danny Willett, alongside fellow Englishman, Matt Ford, in a tied for third on -6.
Grace and Willett dominate the market with the former trading at around 3.02/1. That looks short given that, as highlighted in the preview, you don't need to be right up with the pace early on here and given he's not been in the heat of battle in a while. To counter that though, his record when leading after round one is pretty impressive.
Between November 2010 and October 2012, Grace led or co-led on five occasions and he went on to finish second and third and to win three times. He may not have contended much of late but I think it would be daft to assume he's going to go away. 
Considering he only birdied one of the four par 5s, and that he must have done at least some celebrating after his win at the Nedbank, Willett's 66 was a fine effort and tomorrow will be key. He's clearly still playing well and if he stays patient, and doesn't panic if and when Grace starts holing everything early on, I'm quite hopeful he can contend over the weekend. I have trawled through the field to see if there's anyone there I want to side with but at this stage there isn't. 

Thai Golf Championship Pre-Event Selections:
Bernd Wiesberger @ 35/1 on the Sportsbook
Chesson Hadley @ 55.054/1
Prayad Marksaeng @ 60.059/1
In-Play Bets
Anirban Lahiri @ 33/1 (each-way)
Scott Hend @ 40/1 (each-way)
Alfred Dunhill Championship Pre-Event Selections:
Danny Willet @ 10/1 on the Sportsbook
Benjamin Hebert @ 110.0109/1
Robert Rock @ 110.0109/1
Michael Hoey @ 160.0159/1
Espen Kofstad @ 400.0399/1

*You can follow me on Twitter @SteveThePunter
Discover the latest articles