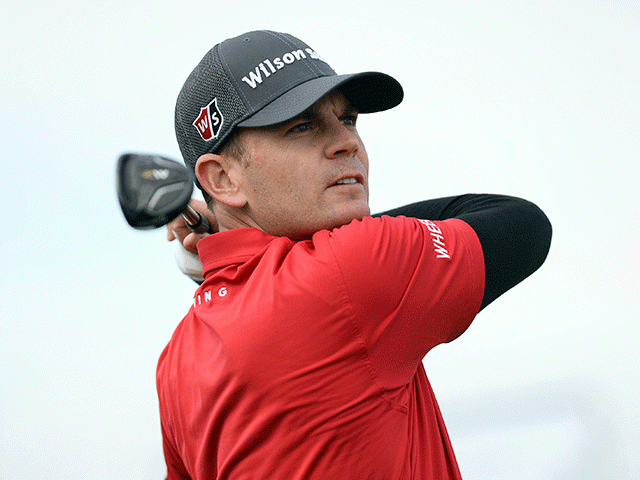 Brendan Steele – the defending champ is in-the-mix again
The Safeway Open is still wide open with a round to go but our man likes the chances of his sole pre-event selection at Silverado. Read Steve's final in-running thoughts for the week here.../strong>
"Hadley could just be the one. He won twice on the Web.com Tour last year and he also lost two playoffs, so of all the contenders, he's the one that has plenty of recent experience of being in-contention on a Sunday and he's fared really well. Yesterday's underwhelming third round was totally understandable after Friday's brilliance and he's the one to beat."
11:50 - October 08, 2017
In stark contrast to the Alfred Dunhill links Championship, which looks a done deal, after three rounds in California, the Safeway Open is still wide open. Here are the current standings with prices to back at 11:40.
Chesson Hadley -13[5.8]
Brendan Steele -12 [7.2]
Bud Cauley -12 [7.2]
Emiliano Grillo -11 [13.0]
Graham DeLaet -11 [15.5]
Tony Finau -10 [16.5]
Phil Mickelson -10 [18.0]
Bill Haas -10 [29.0]
Andrew Putnam -10 [65.0]
-9 and [55.0] bar

After a one-under-par 71 in round three, Tyler Duncan, playing in his first PGA Tour event as a member (also missed the cut in the 2015 US Open) remains in front but I do wonder for how long? He's putting superbly, with Chesson Hadley in second the only man recording better Putting Average stats this week, but surely the pressure is going to tell at some stage? The stats are also against him given the last two winners came from off the pace...
Brendan Steele came from four back to win 12 months ago and Emiliano Grillo trailed by two strokes two years ago. This doesn't look like an easy place to convert a lead and converting a lead in just your second PGA Tour event is a huge ask.
Hadley was my only pick from the off and I'm far more confident about his chances than I was yesterday. After a sensational 61 in round two, he was always likely to suffer some sort of reaction and he did. He played his first three holes in two-over par yesterday but he recovered nicely enough to get himself under-par for the day and I fancy he can kick on again today. Nobody's putting better than Hadley, he has a very respectable record in-contention, and the market is correct to make him the man to beat.
Defending champ, Brendan Steele, isn't putting brilliantly and would be better suited to being a bit further off the pace and Bud Cauley is hitting fairways and greens relentlessly but he's still looking for his first PGA tour title and he hasn't been brilliant in-the-mix. He went in to the final round of a PGA Tour event within two strokes of the lead twice last year but finished third and 10th.
Graham DeLaet is notoriously flaky in-contention and he's also still looking to get off the mark and the market's correct to favour the 2015 winner, Grillo, over DeLaet. The diminutive Argentine clearly loves the venue and he looks nicely poised for a final round charge.
Of the four players on -10, my halfway pick, Bill Haas, makes most appeal at the prices. Pre-event favourite, Tony Finau, is missing far too many greens, Phil Mickelson hasn't won for more than four years and I thought he got a bit jittery after a fast start yesterday, and Andrew Putnam is another that hasn't yet won.
In summary, it's clearly wide open but Hadley could just be the one. He won twice on the Web.com Tour last year and he also lost two playoffs, so of all the contenders, he's the one that has plenty of recent experience of being in-contention on a Sunday and he's fared really well. Yesterday's underwhelming third round was totally understandable after Friday's brilliance and he's the one to beat.
As detailed in the In-Play Tactics section of the preview, we've seen all sorts of drama over the last two years here so although the tournament finishes late it might just be worth staying up to trade and to take on the odds-on shots in-running.

21:30 - October 07, 2017
In stark contrast to last Saturday, when he chuntered and moaned away a three stroke lead at the British Masters, Tyrrell Hatton grasped the nettle at Kingsbarns today to shoot a second successive seven-under-par 65 and he now takes a five stroke lead in to tomorrow's final round at St Andrews. Here's the latest state of play with prices to back at 21:20.
Gregory Bourdy -13 [19.5]
Paul Dunne -11 [23.0]
Ross Fisher -10 [65.0]
Luke Donald -10 [90.0]
-9 [130.0] bar

Five strokes is a huge advantage to take in to the final round and it's very hard to see Hatton failing to defend the title tomorrow but the stats suggests it's not a done deal just yet. Over the last 30 years, 25 players have led a European Tour event by five and only 20 of them of them converted. In fact, more recently, in the last 12 years, four of the last 11 to lead by five have been beaten and one of them, Kennie Ferrie, failed here in this event.
Back in 2005, Ferrie limped around St Andrews in 77 strokes and Colin Montgomerie beat him by a shot but the situation was quite different to this one. Three men were tied for second - Monty, Ricardo Gonzalez and Henrik Stenson - but on this occasion, Gregory Bourdy is the only player within seven and it's highly unlikely that Hatton will do enough wrong to get beat. He looks impossible to oppose and anyone looking for a bit of interest tomorrow needs to look at the Without Hatton market here.
If I had to plump for one in that market it would be Ross Fisher. He's far enough back to feel relaxed and to play freely tomorrow, he's already finished second in the event twice previously and he found his form in style today, finishing his third round with six birdies in his last seven holes.

14:00 - October 07, 2017
Sole pre-tournament pick, Chesson Hadley, threatened to break 60 at Silverado yesterday but he had to settle for a course record 61 in the end when he failed to birdie the last two holes and its PGA Tour rookie, Tyler Duncan, that shows the way at halfway. Here are the latest standings with prices to back at 13:50.
Brendan Steele -12 [3.95]
Chesson Hadley -11[7.6]
Tony Finau -9 [8.4]
Zac Blair -9 [34.0]
Graham DeLaet -8 [23.0]
Brian Davis -8 [190.0]
-7 and [38.0] bar

The first time the event was played here at Silverado, three years ago, Sang Moon Bae sat second and just a stroke off the lead at this stage before going on to win by a comfortable two shots but the last two winners have come from some way back.
Emiliano Grillo, and the man he beat in the playoff, Kevin Na, both rallied from tied 19th and six adrift through 36 holes in 2015 and last year's winner, Brendan Steele, was tied for 16th and fully nine strokes back at this stage. The current top-three have opened up a bit of daylight between themselves and the field but the last two renewals indicate this could still be wide open.
The leader had a run of three straight bogeys yesterday, which included a couple of iffy putts and I'm happy to oppose him in his first PGA Tour event. He's led or co-led at this stage four times previously (once on the Latinoamérica Tour and three times on the Web.com Tour) and he's finished 17th, 52nd! second and fifth. I'd be surprised if he kicked on and won here.
Steele has already flopped from the front here before (in 2015) and he'd be better suited to coming form off the pace. His usual caddie, Christian Donald, is having a week off this week and he has his coach, Chris Mason, on the bag for the first time ever. It's clearly working as he's ranking number on for Greens In Regulation, having hit all 18 in regulation on Thursday but he isn't putting well and he makes no appeal at less than [4.0].
Time after time we see players struggle to back up a low score and that's a big negative for my man Hedley and it's definitely worth looking further down the leaderboard. Pre-event favourite, Tony Finau, is lurking but the two I like at the prices on offer this morning are Bill Haas and Ryan Moore.
Haas just looks far too big at [38.0] when he's a best priced 25/1 on the High Street and Moore looks a juicy price at [55.0] given his stats suggests he's finally putting a bit better. Yesterday's in-play poke, Martin Laird, chipped in for eagle at the 18th yesterday to put him up in to a tie for 15th and I'm happy to go in to the weekend with those three and Hedley onside.

11:00 - October 07, 2017
The hole averages for yesterday's second round at the Alfred Dunhill Championship have been published and unsurprisingly given the improved weather, all three courses played easier than they had done in round one. I've listed the averages for each course yesterday below with Thursday's averages in brackets, followed by the difference between the scores on Thursday and Friday.
St Andrews - Par 72 - 69.89 (71.57) 1.68
Kingsbarns - Par 72 - 69.91 (72.82) 2.91
Carnoustie - Par 72 - 71.3 (73.25) 1.95
I'd theorised on Thursday that playing Kingsbarns yesterday in the benign conditions would be advantageous and the stats do support that but the players I backed that played there (Joost Luiten and Romain Wattel) didn't score well and two players that played Carnoustie now dominate the event. The defending champ, Tyrrell Hatton, fired an extremely impressive seven-under-par 65 to move to the top of the leaderboard and brand new dad, Tommy Fleetwood, joined him at the top with a record-breaking nine-under-par 61. They were both fabulous rounds but Tommy's was incredible. Fleetwood beat the average score for the day by ten strokes and beat a record that had stood for 22 years. The previous record of 64 had been set by Colin Montgomerie at the 1995 Scottish Open.
I know they're already underway in round three but for what it's worth, Paul Lawrie won the inaugural Alfred Dunhill from eight back at halfway in 2001, Stephen Gallacher won the 2004 edition from six adrift and tied 11th and David Howell was also six back and tied for 20th at this stage before going on to win the 2013 edition but the vast majority of winners have been up with the pace at halfway. Lee Westwood sat tied 15th in 2003 but that was a really congested leaderboard and he only trailed by three. Every other winner has been inside the top-five places.
It's hard to see anyone other than Hatton or Fleetwood winning now but I'm happy to wait and see where we are after round three. Hatton has the pressure of defending to overcome and he was very frustrating to follow last weekend and both of them (especially Fleetwood) have the age-old problem of backing up a really low round. Changing venues will help and they're both playing the easiest course (Kingsbarns) today but I'm not prepared to rush in on either now.
I'll be back later with a look at the Safeway Open.

10:25 - October 06, 2017
The hole averages for yesterday's play at the Alfred Dunhill Championship have been published and they make for interesting reading.
St Andrews - Par 72 - 71.57
Kingsbarns - Par 72 - 72.82
Carnoustie - Par 72 - 73.25
As expected, Carnoustie was the hardest course on the rotation, averaging one-and-a-quarter strokes over-par but what is striking is that Kingsbarns, traditionally the easiest of the three courses played, actually averaged a shot-and-a-quarter harder than St Andrews.
It has to be taken in to account that the more fancied players played St Andrews yesterday but I'm still surprised that Kingsbarns played so tough and it reinforces my believe that playing Kingsbarns today, in the calmer conditions, is the best scenario.
Those that played St Andrews yesterday are at Carnoustie today, so they have the luxury of playing the toughest course in the calmest weather, but if yesterday's stats are to be believed, either they've tricked up Kingsbarns this year or it plays tough in windy conditions and all those at Carnoustie today will be at Kingsbarns tomorrow, when the wind is again set to blow.
My in-play bet from yesterday, Joost Luiten, has only parred his first three holes at Kingsbarns but I've added to the portfolio with a tiny bet on Romain Wattel at [44.0]. He's playing the same rotation as Luiten but he's started better and after two birdies in the first three holes, he's now just one off the lead.
The defending champ, Brendan Steele, is one of three men tied at the top at the Safeway Open, after an opening seven-under-par 65. He's the only man trading at a single-figure price and he makes no appeal. The 2015 winner, Emiliano Grillo, is two back and tied for fourth. Dave Tindall's fancy, Zach Johnson, and Ryan Moore are both within three and Webb Simpson and Phil Mickelson are amongst a large group of players tied for 12th and just four off the lead.
I liked all three of Dave's three picks (his third selection, Hadley, was my sole pre-event selection) but I'm going to leave Zach alone for now and scan even further down the leaderboard. Although Sang Moon Bae was hard on the pace all the way in 2014, the last two course winners, Grillo and Steele, came from miles back so we can scan quite a long way down the leaderboard. This is still wide open and the one I like from six adrift is Martin Laird.
The Scotsman likes the venue and he has course form figures reading 3-64-8 but he started off slowly yesterday, double-bogeying the par four 13th (his fourth hole of the day) to put him on the back foot. He rallied well late on, birdying three of the last four holes and if he can carry on that momentum today he might make for a nice trade in the outright market and he could be value in the place markets.
I've backed him in the win market at [120.0] (best price 80/1 on the High Street) and I've also had a couple of small wagers for him to finish inside the top-ten and the top-20 at 6/1 and 5/2 respectively with the Sportsbook.

17:50 - October 05, 2017
Given the field is split around three different courses for the first three days (see Event Structure in the preview), the Alfred Dunhill Links Championship is always a tricky event to evaluate and it's especially hard to assess when the weather's windy and changeable.
In recent editions, most of the big names have played the Carnoustie - Kingsbarns - St. Andrews rota over the first three days but this year they've kicked off at St. Andrews today and there'll be at Carnoustie tomorrow before playing Kingsbarns on Saturday. The weather forecast suggests a bit of respite from the blustery conditions tomorrow and some are viewing that as a break for the more fancied runners but I'm not at all convinced.
They will get to play the hardest course in the easiest conditions but they can't just go there and survive tomorrow. They'll need to score. The forecast for Saturday is very blowy and they'll struggle to go low around the easiest of the three venues - Kingsbarns.
Those that have played Kingsbarns in today's windy weather will have a chance to kick on again at St Andrews tomorrow but they will then have to face Carnoustie in the worst of the weather on Saturday and I fancy those that have already played Carnoustie today have had the best of the draw. The last four winners have all kicked off at Carnoustie on day one and I can see it happening again.
In the previous 16 editions of the event, all bar two winners were within four of the lead and inside the top-30 after day one so being up with the pace is usually very important but given the forecast, I haven't concentrated solely on the leading pack and the one I like at this very early stage is Joost Luiten.
Luiten fired a two-under-par 70 around Carnoustie today and I thought he was too big at around the 50/1 mark. The Sportsbook did go 50/1 after he'd finished his round, with six places still up for grabs. That's been cut now but anywhere around [50.0] is still very acceptable on the exchange. He doesn't have spectacular event form but he's a fine links exponent and he sat second with a round to go before finishing 24th in 2013.
The Safeway Open has kicked off on the PGA Tour but I'll look at that one tomorrow after the opening round.

Alfred Dunhill Links Pre-Event Selections:
Chris Wood @ [40.0] - Non-Runner
J.B Holmes @ [60.0]
Ross Fisher @ [70.0]
Eddie Pepperell @ [75.0]
Callum Shinkwin @ [140.0]
Austin Connelly @ [160.0]
Jeunghun Wang @ [200.0]

In-Play Picks
Joost Luiten @ [50.0]
Romain Wattel @ [44.0]

Safeway Open Pre-Event Selection:
Chesson Hadley @ 60/1 (Sportsbook)

In-Play picks
Martin Laird @ [120.0]
Martin Laird - top-10 @ 6/1 and top-20 @ 5/2
Bill Haas @ [38.0]
Ryan Moore @ [55.0]

*You can follow me on Twitter @SteveThePunter