The Punter's In-Play Blog: Larrazabal still leads at Leopard Creek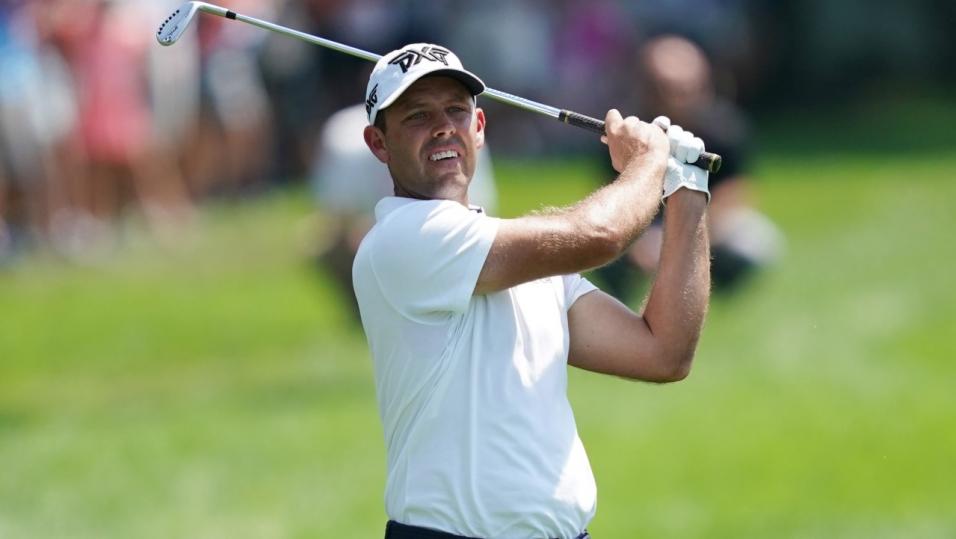 Charl Schwartzel - seven back but dangerous
Pablo Larrazabal will take a three-stroke lead into the final round of the Alfred Dunhill Championship tomorrow but can he convert? Read our man's final in-running thoughts on the event here...
"In 14 previous editions of this event and four editions of the South African Tour Championship at Leopard Creek, nobody has won from any further than four strokes back but I wouldn't discount two-time winner, Charl Schwartzel, from seven back and I've had a few pounds on him at 30.029/1."
16:50 - November 30, 2019
After a two-under-par 70 in round three of the Alfred Dunhill Championship, Spain's Pablo Larrazabal has maintained his three stroke lead at Leopard Creek. Here's the 54-hole leaderboard with prices to back at 16:45
Pablo Larrazabal -11 1.845/6
Wil Besseling -8 7.413/2
Branden Grace -7 6.611/2
Zander Lombard -5 19.018/1
Marcus Armitage -5 55.054/1
Charl Schwartzel -4 30.029/1
-4 and 75.074/1 bar
Since 1996, 121 men have led a European Tour event by three strokes through 54 holes and 83 of them (69%) have gone on to win and seven of the last nine third round leaders at Leopard Creek have gone on to win too, suggesting Larrazabal is a very fair price at a shade of odds-on but I'm not convinced.
Pablo's not the safest conveyance and there were signs today that he may be capable of unravelling in no time. Having played a lovely approach in to the 17th green, he three-putted for bogey and snapped far too aggressively at noisy spectators. He appears to play on the edge for much of the time and I can't help but feel he's capable of imploding.
Having backed him before the off, I really hope I'm wrong but I've layed him back so whatever the result now it's going to be a good week and I still think Branden Grace is the man to be on.
He dunked his second shot into the water on 18 today, leading to a bogey six, but he's close enough still if Larrazabal wobbles and playing alongside fellow South African, Zander Lombard, in the penultimate group may be better than playing in the final two-ball.
In 14 previous editions of this event and four editions of the South African Tour Championship at Leopard Creek, nobody has won from any further than four strokes back but I wouldn't discount two-time winner, Charl Schwartzel, from seven back and I've had a few pounds on him at 30.029/1.
21:30 - November 29, 2019
After another tough day at Leopard Creek, pre-event pick, Pablo Larrazabal, has moved three strokes clear of the field at the Alfred Dunhill Championship. Here's the 36-hole leaderboard with prices to back at 21:20
Pablo Larrazabal -9 3.412/5
Branden Grace -6 4.94/1
Wil Besseling -6 12.5
Thomas Aiken -4 21.020/1
Jack Singh Brar -4 24.023/1
Marcus Armitage -4 75.074/1
-3 and 27.026/1 bar
Since 1996, 87 players have taken a three-stroke lead into the weekend in a European Tour event and 37 (43%) of them went on to win, however, one of those to fail was Pablo Larrazabal, at the China Open in 2017. In fact, this is the seventh time Larrazabal has led or been tied for the lead on the European Tour and he's been beaten on each of the last six occasions. He won the Open de France, the first of his four European Tour titles to date, having been tied at the top after 36 holes but he's failed to convert every time since.
That's a bit of a negative but the Leopard Creek stats are in his favour, as each of the last six winners of this event have been in front at halfway and we've only ever seen one winner come from any further than four strokes back at this stage. Garth Mulroy shot 64-68 to win the 2011 edition by two shots, having trailed by half-a-dozen strokes at this stage.
Conditions have been tough so far this year. The rough is up, the weather is hot and the greens are very firm so low scores are far from common and only five men broke 70 today. The front three have opened a bit of a gap on the remainder and with the forecast suggesting more of the same, if they can keep their heads and not do anything daft they could easily fill the first three places after round four but tough conditions usually give the chasers more of a chance than easy conditions.
When the majority of the field go low, the chances are one or two of the leaders will do too and they'll therefore be very difficult to pass but when scoring is high, and when only three players have separated themselves, as is the case here (if you can class two strokes as separation), and the majority are shooting over-par scores (today's scoring average was 74.92), the likelihood of the leaders going low increases significantly and if someone within striking distance plays really well and manages to post three or four under, then we can see plenty of change.
That's a roundabout way of saying the front three could all shoot 74 or 75 tomorrow and they all get caught by someone who gets super-hot and shoots a low one.
Charl Schwartzel and Zander Lombard, who both trail by seven, would be the most likely candidates to put in a low round against the head but predicting who achieves the feat is nigh on impossible so I'm not going to try and guess and I'm going to stick with what I have for now.
I've got my fingers and toes crossed that Pablo can kick on or at least keep his cool tomorrow but I'm well aware how quickly things could unravel around here in this heat. Given the last six halfway leaders have gone on to win here and that 43% of three-stroke leaders on the European Tour have converted, he's not a bad price but the value surely lies with course winner, Branden Grace, who's a proven performer in tough conditions in major championships.
Having backed Grace after round one at 12.011/1, I don't need to get involved any further but had I not been onboard, I'd definitely be backing him now at 4.94/1.
20:40 - November 28, 2019
A watched kettle never boils and a closely monitored early leaderboard rarely seems to provide good news. After years of waking up on Thursday mornings and monitoring the very early play, I've taken to going to the gym and not even looking until play's been going for a few hours. Obviously, that doesn't make any selections play any better but it does mean I'm slightly more philosophical and accepting of disappointing starts and very occasionally, I get a very pleasant surprise. As I did this morning.
When I first checked in after this morning's workout, pre-event pick, Grant Forrest, who I backed at 380.0379/1 was out in front on seven-under par through just 11 holes and 80.079/1 pick, Pablo Larrazabal, sat second on -6. It didn't last.
Playing the front nine second, Forrest bogeyed the fourth before getting back to seven-under with a birdie at the drivable par four sixth but by the time I'd showered and changed, he'd tumbled out of the lead with a bogey at the seventh and a triple-bogey seven at the eighth. To his credit, he bounced back to birdie his final hole of round one but it was a bit disappointing after such a terrific start. Oh well, here's the first round leaderboard with prices to back at 20:30.
Wil Besseling -7 12.5
Pablo Larrazabal -6 11.010/1
Keith Horne -6 22.021/1
Garrick Porteous -6 40.039/1
Alejandro Canizares -5 32.031/1
Branden Grace -4 11.010/1
Thomas Aiken -4 22.021/1
Jack Singh Brar -4 32.031/1
Daniel Van Tonder -4 36.035/1
David Drysdale -4 48.047/1
Robin Roussel -4 55.054/1
Grant Forrest -4 55.054/1
-3 and 23.022/1 bar
Pre-event 180.0179/1 chance, Wil Besseling, can't be described as a value price at around 12/1. The 33-year-old Duthcman, whose sole success came on the Challenge Tour 11 years ago, has the pressure of trying to win for the first time on the European Tour in order to earn his playing privileges, having narrowly failed to do so on the Challenge Tour last season.
We've had 14 renewals of this event at Leopard Creek and four editions of the South Africa Tour Championship here prior to that and Branden Grace, back in 2014, who led by three after an opening ten-under-par 62, is the only first round leader to go on to win.
Ernie Els, in 2005, and Alvaro Quiros, 12 months later, won having trailed by seven and six strokes respectively and a couple of winners have trailed by five strokes but 11 of the 18 course winners have been within three of the lead after round one and the last six winners had all got to the front after round two so we probably can't scan too far down the leaderboard.
As highlighted below, I've already got involved in-running - getting the aforementioned Grace onside and I'm happy to leave it at that for now.
Keeping a close eye on Stone as he plays the back nine but I've been nibbling away at Grace at 12. That looks decent given he improved on the tougher front nine (his second nine) this morning. If something's clicked that's a big price.

? Steve Rawlings (@SteveThePunter) November 28, 2019

There wasn't much of a differential in the scoring today, with the early starters averaging 73.41 and the later starters 74.44, but it's worth noting that only two of the top-12, veteran South Africans, Keith Horne and Thomas Aiken, played in the afternoon so it will be interesting to see if the draw evens out tomorrow. The forecast looks almost identical to today's conditions so in theory, the early starters should be able to make hay before the heat becomes oppressive and the greens speed up again in the afternoon. Anyone looking to play in-running should be bearing that in mind.

Pre-Event Selections:
Pablo Larrazabal @ 80.079/1
Hennie Otto @ 180.0179/1
Grant Forrest @ 380.0379/1
Robin Sciot-Siegrist @ 410.0409/1
James Hart du Preez @ 560.0559/1
In-Play Pick
Branden Grace @ 12.011/1
*You can follow me on Twitter @SteveThePunter
Discover the latest articles
Read past articles