The Punter's In-Play Blog: Perfectly poised for a great finish to the Valspar Championship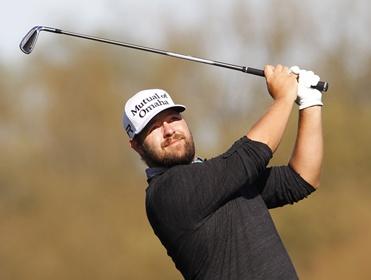 Ryan Moore – out in front in Florida
With just one round to go at the Valspar Championship in Florida, a group of seven look set to fight out the finish. Read Steve's take on the state of play here...
"I'm swerving Stenson and Kuchar, and going into battle with Reed, O'Hair and Ernst. I can't say that I'm confident of getting a result but I'm happy I've got the value and I'm really looking forward to it - we look set for a crackerjack of a finale."

10:20 - March 15, 2015
We look all set for an entertaining finale to this week's PGA Tour action and if you could have handpicked the third round leaderboard at the Valspar Championship, it would probably look something like this. Here's the latest state of play with prices to back at 10:10.
Ryan Moore -9 3.185/40
Jordan Spieth -8 3.185/40
Derek Ernst -7 17.5
Sean O'Hair -6 22.021/1
Henrik Stenson -5 12.5
Patrick Reed -5 16.015/1
Matt Kuchar -5 16.015/1
-4 and 75.074/1 Bar
Ryan Moore may have a one- stroke lead but the stats suggest he could be in trouble. He's the first player since 2012 to shoot in the 60s here over the first three rounds and he's clearly in brilliant form but if he's going to go on and win he'll be converting a clear 54-hole lead for the first time in his career and he'll be the first third round leader to win on the PGA Tour in almost two months. The last man to convert from the front was Bill Hass, who was tied for the lead through 54-holes of the Humana Challenge.
That stat wouldn't put me off and perhaps the fact that he's failed to convert either of his two clear leads on the PGA Tour shouldn't either. He took a one-stroke lead into the final round of the BMW Championship in 2010 and into the final round of the Travelers Championship last year before finishing 11th and 5th respectively but on the plus side, he's been tied for the lead four times and he's converted on the last three occasions.
Just to complete the picture, 10 players have held a clear advantage here with a round to go and five have won. And of the four that led by just one stroke, two have been successful. All that may muddy the waters more than clear them but my instinct is to leave him out. Moore's never really convinced me in-contention and if I were to play one of the first two in the market it would by Jordan Spieth. Although I'm not going to play him either.
The rising star blasted the field away at the Australian Open in November, when a final round of 63 saw him go from tied for the lead to six clear, and he won even more easily in his next start, at the Hero World Challenge, were he cruised home by 10 shots. They were impressive victories for sure but he's still not won a tight fought battle on the PGA Tour.
Again, that doesn't unduly put me off. To a degree I'm nitpicking and paying devil's advocate, Spieth is a top-class player who will win many titles from both off the pace and the front and it's only a matter of time before he wins from a 54-hole position like this but he's made enough mistakes this week to suggest he won't be error-free today and that's a concern.
He scrambled brilliantly to play the last three holes in level par yesterday, getting up-and-down from the greenside bunker on 16 and the rough on 17 and 18 but I'd be amazed if his short game didn't come under more pressure today. I think he should be the clear favourite over Moore but with five PGA Tour winners within four of the lead, the front two both look short enough to me.
Derek Ernst, currently in third, has only ever finished inside the top-25 in a PGA Tour event once - at the Wells Fargo Championship in 2013 when he held his nerve superbly to beat David Lynn in a playoff. He has an air of confidence about him and I wouldn't be in the least bit surprised to see him go in again here. He looks a decent price to me at around 18.017/1 and at 22.021/1, so does multiple PGA Tour winner and 2008 Valspar Champion, Sean O'Hair.
In-play pick, Shawn Stefani, looked set to have a say in the outcome but played the last three holes in three-over-par to tumble out of contention yesterday but my other pick, Patrick Reed, did OK. He sits alongside Henrik Stenson and Matt Kuchar in a tie for fifth and he still looks reasonably priced to me at 16.015/1.
I'm swerving Stenson and Kuchar, and going into battle with Reed, O'Hair and Ernst. I can't say that I'm confident of getting a result but I'm happy I've got the value and I'm really looking forward to it - we look set for a crackerjack of a finale.
The final round of the Tshwane Open has started and is currently live on Sky Sports.

21:40 - March 14, 2015
My sole pre-event pick at the Tshwane Open, Trevor Fisher Jr, bogeyed four of his first seven holes in round three and I have to confess, I thought he was a goner but with nobody taking control and with thanks to five birdies from the 8th hole onwards, he'll start tomorrow's final round tied for the lead. Here's the leaderboard with prices to back at 21:30.
George Coetzee -9 5.49/2
Trevor Fisher jr -9 5.85/1
David Horsey -9 8.615/2
Adrian Otaegui -9 9.417/2
Craig Lee -9 11.521/2
Wallie Coetzee -9 14.013/1

Erik Van Rooyen -8 28.027/1
Ockie Strydom -8 40.039/1
Morten Orum Madsen -7 16.015/1
Raphael Jacquelin -7 24.023/1
Edoardo Molinari -7 28.027/1
-6 and 55.054/1 Bar

This looks an almost impossible puzzle to solve and I was on the verge of just leaving things as they were, and hoping that Fisher Jr could kick on tomorrow and double-up after last week's impressive success in the Africa Open, but I couldn't resist a small play on the reigning Lyoness Open champion, Mikael Lundberg.
The veteran Swede is only three strokes off the lead and he was just far too big to ignore at 160.0159/1 given how weak the leaderboard looks. I can see someone coming from off the pace and troubling the leaders but just who that might be is very hard to predict so it makes sense to take things easy.
If you're intending to play in-running tomorrow, bear in mind that the front nine is easier than the back nine and someone from off the pace shooting three or four-under before the turn might not be great value but anyone safely in the clubhouse posting a score, may be hard to catch. The front nine has played to an under par average so far this week whereas the back nine includes six of the hardest eight holes on the course and has averaged over half a stroke over par.

10:20 - March 14, 2015
With such a class-filled leaderboard at the Valspar Championship, we look set for a real treat this weekend. Here's the halfway leaderboard with prices to back at 10:10.

Brendon de Jonge -6 14.013/1
Jordan Spieth -5 5.95/1
Henrik Stenson -5 6.411/2
Ryan Moore -5 11.010/1
Kevin Streelman -5 16.5
Derek Ernst -5 55.054/1
Ian Poulter -4 21.020/1
Sean O'Hair -4 48.047/1
Lucas Glover -4 50.049/1
Ricky Barnes -4 110.0109/1
-3 and 32.031/1 Bar
Sat just one stroke behind Brendon de Jonge, both Jordan Spieth and Henrik Stenson will be popular with punters this morning but I'm happy to leave them out of my plans. Spieth is putting considerably better than Stenson and if I had to pick one of the two market leaders, he'd be the one, but it's highly likely that the winner isn't inside the top-10 at this stage.
As highlighted in the preview, the last two winners have come from eight and seven strokes back and from outside the top-30, so taking a chance on one or two from off the pace might make sense and that's exactly what I've done.
Alongside my pre-event selection, Luke Donald, on -2, Patrick Reed at 35/1 and Shawn Stefani at 80/1, are both generously priced with the Sportsbook and worth chancing. Reed is a ruthless closer when he gets the chance and Stefani was very close to being a pick before the off.
The third round of the Tshwane Open is now underway and live on Sky Sports at 10:30 and I'll be back this evening for a look at the state of play with a round to go there.

18:10 - March 13, 2015
Play stopped for an hour or more today at the Tshwane Open but they have now reached the halfway stage so here's the leaderboard with prices to back at 18:00.
Adrian Otaegui -11 4.3100/30
Merrick Bremner -9 16.5
Trevor Fisher Jr -8 7.87/1
Edoardo Molinari -8 12.011/1
Keith Horne -8 12.5
David Horsey -8 16.015/1
George Coetzee -7 9.89/1
Wallie Coetzee -7 40.039/1
Dean Burmester -7 42.041/1
-6 and 24.023/1 Bar
With a two stroke lead, Adrian Otaegui is the man to beat according to the market but I'm not so sure. He's never won anywhere before and he's going to find it hard to back up today's sensational 62 tomorrow. He was tied for the lead at halfway at the Czech Open in 2013 but drifted away to finish 5th and hw was just one off the lead at this stage of the NH Collection Open last April but again went backwards - eventually finishing sixth, four off the lead.
Merrick Bremner has only won four times on the Sunshine Tour and this would be a big step-up for him so he makes no appeal either.
My sole pre-event pick, last week's winner, Trevor Fisher Jr still looks reasonably priced on the exchange and he's an industry best and very fair 13/2 on the Sportsbook. I'm more than happy with his start and I'm certainly not looking to lay off yet.
Pretoria man George Coetzee, who knows the course intimately, is lurking despite not being at his best but as highlighted in the In-Play section of the preview, winners have come from off the pace at this course and it might be worth looking further down the leaderboard.
I was tempted by the defending champ, Ross Fisher, who could very easily make up ground tomorrow but given he's fully seven shots adrift, I'd have wanted a bit bigger than the low 20.019/1 s on offer so I'm going to sit on my hands for now and see what tomorrow brings.
Over at the Valspar Championship, all my pre-event picks have been very disappointing. Luke Donald looked like closing to within a couple of the lead in his second round earlier today but then dropped a couple of strokes late on.
Henrik Stenson has just started his second round with an eagle and a bogey and he's the clear favourite at present. The coverage is live on Sky Sports at 19:00 but I'm going to let the second round complete before going in again and I'll be back in the morning with my take on it at halfway.

Tshwane Open Pre-Event Selection:
Trevor Fisher Jr @ 38.037/1
In-Play Bet
Mikael Lundberg @ 160.0159/1
Valspar Championship Pre-Event Selections:
Luke Donald @ 36.035/1
Kevin Na @ 60.059/1
Boo Weekley @ 130.0129/1
George McNeil @ 190.0189/1
Matt Every @ 240.0239/1
Chesson Hadley @ 270.0269/1
In-Play Picks
Patrick Reed @ 35/1 (Sportsbook)
Shawn Stefani @ 80/1 (Sportsbook)
Derek Ernst @ 17.5
Sean O'Hair @ 22.021/1


*You can follow me on Twitter @SteveThePunter
Discover the latest articles