The Punter's In-Play Blog: Lefty a fair price to convert in California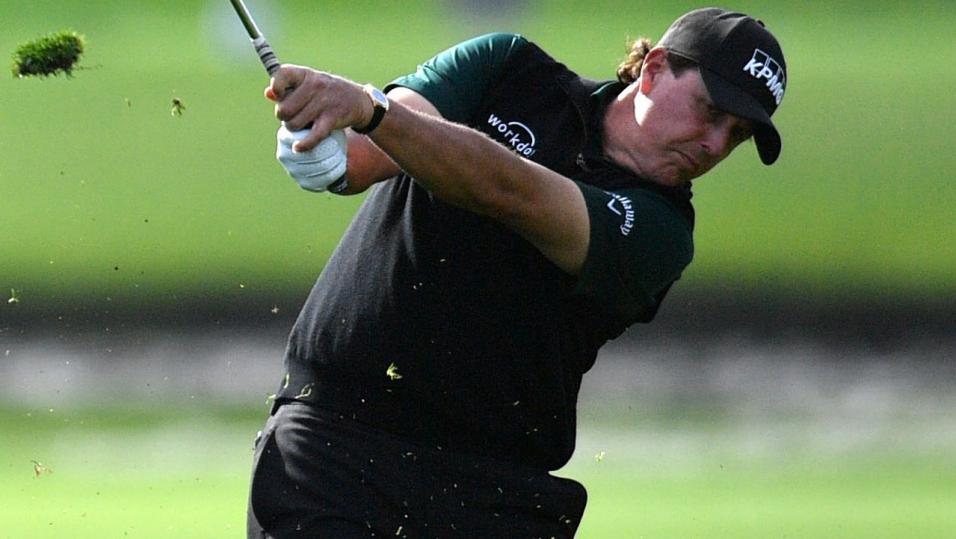 Phil Mickelson - two clear with round to go
Phil Mickelson sits two clear of the field with a round to go in California and our man fancies he's a fair price to convert. Read Steve's final in-play thoughts on the week here...
"Lefty is odds-on across the boards and rightly so – so the odds-against on offer on the exchange is more than fair."
12:05 - January 20, 2019
The course rotation's complete, the cut's been made and Phil Mickelson, who opened up the Desert Classic with a 12-under-par 60 around La Quinta, is still in front. Here's the 54-hole leaderboard with prices to back at 12:00.
Phil Mickelson -22 2.0421/20
Adam Hadwin -20 4.1
Adam Long -19 23.022/1
Steve Marino -18 32.031/1
Patrick Cantlay -17 15.5
Michael Thompson -17 55.054/1
Jon Rahm -16 20.019/1
-16 and 55.054/1 bar
This is the 40th occasion that Phil Mickelson has led or co-led going in to a final round and he has a very good record of converting, with a strike-rate of 64 % (25/39). As Justin Ray's tweet below, which concentrates on his PGA Tour leads only, demonstrates, that's a very favourable conversion rate.
Phil is 22-for-36 in his @PGATOUR career converting final round leads/co-leads into wins. For context, over the last six seasons, only 35% of players with a final round lead/co-lead have won on Tour.

? Justin Ray (@JustinRayGC) January 19, 2019

Of course, we do have to consider that Phil is now 48 and that he doesn't get in to contention as often as he used to so the prospect of aging nerves playing a part is reasonably high but he doesn't sound like he's worried about that being a problem.
"I just love being in contention, having a chance to win, being in the final group, feeling the nerves, feeling that excitement, the opportunity. It's really fun."
Mickelson last won this event in 2004, three months before he won the first of his three Green Jackets at Augusta so to win the title for a third time, fully 15 years after he won it for a second time, would be a considerable achievement and he's bound to feel the heat. But I doubt he'll be the only one to get a bit jittery. Winning is never easy.
The obvious danger is Adam Hadwin, who came in to the event with incredible tournament form figures reading 6-2-3. The 31-year-old Canadian led the tournament by a stroke with a round to go two years ago but shot a disappointing two-under-par 70 that saw him lose by a stroke to Hudson Swafford. That was the last time he failed to break 70 in the event and since that defeat he's now won on the PGA Tour - impressively taking the 2017 Valspar Championship, when another of this week's contenders, Patrick Cantlay, finished runner-up.
I suspect Hadwin will play better than he did in round four in 2017 but given he's looking for his second PGA Tour win and Phil's seeking his 44th, Lefty certainly has the edge when it comes to experience in-the-mix!
Both have vastly more experience over the man alone in third - 31-year-old Web.com Tour graduate and pre-event 1000.0 chance, Adam Long, and he's very hard to fancy. Long was inside the top-five and within three of the lead three times on the Web.com Tour last year but he shot 73, 73 and 70 and finished 10th, sixth, and fourth.
Steve Marino, alone in fourth, has never won on the PGA Tour (lost two playoffs) and is hard to fancy so the aforementioned Cantlay, and the defending champ, Jon Rahm, are the only other serious contenders according to the market but they trail by five and six shots respectively. Both will need considerable help from the leaders or something ridiculously low so neither appear especially attractively priced. If forced to pick one, I'd go for Rahm but it's hard to make up ground in a low scoring event like this and it really is Mickelson's to lose.
Lefty is odds-on across the boards and rightly so - so the odds-against on offer on the exchange is more than fair. Having already got him onside after the opening round, I'm largely sticking with what I have but I have thrown a few pounds at Michael Thompson at 55.054/1. The 2013 Honda Classic winner yesterday shot a seven-under-par 65 at today's venue, the Stadium Course, and that included a double-bogey six at the 15th hole so he's clearly striking the ball well. I fancy Phil will get the job done but that 55.054/1 did stick out as a bit big.
I'll be back tomorrow morning with the De-Brief.

16:30 - January 18, 2019
The third round of the Abu Dhabi Championship has finished and Shane Lowry has pulled three shots clear of the rest. Here's the 54-hole leaderboard with prices to back 16:20.
Shane Lowry -17 1.618/13
Richard Sterne -14 5.85/1
Ian Poulter -12 12.011/1
Pablo Larrazabal -11 32.031/1
Thomas Pieters -10 32.031/1
Soren Kjeldsen -10 100.099/1
Scott Jamieson -10 100.099/1
Max Kieffer -10 130.0129/1
Brooks Koepka -9 48.047/1
Lee Westwood -9 120.0119/1
Paul Waring -9 270.0269/1
-8 and 200.0199/1 bar
This is only the fourth time that Shane Lowry has led or co-led with a round to go and he has a mixed set of results so far. He won the Irish Open as an amateur, having been tied for the lead through 54-hoes, but he went from four clear to three behind at the US Open in 2016 and he even more disappointing at the Turkish Airlines Open in November 2017 when he went from tied for the lead to eighth place, beaten by five, so it could be argued that he's getting worse at closing.
Looking back at this event, five of the first seven winners were leading or tied for the lead through 54 holes but Rickie Fowler, who led by two in 2016, is the only third round leader or co-leader to win in the last six years so it's a bit of a mixed bag.
Three strokes is a decent lead and the fact that Lowry plays well in the wind should, in theory, be a plus too. We're due a breezy day tomorrow and that might help him to focus on his game rather than who's chasing him down but it may make him vulnerable.
Scoring won't be easy in the windy conditions but somebody will go against the grain and somehow construct a score. In benign conditions, when everyone's scoring well it's hard to play catch up and we don't see many off the pace winners but when the wind blows, all sorts of carnage can occur.
Another thing in Lowry's favour is the fact that his closest challenger, Richard Sterne, hasn't been in this sort of position in a long time. The 37-year-old South African hasn't won for six years and he's only been within three of the lead with a round to go once since he lost a playoff on the Web.com Tour in 2014. He sat fourth and three off the lead at the European Open in 2017 but finished 19th, beaten by seven! I don't fancy Sterne's chances tomorrow and I've layed him modestly in the Top 5 Finish market at long odds-on.
Despite not fancying Sterne, I'm not convinced by Lowry either so I've thrown a few pounds at Ian Poulter and Brooks Koepka, who have both shortened up a bit this afternoon since I backed them. Koepka has the game to do something spectacular from off the pace and Poulter's close enough to challenge after eagling the 18th in round three.
10:20 - January 18, 2019
The third round of the Abu Dhabi Championship is well underway, live on Sky and as open as I suspected it might be. I'll be back later with a look at that one at the completion of the third round but in the meantime, given I've had already made a play in-running, I thought I'd better provide a quick update on this week's PGA Tour event - the Desert Classic.
As highlighted in the preview, the tournament is staged over three separate par 72 courses and, as shown below with yesterday's scoring averages, the easiest of the three is La Quinta. And Phil Mickelson made it look very easy yesterday, as he became the first man in history to shoot three rounds of 60 or lower.
Stadium Course - 70.88
Nicklaus Tournament Course - 69.71
La Quinta - 69.42
I can't be the only person wondering how on earth I've let Lefty go unbacked in one of his favourite events given he was matched at high of 65.064/1 but it's no good crying over spilt milk. The question now is should he be backed at 3/1? And I fancy the answer's yes.
As highlighted in the In-Play Tactics section of the preview, a fast start is a big plus in this event and three of the last five winners were in front after the opening round. Phil's opened up with 61 or better three times previously and he went on to win every time and 18 of the previous 46 players to shoot 60 or lower (39%) went on to win. All things considered, the 3/1 looks a fraction big so I've had a small bet to accompany my two pre-event wagers on Jon Rahm and Chez Reavie. They too played La Quinta, and they shot -6 and -5 respectively so they've started nicely enough.

18:05 - January 17, 2019
Despite a slow start to round two, which saw him bogey both the second and third holes, Shane Lowry still shows the way after a two-under-par 70 on day two of the Abu Dhabi Championship. Here's the 36-hole leaderboard with prices to back at 18:00.
Shane Lowry -12 5.85/1
Louis Oosthuizen -11 4.216/5
Richard Sterne -11 17.016/1
Lee Westwood -10 9.417/2
Ian Poulter -9 17.016/1
Tom Lewis -9 17.5
Soren Kjeldsen -9 42.041/1
Scott Jamieson -9 48.047/1
Lucas Herbert -8 55.054/1
Grant Forrest -8 210.0209/1
Gavin Green -8 110.0109/1
Dominic Foos -8 350.0349/1
Brooks Koepka -7 18.017/1
-7 and 30.029/1 bar
As an indication of how well Lowry is hitting his irons, he's six-under-par for the par threes over the first two days. He's made a pair of pars at the fourth hole but he's birdied the other three on both days. Whether he can maintain such an exceptional level of iron play (ranks seventh for Greens In Regulation at halfway) over the weekend without improving his play from the tee (ranks 108th for Driving Accuracy) is debatable though and the stats are against him too...
In the 13 previous renewals of the Abu Dhabi Championship, Martin Kaymer is the only man to convert a 36-hole lead (2008 and 2011) and we've seen players win from as many as four, five and even six strokes back at this stage.
Louis Oosthuizen is the man to beat according to the market and I'm not surprised. He's a great wind exponent so the wind getting up over the weekend (and especially so on Sunday) won't inconvenience him and his stats so far for the week are very impressive. After two rounds, he ranks fifth for Driving Accuracy, fourth for GIR and first for Putts Per GIR. He's definitely the one they have to best but I'm reluctant to side with him at just a shade over 3/1. I know he's only just won the South African Open, and that may well spur him on to more success, but he's far from prolific and almost always flops whenever I back him.
With the forecast suggesting breezy weekend conditions, a winner from off the pace has to be a realistic outcome so I've just thrown a few pounds at a couple of players that look fractionally over-priced, that I know can handle the windy conditions - veteran Dane, Soren Kjeldsen, and Dave Tindall's each-way pick, Alexander Bjork.
There's been a delay for fog over at the Desert Classic but they are underway now and world number one, Justin Rose, is one of those featuring on the Featured Group coverage on Sky right now.

17:10 - January 16, 2019
Despite hitting only four fairways all day, Shane Lowry fired a sensational ten-under-par 62 at the Abu Dhabi Championship this morning to equal Henrik Stenson's course record, set in the inaugural edition, 13 years ago. He's the first man in history to shoot ten-under-par on the European Tour having hit fewer than five fairways. Here's the leaderboard with prices to back at 17:00.
Shane Lowry -10 6.411/2
Louis Oosthuizen -7 7.06/1
Pablo Larrazabal -7 29.028/1
Mike Lorenzo-Vera -7 38.037/1
Richard Sterne -7 65.064/1
Lee Westwood -6 18.5
Martin Kaymer -6 19.5
Ian Poulter -6 25.024/1
Alexander Bjork -6 40.039/1
Soren Kjeldsen -6 110.0109/1
Brooks Koepka -5 10.09/1
Thomas Pieters -5 20.019/1
Fabrizio Zanotti -5 180.0179/1
-4 and 15.5 bar
This is the first time in his career that Shane Lowry has held a clear lead after an opening round. He was tied at the top at the DP World Championship back in 2014 and at the Phoenix Open on the PGA Tour in 2016 but on both occasions he finished outside the top-four at the end of the week.
Leading by three strokes after the first round is quite rare on the European Tour and it's more than two years since we saw anyone do it. Phil Mickelson led the Open Championship by three after day one before eventually losing by three strokes to Henrik Stenson in 2016.
In total, we've seen just 35 players lead by three strokes after round one of a European Tour event since 1996 and the last one to go on to win was Branden Grace at the Alfred Dunhill Championship in South Africa in 2014. He was the eighth player to go on to victory so the strike-rate is a fairly healthy 23%. Albeit, from a fairly small sample size.
Martin Kaymer is the only clear first round leader to go on to take this title, when he won the first of his three Abu Dhabi Championship titles in 2008, although Jamie Donaldson, in 2013, and Tommy Fleetwood, last year, were both tied at the top after round one before going on to win.
All things considered, and as well as he played today, I'm more than happy to swerve Lowry and I'm going to continue to sit in my hands for now.
As highlighted in the In-Play Tactics section of the preview, it's perfectly possible to overcome a slow start and I'm happy to leave the event alone for now, despite not having any realistic involvement.
Pre-event pick and each-way fancy, Matt Wallace, played the back-nine (his front-nine) in four-under-par this morning and he was matched at just 15.014/1 as a result but he was disappointing thereafter, making far too many errors to end the day on -2. And that's the same score that my only other pre-tournament fancy, Eddie Pepperell, shot. I added Eddie after he'd drifted out before the off but I wish I hadn't bothered now.
The Desert Classic, which I've previewed here, kicks off tomorrow and I did think I might add another one or two there before the off but I haven't bothered. I'll be back tomorrow with an assessment of the state of play in Abu Dhabi at halfway.
Abu Dhabi Championship Pre-Event Selections:
Matt Wallace @ 40.039/1
Eddie Pepperell @ 100.099/1 (added after preview published)
In-Play Picks:
Soren Kjeldsen @ 42.041/1
Alexander Bjork @ 90.089/1
Ian Poulter @ 16.015/1
Brooks Koepka @ an average of 70.069/1

Richard Sterne layed @ 1.42/5 Top 5 Finish
Desert Classic Pre-Event Selections:
Jon Rahm @ 8.88/1
Chez Reavie @ 46.045/1
In-Play Picks:
Phil Mickelson @ 4.1
Michael Thompson at 55.054/1

*You can follow me on Twitter @SteveThePunter
Discover the latest articles
Read past articles