The Punter's De-Brief: Wonderful Wilson causes huge shock at the home of golf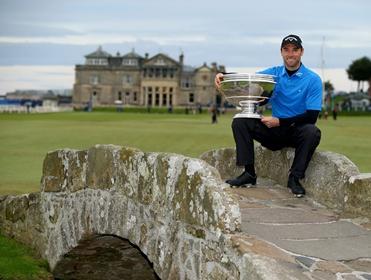 Oliver Wilson with the Alfred Dunhill trophy
Our man looks back at a challenging week's trading at the Alfred Dunhill Championship where 999-1 Oliver Wilson lifted the trophy. Was he lucky or unlucky with his Chris Wood wager? Read his look back at last week's pro-am here...
"Playing three different links courses over four days in varying weather conditions requires an abundance of experience playing seaside golf and the home grown players clearly enjoy a sizable advantage."
Having finished second an incredibly frustrating nine times and playing in his 228th European Tour event, 35-year-old Oliver Wilson has finally won an event. Prior to yesterday's win at the Alfred Dunhill Links Championship, the popular Mansfield man was ranked 792nd in the world. He got into the event on a sponsor's invite after a year in which he'd accrued zero world ranking points and earned just £10k on the Challenge Tour. Unsurprisingly, he was matched before the off at the maximum odds of 1000.0.

My Bets
It's been a strange week but a modestly profitable one. As detailed in the In-Play Blog, I started out by backing Stephen Gallacher and a gaggle of outsiders but I changed tack once the draw was made.
Given the majority of the fancied runners were drawn to start the event at what is traditionally the toughest venue, Carnoustie, and that the event has a history of producing a surprise winner, I decided to lay those trading at less than 100.099/1 that were due to play Carnoustie on Thursday. 
I decided not to go in too deep as I was already committed to going to Wales over the weekend to visit family and a ten hour round trip is not normally conducive with trading! I was able to trade between rounds though and I set off nice and early yesterday to try and get home for the back nine.
That plan was all well and good but with a wife, two kids and two dogs also on the trip, I can't always dictate how things pan out and I can't help but think I was rather fortunate yesterday...
Purely by luck, we happened to make our first stop at a stretch of the M5 where I could get a decent 3G signal on my phone and at an opportune time - just after one of my pre-event picks, Chris Wood, had made back-to-back birdies to hit the front. When I saw that he was trading at 5.59/2 I didn't hang about and layed a substantial chunk of my bet back. I'd entered the final round expecting to incur a small loss so, having been given the chance to put myself into profit while walking the dogs at a motorway service station, I wasn't going to hang around.
Happy that I wasn't now going to lose, I put the phone back in my pocket, dallied around the small patch of greenery and began to wonder how low Wood would trade, how much more I'd lay back, and at what odds, and whether he might actually go on to win. Within a matter of about two minutes I spotted the family meandering back to the car and thought I'd have a quick look at the market, expecting to see little or no change, but Wood was trading at 30.029/1! What on earth had happened?
It doesn't take long to find anything out nowadays and within 30 seconds my Twitter field revealed all.  "Chris Wood informed he has suffered a two-shot penalty on the 1st hole for moving sand near his ball." I read with disbelief. For a minute or two I cursed my luck but I soon began to look at the situation in a completely different light. I'd been very lucky to lay him back under the circumstances.
After that, I layed both Richie Ramsay and Wilson at long odds-on and that put me nicely into profit. With Rory McIlroy hitting odds-on also, and with Tommy Fleetwood trading at a low of 2.166/5, and with an ever-changing Sunday leaderboard, I'm sure if I'd have been around to trade the event more diligently I'd have won more but who knows, maybe guessing what's happening while your dogs are taking a pee at a motorway service station is the way forward! 

What Have We Learned For Next Year?
Having layed the day one starters at Carnoustie for two years running, I think I'm about ready to give up on that plan. Last year's playoff protagonists, David Howell and Peter Uihlein, had both began the event there and this year, the first five home did! I will look to lay the market leaders again though.
Wilson was the biggest shock winner of the event to date but he's by no means the only surprise victor. Few would have fancied Howell last year, Branden Grace was a fair price two years ago and Michael Hoey went off at a huge price in 2011. 
For the 11th time in its 14 year history, someone from England, Scotland or Ireland has won and the locals dominated the places too. Playing three different links courses over four days in varying weather conditions requires an abundance of experience playing seaside golf and the home grown players clearly enjoy a sizable advantage. 
Wilson may well have gone off at a huge price, and rightly so, but apart from current form, all the clues were there. In addition to being English, he had finished runner-up at the event in 2009, and like one or two others in the field, he may have been inspired by last week's Ryder Cup.
I backed Paul Lawrie at a monstrous price because I felt he may have been inspired by watching the Ryder Cup last week, having been in the European Tour just two years earlier, and he did OK, finishing tied for 19th, and one of last week's Vice Captains, Padraig Harrington, started very well too. He didn't mention it as an inspiration at all but Wilson was part of the European Team at Valhalla in 2008 and maybe subconsciously he was inspired to raise his game?

Will Rory McIlroy Ever Win the Alfred Dunhill Championship?
After the intensity of the Ryder Cup and the post-victory party, Rory looked really tired on day one and the ground given up early at Carnoustie may ultimately have cost him the prize this year but he'll surely take this title sooner or later.
This was the third time he'd finished second and the third time he'd traded at odds-on and if he comes here fresh next year, although he'll be very short, he may still be worth chancing - especially if the weather forecast is good.
We return to the Oceånico Victoria Golf Club on Thursday for the eighth staging of the Portugal Masters and in the States, the 2014/15 PGA Tour kicks off in California with the Frys.com Open. I'll be back tomorrow with a preview for both events.
 
*You can follow me on Twitter @SteveThePunter
Discover the latest articles