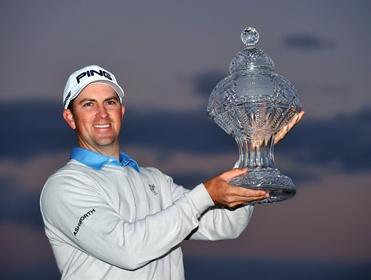 Michael Thompson with the Honda Classic trophy
It's been a good week for Steve with halfway pick, Michael Thompson, winning the Honda but what does he think about Rory's tooth! And what have we learnt for next year? Read this week's review here...
"There's no substitute for hard work and that's what makes the withdrawal so disappointing. That wasn't grafting, it was quitting."
It was another week for the layers, with two unheralded first time winners obliging. Dawie Van Der Walt won the Tshwane Open, having been matched at [280.0] before kick- off and the Honda Classic winner, Michael Thompson, with form figures reading MC-78-MC-MC, was matched at [1000.0] before the off.
My Bets
I put far too much faith in Darren Fichardt in South Africa but thankfully, my halfway wager on Thompson at [26.0] and a small bet on David Lynn to finish in the top ten more than saved the week.
I received a bit of stick on Twitter and on the In-Play Blog for the number of selections I played before the off at the Honda Classic but I'll do the same again if I see it that way. I had a very modest wager on Charl Schwartzel but the remainder of my pre-event picks were all at triple-figure prices and half of them were at odds of over [300.0]! It's not, as described, madness or indeed mental - you can back ten [300.0] shots to every one [30.0] shot, and in an open market where the favourites are too short, I'm more than happy to play it that way.
I felt there was potential for an upset before the off and so it proved, with an [1000.0] shot winning and with three of my 16 trading at single figures throughout the event, my decision to play so many was justified. And had Y.E Yang made his birdie putt from inside nine feet on the 5th yesterday, instead of blasting it by and then missing the return, he would have traded much shorter again.
The only two bets struck yesterday that aren't mentioned in the In-Play Blog, were a lay-back on the winner at [1.80] and a small saver on the runner-up, Geoff Ogilvy, at [15.0], right at the death.

Does Dawie have a murky past?
Twitter is usually awash with congratulatory tweets within minutes of the result of any tournament but that wasn't quite the case yesterday after Van Der Walt's win at the Tshwane Open. There were a few obligatory well dones but they were counterbalanced by an almost equal number suggesting this particular winner wasn't as well received as most. And it all dates back to the Russian Open in 2007 where he was disqualified three days after the event for apparently signing for the wrong score. This link here expands on the story.
There were a number of tweets by current pros that have since, probably wisely, been deleted so I won't quote but outspoken ex-pro Gary Evans' tweet form last night still remains, "My European Tour friends was V D Walt the player who was DQ'd or rather "dobbed in" by his caddy in 2007 for "making a mistake" on his card?"

Rory McIlroy - Toothgate
Much has been made about the wisdom of Rory McIlroy's decision to throw in the towel at the Honda Classic and to blame his withdrawal on toothache and for the hell of it, here's my take on it.
It was a very daft thing to do and most definitely not in the spirit of the game. I very much doubt he had toothache at all but at 23 I'm pretty sure I did dafter things than that, so I'm not going to pass judgement. I do want to examine the state of his game though...
It was fascinating to hear Jack Nicklaus' take on the club switch last night and I suspect he may just know a smidgen more about the game than most. He talked of how he would use different clubs depending on which country he played in and even a different sized ball without too much problem, and he felt that Rory will have no trouble switching manufacturers.
We've seen some pretty awful slumps from McIlroy in the past. Indeed, I was amazed at how poor he played when I followed him at Wentworth last year but he's always bounced back stronger. I struggle to see that playing such a reduced schedule helps and I fancy that needs a big rethink. Club change aside, he finished 2012 in fine fettle and he's just not been the same player after his long Christmas/New Year break.
Although he's won two majors already, he's still very young and we're all still learning about his game. Which courses suit, which conditions does he prefer and maybe, how often he should play? I could be completely wrong but I fancy the extended lay-off and his off the course distractions, whether that's his love-life or sponsorship/media paraphernalia, are more to do with this recent slump than the gear switch.
There's no substitute for hard work and that's what makes the withdrawal so disappointing. That wasn't grafting, it was quitting. I'd like to see him play more events and when he does, I'd like to see him finish them.
Player to follow
Luke Guthrie may have come up shy at the Honda but this young man isn't going to go away, he only finished college in December, AFTER he won back-to-back Web.com events and I suspect it won't be long before he bags one on the PGA Tour.
What have we learnt for next year?
We simply have to stick with the South Africans when the tour visits there again. Their advantage is clearly significant - the last five events there have all gone the way of the locals.
If we return to the Els Course, Copperleaf, look for the big-hitters to prosper. The course is wide open off the tee so accuracy with the big-sticks isn't too important. It's an exposed track so it makes sense to make sure any selections you make can handle windy conditions if forecast.
At the Honda Classic, knowing that you had to be up with the pace provided the profits this year and it has to be considered again next time around. As the winds dry the course scoring gets tougher and tougher and making ground up on the leaders is devilishly hard. There were only 13 sub-par rounds all weekend and this was the fifth year running that the winner was within one of the lead at halfway. PGA National is most definitely NOT a catch-up course.
All the action is stateside this week - the big boys are lining up at Doral for the WGC Cadillac Championship but there's still a fairly strong line-up at the Puerto Rico Open and I'll be back tomorrow or on Wednesday morning with previews for both.