The Punter's De-Brief: Sergio and Stallings both swoop late to win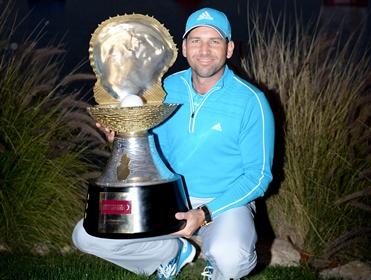 Sergio Garcia with the Qatar Masters trophy
After playoff grief in Qatar, our man's had a poor week and he's kicking himself for not following his instinct at the Farmers Insurance Open.  Read this week's De-Brief here...
"I was guilty of buying into the somewhat understandable hype surrounding Jordan Spieth when I really should have let the stats lead me, and even when I had a chance to change things early on in round four, as my instinct told me to do, I didn't."
After a thrilling final round in Doha, Sergio Garcia emerged victorious at the Qatar Masters on Saturday and Scott Stallings won his third event, when he too came from off the pace to claim the Farmers Insurance Open in California yesterday.  Sergio had started the week a well-fancied second favourite but Stallings had been an almost un-considered 370.0369/1 shot.
My Bets
I have no complaints about the result from Qatar where I finished up as near as damn it all square - thanks entirely to my in-play wager on runner-up Mikko Ilonen - who Sergio beat at the third playoff hole. I layed him early on in round four at 4.1 and again at 2.186/5 once he'd gotten into the playoff. It could have been better but it could have been worse too. 
I was travelling to the Manchester City - Watford Cup tie as the event drew to a conclusion so with an intermittent signal on my phone, I was lucky to lay him before the start of the playoff but frustrated to lose contact,  just as I went to lay him again at heavy odds-on during extra time. 
You have to be philosophical about these things though. Everyone needs a bit of time off now and again and it wasn't until I saw the highlights that I realised how lucky I was that he got into a playoff anyway - he'd holed a lengthy birdie putt on the last. I haven't been so kind on myself about the other event though...
I have no regrets about backing Tiger Woods before the off, I thought his price was more than fair and I don't think anyone could have foreseen his dreadful performance but I do regret how I played it after that. I was guilty of buying into the somewhat understandable hype surrounding Jordan Spieth when I really should have let the stats lead me, and even when I had a chance to change things early on in round four, as my instinct told me to do, I didn't.
It looked as though I might have pulled a rabbit out of the hat with the in-play bet on Trevor Immelman, who I backed before the final round at 450.0449/1. He hit the front after he'd eagled the 6th, was matched at just 18.017/1 in-running and he'd have gone even shorter had he made his birdie putt on the 8th but that narrowly missed and he bogeyed three of his next four holes. He lost by three.
I layed some back on Immelman but I traded nervously all night for some reason. I held a good position on KJ Choi and made a few pounds back on him but I also layed Gary Woodland at just 2.35/4 and backed that back far too early. 
I'd read it well before the final round and had written in the in-play blog how hard it would be for the leaders to convert and yet for some reason I clung to the hope that Spieth would suddenly get himself into gear and kick on. It wasn't my finest hour but these things happen. I was very tired yesterday and so I'll blame it on that and move on but it certainly feels as though I let a golden opportunity slip by.
What have we learned for next year?
Sergio defied the stats in Qatar. He was seven behind after round one and was still the same margin adrift at halfway and having been three back, with ten men ahead of him, he became the first man to win from outside the top-ten with a round to go.
Scott Stallings didn't fit the traditional Farmers Insurance winner mould and can be filed alongside 2010 winner, Ben Crane, but maybe things are changing there. The event used to be repeatedly won by a top-class major winner but Tiger Woods (last year) is the only major champion to take the title in the last six years. Bubba Watson, following victory here in 2011, went  on to win the US Masters and Nick Watney (2009 champ) and Brandt Snedeker (2012) have both threatened to bag a biggy but if either Crane or Stallings were to win a major, it would have to be considered a surprise.
Stallings was a winner for biorhythm fans - a year and one week ago he took a five stroke lead into the final round of the Humana Challenge before folding tamely so he may well be worth keeping an eye on at this time of the year in future. He looks one to follow anyway - he's only been playing the PGA Tour since 2011 and so three wins is a great tally so soon. He's never been a punter's favourite and I can see that continuing and he might be one to play at big odds in future events, as despite that debacle at the Humana, he clearly knows how to get the job done.
The profile of the winners maybe changing at the Farmers but things were as they've been for years in-running.  Stallings was five back at halfway and three behind with a round to go and that was the norm - frontrunners and third round leaders have an appalling record and I'm still kicking myself for not taking on the leaders in earnest yesterday. 
Rory McIlroy and Tiger Woods both tee it up at the 25th Dubai Desert Classic this week and on the PGA Tour, we've got the raucous Phoenix Open to enjoy. I'll be back tomorrow with my previews. 
*You can follow me on Twitter @SteveThePunter
Discover the latest articles