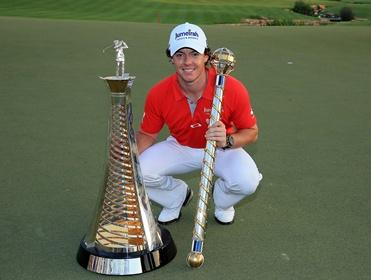 Rory McIlroy with his latest spoils
Our man takes a look back at a tremendous final day in Dubai and forward to next year, when the Tour will have a brand new 'Final Series'... 
"That finish was a joy to watch today and how lucky are we to have Rory? Not only is he the world's best golfer, he's also a really nice lad and a fantastic ambassador for the game."
With a scintillating ten under par 62 final round, Justin Rose looked as though he'd completely rewritten the expected script at the DP World Tour Championship but as it transpired, he'd merely embellished it. What a final day!

When world number one, Rory McIlroy, three-putted the 13th, Rose, who still had the last to play, led by two and hit a low of [1.51] - having been matched in-running at [280.0]! From fully six shots back before the start of play, it looked as though the Englishman had gazumped them all but Rory was having none of it and he finished with five straight birdies to win with two shots to spare. 

It was quite frankly an awesome performance and one I'll remember for a long time. Any doubts about his in-contention temperament, and not so long ago they were perfectly legitimate doubts, have long since disappeared. Rory McIlroy is without doubt the real deal now.

My Bets
We've witnessed something really special today and it's not a day for chuntering about losses, and to be honest, I'm happy enough anyway.

Having backed Luke Donald in-running on day one at [12.0], I layed him back at [1.9] and [2.1] this morning when he led by two and I'm grateful I did. I still lost on the event but it could have been heaps worse.

I was definitely too one-dimensional with my thinking today. I'd convinced myself that nobody outside the leading group of four could win and I just ignored Rose's move until it was way too late, and I'm cross with myself. Big-priced off the pace winners have been my speciality over the years and a small speculative play early on (when he birdied the par 3 6th) would have given me the opportunity to make it a winning week.

Player to swerve
Luke Donald was poor but so, yet again, was Louis Oosthuizen. It may seem ridiculous to crab a major winner but Louis definitely doesn't win enough.  He puts himself into the mix week after week but getting him across the line is hard. After two opening birdies today, he looked a legitimate challenger and was matched at just [3.5] but the challenge soon petered out and I remain reluctant to play him at short prices.

What have we learnt for next year?
Length is definitely a huge advantage. Donald was particularly disappointing today but he'd been at his very best for three days and he still didn't lead outright. His lack of length off the tee meant he had to have every other aspect of his game in tip-top order just to compete and as soon as he started to hit a few loose shots, he was right up against it. 

Rory missed a number of short putts throughout the week and Rose putted deplorably yesterday but because they hit it that much further than Luke, they had some slack to work with. Both men outscored Luke on the par fives and the short par 4 15th typified the difference between Rory and Luke's tasks.  Rory hit a wedge on in round three, Luke a six iron!

As much as Luke likes the track, he'll always be severely handicapped against the big-hitters and in future, Driving Distance will be the first thing I look at.

I have to confess, I really don't enjoy the Earth Course much. It's very dull and far from a stern test - only three players finished the week over par! I can't help but yearn for a return to the excellent and demanding Valderrama but as I point out further down, those days look long gone.

In-Running care required
I hadn't really noticed a problem over the first two days but as the weekend wore on, it became abundantly obvious that the 'live' TV coverage was miles behind. The market was moving minutes in advance of putts being made and even the sluggish European Tour leaderboard was ahead of play. If you're going to bet in-running next year, be careful.

What have we got to look forward to next season?
As the 2012 season drew to a close today, the European Tour announced next year's schedule and as expected, the number of events in Europe has been further reduced. The economic climate in Europe means it's becoming increasingly hard to find sponsorship (only one event in England and Spain for example) so the Tour features more events in the Far East and South Africa and it makes perfect sense. 

I see they've branded it as the European Tour International Schedule and why not. It is an international tour now and I think they have to be commended for making it so. If they hadn't started venturing further afield than Europe, many years ago, you'd have to wonder what sort of state it would be in now.

The biggest change to the schedule is the introduction of a new 'Final Series' much like the US PGA Tour's 'Fall Series'. As it has for the last four years, the Tour will end here at the Earth Course but the BMW Masters, the HSBC Champions and a brand new event, the Turkish Open, will precede it to form the new series.

We have two events to look forward to next week. Lee Westwood will be bidding to make it three in-a-row at the Nedbank Challenge and Tiger Woods will be looking to win his very own World Challenge event in California. I'll preview both events over the next few days but before then, one final thought.

I'm sure I'm not the only golf punter to have lost a few bob this week but sometimes the game goes way beyond the betting. That finish was a joy to watch today and how lucky are we to have Rory? Not only is he the world's best golfer, he's also a really nice lad and a fantastic ambassador for the game. Let's hope the lengthy break he's about to enjoy and the lucrative equipment change doesn't hinder his meteoric rise in stature because he's a joy to watch and I for one can't wait to see him back next year.