The Punter's De-Brief: Rory dominant in Dubai while Brooks goes one better than the field in Phoenix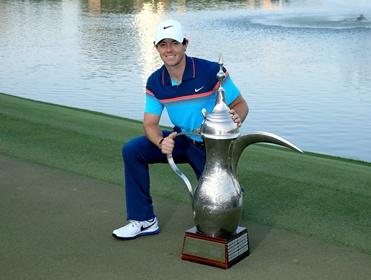 Rory McIlroy with the Dubai Desert Classic trophy
With Rory McIlroy winning with ease and Martin Laird blowing a three-shot lead in Phoenix, it's been a miserable week for Steve but what has he leaned on the way. Read his customary look back at last week's golf trading here...
"When you go after the world's best player and he canters to victory, not only is your wallet lighter but you look a bit of an idiot."
We saw two very impressive winners yesterday. Rory McIlroy kept the field at bay to cosily win the Dubai Desert Classic by three strokes and Brooks Koepka blasted his way past the opposition to win the Phoenix Open. It was Brooks' first win on the PGA Tour and it came just 11 weeks after he won his first on the European Tour at the Turkish Airlines Open.

My Bets
After a lovely week last week, thanks to Branden Grace's win in Qatar, I've had the worst week I've had in a very long time.
As detailed in the In-Play Blog, I layed Rory McIlroy in both the win and top 5 markets in Dubai and I also layed Ryan Palmer in the top 5 market in Phoenix, and he finished tied for second. 
I had a tiny bet on Martin Laird after day one in Phoenix at 32.031/1 and for a while it looked as though he might just save the week. He traded at 1.910/11 with two holes to play but he bogeyed the 17th and double-bogeyed the last and that was that! 

What Have We Learned This Week?
It must be desperately frustrating to be a short-hitting professional golfer. The advantage that the big-hitters enjoy seems to be getting bigger as time rolls on with clubs ever more forgiving and hard hitting. This was another week for the powerhouses off the tee - Rory McIlroy ranked first for driving distance and Koepka third and where they hit it seems to matter not.
Time after time Rory missed fairways in Dubai but just flicked it on to the green to within birdie range. He ranked just 68th for driving accuracy and yet equalled the tournament record score and Koepka ranked just 47th for finding fairways in Phoenix.
It's been happening for a while now but this week demonstrates it perfectly, hitting it miles off the tee is far more important than hitting it straight.
The finishing holes at TPC Scottsdale are quite possibly the best on Tour and late drama is almost guaranteed. The par 5 15th asks a question, even if you find the fairway. Koepka went for the green with his second shot and was rewarded with an eagle three whereas Ryan Palmer took eagle out of the equation when he chose to lay up. 
The par 3 16th is a tense cauldron and the 18th ranked the second hardest on the course again this year but the real game changer is the drivable par 4 17th...
To reiterate the point about length, Koepka actually drove through the green with a three wood! and he was lucky that his ball didn't roll into the water but that brave whack won him the title. He didn't get up-and-down for birdie but Laird made a pig's ear of the hole. He missed the green way right and couldn't go at the pin from the desert with his second. He actually played a decent shot to find the green but then three-putted for the first time in 95 holes to relinquish the lead and we witness drama like that year after year.
Hideki Matsuyama traded at odds-on when he led with four to play but for the second year running he finished poorly and both Laird and of course, Koepka, also traded at odds-on. Bubba Watson was matched at odds-on last year before getting beat, as was Spencer Levin in 2012 and five of the last six third round leaders have been beaten. This is definitely a place to take on the odds-on shots, especially is they still have the dramatic final four holes to play.

Will I Take On Rory Again in Dubai?
When you go after the world's best player and he canters to victory, not only is your wallet lighter but you look a bit of an idiot. I'm not convinced it was the worst move I've ever made though and I'll be looking to take him on again at this course. 
Rory blew the opposition away with a stunning patch of play on Saturday when he played the tougher front-nine in five-under-par but would that have happened had the course played tougher? The absence of course-drying winds kept the conditions soft and we had to wait until Sunday for any sort of significant breeze. I'm convinced that Rory plays the course so much better when it's playing easy and he still hasn't broken 70 here on a Sunday.
He did win easily this year but that doesn't mean he will do so again and it's well worth remembering that he's fallen in heap here on numerous occasions when the weather's been harsher. He'll be even shorter next year; maybe I'll get my money back?

Check Out The Markets On Wednesdays
I've banged this particular drum a few times but its well worth banging. The majority of money matched on Martin Laird before the off last week was at 75.074/1 but he drifted right out to 130.0129/1 on Wednesday and it's a regular occurrence with many players - especially on the PGA Tour. 
If you think someone you fancy is too short on Monday or Tuesday, remember to check again on Wednesday as they could well have drifted to a far better price.
That's more than enough looking back on last week; the quicker it's forgotten the better as far as I'm concerned so I'll be back later with previews for this week's two events - The Malaysian Open and in the States, the Farmers Insurance Open.

*You can follow me on Twitter @SteveThePunter
Discover the latest articles