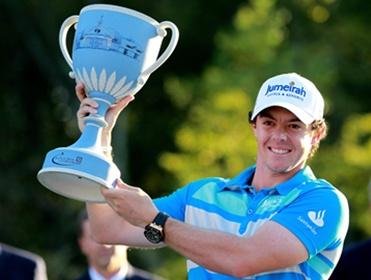 Rory McIlroy – the world's best player with his latest trophy
It's been a losing week for our man, as Richie Ramsay saunters to victory in Switzerland and world number one, Rory McIlroy, edges out Louis Oosthuizen in the states. What have we learnt for next year and is Louis now one to swerve?
"When Rory opened the door wide for Louis on the 71st hole, he walked straight into the frame and when he left it ajar on 18, he made a sizable dent in the wall!"
It was impossible not to be impressed by Richie Ramsay's demolition job at the Omega European Masters on Sunday. He'd led by one through three rounds but as detailed in the In-Play Blog, I didn't fancy him to finish the job off at all and when fellow Aberdonian, Paul Lawrie, eagled the 1st hole to draw level with him, I thought he might crack, but I couldn't have been more wrong. Birdies at the 2nd, 3rd, 7th and 9th followed his birdie at the 1st and when he holed out from the fairway for eagle on the par 5 14th it was game set and match.
At the Deutsche Bank Championship, Rory McIlroy finally got the better of Louis Oosthuizen yesterday after a protracted ding-dong battle. It was the Irishman's fifth PGA Tour victory, taking him to number one in the FedEx Cup standings and cementing his place at the top of official world rankings.
My Bets
It was a frustrating week for a number of reasons. At the Omega European Masters, my two main pre-event picks, Miguel Angel Jimenez and Berndt Wiesberger both finished in the top-11 and both could and perhaps should have fared better.
Jimenez hated the relentless rain he found himself playing in on Thursday and his opening 77 left him with no chance but he followed that up with a 65 on Friday and two rounds of 66 on the weekend. And Wiesberger just threw in too many mistakes, whenever he looked to be getting involved.
I'm a bit cross with myself with how I traded, or should I say didn't trade, the Deutsche Bank Championship. Of my pre-event picks, Phil Mickelson, now employing the claw-grip with his putter, fared best, finishing tied 4th but I really should have made hay last night...
I'd written in the In-Play Blog that I thought Louis Oosthuizen may struggle to convert his three-shot third round lead and so it proved but given I neither layed him nor backed Rory, I made no profit from the South African's lacklustre final round.
I was definitely affected by the result from Sunday and I was undoubtedly being over-cautious. Had I fared better in Switzerland I'd have probably layed Louis but I didn't want to make a poor week worse - though by ignoring the obvious and backing Tiger Woods and Dustin Johnson, that's exactly what I did in the end.
It's easy in hindsight though, I could have gotten stuck into Louis and he could have won and then I'd have turned a poor week into a very poor one. Ramsay had been poor in-contention prior to Sunday's win and I guess that was in the back of my mind too. It's all well and good having opinions on players in the mix but there'll always be plenty of occasions when they do the unexpected.
Player to watch
At the risk of repeating myself, Miguel Angel Jimenez seemingly never plays well in heavy rain and he blossomed once it stopped. He absolutely loves Crans-sur-Sierre and if he trades at a decent price again next year he'll be back in the portfolio.
He's also a winner at Hilversumsche, the venue for this week's KLM Open and I wouldn't be the least bit surprised to see him carrying on from where he left off when he tees it up in the Netherlands on Thursday.

Player to swerve
Louis Oosthuizen was particularly disappointing yesterday and given the form he's in he's quite likely to find himself with another great chance to win soon enough. And if he does, he's worth taking on.
The 2010 Open Champion is still to win in the states and going on last night's evidence he may not do so for a while yet. He and Rory traded blows throughout the last two rounds and it was a great battle to watch but when Rory opened the door wide for Louis on the 71st hole, he walked straight into the frame and when he left it ajar on 18, he made a sizable dent in the wall!
Rory made a horlicks of 17, missing the fairway with his tee-shot and the green with both his approach shot and his chip from the rough beside the green but from position A in the fairway with his drive, Oosty missed the green completely and failed to get up-and-down. And then after a great drive on the par 5 18th, with Rory forced to lay up from the rough, the South African missed the green by miles, nearly knocking it out of bounds. Rory had given him every chance to at least draw level but he failed miserably to do so.

What have we learnt for next year?
It's very hard to make up lost ground at fiddly Crans-sur-Sierre. Since 1997 every winner has been in the top-ten at halfway and no winner has been worse than four shots off the lead after 36 holes.
Eight of the ten winners of the Deutsche Bank Championship have been in-form top-class players. Charley Hoffman in 2010 and Olin Browne in 2005 are the only players to have won that weren't trading towards the head of the market and no outsiders were even in the mix this year. I played umpteen outsiders from the off this year but I doubt I'll adopt that tactic next time around.
Third round leaders seem to struggle. After Louis' flop, Steve Sticker is now the only leader or co-leader to go on to win in the last seven years. Get laying the leader with a round to go!
It's all go again this week and after The Monday finish in the states I'm a bit behind but I'll be back later today with a preview for the KLM Open. We've also got leg three of the FedEx Cup playoff series, the BMW Championship, but it may be tomorrow before I get around to previewing that one.