The Punter's De-Brief: Old and new both shine on Super Sunday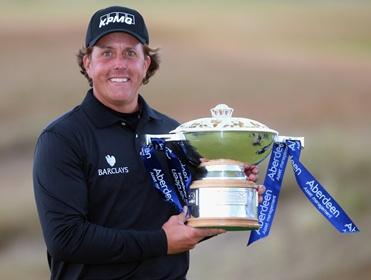 Phil Mickelson proudly displaying his Scottish Open trophy
On a day of high drama, serving to whet out already eager appetites ahead of this week's Open Championship, 43-year-old Phil Mickelson won his first European Tour event on European soil and 19-year-old Jordon Spieth won the John Deere Classic...
"If ever there was a day to demonstrate that it isn't over till it's over, it was yesterday and if you've backed someone at a decent price, you simply have to lock in profits when you get the chance."
Despite double-bogeying the first hole yesterday and hitting 30.029/1 in-running, Phil Mickelson won his first tournament in Europe and his first on a links course, beating Branden Grace at the first playoff hole.
Over in the States, there was even more drama, with Jordon Spieth holing-out from the greenside bunker at the last for his fifth birdie in six holes to get himself into a three-man playoff that he eventually won after five straight pars when both David Hearn and defending champ, Zach Johnson, made bogey.
My Bets
What could so easily have been an extremely memorable and lucrative day, ended up merely a profitable one.
Branden Grace, beaten in the Scottish Open playoff and Zach Johnson, who threw away the John Deere Classic by playing the back-nine in just level par and bogeying the last in regulation play, were both backed at the start of the week in the Fixed Odds markets at odds of 61.060/1 and 23.022/1 respectfully.
Phil Mickelson threw me a lifeline in the Scottish when he failed to par the last to win in normal time and I backed him heavily at 1.84/5 before the playoff began and I layed Zach a couple of times at 1.68/13 and again at 1.330/100, so it was a winning week but it could have been oh so much better and once again, as it's been so many times of late, it was a case of close but no cigar.
Always lay back
On a day that saw plenty of late twists and turns, a number of players traded very short without winning, and if you were on any of them and didn't you make a profit you only have yourself to blame.
At the Scottish Open, JB Hansen traded at 2.8615/8, having been matched at over 500.0499/1 (after recording a nine at the second hole!), my man Grace flirted with odds-on, Henrik Stenson hit a low of 1.402/5, and Phil dipped to 1.051/20 in regulation play before bogeying the last.
Third round leader, Daniel Summerhays, hit 2.01/1 early on yesterday at the John Deere Classic, Zach was matched at just 1.192/11 and when he stood over a four-footer to win at the fourth extra hole, Hearn hit 1.201/5. If ever there was a day to demonstrate that it isn't over till it's over, it was yesterday and if you've backed someone at a decent price, you simply have to lock in profits when you get the chance.

Fortune favours the brave...again.
Phil Mickelson's bravery was rewarded at the first playoff hole when, unlike Grace, he went for the par 5 18th green in two. The pair where barely a yard apart after their drives but Grace adopted to lay-up and when he did so poorly, finding the wispy rough to the right of the fairway, and Lefty found himself a lofted wedge away from the pin on a lovely bare lye in front of the green, the writing was on the wall.
It was typical Mickelson and as much as it pains me, he deserved the win for his bravery in the playoff alone.
Make the most of the market moves at the Open Championship
It's a bit labour intensive, but it's easy enough to secure yourself some great positions for the Open Championship by trading those that get themselves in to contention in Scotland. Phil Mickelson was matched at 38.037/1 last Monday but here he is this morning at just 22.021/1 to back. The same thing happened at the US Open last month when he halved in price after a great warm-up event at the St. Jude Classic.
Henrik Stenson, who stumbled late on yesterday, has seen his odd tumble from 70.069/1 to 50.049/1 and Branden Grace's have also almost halved in the space of a week. He was matched at 150.0149/1 in the Open Championship market on Tuesday - he's now just 80.079/1 to win at Muirfield.
The odds on those that contended have moved far more dramatically than the odds on those that disappointed at Castle Stewart. Ernie Els was a 30.029/1 shot this time last week - after a missed cut at the Scottish, he's now out to 32.031/1.
It really is worth studying the Open Championship form in advance and placing your bets before the Scottish Open as a good week can see the odds decimated.

The Foster Factor
Legendary caddie, Billy Foster, spent a few weeks on Thomas Bjorn's bag last month and the pair very nearly won the BMW International in Germany and it hasn't taken long for Billy and Branden to jell either.
Foster has been on the bag of some of the finest players in the world, most famously he spent almost five years with Seve (winning eight times) and most recently, Lee Westwood, and if we didn't already know how good he was, look at the immediate success he's had with both Bjorn and Grace this summer.
He lost the Westwood job after badly injuring his knee playing football but he wasn't let-go until his long recovery was almost complete last November and it left Foster a little bitter.
"I've been in a dark tunnel. I've only started walking again these last two weeks, so to get the call from Lee just as I was starting to see the light again was unbelievably disappointing and made it harder to take."
It's going to be fascinating to see where Billy ends up but in the meantime, don't be surprised to see him and Grace have another great week when they pitch-up together at Muirfield on Thursday.

Commonsense prevails at the Scottish Open
After far too many years at parkland Loch Lomond, the Scottish Open made the logical switch to the links set-up at Castle Stewart in 2011 and given that the last two winners of the Open Championship both warmed-up at the Scottish Open, I'm amazed that more of the likely contenders at Muirfield didn't play at Castle Stewart this year but I can see that changing going forward.
Aberdeen Asset Management has extended their sponsorship through to 2017 and the event is to travel around more of Scotland's magnificent links courses.
Next year Royal Aberdeen hosts the event so look out for Paul Lawrie and Richie Ramsay, who both know the place intricately. Castle Stewart will get at least one more over the next three years and it looks as though the plan is to establish some sort of regular links rota. That's fantastic news for everyone and the only surprise is that they didn't do it donkey's years ago.
I'll be back later on this morning with my Open Championship preview and my preview for the week's other event, the Sanderson Farms Championship, formerly the True South Classic, will be up tomorrow.

*You can follow me on Twitter @SteveThePunter

Discover the latest articles