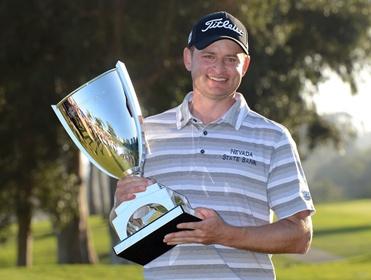 John Merrick with his first PGA Tour trophy
There were a couple of near misses at both events for our man last week but he's still feeling chipper. Read his review of the action here...
"Punters optimistically look to players to make birdie when in reality, they're more likely to make bogey or worse on some holes and being aware of where the tough holes are will give you an edge."
Despite a late wobble, Darren Fichardt won the Africa Open by two strokes and over in the states, 30 year-old, John Merrick, matched before the off at [800.0], won his first PGA Tour title and in his hometown to boot, when he beat Charlie Beljan (matched at [1000.0]) in a playoff to take the Northern Trust Open.
My Bets
Given that Gregory Bourdy (backed at [65.0] before the off) finished second in Africa and Charl Schwartzel (backed at [24.0]) came up one shot short in California, I really ought to feel a bit flat today but thankfully I don't - thanks mainly to a decent night's trading.
As detailed in the In-Play Blog, I backed Fichardt before the final round and then reinvested the winnings on third round leader Bill Haas in the states at [2.42] but that all took a few twists and turns.
To cut a long story short, I layed my stakes back on Fichardt at [1.22], just in case, thus reducing my Haas wager somewhat, and given he bogeyed three of the last five holes, although I needn't have bothered, it wasn't the daftest move ever but my best move was backing out of Haas - although I didn't quite time it right...
It was soon obvious that Haas was struggling. A birdie at the easy 1st hole, despite a poor drive, was followed by a bogey at the 2nd and a fluky birdie at the 3rd. Pars followed at the next two holes but on the par 3 6th hole, both he and Webb Simpson made a mess of their tee-shots and I felt it was time to take action.
When Simpson had six feet for par and Haas 11, I decided to lay my bet back in full at [2.2] but two minutes later I was cursing. Haas bravely rolled his par-saver in and Simpson missed his. Haas was odds-on and I thought I might have messed up but I hadn't - he bogeyed five of his next seven holes!
Far too many trades to detail in full followed on what was a thrilling night. I layed the winner at [2.4] but trades on Hunter Mahan, Schwartzel and runner-up Beljan more than made up for that and by the time the playoff kicked off I was shouting Beljan on for a modest profit on the week. As it transpired it was a modest loss but I still feel chipper.
The 10th hole at Riviera
At just 315 yards, the par four 10th should be a birdie opportunity for all but it really isn't. Going into the final round yesterday, it was averaging 4.16 and was the 11th easiest hole on the course but how to play it is a mystery.
After bogeying it in the playoff to lose the event, Beljan had this to say about it.
"The 10th hole, it's been birdie or bogey all week for me. I've laid up, I've made birdie; I've laid up, I've made bogey. I've gone for it twice now and made two bogeys. But the 10th hole, it's a tough golf hole.
"I don't really have anything good to say about the 10th hole. I think it's a funky golf hole. Obviously that's what Riviera, they are kind of known for the 10th hole. It is a great, short par 4. The green just needs to be a little more receptive. I'm glad that hole is not at TPC Scottsdale around the stadium where you see people making a big time fool of themselves."
If the players don't know which way to play it, I'm sure I don't. Lay-up or go for it? Who knows? The bottom line is its tough - scores vary greatly from eagle twos to catastrophic double-bogeys or worse and caution is definitely advised in-running.

Get to know your hole averages.
Trading on any sport gets tougher year on year and staying ahead of the game gets harder but one thing that the golf markets still don't seem to factor in correctly is the hole averages.
The market always tends to view players with holes to play more positively than it does those further on through their round and on the back nine on a Sunday you can profit from this false perception. For example, last night despite them being on the same score, Hunter Mahan was trading considerably bigger than Charl Schwartzel, when Hunter had played the 12th, the toughest on the course, and Schwartzel had it still to play.
Punters optimistically look to players to make birdie when in reality, they're more likely to make bogey or worse on some holes and being aware of where the tough holes are will give you an edge.
Back Hunter Mahan when trailing with a round to go
I spend much of last night cursing the fact that I'd overlooked Hunter Mahan yesterday before the off. I've written umpteen times about his ability to challenge from off the pace and only last week I'd played him at big odds in the AT & T but for some reason, I completely missed him yesterday.
He started the fourth round six off the lead and trading at a monster price but he was soon in-the-mix after a fast start. The challenge fizzled out with an atrocious finish but he traded in low single-figures first.
We've just the one event to concentrate on but its a cracker - the WGC Accenture Match Play, starting on Wednesday. I'll be back later today or early tomorrow with my preview but in the meantime, here are the brackets. Get studying!