The Punter's De-Brief: Luiten leads them all a merry dance and English gets his maiden win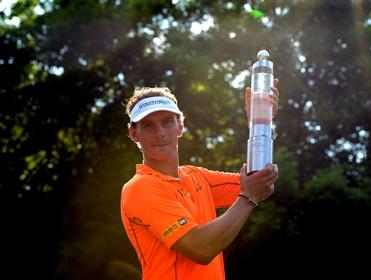 Joost Luiten, winner of the Lyoness Open
There was disappointment for our man, with Shawn Stefani blowing up in round four but he's not too down ahead of this week's US Open. Read his reflections on last week here...
"Every cloud has a silver lining and I was just mightily relieved that Patrick Reed didn't win. I've backed him six times this year at huge odds as I'm a big fan but I didn't have a penny on last week and had he won, I wouldn't have been too chuffed."
We almost had two wire-to-wire winners this week. Joost Luiten sat in second place after round one of the Lyoness Open but was in front by halfway and never headed thereafter and Harris English only dropped out of first place at the end of round three, when he sat second behind Shawn Stefani before resolutely shooting a one under-par 69 yesterday to win the St Jude Classic by two.
Luiten was a well-fancied and well-backed 21.020/1 shot - tipped-up by our very own Mike Norman and Harris English, having been matched for a few pounds at 85.084/1, was generally a 75.074/1 shot.
It's been a year for first-time winners on the PGA Tour so far - English is the ninth to break his duck in 2013.
My Bets
With Stefani, backed at 250.0249/1 before the off, leading with a round to go in Memphis, I was hoping for a monster payout ahead of this week's US Open but it wasn't to be. A scruffy bogey at the very first hole set the tone and the poor chap was quite frankly dreadful - shooting a six over-par 76 to slump to a tie for 7th.
I wasn't too disappointed, when you back a 31 year-old looking for his first PGA Tour success you know there's a high likelihood that nerves will kick-in and play a major part and that proved to be the case. Obviously, with the benefit of hindsight, I should have layed some of my wager off but I was hoping he'd trade a bit lower than the 3.39/4 he went off at before round four before doing so.
Every cloud has a silver lining and I was just mightily relieved that Patrick Reed didn't win. I've backed him six times this year at huge odds as I'm a big fan but I didn't have a penny on last week and had he won, I wouldn't have been too chuffed.
I've no complaints about the result in Austria at all either. I thought Luiten was simply too short to play before the off and worth taking on in-running but although he wobbled a bit early on during round three, it was impossible to fault his resolution yesterday and he was a worthy winner.
As detailed in the In-Play Blog, thankfully, I hadn't got carried away and got stuck into him at odds-on, preferring instead to back the two veterans in the mix instead and had Luiten blown-up that would have been the right tactic. With the younger, less-experienced contenders dropping away (possibly aiding the Dutchman), it was one of my two, Thomas Bjorn, that finished second.

Players to follow
If he continues to go off at huge prices, I'm going to be backing Patrick Reed with regularity again. Watching him trade in single-figures yesterday without a bean on was agony given I've thrown a few pounds at him at humongous odds half a dozen times previously this year. He's a special talent and I can definitely see him winning a PGA Tour event in time.
Another player I was ruing not backing last week was young Austrian amateur, Mathias Schwab. I'd backed him in the event in each of the last two renewals but I left him out this year. He looks to have some game and he'll be back in the portfolio again next time.
I felt a bit sorry for Ryan Palmer, whose chance was lost very early on - on day one of the St Jude Classic. The Texan had been involved in a gruelling US Open qualifying playoff on Tuesday (which he lost) and that must have taken its toll. He was three over-par after only three holes on Thursday but made just two bogeys after that and he spent all week clawing his way up the leaderboard to finish fourth.
Having played a lot of golf and having lost a close friend during the recent Players Championship, he's due some downtime but he's been in cracking form and he might be one to follow after a break.

What have we learnt for next year?
It may just be coincidental but the Tampa Bay Championship in Florida looks like it may prove a useful form line for the St Jude Classic. English and Stefani both finished tied 7th in Tampa this year and Gary Woodland, who won his only title in Tampa and who has been in the wilderness for some time, shot the best round of the day in Memphis yesterday, climbing up into a tie for 18th with an impressive six under-par 64.
The southern states are where to look when it comes to this event. Memphis is hot and steamy and an ability to handle the heat clearly helps. English is from Georgia and Texans have a great record in the event too.
There are some potentially tricky finishing holes at TPC Southwind and there's always a chance that someone will trade low before messing up. This year that someone was Scott Stallings who hit a low of 1.222/9 before he hit his approach shot into water on the par four 15th.
Although it didn't affect the outcome of the event this year, the way Stallings and Phil Mickelson, playing together and eventually finishing tied for second, played the last wasn't uncommon. Stallings didn't do a whole lot wrong and yet needed to make a five footer for bogey and Lefty stuffed his approach to within two feet for birdie. Big changes have and will happen at the demanding final hole.
Look out for a stronger field next year. When interviewed after the event, Mickelson spoke highly of this event as a warm-up for the US Open and he also mentioned that the grass is the same as at next year's US Open venue, Pinehurst.
*You can follow me on Twitter @SteveThePunter
Discover the latest articles