The Punter's De-Brief: Lipsky wins in the Swiss mountains and Billy's the kid in Colorado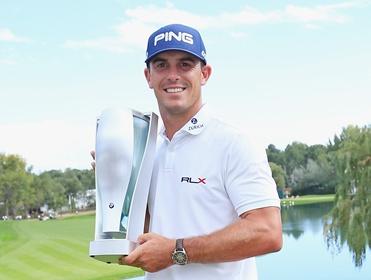 Billy Horschel with the BMW Championship trophy
Steve looks back at an eventful week of golf action on both sides of the Atlantic. It hasn't been a brilliant week for our man but as always, lessons have been learned...
"There's something missing when it comes to the business end of tournaments and taking on Sergio in-contention has been a licence to print money for a long time."

American Asian Tour player, David Lipsky, matched at as high as 280.0279/1 before the off, came within an inch of making an eagle two at the 72nd hole to win the European Masters in regulation play but in the end he made par at the first extra hole to beat Graeme Storm in a playoff. It was his first win on the European Tour and it was the first time an Asian Tour player had even come close to taking the title since it became a co-sanctioned event in 2009.
Ryan Palmer and Sergio Garcia both put up a strong challenge to Billy Horschel in round four but both came up shy. Palmer tied for the lead with Horschel but then hit a wild shank on the 13th hole and dropped away and then Garcia's challenge ended with an atrocious triple-bogey eight at the par 5 17th. 
With just this week's Tour Championship remaining to decide the FedEx Cup winner, Horschel's victory takes him up to second in the farcical standings, one place behind Chris Kirk, who's had such a stellar season and two places above Rory McIlroy, who has struggled for much of the year. I jest, of course. 

My Bets
Yet again, an eventful final round on the European Tour has provided profits but I'm not happy with the way I've performed this week.
Two of my pre-event picks, Richie Ramsay and Jamie Donaldson, sat first and second at halfway and I didn't make anywhere near as much from the situation as I should. Without doubt, I was guilty of hoping for the best instead of trading it as I saw it.
As detailed in the In-Play Blog on Friday evening, confidence about Ramsay's chances were very low and I really should have layed at least some of my bet back. I did at least lay Donaldson in-running at odds-on during round three and that was certainly a help but going against the third round leader, Graeme Storm, early on in round four was the main reason I managed to finish the week in front.
Storm has never been a particularly reliable in-contention performer and I was more than happy to take him on at 2.6613/8 when he faced a tricky up-and-down for par on the 4th hole yesterday.  He failed to make par there and taking him on allowed me to go on and lay others as the drama of the day unfolded. 
Tommy Fleetwood traded at below 3.02/1 and Brooks Koepka hit a low of 1.75/7 so it wasn't difficult to trade myself to a modest profit but I'm cross with myself for not making the most of my initial positions.
Ramsay hit a far too short 3.613/5 as early as Friday and I didn't lay a penny back and I really should have smashed into Donaldson at odds-on with so long to go. Had I got my laying head on earlier, instead of hoping for the best with my pre-event picks, I'd have had myself a fantastic week and it wasn't as if my head wasn't telling me to do so. Oh well, it's always easy afterwards isn't it.
With all three pre-event picks performing poorly and both in-pay selections coming up shy, the BMW Championship was a poor event from start to finish and my modest gains in Switzerland were almost wiped out completely with loses in Colorado. 

What Have We Learned This Week
Unless they decide to tweak the format again, a maximum of 70 players will line-up for next year's BMW Championship but with a little help from the stats, we should be able to narrow it down to a maximum of 20. Since the Playoffs began in 2007, every winner of the BMW has finished inside the top-ten in at least one of the two preceding playoff events. 
If you're betting in-running at the European Masters, especially over the first two days, it's important to be aware of the disparity between the two nines. With two par fives and a couple of drivable par 4s, the front nine is considerably easier than the back nine and anyone starting well on the back nine could be worth siding with, once they've played the really tough par 3 16th hole. 
Par 4 scoring and greens in regulation were yet again the most important stats in Switzerland. The winner, Lipsky, ranked first on the par 4s and second for GIR. Brooks Koepka, who putted very well all week, was the only player in the top-six not to rank inside the top-eight for greens hit, so that's the main thing to focus on in 2015 when the event has a brand new slot in the schedule.
The organisers have lofty ambitions for the tournament and there was even talk of the event becoming a World Golf Championship one day. I can't quite see that ever happening but with the event moving to the week after the Open Championship next year you can bet your bottom dollar we'll get a stronger field.

Keep Taking On Sergio
Sergio Garcia has now led at halfway on the PGA Tour nine times in the last 10 years and he's yet to convert a 36-hole advantage. Having led at halfway again on Saturday, he dropped away this week during round three but rallied yesterday before throwing away his chance at the penultimate hole.
Garcia said his decision not to go for the green on the par 5 17th in two was down to a lack of mental sharpness. "If I was mentally sharp, if I was rested, the way I was at the beginning and middle of the year, I would have talked myself into going for the green but, for some reason, I couldn't. Then, just a mistake after another mistake."
Johnny Miller, who's never frightened to give an opinion, was a little less diplomatic, "That's just a flat choke. I don't know what goes on up there but he's missing something."
I'm with Johnny, there's something missing when it comes to the business end of tournaments and taking on Sergio in-contention has been a licence to print money for a long time.
And finally, just one last reflection on a great week of golf - how lucky are we to have Rory McIlroy? The man is a real star and a huge asset to the game. Not only did he make this lad's day by giving him his ball after the sixth hole, he had this to say on Twitter after recording his second consecutive four-putt on the par 3 12th. 
"Just in case anyone missed my 4 putt yesterday, I had to do it again. Decent week overall, still in a great position going to Atlanta."
Not only is he the best player on the planet, he smiles in adversity, interacts brilliantly with the fans and is self deprecating. Anyone else not missing Tiger?
We're off to the Netherlands this week for the KLM Open and as already stated, Atlanta for the FedEx Cup finale, the Tour Championship, and I'll be back either later today or tomorrow with my previews.

*You can follow me on Twitter @SteveThePunter
Discover the latest articles