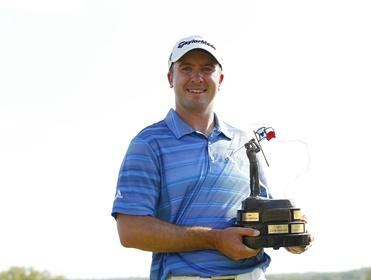 Martin Laird, Valero Texas Open champ
Our man looks back on the action in Texas with pointers for Augusta on Thursday. Whose game looked sharp in Texas? And was playing the Valero Texas Open a good decision for runner-up Rory McIlroy?
"Rory only ranked tied 63rd for Strokes Gained Putting and if he's going to be wearing his first Green Jacket this time next week, he's going to have to putt better at Augusta than he did this week in Texas."
With a bogey-free, nine-under-par, course-record equalling 63, Martin Laird swooped late to take the Valero Texas Open, one week after missing the cut in Houston. Although a proven multiple winner, Laird was matched as high as [190.0] before the off, and given last week's MC was his fourth of the season, even given his top-ten finish at the TPC San Antonio on his only other start there two years ago, that price wasn't excessively big.
The Scots win finally put an end to the American dominance of the PGA Tour this season - this was the 15th event of the year and the Americans had won the first 14, but it didn't put an end to the tough run of results for us punters.
Following recent wins by John Merrick, Michael Thompson, Kevin Streelman and D.A Points, victory here for a seemingly woefully out of form Laird was just the latest hard-to-find winner in a series of unfathomable results. Pre-event favourite, Rory McIlroy finished second.

My Bets
Charley Hoffman, backed before the off at [60.0], hit the front briefly during round three and rallied very strongly when his race was run yesterday but the Hoff apart, it was a poor week for my pre-event picks. And to say I made a mess of it in-running is a sizable understatement.
As detailed in the In-Play Blog yesterday, I didn't fancy third round leader Billy Horschel to convert and I didn't like the second favourite, Jim Furyk, either. What I really should have done was just lay the pair and leave it at that but no, I tried to be clever and it backfired badly.
I backed Rory McIlroy, Ryan Palmer and K.J Choi before my final Blog update and I even added Marcel Siem at a ridiculously big [170.0] just before the off but although I considered doing so, I didn't get Laird onside.
He birdied two of the first three holes before the TV coverage started and was soon trading at a single-figure price, having been available to back at [75.0] before kick-off. There were a number of occasions when I almost took the plunge on him in-running but the bottom line is I didn't.
I don't think I've ever read a final round so well and traded it so poorly and I spent most of the evening feeling sick.
Bob Estes and Padraig Harrington were supposedly also in with a chance with a round to go but I really didn't fancy them at all. Laird on the other hand, was someone I looked at closely and I really should have backed him.
What have we learnt for next year?
You can make up for a really poor start at the TPC San Antonio. John Huh came from a mile back after day one last year and this time around Marcel Siem got to within one of the lead yesterday having been five over-par early on in round one.
PGA Tour maiden, Billy Horschel, had an unbelievably good week with the putter and that kept him up there all weekend but the other five players filling the first six places were all very experienced multiple winners. This is a long hard week on a tough track in tricky conditions and experience counts for plenty.
I went with players with course form from the off this year and I'll probably do so again next time. Jim Furyk and Rory McIlroy contended this year, having never played at TPC San Antonio, but they're both top-drawer and although out of form, Laird did at least have a top-ten finish here to his name.
The wind wasn't as severe as it had been on Saturday but even so, scoring improved markedly in round four. The organisers clearly went for an easier set up on Sunday, and birdies were flying in on the back-nine.
Laird birdied the last three holes, McIlroy birdied every other hole form the 12th in, and just to rub salt into my gaping wounds, Hoffman played the last eight holes in six under-par! Expect some strong finishes next year if the wind isn't blowing too hard and look to take on anyone trading at odds-on with a slender lead and a number of holes to play.
Stats-wise, Laird was the third winner in-a-row to rank inside the top-ten for Driving Accuracy and nobody played the par fives better. The Scot played the long holes in ten under-par.

Did Rory McIlroy make the correct decision to play?
I questioned whether playing here, on a tough course in testing conditions, was the right thing to do beforehand. It was a gamble, but a gamble that's paid off handsomely. As the week wore on his game warmed up nicely and although he'll be slightly frustrated that he didn't win, he'll shake that disappointment off in no time and he'll turn up at Augusta in good heart.
It was something of an afterthought and maybe even a panic decision but it matters not now, his week in Texas has enhanced his chances of major success considerably and if you've backed Rory for the US Masters, I suspect you feel considerably happier about his chances than you did this time last week.
There is one negative though, Rory only ranked tied 63rd for Strokes Gained Putting and if he's going to be wearing his first Green Jacket this time next week, he's going to have to putt better at Augusta than he did this week in Texas.
Who else is going to be happy going to Augusta?
The two key stats at Augusta are putting and scrambling, so who's going to be happy with their prep run in Texas?
Charl Schwartzel and Peter Hanson both finished inside the top-12 for Strokes Gained Putting and Padraig Harrington and Jim Furyk both scrambled well, ranking 2nd and 7th respectfully but the three eye-catchers that ranked highly for both keys stats were K.J Choi, Matt Kuchar and David Lynn.
Choi ranked 7th for SGP and tied 8th for Scrambling, Kuchar was 20th for SGP and 6th for Scrambling and David Lynn could be of interest in a number of markets next week, after ranking 8th for both stats.
I'll be back later with a look at a few different US Masters markets and with my preview for the year's first major.
*You can follow me on Twitter @SteveThePunter