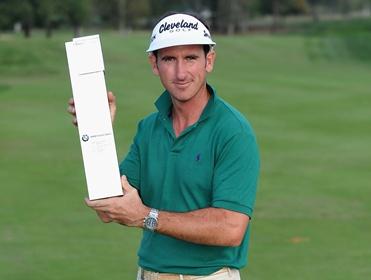 Gonzo with the BMW Italian Open trophy
There's heartbreak for Steve as last week's in-play punt denies this week's monster-priced pre-event pick, Garth Mulroy, but he's picked himself up, dusted himself down, and learnt the lessons. Read his final thoughts on the BMW Italian Open here...
"At one time I genuinely considered Gonzo the most reliable closer on the European Tour and he showed yesterday why I once held that opinion. He was absolutely awesome and (through firmly gritted teeth) he thoroughly deserved the victory."
After a quite brilliant ding-dong battle on the back-nine yesterday, Gonzalo Fernandez-Castano eventually got the better of Gath Mulroy to take the BMW Italian Open title, leaving yours truly in quite a poor mood...
My Bets
I'd written in the In-Play Blog yesterday morning that if Fernandez-Castano went on to win that I'd be pretty much inconsolable and that a sustained period of intense sulking would follow and it hasn't been easy to lift my spirits.
I'd wanted the Spaniard for a very nice win at last week's KLM Open, where he was tied for the lead entering the final round, but he played some atrocious golf. This week I wanted Garth Mulroy, backed before the off at a whopping [240.0], for an even bigger win. And look who denied me.
Last Sunday Gonzo hit the ball sideways, putted like Blind Pugh, shot three over-par, and made just one birdie all day. Yesterday, he missed nothing, made six birdies in seven holes and shot eight under. Mulroy did very little wrong, shooting a five under-par 67 to reach a total of 22 under-par, a score I thought would be enough to take the title, but it wasn't to be.
I'd written on day one of the In-Play Blog how cruel this event has been in recent years but yesterday really did take the biscuit.
Anyway, that's more than enough moaning, especially as I did at least make a decent profit. I layed some Mulroy back at [3.8] early on during yesterday's final round, enough to cover the weeks stakes, but with several players in the mix it was hard to shift anymore. Nicolas Colsaerts hit the front and went favourite when he eagled the 8th hole and Martin Kaymer looked to be mounting a charge at one time too.
It was agonising watching Gonzo make putt after putt - he really did miss nothing, but when he finally missed a long birdie putt on 15 and my man holed to tie the lead I saw my chance and layed Mulroy at [2.2]. Then after both men had found sand off the tee on 16, Mulroy, who looked to have the better second shot, went odds-on, trading at a low of [1.8]. I layed a bit more and I also backed Gonzo, who by this stage was the only other possible winner, at [2.3].
Mulroy, by a country mile, would have been a better result than Gonzo, so when he found "Deatsville" as Wayne Riley on Sky called it, in the greenside bunker on 17, it was very disappointing but at least I'd been given, and taken, the opportunity to make a nice profit.
I could have won more if I'd levelled things off further but I'm not going to moan about it. I'm trying desperately to see a half-full glass this morning. I've made a profit and it's time to move on.
What have I learnt?
I was far too anti-Gonzo and it's an error I've made before with others. Its one thing to write off non-winners after they've been very poor in-contention but the Spaniard was a multiple winner. There's no doubt at all that he's been far from convincing in the mix for a few years now but last week's dire effort clearly inspired him. As I'd written on Friday night in the In-Play Blog, at one time I genuinely considered Gonzo the most reliable closer on the European Tour and he showed yesterday why I once held that opinion. He was absolutely awesome and (through firmly gritted teeth) he thoroughly deserved the victory.
He wasn't the first and he won't be the last to make a real mess of things one week, only to get it right the next and I must learn from it. Having said all that...
Player to swerve
Nicolas Colsaerts remains a player to treat with plenty of caution - mainly because he's so short all the time. He made a great start to round four yesterday and when he tied for the lead after eagling the 8th his price collapsed to just a shade over [3.0] but he then went and pared the easy 9th before making back-to-back fives on 10 and 11. In a matter of three holes he'd gone from firm favourite to also ran and it was far from the first time it's gone like that for Colsaerts. He definitely gets nervous in-contention and he's very often over-bet too.

What have we learnt for next year?
I've tried and failed to find out whether the BMW Italian Open returns to Royal Park I Roveri next year but if it does, make sure you take a good look at the South African challenge.
After his first round on Thursday, Richard Sterne said, "The trees and the feel of the whole golf course seems like it's in South Africa, so I'm enjoying it" and I'd mentioned before the off about the form correlation between here and Leopard Creek, home of the Alfred Dunhill Championship.
If it does return, although it's been the cruellest of venues to me so far, I'll still be pleased because I feel like I've got a good feel for the place now. Driving distance is advantageous but it's all about putting. Gonzo, unsurprisingly, topped both the Putts Per round and Putts Per GIR stats.
For in-running purposes, the course is nicely divided. The 1st is a gentle opener but the next three are all tough. Players make their move between holes 5-11 and the 18th is an easy reachable par five.
That's enough of last week; it's been exhausting and ultimately bitterly disappointing. Oh how different my spreadsheet would look had Gonzo won last week instead of this but such is life and there's no use in crying over spilt milk etc.
Onwards and upwards and all that, this week we've the FedEx Cup decider, the Tour Championship, to look forward to and I'll be back tomorrow with my preview.