The Punter's De-Brief: Gomez causes yet another shock for golf backers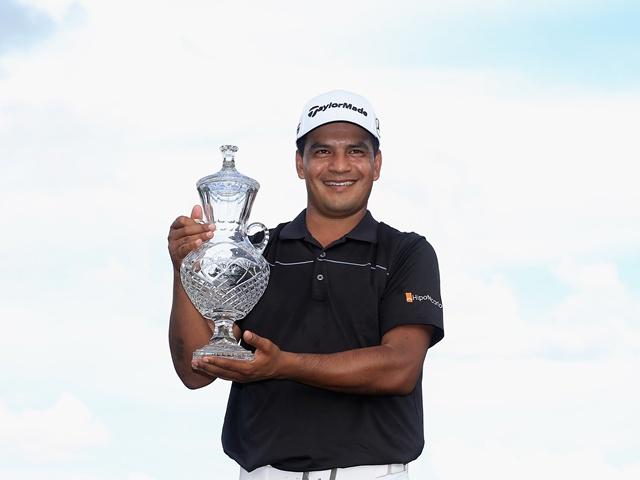 Fabian Gomez – the surprise winner in Memphis
Steve takes a look back at last week's golf where for the third week running an outrageous outsider has won on the PGA Tour...
"It's been a tough year for us golf backers so far. Prior to Alex Noren's victory in Sweden last week, we endured a five week stretch on the European Tour which saw four huge priced contenders win and we've now had three straight winners on the PGA Tour that were almost impossible to find."
With both Gregory Bourdy and Rafa Cabrera-Bello fluffing their lines in front, Bristol's Chris Wood cruised to a comfortable two-stroke victory at the Lyoness Open in Austria yesterday, having trailed by five at the start of the day.
Wood was a warm second favourite behind home hero, Bernd Wiesberger, before the off but the easy winner of the FedEx St. Jude Classic, Fabian Gomez, was considerably harder to find...
With nothing better than a tied 27th to his name throughout 2015, the 36 year old Argentine was looking for his first win on the PGA Tour and he was understandably matched at as high as 610.0609/1 before the off.
The only time Gomez had ever looked liked winning before, at the 2013 Puerto Rico Open, he'd made a complete mess of the final hole to let in Scott Brown, but he was sensational yesterday - shooting a superb, nerveless, four-under-par 66.
It's been a tough year for us golf backers so far. Prior to Alex Noren's victory in Sweden last week, we endured a five week stretch on the European Tour which saw four huge priced contenders win and we've now had three straight winners on the PGA Tour that were almost impossible to find...
Gomez's win follows 890.0889/1 shot Steven Bowditch's success in Texas and 770.0769/1 shot David Lingmerth's unfathomable victory at the Memorial Tournament.

My Bets
It's not been a good week but I've got no complaints. Chris Wood was an obvious winner in Austria but he looked an awful price before the off given he'd only ever won once before and even though he'd shown glimpses of form on courses that correlated well with TPC Southwind, Gomez was never one I considered before the off.
John Hahn in Austria and Will Wilcox in Memphis, who were both backed at triple-figure prices, did OK finishing tied 6th and tied 12th but neither were ever close enough to trade to profit. Hahn was especially frustrating as he triple-bogeyed the first hole of the tournament and missed about ten makeable birdie opportunities yesterday.
As detailed in the In-Play Blog, I didn't get any further involved before the final round in Austria and I thought the leaders would struggle in Memphis.
I felt Bourdy might have enough in hand to get across the line at the Lyoness Open but after he'd birdied the 1st he was awful. He was matched at just 1.564/7 so I'm kicking myself for not taking him on but I did at least lay Cabrera-Bello at odds-on. The Spaniard always struggles in-the-mix and I managed to lay him at 1.910/11. He hit a low of 1.84/5 but he was always up against it after bogeying three holes in-a-row around the turn. Laying Cabrera-Bello helped a bit but I didn't do any good in Memphis where I felt the front two were also worth taking on...
I layed both Gomez and Greg Owen a number of times last night at 2.89/5 or less, thinking both may struggle badly at the business end of the event but I was wrong. Matt Jones hit a low of 3.1511/5, and I layed him as well at 4.57/2 so it was far from a complete disaster but I'd have been better off if I'd have just left it alone.

What Have We Learned For Next Year?
I really like the Diamond Course in Austria - it's a proper test and one that suits the better players. I find it difficult to take short prices before the off on the European Tour but this is somewhere where concentrating on the market leaders may make sense.
All the winners here had already won on the European Tour and with a round to go, the three players at the top this year - Bourdy, Cabrera-Bello and Wood - had all been fairly well-fancied before the off.
Bourdy crumbled badly in front but he was far from the first to do so. It's a hard place to make the running and the last two winners have now trailed by at least five strokes with a round to go so taking on the leaders is another strategy to explore.
At the FedEx St. Jude Classic, the fact that the two third round leaders finished first and second once again highlighted that in contrast to the event in Austria, this is not an easy place to make up late headway. Very few winners come from far off the pace so stick to the front-runners and we can add the Puerto Rico Open as a great form guide too.
Before the off, I highlighted the McGladrey Classic and the OHL Classic as the two events that correlate best with the FedEx St Jude Classic and given Gomez finished 8th at last year's McGladrey (his best finish this season prior to yesterday) that's been franked, but I probably should have mentioned the Puerto Rico Open. That event correlates very well with both the McGladrey and the OHL Classic and form there has really been boosted this year.
As already stated, Gomez and Brown fought out the finish in Puerto Rico two years ago and Brown went into yesterday's final round just a stroke off the lead.

Keep Opposing the Odds-on Shots in Europe
I've lost count of how many times at least two players have hit odds-on on the European Tour and yesterday it was three yet again. After a very late night on Saturday, thanks to a 40th birthday party, I was a bit groggy and still catching up on my In-Play Blog when the leaders started out in Austria and I definitely wasn't at my sharpest so I'm not going to beat myself up about it but I didn't make the most of the trading opportunities.
Chris Wood had this to say after his victory when asked if his second victory was harder than his first and it sums up perfectly why taking on anyone at odds-on before the back-nine on Sunday often pays dividends.
"No, I'd say the opposite. I was leading by a couple going into the last day there and it's always hard to sleep on a lead and you have a lot of things go through your mind. Today I was five behind going into the last day and I just had a goal of breaking 68 and I thought that would be close, depending on what Greg did obviously."
The standard of golf on the European Tour isn't as strong as it once was and even the best players can be opposed given the right circumstances. Winning is really difficult and winning from the front even more so. Had Wood slept on the lead and Bourdy been five back it may have been the Frenchman holding the trophy and whoever wins, there's nearly always at least a tiny bit of luck involved.
Wood played some superb golf but he got very lucky on the 1st hole when his approach looked destined for the lake and when he hit the front he hit a drive so wild on the 15th hole that it even missed the adjacent fairway!
The US Open starts on Thursday and I've already previewed the event here but I'll be back with a look at some of the side markets tomorrow and Wednesday.

*You can follow me on Twitter @SteveThePunter
Discover the latest articles