The Punter's De-Brief: Ernie holds firm in Munich and Duke is the King in Connecticut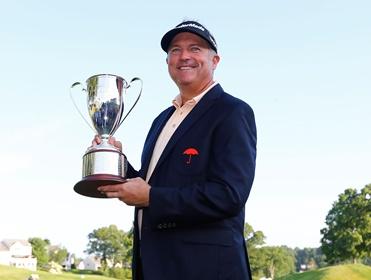 Ken Duke, the 2013 Travelers Champ
Steve endures yet another near miss, this time with Thomas Bjorn, but profits were made at the Travelers Championship where his plan to get laying comes off. Read his post-event analysis here...
"The trends are very strong - five of the last 11 winners have been in their 40's and Duke was the sixth first-time winner in eight years."
With a third successive 69, Ernie Els secured an impressive wire-to-wire win at the BMW International Open. The event had promised much but with nobody putting in a Sunday charge from the pack, it never really developed into the exiting finale I'd expected. In stark contrast, the Travelers Championship had everything...
Bubba Watson traded at just 1.282/7 before finding water from the 16th tee and berating his caddy, Teddy Scott. He recorded a chance-destroying triple-bogey 6 there and after a brave 10 foot par save on the same hole, 44 year-old veteran, Ken Duke, looking for his first PGA Tour win and matched at 680.0679/1 before the off, pared the last two holes to set the target. Duke was matched at 1.011/100 when his only plausible threat, Chris Stroud, missed the 18th green with his approach shot, but then in yet another twist, Stroud, himself a pre-event 180.0179/1 shot, chipped-in to take the event to extra time.
Stroud was made favourite to win the playoff but it was Duke's day. On the second extra hole he hit his approach shot to tap-in range and that was that.
My Bets
Hot on the heels of Zach Johnson at the Crowne Plaza (3rd), Bernd Wiesberger in Sweden (3rd), Shawn Stefani in Memphis (led with a round to go and backed at 250.0249/1), and Phil Mickelson (tied 2nd and backed at 40.039/1) at last week's US Open, Thomas Bjorn became the latest player to rattle the crossbar and send me one step closer to the funny farm.
The Dane, backed before the off at 38.037/1, didn't quite hit odds-on after he'd birdied holes 3, 4 and 5 to take the lead but he looked the man to beat at that stage. With the field thinning out I thought he was by far the likeliest winner and I'm sorry to say I didn't make the most of my position.
As detailed in the In-Play Blog, I dabbled with laying at both events this week and I could have secured a healthy profit had I dumped even more of my wager when he traded at close to 2.01/1 but I had it in my mind that I wanted to wait until he hit odds-on - an eventuality that didn't materialise - and in the end, Ernie's win meant I incurred a very small loss.
My mood wasn't great but it certainly improved later on, when the Travelers Championship panned-out almost as well as I'd hoped it would...
Having layed both Duke and Stroud during round four, what I really wanted was someone from way back to post a score and the likes of Ryan Moore, Russell Knox and J.J Henry, all had a chance to do so but didn't.
With hindsight, I regret not laying Bubba even more heavily but by the time he birdied the 15th I had a profitable book and after the disappointment of the BMW, securing a nice profit for the week had been my sole aim. Had I layed Bubba further at long odds-on, the chances are I would have then layed Duke at long odds-on and then subsequently Stroud in the playoff, so I'm a little bit aggrieved I didn't keep going and make it even more profitable but I can't complain. By the time the playoff started I levelled my book off completely and went to bed.
What have we learnt for next year?
The BMW International returns to Golf Club Gut Lärchenhof next year with the plan being that the event alternates between Cologne and Munich. I think that's a real shame as I much prefer this week's venue, Golfclub München Eichenried but given the switch, I'll concentrate on the Travelers.
Having highlighted before the off that outsiders, first time winners and veterans do well at the Travelers, Ken Duke, who combined the three perfectly, was an obvious choice and I can't believe I didn't back him! I jest of course, Ken has had more than his fare share of opportunities to win before now and I was very surprised to see him finally bag one. Take a look at the start of this clip, which shows his remarkable birdies at both the 10th and 13th holes and you have to wonder about the powers of fate, but joking aside, the trends are very strong - five of the last 11 winners have been in their 40's and Duke was the sixth first-time winner in eight years.
The key stat this week, and by some distance, was scrambling - Stroud ranked 1st and Duke 3rd. The course was defenceless on day one but as the event progressed the course firmed up and the flag positions were made trickier and getting up-and-down with regularity was essential.
I may well throw a few pounds at some outrageous long-in-the-tooth outsiders next year for a bit of fun but whether I do or don't, I'll definitely be laying again. Day one went against me a bit this year with many of the players layed before the off getting off to good starts but it was still a profitable tournament and I'll be trying it again for sure.
This week's events are the Irish Open and the AT & T National and I'll be back tomorrow with my previews.

Discover the latest articles