The Punter's De-Brief: Comeback hero Holmes holds on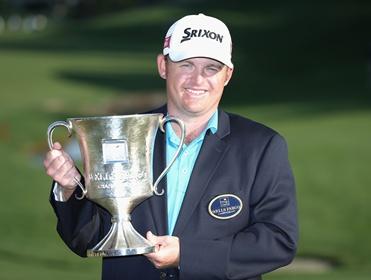 J.B Holmes with the Wells Fargo Championship trophy
After much adversity, J.B Holmes has won his third PGA Tour title but was the result any good for The Punter and what have we learned for next year? Read Steve's look back at last week's golf action here...
"Following lots of changes to Quail Hollow, length off the tee could now be a huge advantage. Holmes, who topped the driving distance stats for the week, bludgeoned his way round the course yesterday, often missing the fairway but that mattered not."
Felipe Aguilar finished his fourth round in Singapore yesterday with a pair of twos - a birdie on 17 and a holed-out approach shot for eagle on 18. And that was on the back of five birdies in seven holes, so he shot 28 on the back- nine as he pinched The Championship title from Denmark's Anders Hansen, who had led by five at one point! The disgruntled Dane was matched at just 1.121/8 and he must have felt as though he'd been mugged by the red-hot Chilean.
At the Wells Fargo Championship, despite bogeying two of the last three holes, J.B Holmes, a pre-event 90.089/1 shot, managed to hold his nerve to win by a solitary stroke over Jim Furyk, who much earlier in the day, had carved his way through the field with a bogey-free seven-under par 65.
It wasn't a great result personally but it was impossible not to be at least a little pleased for Holmes, who has had to overcome all sorts of adversity. Christened John, Holmes chose to be known as J.B, (John Bradley) so as not to be confused with a famous porn star of the same name and in addition to his unfortunate name, he overcame dyslexia as a child. Although as he's said himself, that wasn't much of an inconvenience in his line of work, and this win, his third, has come after a string of serious injuries... 
After shooting 80 at the Players Championship just three years ago, suffering with vertigo symptoms, Holmes was soon diagnosed with Chiari malformation, a brain dysfunction, and he needed two sessions of surgery for that before last year having surgery for a broken ankle, and for a bad dose of tennis elbow. As comebacks go, this wasn't a bad one and he deserves much credit.

My Bets
When I updated the In-Play Blog yesterday morning I wrote that a profit was assured after in-play pick, Aguilar, had luckily obliged in Singapore but as it transpired, after opposing Holmes fervently, I managed to wipe out the earlier gains.
I felt Holmes got more than his fair share of luck early on and I felt he might crumble late on but it wasn't to be. Although he bogeyed 16 and 18, a brave par save from nine feet on 17 secured the win and that was that. In addition to having Phil Mickelson onside from the start, and all the in-play bets listed in the In-Play Blog, I also backed Jim Furyk at an average of 8.415/2.
Lefty was matched at just 2.526/4, Furyk hit a low of 3.39/4 and Jason Bohn, who was backed at 40.039/1 before round four, was matched at just 4.03/1 before he finished the event double-bogey - bogey, so it wasn't as though I wasn't without a chance of getting a result. 

What have we learned for next year? 
As The Championship is set to return to Korea next year I won't bother to look at the result in Singapore closely. The chances are we won't return to Laguna National anytime soon.
Following lots of changes to Quail Hollow, in preparation for the US PGA Championship to be held here in 2017, length off the tee could now be a huge advantage. Holmes, who topped the driving distance stats for the week, bludgeoned his way round the course yesterday, often missing the fairway but that mattered not.
In order to allow more light to the fairways and more importantly, to the recently changed greens, the trees that frame the fairways have been thinned out considerably and it didn't seem to matter how wayward players were off the tee, a line into the greens was found. As someone who had taken on Holmes, it was somewhat irritating to see him miss the fairway a number of times but for it not to make any difference. Time after time I thought he was heading for trouble but every time he was wayward he was still able to play to the green. 
To his credit, when he did miss, Holmes was usually able to save par and he ranked 6th for scrambling. Runner-up Furyk ranked 1st and Justin Rose, who finished 5th, ranked 2nd so the two stats to consider going forward could be driving distance and scrambling. 
The final three holes averaged a combined 1.05 over-par for the week so getting with anyone that's safely in the house makes sense. I made Furyk a big winner last night and I felt a little aggrieved that he didn't get into a playoff at least, which would have allowed me to trade to a nice profit. 
Holmes was the first third round leader to win since Anthony Kim in 2008 but I can see normal service resuming again next time. It's a hard place to lead and the fact that nobody within four strokes of him managed to break par was a significant plus. 

Look for the bounce-back boys in round four
I haven't got any official stats on it unfortunately but it's worth once again highlighting the value in backing players that have had disappointing third rounds and dropped out of the lead. Last week I profited from backing Lin Wen-Tang in Indonesia at 25/1 and this week, Aguilar saved what could have an awful week. 
Lin Wen-Tang had led at halfway before he dropped out of the frame following a disappointing third round and it was a similar tale with Aguilar. He hit the front during round three but then played the final six holes in three-over par. Both players would have thought their chances to win had gone resulting in a reduction of pressure and expectation and both played dramatically better in round four as a result. 
Conversely, Phil Mickelson showed in no uncertain terms just how difficult it is to back up a low third round. Lefty had powered through the field on Saturday with his nine-under-par 63 but with the increased expectation that created, he flopped badly yesterday, shooting a dreadful four-over-par 76. Don't be too keen to dismiss someone that's dropped out of the lead on Saturday and don't be too enthusiastic about those that have shot up the leaderboard in round three. 

Credit where it's due
Brendon de Jonge showed this week why withdrawing after a poor first round isn't always the best plan of action. Fellow pros often pullout after a slow start, citing flu, toothache or even allergies, but the burly Zimbabwean deserves much credit for sticking to the task in North Carolina this week. After an opening round of 80, De Jonge, who still hasn't secured the PGA Tour title his talent deserves, followed up with rounds of 62, 68 and 69 to finish tied for 6th.  Quite an effort I'd say. 
As good an event as the Wells Fargo Championship was, we've an even better one to look forward to this week and I'll be back soon with my Players Championship preview, as well as one for the this week's European Tour event - the Madeira Islands Open.

*You can follow me on Twitter @SteveThePunter
Discover the latest articles