The Punter's De-Brief: Casey the Dutch master but it's Billy who bags the big bucks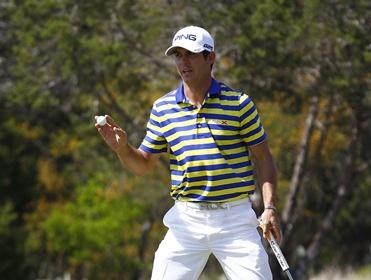 Billy landed the mega millions in the US
Our man looks back at last week's golf action where the 'Nappy Factor' looked to have a big bearing. Read our man's look back on a successful week here...
"These guys are already obscenely rich, how much they win at the end of a long season doesn't seem to make them fight like tigers to climb up the leaderboard and not for the first time, a number of players appeared completely disinterested."
Paul Casey backed up his superb Saturday 62 at the KLM Open yesterday with a birdie blast from the blocks that saw him race to four-under par through just seven holes. He played the remaining 11 in level par but with overnight leaders, Romain Wattel and Richie Ramsay, both shooting over-par rounds, Casey was able to cruise to a comfortable one-stroke victory over tournament specialist Simon Dyson.
At the Tour Championship, Billy Horschel shot a respectable two-under par under the utmost pressure at East Lake and with all his challengers falling by the wayside that was more than enough to secure both the Tour Championship and the FedEx Cup cosily by three strokes. 

My Bets
The KLM Open was an event to forget but backing Horschel to win the Tour Championship makes that an easy enough task.
With hindsight, I really should have taken on Wattel on day four but I had a few things on over the weekend and couldn't give the event the attention it really required. The Horschel result was a cracker though so I'm not for a second complaining.
As detailed in the In-Play Blog, I'd layed my stakes for the week back on Horschel during round three and I also backed Justin Rose yesterday morning and had I left it alone after that the result would have been good but not fantastic. Fortunately, I went back in again during round four and backed Horschel again early on at an average of 5.69/2.
Very occasionally I look at the market and just scratch my head at what I'm seeing. Last night was one such occasion. Although Horschel had done absolutely nothing wrong at all, when Jim Furyk, who hasn't won in four years now, was still trailing Horschel he was trading at a much shorter price and Rickie Fowler, another perennial loser, was also well-backed early on. The net effect was Billy drifted to a price that was far too big and thankfully I backed him back and improved my lot considerably.
I layed him back again later on at an average of 1.4640/85 but it was a great result all told and a lovely way to end the PGA Tour season.

What Have We Learned This Week?
Yet again a short-priced favourite got turned over on day four on the European Tour. Winning is never easy and if, like Wattel was this week, you're looking for your first European Tour win and you've no experience of leading a European Tour event, things can unravel very quickly.  The Frenchman was matched at just 1.674/6 in-running and in the end he just managed to cling on for a share of fifth place. 
Taking players on with a profile like Wattel in such circumstances regularly pays dividends in the win market but it's worth taking a look at the Top-5 market also. When they crack they do so in no uncertain terms and a tumble out of the places is always a possibility.
Stick with the Brits at Kennemer and the English in particular - their record at the course is starting to look very strong. Six of the last seven course winners have been Brits, and four of the six have been English. And just to emphasize how much they seem to love Kennemer, the first four home yesterday were all English.
The 'Nappy Factor' was at play at both events this week and it remains an angle worth exploring. Paul Casey was playing in his first event since the birth of his son on September 1 and I'm convinced it had a bearing on his win. This is what he had to say after his third round on Saturday.
"Becoming a father just a few days ago, I'll be honest and say this probably isn't the most important thing right now and isn't my immediate focus, or all of my focus. There have been times the last few days I would rather have been at home, but although I will be committed tomorrow, I will maintain that carefree attitude. Whether I win this golf tournament or not, I'll get to go home to my new baby."
Then after he'd secured the title, he had this to say: 'I'm absolutely over the moon. First tournament as a dad, first win as a dad. I'm a bit emotional to be honest. It was very carefree for three and a half days, because if I played well or poorly I was going to go home to see my baby, and then I got to the last three holes and I thought I really want this. Just having my first child was a great distraction. I had no expectations coming into the week and I did very little practice, even flying in Wednesday morning to spend as much time at home as possible, so I was apprehensive as to how I was going to play."
Having just become a father, golf wasn't the be all and end all and that seemed to make a difference and with Horschel expecting his first child in less than a fortnight, you have to wonder whether that had a bearing on his relaxed performances over the last few weeks.
At the Tour Championship, I felt beforehand that following the in-form players was the way to go and I'm absolutely convinced now. Following Horschel's wire-to-wire win at East Lake, three of the eight Tour Championship winners since the beginning of the FedEx Cup Series began in 2007 have now won following victory in the third playoff event, the BMW Championship, and it was the third year in-a-row that someone had won two of the four events. And that's now happened six times in eight years.
There may only ever be a maximum of 30 players in the Tour Championship but most of them are fatigued and not as sharp or as focused as they've been all year. These guys are already obscenely rich, how much they win at the end of a long season doesn't seem to make them fight like tigers to climb up the leaderboard and not for the first time, a number of players appeared completely disinterested. Stick with those with something to play for. Horschel was the third Tour Championship winner in-a-row that entered the final week placed in the top-five of the standings and therefore with his destiny in his own hands and that's a trend that I can see continuing. 

Is The Fed-Ex Cup Series a Farce or a Success?
Given Horschel ended the season with a second at the Deutsche Bank Championship and back-to-back victories, even though he'd been disappointing for much of the season and it's supposed to reward season long play, it's hard to knock the eventual series winner, but I really don't know what to make of the playoffs. We very nearly got the awful scenario of Jim Furyk winning the Tour Championship and Billy Horschel or Chris Kirk winning the FedEx Cup with just one victory all year and that would have been obscene given the year Rory McIlroy has had. 
The Irishman has been superb for most of the year and although he'll be disappointed not to have won the FedEx Cup, we're very lucky to have him. He's nothing like Tiger Woods. He isn't so single-minded or anywhere close to as ruthless but then neither were any of the greats that preceded Tiger. If anyone wanted to be ultra critical, they could argue that Rory gave up a chance to win in each of the last three weeks, and yesterday's round in particular was disappointing, but he's only human and that's what endears him to the public. 
Nobody before and I doubt anyone ever will again win tournaments with the efficiency Tiger once did but that's not everything. As great as he was, Tiger has had a price to pay for his success. A ruined marriage and a ravaged body before he reached 40 wouldn't have been in the plan and you won't hear anyone say what a joy he is to interview either. 
I loved the Tiger era, it made life very easy. He'd turn up at his favourite courses and we'd all line up at the payout window. The last three weeks have shown we probably won't ever get that with Rory but we can look forward to his amiable attitude, his revealing interviews, his warm smile and a very long career. I suspect Rory's learned a lot from Tiger and although he won't do so with the merciless effectiveness that Woods did, Rory will still be winning events well past his 40th birthday and we can't say that's a given with Woods. 
There's plenty of life left in the amiable over 40, Jim Furyk, but with Woods and Phil Mickelson seemingly in decline the world order is changing fast. With Rory winning two majors this year, Jason Day and Richie Fowler ever presents every week, and now Horschel winning the FedEx Cup, the game has changed much this season and in many ways for the better. 
The 2014/2015 PGA Tour season starts again on October 6 with the Frys.com Open but we've plenty to look forward to before then. The Ryder Cup is now less than a fortnight away and before that we've the Wales Open to enjoy, staring on Thursday, and I'll be back tomorrow with my preview.

*You can follow me on Twitter @SteveThePunter
Discover the latest articles