The Punter's De-Brief: Brilliant Byeong bags the BMW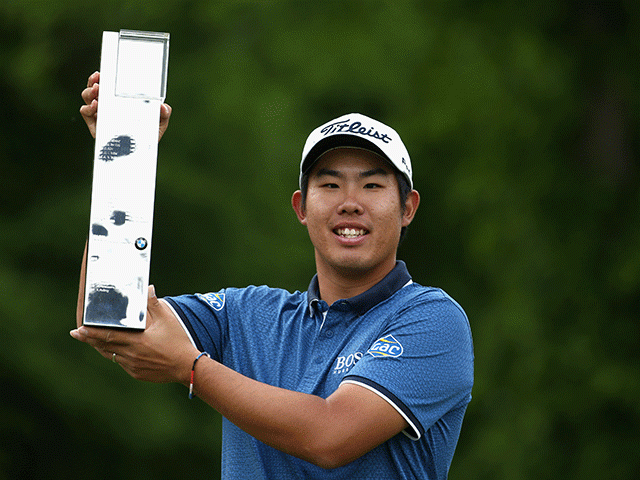 It's an impressive first professional win for Byeong Hun-An
Steve rounds up the results on both major tours where Byeong Hun An won a biggie in his first victory as a pro and Chris Kirk came home ahead of the field at rain-sodden Colonial Country Club...
"Wentworth is a venue many pros simply don't take to and even though he's won here, I think that's the case with Rory and he'll be worth taking on next year."
For the third time in three weeks, an outsider has obliged for the layers on the European Tour. Following wins for 400.0399/1 shot, Ashun Wu, at the Volvo China Open, and James Morrison's success in Spain at odds of 500.0499/1, rising Korean star, Byeong-Hun An, who was matched at 220.0219/1 before the off, has absolutely romped home in the BMW PGA Championship by a phenomenal six strokes on his first ever start at Wentworth.
Byeong-Hun An wasn't the surprise winner his odds suggested though. Challenge Tour aficionados have been warning anyone who would listen that An was a graduate to keep on the right side of this year - and Matt Cooper specifically mentioned his name in connection with the BMW on these very pages back in November. The Korean has been playing consistently well for much of the season but I went in a week too early and backed him to win in Spain at odds of 65.064/1 though our own Paul Krishnamurty called it brilliantly here.
Over in the States, pre-event 40.039/1 shot, Chris Kirk, holed a seven foot par save on the 72nd hole to win the Crowne Plaza Invitational at a rain-soaked Colonial Country Club.

My Bets
It's been a bit of disappointing week, despite tipping-up 125/1 shot, Chris Wood, who finished 4th, in the each-way column. I'm sorry to say, I didn't have anywhere near enough on the Bristolian and I only just finished the week in front.
At the BMW PGA Championship, none of my other picks did any good and I didn't get anything out of any of my in-running wagers either but I'm trying to be philosophical about it all. The most frustrating aspect of the event was that with other things on, I wasn't able to trade the event in-running on Saturday and I wasn't able to get stuck into Francesco Molinari when he went odds-on. The Italian is far from reliable in-contention and had I been trading on Saturday, I definitely would have opposed him at odds-on. He was matched at a low of 1.68/13.
Being preoccupied elsewhere probably cost me in the States too as I decided to follow the trends blindly and get with two of the leading three in-running - Ian Poulter and Charley Hoffman. As detailed in the In-Play Blog, my thoughts behind backing those two was that making up ground would be really difficult with such demanding rough and on the evidence of Saturday's scoring when nobody bettered 66. I have to confess to being completely oblivious to the fact that tees were moved up yesterday and that lift, clean and place was in operation, all over the course. Even in the rough!
Poulter and Hoffman played so poorly that they'd have been beaten whether placing had been in operation or not, but had I known they'd changed the playing field so radically, I'd have adopted different tactics so it will go down as a bit of an error on my part.
To add to my frustration, pre-event pick, Jason Bohn, backed at 150.0149/1, was beaten by a stroke but, given he never traded below 7.26/1, I didn't manage to make a penny out of the wager. He had a 15 foot birdie putt on the 14th to go two strokes clear and had he made that I'd have no doubt been able to lay some back but he missed it and then bogeyed the 15th, having need to two attempts to get out of a fairway bunker.

What Have We Learned This Week?
Byeong-Hun An was the first Asian to win the BMW PGA Championship and he was just the third debutant to win, so he didn't exactly fit the trends very well. The Korean, who was also the youngest ever winner of the US Amateur Championship, back in 2009, is going to be a major force in the game for years so following him going forward, rather than first-timers in this event, is the way to go.
Rory McIlroy is one to swerve at Wentworth. He may have won here 12 months ago but he's now missed three of his last four cuts and I don't think the course suits him. Rory will return to Surrey each year as he knows it's his responsibility to do so and he's not going to let the European Tout down by not making an appearance, but it's not a track that suits his eye.
When he won last year, Thomas Bjorn gave up a five-shot third round lead which helped tremendously, and he was so completely and utterly focused, I think he would have won anywhere. He'd just split from his then girlfriend, the tennis player Caroline Wozniacki, and with the papers full of stories on the break-up Rory found peace and tranquility on the course. His focus was noticeably strong and that's perhaps not always the case...
This was Rory's second missed cut in three months. Contrast that with Tiger Woods, who only missed three in total between 1998 and 2008. At his best, I think Rory is a better player than Tiger but he has a long way to go to match his determination and consistency, especially when the course doesn't quite suit.
Having won the WGC-Match Play, finished 8th at the Players Championship and won the Wells Fargo over a three-week stint, the general consensus was that he was tired and maybe he was but I'm pretty sure he's not keen on Wentworth and he appeared to give up in a fashion that Tiger never would have.
Wentworth is a venue many pros simply don't take to and even though he's won here, I think that's the case with Rory and he'll be worth taking on next year.
I'll be back later today with previews for both the Irish Open and the AT & T Byron Nelson.
* You can follow me on Twitter @SteveThePunter
Discover the latest articles