The Punter's De-Brief: Brilliant Bernd breezes to victory in Paris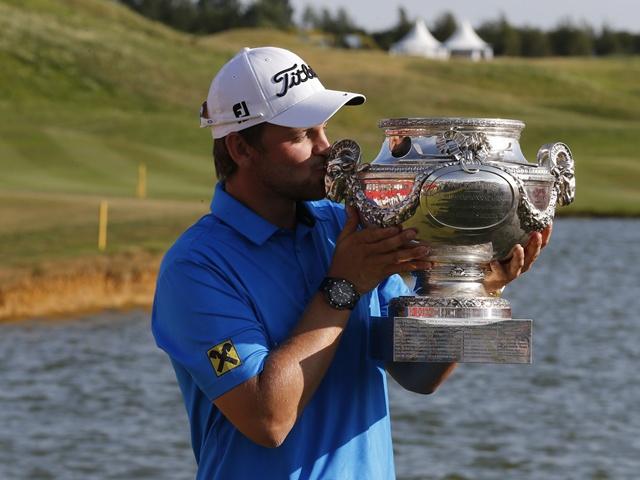 Bernd Wiesberger celebrating his brilliant victory in Paris
It's been a long hard week for Steve with vigorous trading at both events but how did he fare? Read his weekly look back at last week's golf action here...
"We've now had six renewals of the Greenbrier Classic and all six events have been won by someone trading at triple-figures before the off – Lee went off at 170.0169/1. No first, second or third round leaders have ever gone on to win and none of the four that were tied for the lead with a round to go this year even made the top-five."
Martin Kaymer looked the man to beat when play was halted for bad weather in Paris yesterday but when the action resumed, Bernd Wiesberger went bonkers - birdying four holes in-a-row to take a firm grip on the trophy that he never looked like relinquishing. Having been picked out before the off at 33/1 by Mike Norman, Bernd's victory puts the each-way column into a very healthy position for the year. Having amassed profits of over £250 last year, we're now up to £524 for 2015!
Over in the States, Danny Lee won a four-man playoff at the Greenbrier Classic at the second extra hole after both he and David Hearn had brilliantly birdied the 18th hole to eliminate Robert Streb and Kevin Kisner. It was the popular 24-year-old Texas-based, Korean-born, New Zealander's first title and it could be the first of many. Lee became the youngest ever winner of the Amateur Championship in 2008 (a record since broken by An Byeong-Hun) and in 2009 he became the youngest ever winner on the European Tour when he won the Johnnie Walker Classic, so with this victory, he's starting fulfil his immense potential.

My Bets
I've just about stopped punishing myself for cocking up yesterday's Open de France and I've actually finished in front for the week but I really do feel like I made a mess of things in Paris...
I was very keen to take on third round leader, Jaco Van Zyl, and the man sitting in second, Maximilian Kieffer, before the final round, and both men struggled but I foolishly (with the benefit of hindsight) took on Wiesberger as well. The Austrian hadn't been convincing in-the-mix but he hadn't been anywhere near as bad as Van Zyl and Kieffer and it was just a frustrating outcome all round.
Looking back, I'd once theorised that Paris National correlated well with Black Mountain in Korea, where Wiesberger had won his first title, and I'd backed him to win the event previously. I'd also written only two weeks ago that I felt he was "in better form than his figures suggest" so to have then opposed him feels just plain daft. And to make it even more frustrating, I toyed with backing him back during the weather delay...
Van Zyl and Kieffer had both doubled in price by then, Kaymer, who, as detailed in the In-Play Blog, I had gotten onside after round two, was trading at less than 3.55/2 and Wiesberger was trading at around 7.06/1 - which was bigger than I'd layed him at. I messed about with the figures and saw that I could have put myself in profit at that stage and just let my bets on James Morrison and Kaymer run but I didn't and I even made matters worse in-play!
It's very unusual on the European Tour, and especially at this venue, for someone to take control like Bernd did and to not at least have a wobble coming in so I layed him again at 2.89/5 and at 1.75/7, hoping to get a chance to back him later, or lay others, as the drama unfolded but he put the pedal to the metal and just powered away. He briefly looked like bogeying the 17th after a scruffy drive and poor approach and, having backed him before the off at 75.074/1, I thought I may be able to lay Morrison back then, if the gap had closed to just one stroke, to level things off but it didn't happen unfortunately.
So to summarise, a player I'd backed to win the event previously, that I felt was in decent form, beat my 75.074/1 pre-event pick and I did my conkers on it! Thankfully I got it all back and more later on but this game can send you to the very edge of sanity at times.
Spooked by the afternoon's performance, I was pretty cautious with my trading at the Greenbrier, with the goal being to recover earlier losses. I did manage that with ease and even ended up winning but had things gone better in Paris, I'd have been far more aggressive I'm sure.

What Have We Learned For Next Year?
The Greenbrier Classic is proving to be a fantastic event to lay the favourites, both before the off, and in-play.
We've now had six renewals and all six events have been won by someone trading at triple-figures before the off - Lee went off at 170.0169/1. No first, second or third round leaders have ever gone on to win and none of the four that were tied for the lead with a round to go this year even made the top-five.
Not much happened early on yesterday but as the finishing line neared, all sorts of drama unfolded and plenty of opportunities to trade arose. Justin Thomas looked like the man to beat when he birdied the 8th hole and he was matched at just 2.26/5 but he lost the plot completely after that. He bogeyed the 9th but looked like recovering on 10 when he played his approach to just 13 feet but from there he took four whacks with the putter to record a double-bogey and he made an eight at the 16th before eventually finishing tied for 54th!
Chad Collins hit a low of 2.447/5 when he hit the front with just two to play but he suffered a heartbreaking finish with back-to-back bogeys at the last two holes to miss out on both the title and a spot in the Open Championship.
The four that played out the playoff were all matched at less than 3.02/1 in regulation play (Hearn hit odds-on) and David Lingmerth traded very short also so it was great day to just keep laying. As stated earlier, I wasn't aggressive enough but by the time the playoff started I was very nicely in front and I can't wait to get laying again next year.
It's going to be a busy week this week with the Scottish Open and John Deere starting on Thursday and now that Rory McIlroy looks doubtful for the Open Championship, I have plenty of work to do there. I'll be back later today with my John Deere preview.

*You can follow me on Twitter @SteveThePunter
Discover the latest articles