The Punter's De-Brief: Far from elementary for Johnson as both Holmes and Watson falter at Doral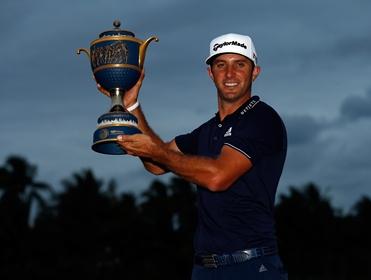 Dustin Johnson with his second WGC trophy
Our man looks back at last week's busy week of golf with lessons learned for next year...
"The remodelled Doral hasn't been well received by many golf fans with most claiming the long and tough track is just boring and a bit too hard but that doesn't bother me one iota. From a punting perspective it's a gift in the schedule."

J.B Holmes was matched at 1.4640/85 during Saturday's third round and he didn't look a short price at 1.75/7 as he took a five-stroke lead into yesterday's final round of the WGC-Cadillac Championship but his advantage was very soon reduced to nothing.
Bubba Watson began the final round like a man possessed and as Holmes frittered away strokes, Bubba picked them up and by the time he teed off on the par 5 8th hole, Watson had hit the front. He was matched at just 1.341/3 as both Holmes and Dustin Johnson appeared to be faltering but it all changed on the back-nine.
Bubba's game deserted him completely, as he bogeyed three holes in four from the 11th, as Holmes improved to play the back-nine in level par, having played the front in three-over, but it was time for Dustin to shine, as the languid Carolinian finally found his putting touch. An 11 foot par save on the 14th and a 14 foot birdie on the 15th sealed the deal before he parred his way calmly in to win by a stroke over Holmes, and by two over Bubba.
Dustin has now won two WGC events and at least once on the PGA Tour eight years in-a-row. Surely it's only a matter of time before he wins his first major championship?
The Africa Open was a much duller affair with 100.099/1 shot and third round leader, Trevor Fisher Jr, cruising to an impressive five-stroke win over Matt Ford and the most dramatic finish of the week was in Puerto Rico, where another 100.099/1 shot, Alex Cejka, at the age of 44 and at the 287th time of asking, won his first PGA Tour event.
Cejka had looked to have blown his chance on Saturday when he dropped four shots over the last four holes in round three and when he posted a seven-under par total, alongside Arnold Palmer's grandson, Sam Saunders, and Tim Petrovic, he looked destined to come up a shot shy. Emiliano Grillo, who was matched at just 1.11/10, and Jon Curran had stood on the par 5 18th tee on -8 but both men bogeyed the hole and when Cejka birdied the 18th at the first time of asking in extra time, the trophy was his.

My Bets
There was nothing to shout about in Africa or Puerto Rico but having backed Bubba before the off and Dustin after round one, profits were made in Florida.
With Bubba trading so short, I managed to bolster my winnings by laying him during round four and by the time the leaders played the last half a dozen holes, even a Holmes win would have been OK.

What Have We leaned For Next Year?
It's fair to say that the remodeled Doral hasn't been well received by many golf fans with most claiming the long and tough track is just boring and a bit too hard but that doesn't bother me one iota. From a punting perspective it's a gift in the schedule.
The first three home were all renowned big-hitters and you can eliminate the majority of the field immediately on account of them just not being long enough for Doral. It's always been a bombers paradise but it looks even more so now they've toughed it up. And that wasn't the only reliable trend to be reinforced this year - yet again, being up with the pace proved to be essential. Holmes came within a stroke of being the third wire-to-wire winner in-a-row and Dustin was never outside the top-six.
In stark contrast to Doral, East London is a lovely short old course that plays vastly differently in varying winds and for the seventh year in-a-row, an African has prevailed at the Africa Open. Knowing this quant old venue intricately is a massive plus and although Europeans have placed in five of the seven renewals, that extra little local knowhow has proven pivotal once again.
At the Puerto Rico Open, Cejka was the first non-American to win and he was the first winner not to have a connection with the South East of America. Cejka fled communist Czechoslovakia with his parents at the age of nine and settled in Germany and his career began in Europe but he was a fairly typical winner in that he's very much a veteran and I wouldn't give up on the South East connection and I'd definitely concentrate on Floridians.
Had Saunders or Curran won, six of the eight winners would have had a strong connection with the Sunshine State, so there's definitely something in it. Of course if you can find another veteran Eastern European defector then go for it but you might just struggle.

Players to Swerve
Two players caught my eye with their abject in-contention play yet again. Nobody would have lived with Fisher Jr yesterday but Jaco Van Zyl didn't give himself much of a chance when he missed form inside two feet for birdie at the 1st and from the same distance for par at the 2nd and in Puerto Rico, pre-event favourite, Brendon de Jonge, soon lost the plot after he'd hit the front. Both men went off at prohibitive odds last week and both were pretty much hopeless in-the-mix again and they both need to be swerved going forward.
We've just two events again this week and it'll be tomorrow morning before I publish my Tshwane Open preview but I should be back this afternoon with my Valspar Championship preview.

*You can follow me on Twitter @SteveThePunter
Discover the latest articles