The Punter's De-Brief: Willett wins in style as sensational Spieth dominates again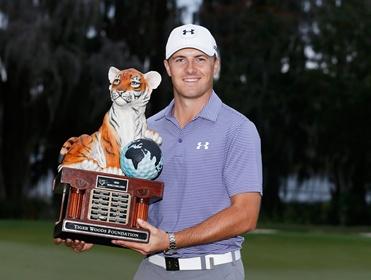 Jordan Spieth with Hero Golf Challenge trophy
Steve takes his customary look back at last week's golf action where two young players won in fine style and Tiger Woods finished last...
"Success breeds success and now Danny Willett has won so handsomely and that he's injury-free, we could see the likable Sheffield man go on to bigger and better things."
Danny Willett hit just one of 14 fairways on Thursday and he was matched at a high of 85.084/1 in-running after a lacklustre level par front nine on Friday but he didn't look back after that - playing the back nine in four-under-par to get within four at halfway before weekend rounds of 65 and 66 saw him pull away from the field to win by four.
It was an utterly impressive effort but it almost paled into insignificance compared to Jordan Spieth's performance in the States. 
I was daft enough to dismiss the 21-year-old's chances, thinking he might be weary after winning the Australian Open the week before but he led from start to finish and it was over by the end of round three. His 26-under-par total was a tournament record and he beat the runner-up, Henrik Stenson, by fully 10 strokes.

My Bets
My big fancy at the Nedbank, Ross Fisher, backed at 36.035/1 before the off, finished runner-up to Willett and over in the Sates, pre-event pick, Patrick Reed, backed at 33/1, finished tied for third, so on paper it was a nearly week with two big-priced picks placing but in reality Reed didn't ever look like winning and never traded any shorter than 12.011/1 in-running and Fisher didn't quite trade short enough for me to make a profit so it's been a disappointing week.
Having led after day one, Fisher, along with Willett and Luke Donald, who finished third, was one of only three players with a realistic chance of victory for much of the weekend but I still didn't get to lay any of my wager back.
Luke Donald hit a low of 1.351/3 during round three but despite being bang there all week, Fisher didn't get anywhere near that low and never dipped below 3.02/1. It was maddening to watch as he played brilliantly but putted weakly, leaving putt after putt short and he twice messed up just as it looked as though he'd get to the lead.
His lacklustre level-par back nine on Saturday simply wasn't good enough and when he got to within two of the lead after birdying the 4th yesterday, he bogeyed his next two holes. It was all very frustrating and with hindsight I set my target lay too low but it's very easy to be self-critical after the event.

What Have We Learned For Next Year?
Tiger Wood's event, the Hero Golf Challenge, is going to switch venues again, this time moving to the Bahamas, so there's no point analysing the result at Isleworth Country Club in any detail so instead I'll concentrate on the Nedbank where one of the longest standing trends has finally ended.
Willett became the first debutant to win the Nedbank Golf Challenge for nearly 30 years. Mark McNulty, in 1986, had been the last first-timer to take the title so the question is now is, was Willett's win a one-off or can we now boldly back debutants?
I'd be inclined to remain cautious of first-timers. Willet's performance was nothing short of sensational and Sun City certainly caught out the majority of debutants. In-form quality players like Marcel Siem and Brooks Koepka have just the right game for the venue but made far too many mistakes and as the saying goes, one swallow doth not a summer make.

Where Did I Go Wrong?
I was clearly far too dismissive of Willett who was absolutely brilliant yesterday. His in-contention record had been really poor and I was fully expecting him to fold tamely but the opposite happened. Maybe it helped that Fisher was so timid and the Donald was rusty but you couldn't fault Willett at all - he was aggressive off the tee and his putting was superb. Every putt either bolted down the hole or went by it and the way he saved par almost every time he did find trouble was very impressive. 
Having not been in-contention in a very long time, Donald's game just got ragged but Fisher played well and the difference between him and Willett on the greens was stark.  Fisher repeatedly left his birdie efforts short whereas Willett's went in at pace.  
Prior to yesterday, Willett had been leading or within three of the lead 13 times after three rounds but he'd only converted once, and on that occasion it was only just! Having led by a stroke with a round to go at the 2012 BMW International Open, he shot 73 on day four before edging out Marcus Fraser in a playoff. Time after time he'd disappointed but he came of age yesterday and he could very easily kick on now. 
Success breeds success and now he's won so handsomely and that he's injury-free, we could see the likable Sheffield man go on to bigger and better things. 

How Good Is Jordan Spieth?
At 27, Danny Willett has a great future ahead of him. He's now won his second professional event and his career has progressed in the sort of manner you'd expect for a top-quality player. He's learnt his trade over a number of years and he now looks an accomplished star of the European Tour. This week's other winner, Spieth, is a whole different kettle of fish.
He's just 21, he's just won back-to-back events, either side of the world, and he looks like a nailed-on future world number one. Paul Krishnamurty took a look at the 2015 US Masters here last week and after watching Spieth destroy the field in Florida, my appetite for next year's first major has been whetted further.
Having already bagged, the other three majors, Rory needs to win at Augusta to complete the set and that pressure might tell. Spieth, who pushed Bubba Watson hard last year on his first visit to Augusta, is still available at around 18.017/1 and that could look very big come March.

How Bad Was Tiger Woods?
The former world number one set the tone for the week when he drove out of bounds on his very first hole but even though he finished the week tied for last, alongside Hunter Mahan, 26 strokes behind Spieth, in many ways it was an encouraging performance.
His short game, and his chipping around the greens in particular, was very poor and clearly rusty but the good news was that he felt no pain and that his swing changes under his new coach, Chris Como, appeared to work well. Being ill over the weekend didn't help (he threw-up on the third fairway during round three) and all things considered, as strange as it sounds given he finished bottom of the pile, the week's not been a failure.
I'm certainly not ready to write him off just yet and it was great to see him back on the course. The game is in the safest of hands with the likes of Rory, Spieth and Rickie Fowler all playing brilliantly but I suspect we haven't seen the last of Tiger just yet and Jordan's demolition job this week will only inspire Woods to get back on track.  He was a little undercooked this week but four competitive injury-free rounds is a good platform to build from and 2015 is likely to be infinitely better than 2014. 
There's quite a bit of golf action again this week with the Franklin Templeton Shootout in the States, the Australian PGA Championship Down Under, the Thailand Golf Challenge on the Asian Tour and the Alfred Dunhill Championship on the European Tour and I'll be back tomorrow with a preview for the last two named.

*You can follow me on Twitter @SteveThePunter
Discover the latest articles