The Punter's De-Brief: Rory fights his way to the title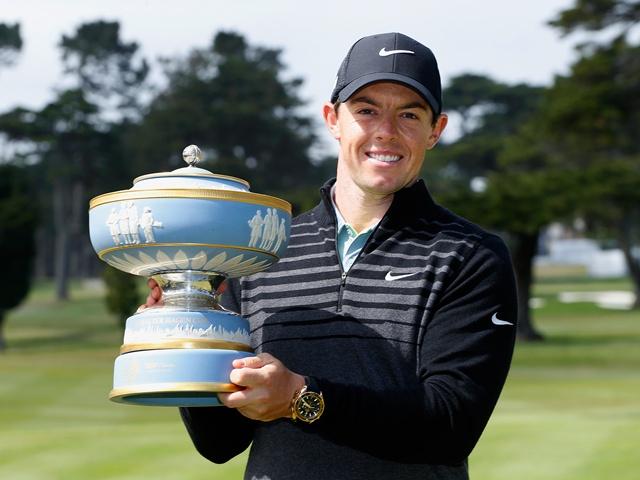 Rory McIlroy with his latest trophy
Steve looks back at last week's WGC Match Play tournament, where world number one, Rory McIlroy, showed his fighting spirit on several occasions to win his second WGC title...
"Jordan Spieth's win at the US Masters and his meteoric rise to number two in the world rankings certainly wouldn't have escaped Rory's notice and this was a brilliant reaffirming of his position at the top of the world order."
Despite numerous scares, world number one Rory McIlroy has gone the distance and won an eventful WGC - World Match Play, beating outsider Gary Woodland 4 & 2 in the final. With the new format in place, Rory had to win seven matches over five days, so the odd scare was inevitable and you had to admire the way he clung on in a couple of matches before turning them around to win late on. Jordan Spieth's win at the US Masters and his meteoric rise to number two in the world rankings certainly wouldn't have escaped Rory's notice and this was a brilliant reaffirming of his position at the top of the world order.

My Bets
Of my four pre-event picks, one was downright awful, one was hung-over and two were unlucky to get beat by the winner.
Graeme McDowell was a bitter disappointment given he's a matchplay specialist and that he was playing at a venue that he'd already played well at before - he lost all three of his group matches so I can have no complaints there but I felt aggrieved about how my other three all lost...
Justin Rose was not at the races on Wednesday, having won the Zurich Classic the Sunday before, and rumours were rife that the cold symptoms he complained of were self-inflicted after a heavy celebratory session. Given Zurich is one of his main sponsors and that he spoke after his win how much it meant to him, I can't begrudge the man a good drink but it was frustrating. Having lost to Marc Leishman on day one, he then won his next two ties but it was all too little too late.
Billy Horschel, who I backed at 100.099/1, was very unlucky not to progress from the group. He won his first two ties easily and was two up with two to play against Rory. He looked to have done enough but the McIlroy holed from 20 odd feet for birdie on the 17th hole before winning the last and winning the match at the 20th hole.
Billy will bounce back and he's one to keep an eye on in this event - this format looks absolutely ideal for him. It would be ridiculous to say he would have definitely beaten Hideki Matsuyama in the first knockout match but if he had held on against Rory and beaten the Japanese star, I'd have been laughing, as he'd have met my other pick, Paul Casey, in the quarter-final and a profit would have been made. It didn't work out like that though, unfortunately, and Casey merely became the second man to feel unlucky to lose to Rory...
In a tight affair, Casey was one up with two to play but a bogey at the 17th hole saw them all square, before Rory again beat my man in extra time - this time at the 22nd hole, and this time, the following day! Darkness stopped play on Saturday so they came back at 6:45am to get the match finished and I knew straight away that my hopes of a decent week were in tatters.
Casey had drifted from around 6.25/1 to double-figures in the outright market before they played the 22nd and final hole, when Casey let it be known that he'd been up all night throwing up! He looked like death warmed up and he soon succumbed - failing to get up-and-down from the greenside rough to match Rory's birdie 4.
To make matters worse, after much deliberation, instead of laying Casey who had drifted so much, I decided to back Jim Furyk at 4.3100/30 before Casey and McIlroy played out their match. It was a gamble and one that backfired. If Casey had managed to get past Rory, he'd have met Furyk and I'd have been in position A with a guaranteed finalist, who I knew would be favourite to win - whoever they met in the final.
I still had a chance of a decent week had Furyk gotten to the final but Rory was there to spoil my fun again. Furyk became the third of my bets this week to be leading against McIlroy with just two holes to play but he soon became the third to get beat when Rory birdied 17 to square the match before eagling the last!

New Format
I found the new format frustrating to start with but that was only because Rose was as good as out as soon as he'd lost on Wednesday and he knew it too. He said as much straight after his defeat to Leishman but not everyone had gotten a grasp of the new system quite so well - Henrik Stenson thought he'd earned himself a hard-fought draw with John Senden after 18 holes on day one! The Swede was under the impression that the group matches could be tied but that isn't the case and he went on to lose at the first extra hole.
Now that I've had time to reflect upon it, I think the format is OK, and certainly better than the old one. It's a really tough school and if you want to guarantee progression, you really do have to win all your group matches. Lots of players won two out of three and went home and of the 16 players to get through, 12 won all three of their group matches. Only five of the 16 seeds managed to progress from the group stages and although the number one seed won, provided they keep this format, I wouldn't be at all surprised to see a shock winner going forward.

Follow the Outsiders and Dan Geraghty
Tim Frank is well worth a follow on Twitter (@FantasyGolfMan), He comes up with plenty of fantastic stats and he's helped us all out this week by tracking the record of the outsiders at the Match Play. Of the 112 matches played, outsiders won 52 and lost 60. It's not an exact science, as Tim used the best prices for his analysis, but had you backed the outsider in every single tie you'd have been over 12 units up with a ROI of 11.42%. Not bad at all and if nothing else, it shows the danger of piling in on the shorts ones.
Dan Geraghty is nicely in profit for the year with his two and three-ball bets (always published on a Wednesday) and he's put in a cracking week's work at the matchplay too - making a profit every day. Over the first four days of competition, Dan put up 18 tips in total and 13 of them won! He was five out of five on Wednesday and three from three on Saturday - here's a breakdown of a fine week's work.
Day 1 4/4 = 5.6 profit
Day 2 4/7 = 0.17 profit
Day 3 2/4 = 0.2 profit
Day 4 3/3 = 3.0 profit

That's enough looking back at last week, it wasn't a great one personally but at least I didn't get myself into a nasty argument like these three did. Miguel Angel Jimenez likes to get involved in a ruling or two and it was probably only a matter of time before he upset someone and he certainly upset Keegan Bradley and his caddy on Friday. I've been away for the weekend so I don't know the whole story but I don't think Keegan comes across to well in this video and his caddy even less so!

We're back to stroke play this week with a brand new event in Europe - the Mauritius Open, which I'll preview tomorrow and in the States, we have The Players Championship 2016 preview ready for you.
*You can follow me on Twitter @SteveThePunter
Discover the latest articles